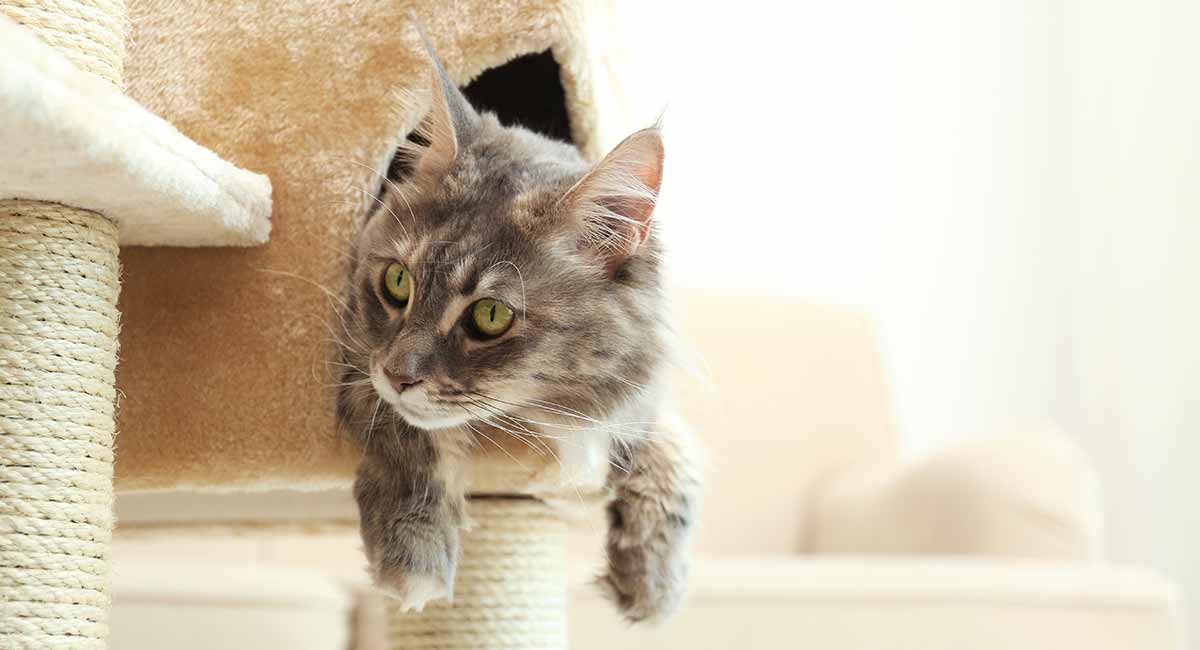 The best cat tree for your cat will provide hours of entertainment and exercise! Cat trees are pieces of equipment specially designed for your cat to climb, perch, and scratch on. These range from simple poles with platforms to elaborate "houses" with hiding holes, perches, and more.
They range in size and are often made from a variety of materials, including wood and carpeting. Let's take a look in detail with our best cat tree buying guide.
All of these products were carefully and independently selected by The Happy Cat Site team. If you decide to make a purchase from one of the links marked by an asterisk, we may earn a small commission on that sale. This is at no extra cost to you.
Cat Tree Quick Links
The Importance Of Cat Trees
A cat tree is a piece of equipment that your cat is able to climb up and perch upon. In its simplest form it is essentially a post with a platform on top. But it can be so much more!
The range of cat trees available these days is stunning. And the most elaborate trees can include numerous perches, platforms, hiding holes, scratching posts and even attached cat toys.
These more upscale choices often have ladders, ramps, and gang-ways joining them together.
A cat tree is a place for your cat to play, relax, and entertain herself. And some of them look so fun, we sometimes wish we could join our pets!
But why are cat trees important for cats?
Why Purchase A Cat Tree?
As any owner of a feline can tell you, cats can be extremely active. This is especially true when they are still young, but even older cats are subject to bursts of energy.
Sometimes that means racing around jumping on furniture, or leaping out from hiding to attack your shoe as you walk by.
Cat trees are tailor made for those bursts of energy. They give your cat something to interact with, scratch on, and climb.
Not only is that a good thing for the cat, it can be a lifesaver for your shoes, clothes, and furniture as well!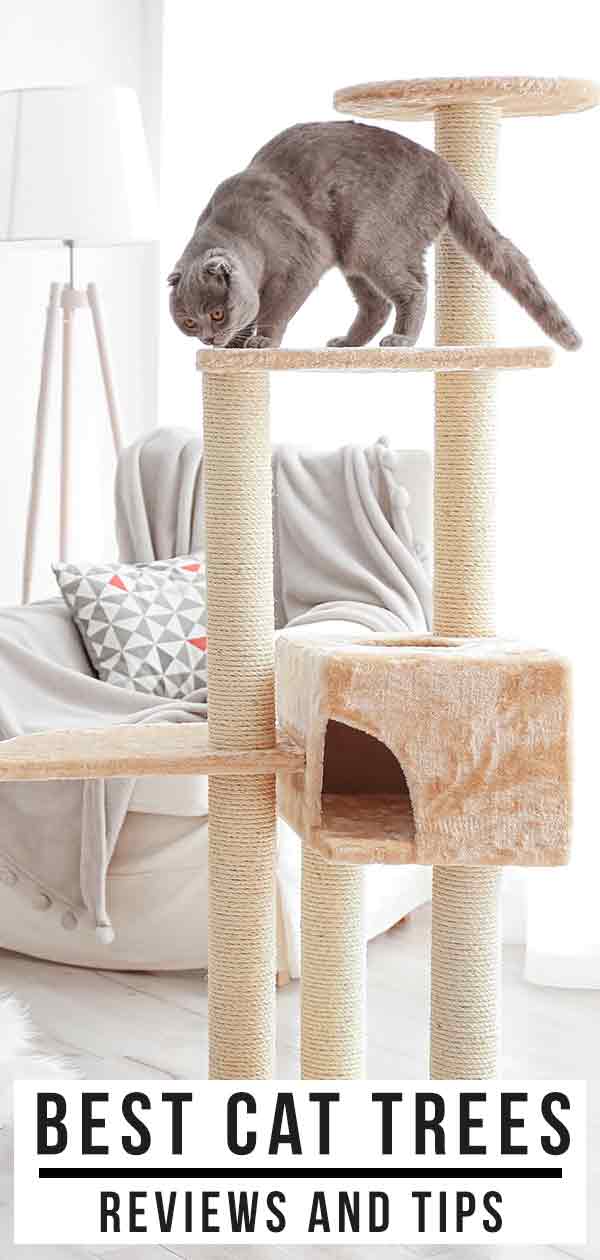 Alternatives To Cat Trees
If you're not so keen on the idea of getting a tree — or a small carpeted castle that serves the same purpose — we can also suggest cat perches.
As seen in the latter part of the linked article on cat perches for large cats, not all "perch" type furniture for cats includes a "tree" section. For instance, you can find window-mounted perches that don't take up as much floor space — or any, in fact!
Perches without an attached base are definitely space savers.
However, they don't allow your cat a scratching post, so you may see your kitty take that instinct out on something else.
For more alternatives to traditional cat trees, take a look at this article highlighting designer cat furniture.
Choosing For Your Cat
Any good cat tree worth its salt will have a few important features.
It will provide your cat with a dedicated scratching post.
A steady base will keep it from overbalancing when your cat climbs on it.
It will have a perch large enough for your cat to sit or curl up on.
Essentially, the best choice for your cat will be suited to her size, weight, and temperament. If she's always full of energy, you may want to consider a tree with more to it than just a simple scratching post!
But with so many different choices on offer, how do you decide which one is right for you and your kitty?
In this article we have made it simple by breaking them down into categories, with reviews of each of the popular choices available.
Best Cat Trees For Large Cats
Do you have a large breed cat? Then you will definitely want a large perch.
Not just to support his weight, but to give him room to stretch out and enjoy it just like any other kitty.
Fortunately, there are a huge range of cat trees for large cats. So huge, in fact, that we've had to pack them into a whole separate review article! Pop over to our Cat Perches For Large Cats article here.
But here are a few of the stand-out contenders.
New Cat Condos Premier Cat Scratch And Lounge
This product* measures 20x20x32, making it a good sized option for a larger cat.
It's ready to use right out of the box, and comes in a variety of color choices to fit your household decor.
It is constructed from wood, sisal rope, carpet, and sonic tubes.
Sisal Cat Scratching Post For Big Cats
This specially-for-big-cats product* is a little shorter, at 20x20x24, but still gives your kitty a solid base for playing.
And for scratching! It's covered in thick household-grade carpet and unoiled sisal rope.
Best Modern Cat Tree
When choosing a cat tree, it's smart to look for one that fits in well with the style of your home. After all, cat trees are basically furniture! It's just furniture for your cat!
If your home is decorated on the more modern side, you may not want a "traditional" style cat tree that won't fit in with the rest of your decor.
Modern cat trees have come on leaps and bounds in recent years. And we think this selection will have your cool cat leaping and bounding towards it.
Sebastian Modern
If you have an ultra modern home with dark wood and sleek lines, then you'll love the Sebastian Cat Tree.*
It has multiple playing and climbing spaces, but in a very sophisticated design.
You can choose from black or white, and trust that it's durable and built to last.
Ace PetPals Cat Condo
When it comes to stylish cat trees, a great choice is the Ace Cat Condo.*
This unusual cat tree has a great sense of taste, with fabulous use of color and plenty of places to have fun and relax for your kitty cat.
The condo is made from durable recycled material and gives your kitten somewhere safe to cosy up.
Armarkat White
When you are looking for stylish cat trees they'll need to fit with your own idea of what looks good. So you can go with something that is more discreet.
A simple contender is the Armarkat white cat tree.*
It's a simple structure, but with several options for your kitty in terms of perching and scratching.
The matte white finish fits with most homes.
Feandra Multi-Level
Of course, there's modern and then there's modern. What if you are going for a more contemporary look but still in the traditional cat tree style?
The Songmics Cat Condo Tree* is a plush contemporary cat tree that gives your cat a seriously comfortable place to snooze.
This grey cat tree isn't just great for relaxing, it's packed with kitty fun too. It includes a hanging rope, ball and even a hammock. Not to mention those all important scratching posts.
Best Tall Cat Tree
Have you ever seen your cat stretch to their full standing height against something — a scratching post, someone's leg, your furniture?
That stretch is just as beneficial for cats as stretching is for humans!
Taller cat trees give cats plenty of stretching space, as well as furnishing extra space to play.
Aeromark International Armarkat Cat Condo
When it comes to tall cat trees, the Armarkat Cat Condo* is a great contender.
For starters, it's a whopping 72 inches high.
With numerous levels, hammocks, hiding places, scratching posts and toys, your cat won't believe her luck.
Armarkat Cat Condo
Looking for some even more serious height? Then check out Armakat's amazing 77 inch model*!
The height of this tree puts it at almost six and a half feet tall! This pretty white cat tree stretches practically up to the ceiling.
Not content with just providing your cat a place to look down on you from, it also has plenty of places to hide, climb, and play, or just chill out.
Best Small Cat Trees
On the other hand, gigantic, looming cat trees may not be your thing. Maybe your cat is a small adult, or even just still a kitten. Or perhaps your living space doesn't allow for such a large piece of pet furniture.
Smaller cat trees still provide entertainment and scratch-ability to cats, while not requiring quite such a large footprint from humans!
Molly And Friends Two-Tier Scratching Post
If you want a small cat tree that your kitty will enjoy then Molly and Friends Two Tier* is a great choice.
With sturdy construction and range of colors to choose from, cat owners love this little kitty tree.
Lots of fun, but won't take up too much room in your home.
MidWest Homes Cat Furniture
A fun modern twist on the small cat tree is this funky option from MidWest Homes*, a trusted brand in the dog and cat markets.
It's only 30 inches high but manages to pack in a platform, hiding hole, scratching post and cat toy too.
Easy to assemble and coming with a year long warranty, this is a good choice for anyone who wants a cat tree but is a little short on space.
Best Carpeted Cat Tree
Don't you love the feeling of lush, thick carpet underneath your feet?
Well, cats really are no different!
Not only do carpeted cat trees provide a soft place to nap, they're the perfect resistant material for your cat to sharpen her claws on.
Many of the options we've covered so far include at least a carpeted portion. But here are some of our carpet-featuring favorites.
Condo Corner Kitty Furniture
When it comes to carpeted cat trees, you can't beat the Cat Condo Corner* for simple yet effective.
This totally carpeted cat tree has two perches as well as a cosy hiding hole.
It is also designed to work as a corner cat tree, so you can tuck it away at the edge of your room. Great for your cat and doesn't get in the way in the house either!
New Cat Condos Large Cat Tower
With thick beige carpeting on all four landing spaces*, this tall cat tree offers plenty of napping space to your cat!
The tree is 65 inches high, and the carpet is all household-grade.
Best Cool Cat Trees
We've talked a lot about choosing the best cat tree for your particular style, as well as taking into account your cat's needs.
Well, here are a few options that may appeal to the wilder styles among us!
These are definitely some cool cat tree styles, and while they may not suit every home, we're sure you'll agree that they're very memorable.
Go Pet Club Leopard Print
In fact, if you're looking for something memorable, what better choice than the seriously striking Go Pet Club Leopard Print Cat Tree?*
This funky addition is an impressive 72 inches high. The range of platforms, scratching posts and even a toy attached make it a great place for your cat to have fun or relax.
These are tall cat trees with a cool style to match.
Solvit KittyScape House
If you want a cool cat tree but don't fancy something so tall, then the KittyScape Cat Tower* is another great contender.
This awesome cat activity tree has everything an active kitty could hope for.
It's also modular, so you can make it higher or wider depending upon your preference and space needs.
Molly And Friends Bed
When it comes to unique cat trees, the Molly and Friends Bed* is fairly high up on the list.
These cool cat trees are essentially tall scratching posts with a large cat bed on top. They're the perfect place for your cat to relax and watch the world go by.
Best Wooden Cat Trees
When you think of cat trees, you probably think of carpeted or fleece style constructions. But they don't have to be.
Wooden cat trees are an increasingly popular modern cat tree option. This is true for a couple of reasons, but one of the main motives for choosing a wooden cat tree is that they may more closely match your household furnishings.
Plus, some of them are just very cool!
Here are a couple of big favorites in the cat community.
Feline Lotus Tower
The Feline Lotus Tower* is a unique cat tree.
It's packed with style but also considerately tailored to support your cat's needs.
With removable cushions, scratch pads, and carpet, you can keep your cat comfy and happy, as well as your wooden cat tree looking great.
Vesper Wooden Cat Furniture
Another choice of wooden cat tower with a few more activities included is Vesper Wooden Cat Furniture.*
This cat tree includes some great features such as a hiding place, hanging toy, scratching posts and platforms.
A great cat tower for your cat to sleep on too, as it includes memory foam cushions!
Best Cat Trees That Look Like Trees
Do you want a cat tree that actually looks like a tree?
Well, there's always a real tree! Cats adore them in all shapes and sizes. And you have to admit, they have a very cool aesthetic!
But that might not look so great in your living room, or give your cat such good options for playing and sleeping.
On the other hand, you can find a cat tree that looks the part, without actually being the part.
Here are some artificial but realistic cat trees for you to check out.
On2Pets Cat Condo Furniture
You have to check out the CatHaven On2Pets Cat Condo*.
It's a cat tree house – literally!
This cat tree comes complete with its own artificial leaves. Guaranteed fun for your kitty to play in and explore, and giving him an added feeling of security in the little nesting perch at the top.
Go Pet Club Realistic
Less realistic, but a lot more play value, we've got the Go Pet Club Realistic Cat Tree*. This tree sort of proves that "realistic" is somewhat in the eye of the beholder.
However, it is still a great big cat tower with multiple platforms, toys, hiding holes and even a bowl!
This cat tree is very popular with cats and their owners alike. You can choose whether to attach the fake leaves or leave them off if you prefer!
Best Cheap Cat Tree
You want the best for your cat, even if you're both on a budget.
And sometimes cat trees can get expensive! Especially the more ornate variations. And you want to make absolutely certain that you're not sacrificing sturdiness and safety for affordability!
A good way to buy a cheap cat tree is to look for a second hand one in the local ads. But if you want something new, then there are a few options that are relatively cheaper than the rest.
Aramarkat Ivory
One of the most popular is this 70 inch Cat Scratching Tree from Armarkat*.
With multiple platforms, scratching posts and a hiding place, there is a lot to this choice.
It comes with a lower price tag than most equivalent models, yet with some great reviews.
Definitely worth checking out if you want a large cat tree on a smaller budget.
SmartCat Multi Level Climbing Tower
Another nice choice, especially if you are short on space, is the Cat Climbing Tower Tree.*
It fixes onto doors and can be easily moved throughout your home too!
Overall, it's great for giving your cat a change of scene and encouraging him to keep you company as you move around the home.
Best Cat Trees For Multiple Cats
The best choices for multiple cats give your kitty friends options.
So they can choose to use it at the same time, but don't have to be right on top of each other.
Unless they want to be, of course! Sometimes cats are just like that!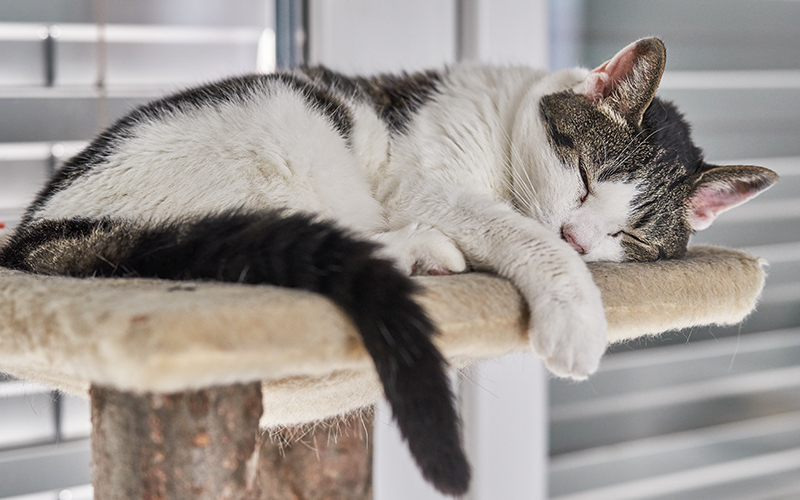 Go Pet Club
The Go Pet Club Cat Tree* is a great choice because it has bags of space, and, more importantly, has two separate hiding holes.
Cats are generally much happier if they are able to have their own space to sleep, and this cat tree gives them that all important choice to seek space if they want it.
It's also got two cat toys that they can play with individually, and lots of posts to scratch too. A great choice for homes with two cats.
But what if you don't have two cats? What if you have three, or even more? Well, don't worry, we've got an incredible option for your furry family.
Go Pet Club Huge Condo
The Go Pet Club Huge Cat Tree Condo* is your go-to choice for more than two cats.
This multiple occupancy cat tree is totally massive. There are numerous sleeping boxes, lounging shelves, scratching posts and toys.
Perfect for a big feline clan, or a truly amazing adventure playground for a single kitty!
Best Outdoor Cat Trees
If you have an outdoor cat or allow your kitty time in the backyard each day, then an outdoor cat tree is a great way to keep her happy and relaxed when she's there.
Of course, you may decide that the best outdoor cat tree…is a tree. But if you're into irony, there are a few different options for outdoor cat trees.
Kitty City Claw Kit Cat Furniture
The first is to buy a portable cat tree, like this Kitty City Outdoor Cat Condo*.
A tall, yet collapsible and movable cat activity space, this is an ideal choice if you are happy to pop it up and take it down when you are done.
You can even move it indoors. The lightweight design makes it ideal for temporary outdoor use.
Another more permanent option is to set up an outdoor cat tree condo.
Petsfit Weatherproof Cat Shelter
More than just a normal cat tree, here is the Petsfit Weatherproof Cat Tree Shelter.* This weatherproof cat tree is, quite frankly, adorable!
It is a great way for your cat to enjoy time outdoors even when the weather is bad. A more permanent option, it isn't quite as easy to set up and take down as the other choices found on this list.
Best Cat Tree
The best cat tree for your cat will fit into your home physically, but also in terms of design.
It will provide somewhere for your kitty to relax, hide, scratch and play. And it will do it all at a cost that you can afford.
If you're undecided on any of the options here in our cat tree buying guide, don't despair! For more choices, you can also check out our article on cat trees with hammocks.
Have you chosen a cat tree that works for you and your kitty? Comment below and let us know which one!
Affiliate link disclosure: Links in this article marked with an * are affiliate links, and we may receive a small commission if you purchase these products. However, we selected them for inclusion independently, and all of the views expressed in this article are our own.