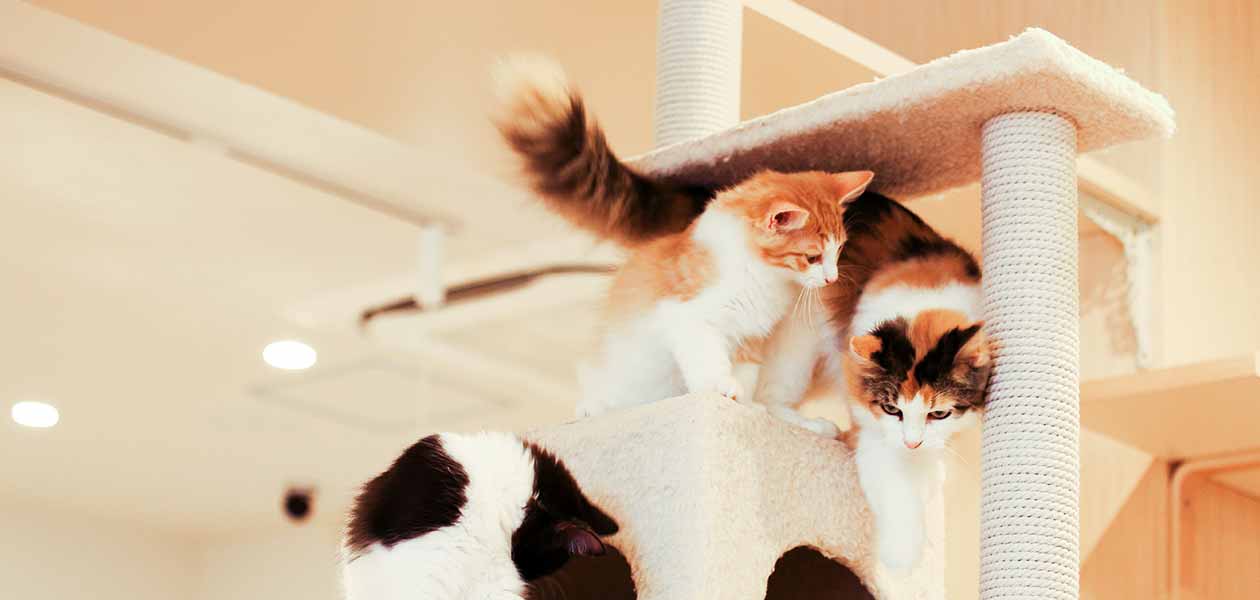 The best cat towers or cat trees have lots of levels for your cat to climb and perch on, dangling interactive toys, and places to hide or sleep.
Most cat towers are made out of wood or cardboard. But, they must be able to support a cat's weight. They can range from a few feet tall to ceiling height.
The size and style of your cat tower will depend on the number of cats you own.
Make sure your cat tower only uses cat-safe materials.
All of these products were carefully and independently selected by The Happy Cat Site team. If you decide to make a purchase from one of the links marked by an asterisk, we may earn a small commission on that sale. This is at no extra cost to you.
Types of Cat Towers
Use the links above to jump straight to a certain type of cat tree. Or, keep reading to find out about all of them.
What is a Cat Tower
Some people also call them "cat trees" or "cat tree towers". They are wooden or cardboard structures for your cat to play on, climb, or even sleep on.
They are usually covered in feline-friendly material, such as carpet, faux fur, or sisal rope (typically used for scratching).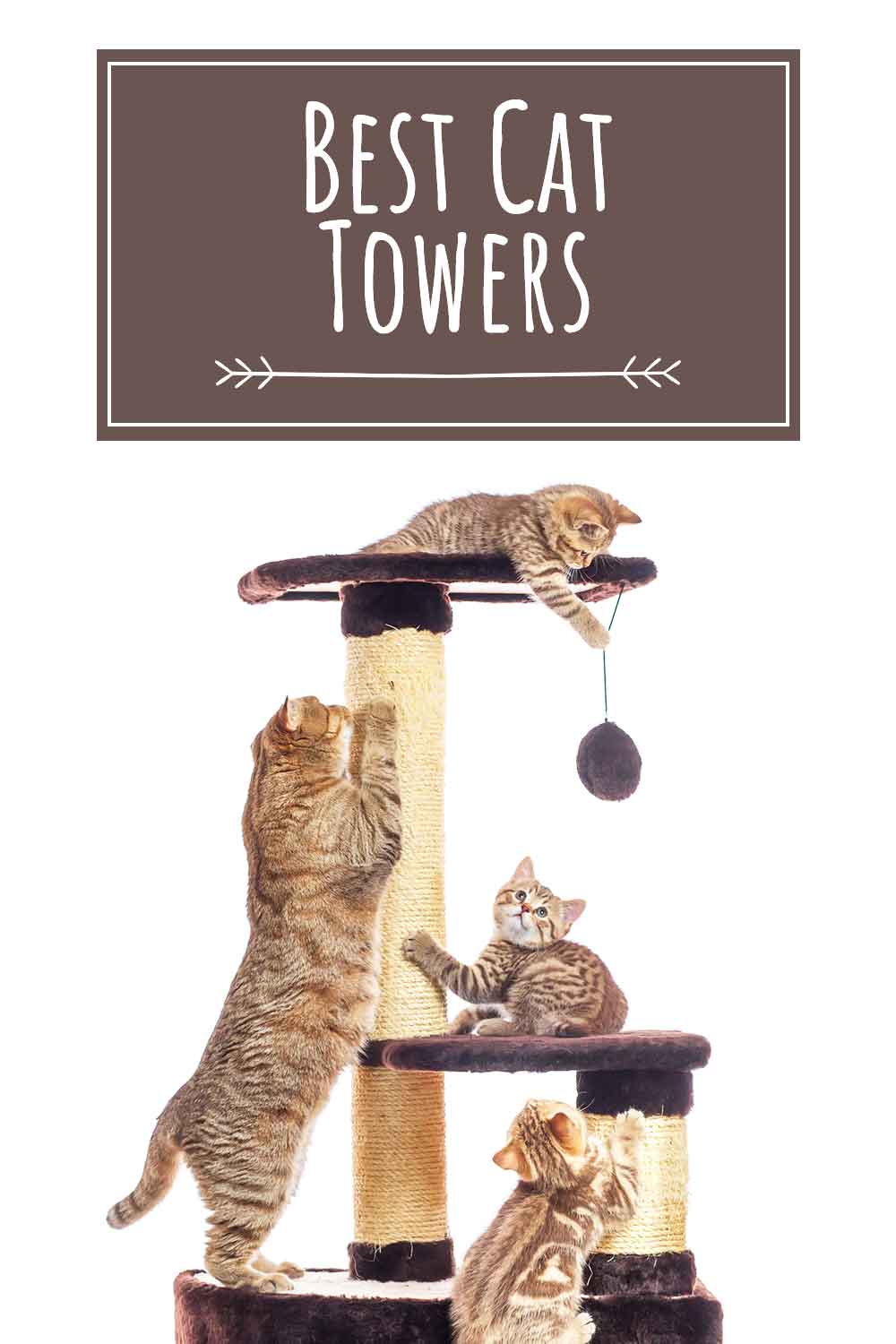 The best cat towers include:
Shelves at varying heights
Covered sleep or hideaway areas
Scratching posts
Dangling toys
Why Do Cats Like Cat Trees?
Cats often venture on top of kitchen cabinets or even on the highest shelf of a bookcase from time to time.
After all, it's a well-known fact that many cats love a good perch. Especially if it keeps them away from pesky things like dogs or children's hands.
Cats are naturally curious animals that enjoy exploring their environment. You can vary the "terrain" that your house cat traverses with a cat climbing tower!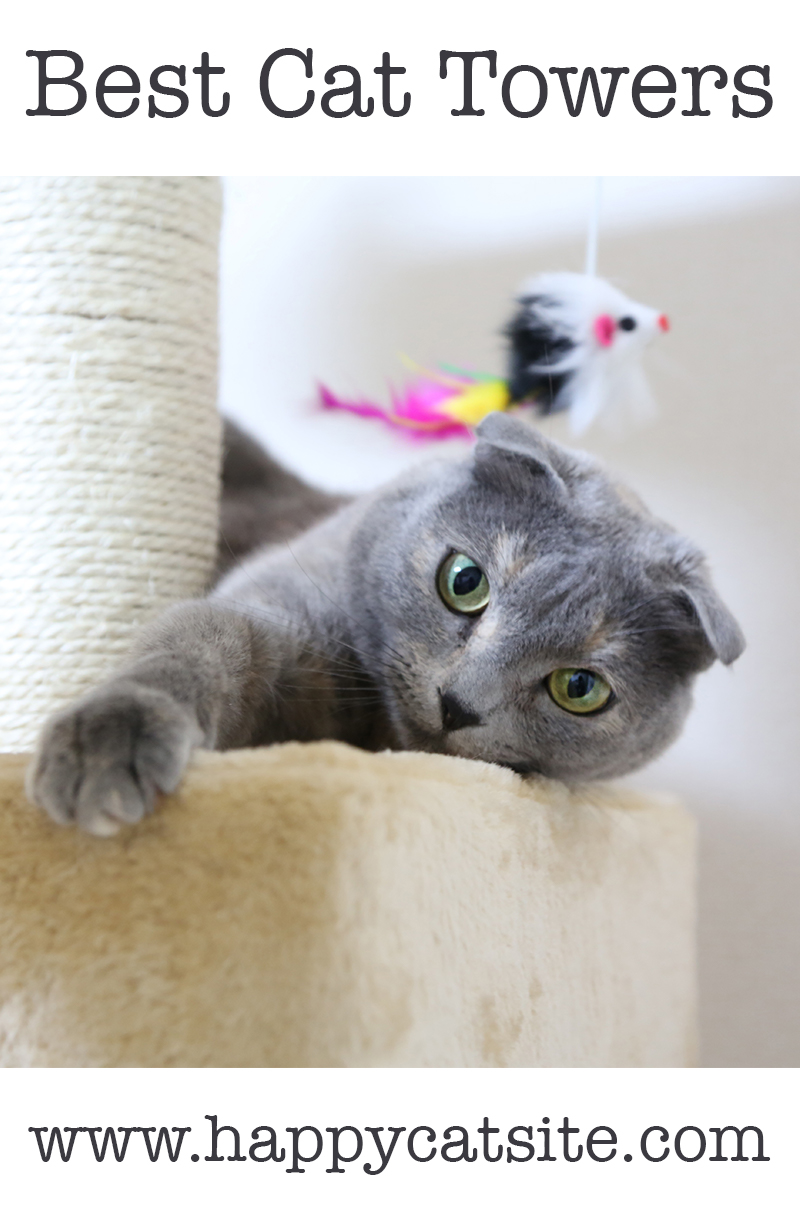 Cats often love these because of the extra features, like toys and scratching posts.
Let's take a look at some various types of cat towers that are available on Amazon.
Best Cat Towers for Big Cats
Big cat towers are a necessity for medium- to large-sized cats.
Some cat towers can't withstand more than a kitten or small cat's weight or the weight of multiple cats.
But, fortunately, Amazon has a wide selection of cat towers that are specifically built to hold more weight.
Go Pet Club Cat Tree
The Go Pet Club Cat Tree* is 80 inches tall.
This is a large cat tower for a large kitty (or several)!
With a whopping 13 levels, the tower features 13 scratching posts, one condo on the third level, and a second, larger one on the seventh level.
Plus, it has countless places for your kitty cat to take an afternoon siesta.
It may be 80 inches tall, but the tower is made of compressed wood, making it nice and sturdy.
Furhaven Pet Cat Tree
The Furhaven 72-Inch Tall Beige Cat Tree Furniture* is another great choice.
If you've got larger cats, this would be an excellent tower for them. It's made of compressed wood that's wrapped in beautiful beige faux fur, and there is sisal rope on every post for claw-sharpening.
Two ladders lead to two condos (one large and one smaller), and there are three large perches – plenty of space for multiple cats!
Favorite Cat Activity Tree
The Favorite 6-Tier Cat Activity Tree* is made for larger breeds and is a playground by itself!
Standing close to 5 feet tall, it has several sisal-covered scratching posts, a ladder that doubles as another scratching post, a condo, multiple plush-covered perches, and even a hammock!
And that's not all – there's a rattling mouse and a sisal rope for your cats to entertain themselves for hours.
Amarkat Cat Tree
The Armarket Cat Tree Furniture Condo* is 75 inches and up.
Need a big cat tower for your big cats? Look no further than this tower!
Covered in "Goldenrod" faux fleece (except for the sisal scratching posts), it has six platforms, two condos, a hammock, rope ladder and dangling toy, and two wooly "basket" perches!
At 78 inches tall, the pressed wood structure is strong enough to hold up to 70 pounds.
Best Cat Towers for Multiple Cats
If you have multiple cats at home, you'll need a cat tower that's big and strong enough to hold them all.
Here are some giant cat towers that will be perfect.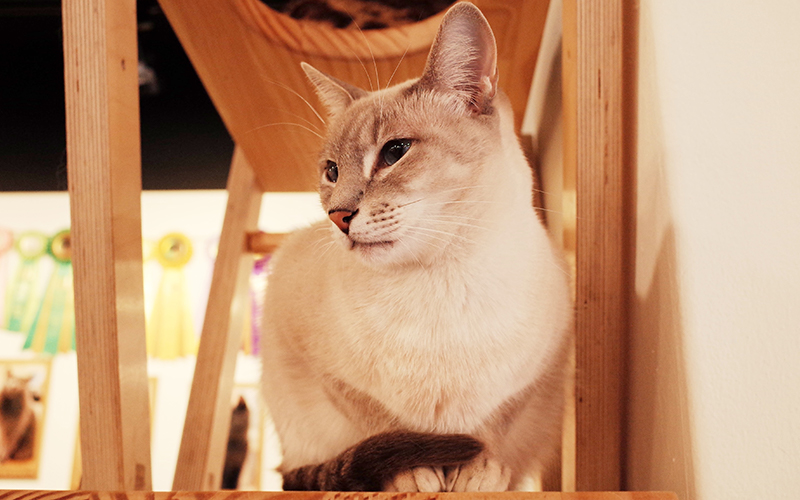 TRIXIE Montilla Scratching Post Tower
TRIXIE Pet Products Montilla Playground* is a great choice for multiple cats.
This high-rise tower has a little something for every cat!
Those that like to perch will enjoy the upper platform that's 78 inches off the ground. And those that like to play will love running up and down the ladder and leaping to and from one of three platforms.
A cozy fleece-lined condo makes a nice place for some down time, and there are plenty of scratching posts to go around.
Cat Tree Cream 52 Inch Tower
The Furhaven Cream Ladder Playground* is a cream-colored, fabric-covered cat tower.
It features four platforms and a tiny ladder to access the first platform.
With the adjustable spring brace top, this tower can reach a whopping 127 inches tall!
Best Pet Premium Extra Large Cat Tree
The Best Pet Premium Extra Large Cat Tree* is a tower that could touch the clouds!
At over 6.5 feet tall, it has several jumping platforms, two condo houses on different levels, and three soft perches.
What's more is, there are multiple scratching posts on every tier!
The neutral beige faux fur looks very nice with virtually any room, and the square base ensures that it will stay upright even with the most rambunctious of occupants.
Best Cool Cat Towers
If you've got a cool cat, then why not give her a cool cat tower? We love these towers that are too cool for school.
TRIXIE Fold and Store Cat Tower
The TRIXIE Pet Products Miguel Fold and Store Cat Tower* may be compact. But this folding, fur-covered cat tower doesn't disappoint!
The 26-inch "Miguel" unfolds to reveal a triangular condo (with sisal scratch pads on the sides) and a super soft hammock over top.
The cushion inside the condo is removable and washable!
New Cat Condos Skyscraper Cat Tree
The New Cat Condos Premier Solid Wood Skyscraper Cat Tree* is a tall cat tower that even comes fully assembled!
The solid wood and pipe construction is covered in house-grade carpet (in your choice of gray, beige, green, or brown), and the 20-inch base makes a sturdy foundation.
Four rounded platforms at different levels give kitty plenty of places to lounge, and the upper perch could provide her with the ultimate vantage point!
TRIXIE Casta Cat Tree
The TRIXIE Pet Products Casta Cat Tree* is another cool choice. If you're looking for a cat tower with a fun pattern, this is the one for you!
The "Casta" features a condo covered in plush faux fur with a bubbly print that's replicated on the top perch.
Kitty can leap onto the second tier and play with the brown plush ball that hangs from the perch! Three sisal-wrapped posts also give him something to sharpen his claws on.
Best Cat Climbing Towers
One of the best things about cat towers is that they offer something for your cat to climb.
Lots of cats love being high up, and climbing or exploring places. So here are some cat climbing towers your kitty will love.
TRIXIE Palamos Cat Tree
With the TRIXIE Pet Products Palamos Cat Tree*, your cat will have three tiers to climb and lounge on!
Each tier is wrapped in luxurious fabric, and four sisal-coated scratching posts support the weight.
If he gets sleepy, he can take a "cat nap" in the spacious condo. There's also a pom-pom toy that he can bat at from the second tier!
Cat Craft Floor to Ceiling Cat Tree
Did you know that you can purchase cat towers that touch the ceiling? With these skyscraper cat towers, your cats will feel like mountain lions.
Take the Cat Craft 3-Tier Cat Climbing Tree*!
This is the ultimate cat climbing tower! Three tiers at different spots on the carpeted 9-foot pole give your kitty plenty of options to use as a lookout.
The top of the pole may be attached to the ceiling for further support.
ARMARKAT Pet Steps
The Armarket Pet Steps* wooden tower doubles as a set of steps for your aged feline to access her favorite spot on your bed when she's not as mobile anymore.
Standing about two feet tall, the three faux fleece-covered steps make it easy for kitty to get where she needs to go.
Or perhaps a kitten will enjoy pouncing from step to step! This model can withstand 70 pounds.
EliteField Cat Tree
How about the EliteField Cat Tree*?
Your kitty will love prancing up this 40-inch climbing tower's three spacious steps to her very own "throne" at the very top!
The pressed wood steps are wide enough for lounging, if she desires.
But they also have sisal scratching pads for her to get a manicure on her way up or down. The non-scratching areas of the climber are covered in soft, yet durable faux fur.
Best Cat Scratching Towers
We all know how much cats love to scratch on things. Including your legs, furniture, and other places where they shouldn't!
Fortunately, there are cat scratching towers that should entice kitty to sharpen her claws in a more appropriate place. Here are several good ones:
Trixie My Kitty Scratching Castle
The TRIXIE Pet Products My Kitty Darling Scratching Castle* is a fun option. Who says that scratchers have to be on posts or flat boards?
This adorable scratching castle is "purrfect" for your little princess to get her scratches out, with a condo that has its own tower for when she's ready for beauty sleep.
It comes with two plush cushions that can be washed if they get soiled. This tower is sized for kittens or small cat breeds.
Vesper Cat Furniture V Cube
The Vesper Cat Furniture, Black V-Base* features multiple scratching areas and a condo box.
The modern tan coloring provides a nice contrast to the rest of your home.
Your cat can relax in the box, or even on top.
Trixie Dreamworld Tavira Scratching Tower
The TRIXIE Pet Products Dreamworld Tavira Cat Scratching Tower* provides your kitten or small cat with a safe haven for scratching, playing, or napping!
The "tree" is wrapped in faux fur, with three scratchable branches that have toys dangling from them.
The all-natural sisal scratching bridge gives your cat another place to sharpen his claws, or he might sneak an afternoon nap underneath it!
Ollieroo Small Cat Scratching Tree
The Ollieroo Small Cat Tree* is a tiny cat tower that's perfect for your tiny tot!
Kitty can sleep on or observe his surroundings from the plush faux-fur perch at the top of a 17-inch scratching post.
Or he can snooze underneath the sisal scratching arc once he's done using it. When he's not busy sleeping or scratching, he can bat at the pom-pom toy dangling from the perch!
Best Modern Cat Towers
Simple cat towers don't have to be plain-Jane!
In fact, many simple cat towers have a modern, almost elegant appearance that makes it look more like a piece of artwork than a cat tree! We like these models.
Vesper V-High Base Cat Furniture
The Vesper Cat Furniture, V-High Base* is a fashionable tower for your prim and proper cat!
Like the V-Base model, the V-High Base model has a selection of scratching posts and soft places for Fluffy to land.
The walnut finish goes with all kinds of furniture, making this both a lovely cat tower and a nice accent piece for your home. This tower stands a little over 47 inches tall.
Trixie Altea Scratching Post
The TRIXIE Pet Products Altea Cat Tree* is a grey cat tower that looks great in any modern home.
This 46-inch tower features two leaping platforms and a top perch with extra cushion. A gorgeous gray fabric covers all.
All of the posts are wrapped in sisal rope. So, your cat has plenty of opportunities to sharpen her claws or stretch.
The base has two adorable white paw prints for added charm. Plus, we think that the pom-pom toy hanging from the perch is the cat's pajamas!
The Refined Feline Lotus Cat Tower
The Refined Feline Lotus Cat Tower* is a wonderful modern choice.
This stately coffee-colored piece is a "towering" 69 inches tall. It has three perches covered in brown Berber for kitty's comfort during his sleepy times.
A condo at the base of the tower provides another cushioned place for hiding or snoozing. Plus, a sisal pad alongside the condo provides an appropriate place for scratching.
PetFusion Modern Cat Tree
The PetFushion Modern Cat Activity Tree and Scratching Post* is another great option.
We love the variety of the textures and colors of this 30-inch cat tower.
The beautiful, furniture-grade base and trim feature a lovely chestnut brown color. It contrasts nicely with the stark white of the upper perch and round cubby.
It even comes with catnip spray to make your cat's play time extra fun!
Best Cat Condo Towers
Need a spacious place for your cat to call home? We recommend one of the following cat condo towers.
Pet Palace Cat Tree Tower Condo
The Party Saving Pet Palace Cat Activity Condo* might be one of the best cat towers for you. The name says it all with this "palace" of a kitty condo!
The plush-lined condo is on the first level, and two wooden platforms on the first and second level give him places to leap and bound when he's not snoozing.
There's also a rounded perch on a third level for when he wants to survey his kingdom. But he may not sit for long with two squeaky mouse toys hanging beneath the perch!
This model stands at almost 45 inches tall.
Furhaven Pet Cat Clubhouse
The FurHaven Pet Blue Clubhouse* is a beautiful blue condo that will surely make a statement in whatever room you place it in!
This multilevel tower features a spacious clubhouse at the lower tier, a relaxation platform on the second tier, and your cat's very own perch on the upper tier.
Three sisal scratching posts and two toys on the platform will keep your kitty entertained when he's not cat-napping. This model stands a little over 46 inches tall.
Party Saving Pet Palace
The Party Saving Pet Palace 51 Inch Cat House* is a gorgeous ivory cream-colored condo that your kittens or small cats will absolutely love!
A ladder goes up to an adorable condo house. Plus, a hammock hangs beneath it. So, your kitty has the option of lounging in two different perches.
There's also a scratching post attached to the compressed-wood base. So, at just over 50 inches tall, this tower offers lots of fun for kittens without taking up lots of room in your home.
Best Wooden Cat Towers
Sturdy cat towers are those that are made primarily of wood. As a heavier material, it's not flimsy and supports more weight than lightweight cat towers.
Here are a couple of options on Amazon.
Go Pet Club Cat Tree
The Go Pet Club Cat Tree, Brown* warm-toned cat tower is made of pressed wood covered in rich brown faux fur.
The extra wide base supports a leaping platform complete with a condo and two perches.
Kitty can climb the ladder (which doubles as a scratcher) to the second tier. Here he can also bite and bat at a sisal rope and mouse toy.
Five scratching posts complete this 47.5-inch tall feline paradise!
New Cat Condos Premier Tree
The New Cat Condos Premier Large Cat Play Tree* is made of solid wood. It even looks like a tree!
It's covered in carpet that's plush enough to cover your floor with. Plus, unoiled sisal rope gives kitty something to scratch on.
It's a heavy-weight tower. So, it won't topple. Plus it'll look perfect in a nature-themed room!
Go Pet Club Small Cat Tree
The Go Pet Club Small Cat Tree Furniture, Beige* adorable little cat tower may be pint-sized.
But what it lacks in size, it makes up for in amenities! The 36-inch tower features a pressed wood base and two jumping platforms.
The scratching post supports a hammock. Plus a condo makes the perfect cave-like hideaway for your cat to take a nap in. There's even a rope toy!
Best Carpet Cat Towers
Looking for the plushest cat tower possible? Look no further than these carpet-covered models, courtesy of Amazon.
Molly and Friends 4 Tier Cat Tree
The Molly and Friends Four-Tier Scratching Post Furniture* is a good choice. There's a spot for every cat on this 66-inch tall tower!
Two rounded lounging areas and two perches are covered in top-quality carpet. Plus, one solid-pine post is wrapped in thick sisal rope for scratching.
You don't even have to assemble this tree. It comes ready for play!
New Cat Condos Premier Kitty Pad
The New Cat Condos Premier Kitty Pad Cat Tree* 50-inch tower features three 16-inch kitty cat beds and a sisal scratching post.
House-quality carpet encases the entire wooden and tube structure, making it not only durable, but extremely soft and comfortable.
Available in beige, blue, brown, gray, and green.
Ollieroo Small Cat Tree Condo Tower
The Ollieroo Small Cat Tree for Kittens* is a lovely 2-foot tower that features two carpeted platforms and a thick, delightfully plush upper perch with headrest.
Two sisal-wrapped paper tubes provide places for clawing. Plus, a dangling rope toy provides something for your spunky kitten to play with.
The rounded design makes this tower most suitable for the corner of a room.
Cardboard Cat Towers
If you're interested in an eco-friendly cat tower, we suggest the following cardboard options that we found on Amazon.
PetFusion 3 Sided Vertical Post
The PetFusion 3-Sided Vertical Cat Scratcher and Post* is an interesting cat tower.
Looking at this scratch tower, you'd never guess that it's made of recycled cardboard!
The unique triangular shaped design features scratching areas on all sides and a cubby hole for hiding or sleeping.
It's even sprayed with organic catnip to further entice your kitty.
Cat Amazing Stacks Tower
The Catty Stacks Modular Cat House Cubes* cardboard cubes are the literal building blocks of a super unique cat tower!
Made from Corrugated Ultraboard™ (recycled materials), they are buildable and stackable. Plus they provide your kitty with the box configuration that he always dreamed of.
Lock multiple boxes together. Or purchase a two-pack with a bridge for even more fun! One box can support up to 20 pounds.
Outdoor Cat Towers
Who says that cat towers are only for indoor kitties? This cat tower is built to withstand the elements for cats who are indoor/outdoor or outdoor only.
Petsfit Outdoor Cat House
The Petsfit Outdoor Cat House* is an absolutely adorable cat shelter that doubles as a play area!
Made of cedar wood with a weatherproof finish, the 30-inch by 22-inch by 29-inch house features a cozy basement sleeping box and either stairs or a scratch pad/ramp (depending on the model that you purchase) that lead up to a lovely balcony.
Choose between a gray and white finish or a red and white finish.
Best Hanging Cat Towers
Short on space, but still want a cat tower? Try one that hangs from a door frame, such as these versions.
K&H Pet Products Hanging Cat Condo
The K&H Manufacturing Hangin' Cat Condo* tower can hang from most door frames.
It has five connecting compartments with seven peep holes for multiple cats to watch the activities of the day.
The 600 denier fabric is waterproof and very durable. So, it will stand up to lots of kitties playing in it. It's available in small and large sizes.
SmartCat Multi-Level Climber
The SmartCat Cat Climber* could be the best cat tower for you.
Here's another tower that can hang from a door frame.
The primary wood structure is covered in sisal for lots of opportunities to scratch. Plus, each of the four climbing steps is covered in soft fabric for play or relaxation.
This model fits most doors from 79 to 82 inches tall.
Best Cat Towers – Summary
There are many types of cat towers out there, from climbers to condo towers to scratching towers, and everything in between.
With so many options, selecting the appropriate one for your cat (or lots of cats) may seem a little overwhelming.
We recommend a tower that will fit your cat, the space that you have allotted for a cat tower, and your cat's play and rest needs.
If you have a large cat, or multiple cats, choose a sturdy option.
Affiliate link disclosure: Links in this article marked with an * are affiliate links, and we may receive a small commission if you purchase these products. However, we selected them for inclusion independently, and all of the views expressed in this article are our own.
Readers Also Liked