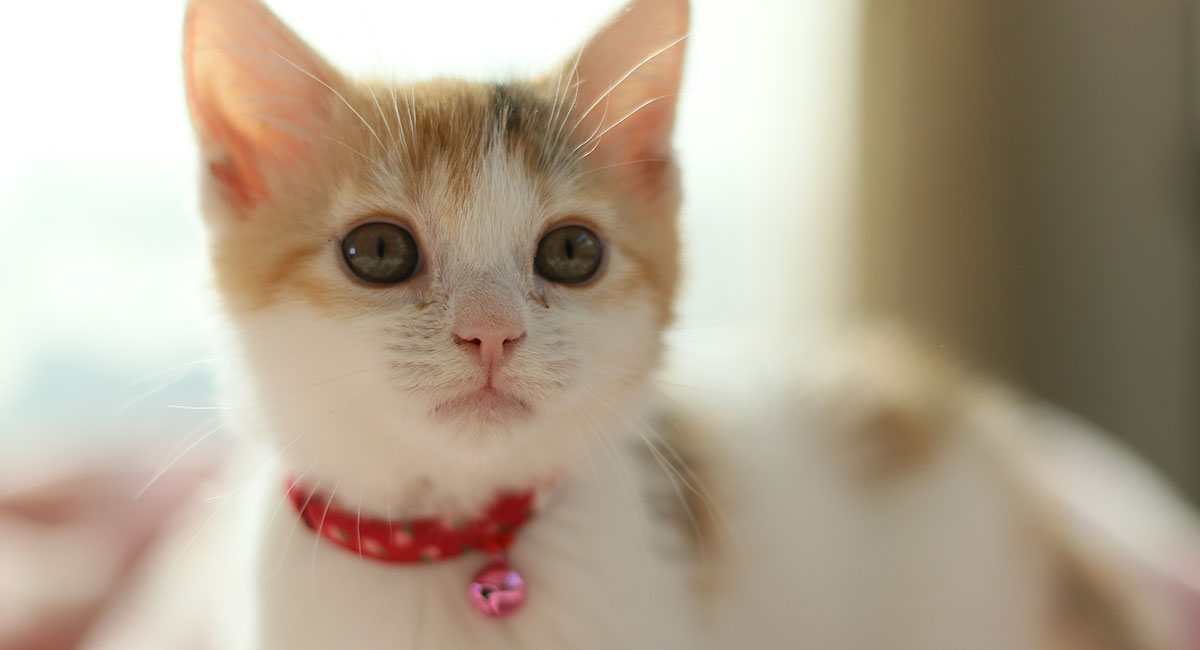 If you're thinking of kitting out your kitty with a collar, you may be wondering what the best cat collars are.
In this article, we're discussing why owners would want to have their cat wear a collar.
We'll also review some of the best cat collars on the market, to make sure that your kitty has the best available!
All of these products were carefully and independently selected by the Happy Cat Site team. If you decide to make a purchase from one of the links marked by an asterisk, we may earn a small commission on that sale. This is at no extra cost to you.
Why do people put collars on cats?
Let's start by looking at the reasons for using a cat collar.
There are a number of reasons why owners put collars on their cats, and it's not just because they look cute!
Common reasons for putting collars on cats include:
Reuniting lost pets with their owners
Protection of garden birds and other wildlife
Flea control
Also, some electronic cat flaps are activated by a chip that's fitted to the cat's collar, allowing the cat to pass through the cat flap whenever he wants to.
Best cat collar fitting tips
If you do decide to put a collar on your cat, you must ensure that the collar fits correctly.
If the collar is too loose, there's a risk that the cat's paw may become trapped inside it, potentially injuring the cat.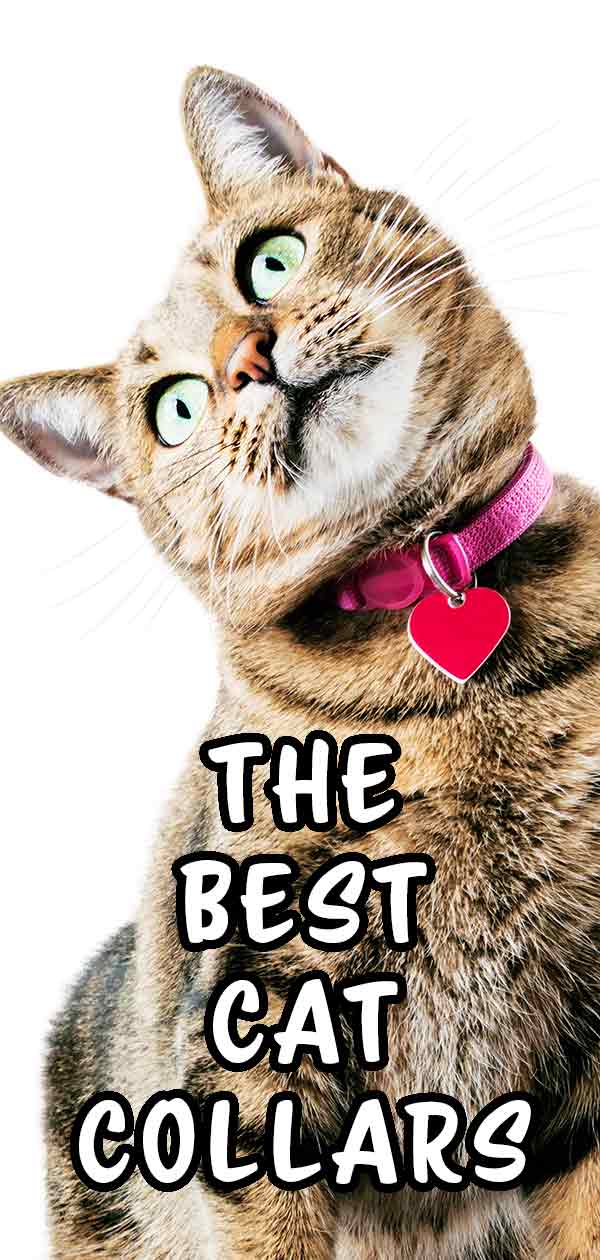 Conversely, a collar that's too tight could choke your cat.
Also, over time the fur may be rubbed off underneath the collar, leading to dry skin and itching.
You should be able to fit one to two fingers between the cat's neck and the collar in order for the collar to fit properly.
If you have a young cat or a kitten, be sure to check the collar weekly to make sure that it still fits properly.
Cats can tense their neck muscles, so always double-check the fit of the collar a few minutes after you initially put it on.
Do not use cat collars with elasticated inserts.
These can stretch, allowing the cat to get its front leg trapped inside the collar.
Best cat collars for locating lost cats
The primary reason for putting a collar on your cat is to allow him to reunited with you if he gets lost when he's out and about.
Also, if your cat is injured, a collar with a tag bearing your contact details can be invaluable, as it will enable anyone who finds the cat to contact you.
TabCat Pet Tracking Collar
The TabCat cat tracker system* is a clever device that allows you to keep track of where your kitty is at all times!
The system operates via a small, lightweight tab that attaches to any cat collar, effectively turning it into a GPS cat tracking collar!
The tab has a range of up to 400-feet within clear line of sight.
A handset picks up the signal from the tab, and then guides you to within 1-inch of your pet.
There's also a neat beeper system that you can use to train your cat to come for food on command!
Tractive GPS 3G Pet Tracker for Dogs and Cats
This waterproof pet finder attachment for collars* is a similar system, which pinpoints the location of your pet in real time.
A free GPS app for iOS, Android, or computer allows you to view the exact whereabouts of your cat.
You can even share this information with your family and friends if you want to!
The system can be set as a "virtual fence", alerting you when your pet leaves a pre-defined safe area.
You can also look to see where your cat has recently been – cool!
The rechargeable battery has a two to five day life and can be recharged in under two hours.
The GPS system works via an integrated SIM card, just like a Smartphone.
For this reason, a minimal service plan is required to cover cellular connectivity.
Best cat collars for safety
To ensure that your cat stays safe, always choose a breakaway cat collar.
Breakaway cat collars are cleverly designed with a "quick-release" mechanism, ensuring that the catch releases when undue force is placed on the collar.
Your cat can then break free if he becomes trapped.
GoTags Personalized Breakaway Cat Collars
GoTags personalized breakaway cat collars* are designed to keep cats safe with a special safety buckle that will release if the collar gets caught.
These personalized cat collars come in dozens of pretty colors and with your cat's name and your phone number embroidered into the nylon webbing.
These best cat collars also come with a bell attached.
Blueberry Pet Adjustable Breakaway Cat Collar
The Blueberry Pet adjustable breakaway cat collar* is made of long-lasting polyester and features sturdy plastic fittings that allow you to adjust the collar to fit your pet purrfectly!
A breakaway buckle ensures that your cat won't be injured in an emergency situation.
These best cat collars come in a range of cool designs and bright colors.
Best cat collars for protecting birds and garden wildlife
The best way to ensure that your feline can prowl outside without presenting a danger to the local wildlife and birds is by choosing a cat collar with bell.
As the cat moves, the bell tinkles, alerting any nearby creatures to the predator's presence.
When choosing cat collars with bells, check to see that the bell is fully enclosed and does not have a very wide groove or some other fixture that could allow the cat's claws to become trapped.
Necoichi Chirimen Cat Collar with Clover Bell
The Necoichi Chirimen cat collar* with clover bell is a delightful and unusual cat collar.
The collar is made from the same fabric that's used to make Japanese kimonos.
The bell on this collar is constructed from an intricate pink and fuchsia heart-shaped clover charm.
Choose from navy blue, pastel pink, or baby blue color schemes.
Best cat collars to keep your pet safer at night
Many owners allow their cats to roam outside at night.
This can lead to encounters with traffic if you live close to a road.
Bemix Pets Reflective Cat Collar with Bell
The Bemix Pets reflective cat collar comes in a set of three – handy if your cat loses his collar or if you have more than one cat.
The collars are made of strong nylon and come in three pretty colors: red, blue, and orange.
The collars feature a reflective central strip that will catch the headlights of passing cars, alerting drivers to your cat's presence.
Bemix collars are fully adjustable and have a breakaway buckle that will free your cat in case of emergency.
Pawtitas Pet Glow in the Dark Cat Collar
Pawtitas' glow in the dark cat collar* is made for durable nylon and features a reflective strip for excellent nighttime visibility.
The whole collar literally glows in the dark – genius!
The collar also has a bell, which can be removed if you prefer.
The collar is fully adjustable and comes with a safety breakaway buckle to keep your pet from becoming caught when he's exploring your shrubbery.
Bow tie cat collars
If you have a dapper cat, you may want to choose a collar that reflects their charm!
Here are a few bow tie design cat collars for boys and girls that we particularly liked:
Lionet Paws Dog and Cat Collar with Bowtie
Lionet's collar with bowtie* comes in several different designs, including a patriotic stars and stripes pattern!
The collars are made from 100% cotton fabric with stainless steel buckles and 'D' rings for strength and durability.
The bow tie can be attached to any cat collar of your choice and is fully removable and washable.
Blueberry Pet Pack of 2 Breakaway Bowtie Cat Collars with Bell
These come as a two-pack set*, so you have a spare collar in case one is lost.
The collars come in a wide range of pretty colors and designs, including pink, purple, yellow, red, and green.
Each collar is embellished with a gorgeous color-coordinated bow and bell.
The collars are fully adjustable and feature a breakaway safety clasp.
Best cat collars made from leather
Most cat collars are made from synthetic materials, but you can also buy leather ones.
Leather cat collars can be flat or rolled, usually with metal fastenings.
Although leather collars do look smart, there are some disadvantages to take into consideration before choosing a leather cat collar for an outdoor cat:
leather collars tend to be more expensive than synthetic ones
the range of color choices is typically more limited
leather collars are not as easily adjustable as synthetic ones
cheap leather will crack when it becomes worn, so your cat could lose his collar
leather collars can stretch as they become worn, potentially becoming too big for your cat
leather is not waterproof
a leather collar can become stiff over time, potentially chafing your cat's neck
If you have an indoor cat who wears a collar with a cat flap access tag attached, you might want to choose a leather collar.
We've found these smart leather cat collars that you might like:
CollarDirect Leather Cat Collar
The CollarDirect leather cat collar* is a high-quality, hand-stitched cat collar that's designed with both style and safety in mind.
The flat collar has an elastic insert that acts as a safety feature, allowing your cat to escape if the collar snags on something.
The buckle is made from durable stainless steel, and each collar has a bell too.
The collars come in a wide range of colors, including orange, lime green, blue, pink, red, and black.
ROGZ Glow in the Dark Reflective Cat Collar
This collar gives you the best features of several cat collars in one*!
The smart collar is very well-made in high-quality leather and features a cool, jumping black cat design.
Choose from black, pink, or blue.
The collar has a breakaway safety clip, is fully adjustable, and has a removable color-coordinated bell.
Also, the collar glows in the dark and has a reflective strip, so your kitty will be visible to traffic while on his night time patrols.
Flea collars
No matter how well you care for your cat, he may still pick up a few unwanted passengers – fleas! 
Even indoor cats can become hosts to fleas.
Flea eggs (and even adult fleas) can enter your home on the shoes of visitors or on other pets that have access to outside.
The most effective preventative treatment for fleas is "spot-on" medication.
Spot-ons are veterinary-approved drugs that come in a pipette.
To treat your cat, just squeeze the liquid inside the pipette onto the back of the cat's neck.
Cat flea collars are an old-fashioned flea treatment method that has to a large extent been superseded by spot-ons
Flea collars are impregnated with chemicals that will kill any adult fleas that are present on the cat, preventing them from breeding and causing an infestation.
There are some things that you should know before using a flea collar on your cat:
NEVER use a dog or puppy flea collar on a cat. The chemicals used for dogs are highly toxic to cats.
Some cats can suffer skin irritation from continued exposure to the chemicals contained in the collars.
Repeated exposure to water will render the flea collar ineffective, potentially allowing the fleas to spread and make your cat sick.
How do cat flea collars work?
There are two types of cat flea collars: solid and liquid.
Solid cat flea collars are impregnated with solid insecticide and resin.
The collar rubs against the cat's skin, gradually releasing the flea treatment.
The insecticide will either be absorbed into the skin or dispersed across it, depending on the specific product.
In the case of absorption type insecticides, the flea needs to bite the cat's skin in order to be affected.
With dispersion insecticides, the flea only needs to be in contact with the skin.
Liquid cat flea collars contain liquid insecticide that is released as a gas.
Although liquid insecticides are good for repelling fleas, they won't actually kill them.
If you do decide to use a flea collar for your cat, always choose a good-quality one that's made by a reputable veterinary drug manufacturer, like this one:
Bayer Seresto Flea and Tick Collar for Cats
The Bayer Seresto cat flea collar* is made by Bayer Animal Health.
This vet-recommended collar is effective against both fleas and ticks, and provides 8 months' continuous protection for your cat.
Bayer's collar works through dispersal, so your cat won't need to be bitten by the fleas in order for the insecticide to be effective.
The collar also has a quick-release safety fastening so that your cat can easily break free if he becomes caught up on anything.
The collar fastenings are designed to glow in the dark to increase nighttime visibility.
Best cat collars – summary
Cat collars can be used to help you be reunited with your pet if he is lost or found injured and to make him more visible at night.
If you have an electronic cat flap, a cat collar is necessary to carry the entry/exit tag.
If your cat likes unleash his inner hunter, a cat collar with a bell can help to keep your feathered garden visitors safe from harm.
So, cat collars can be useful.
However, always choose a collar with a breakaway safety clasp and ensure that the collar fits your cat properly.
Do you have a collar for your cat?
We'd love to know why you use one!
Why not share your cat collar story with us in the comments section below?
Affiliate link disclosure: Links in this article marked with an * are affiliate links, and we may receive a small commission if you purchase these products. However, we selected them for inclusion independently, and all of the views expressed in this article are our own.
References and further reading
Blue Cross, "Cat and Kitten Flea Treatment Advice", 2018.
Cat's Protection UK, "Flea Collars, Some Advice", 2016.
Cat's Protection UK, "Cat Collar Safety Tips", 2017.
International Cat Care, "Collar Injuries", 2016.