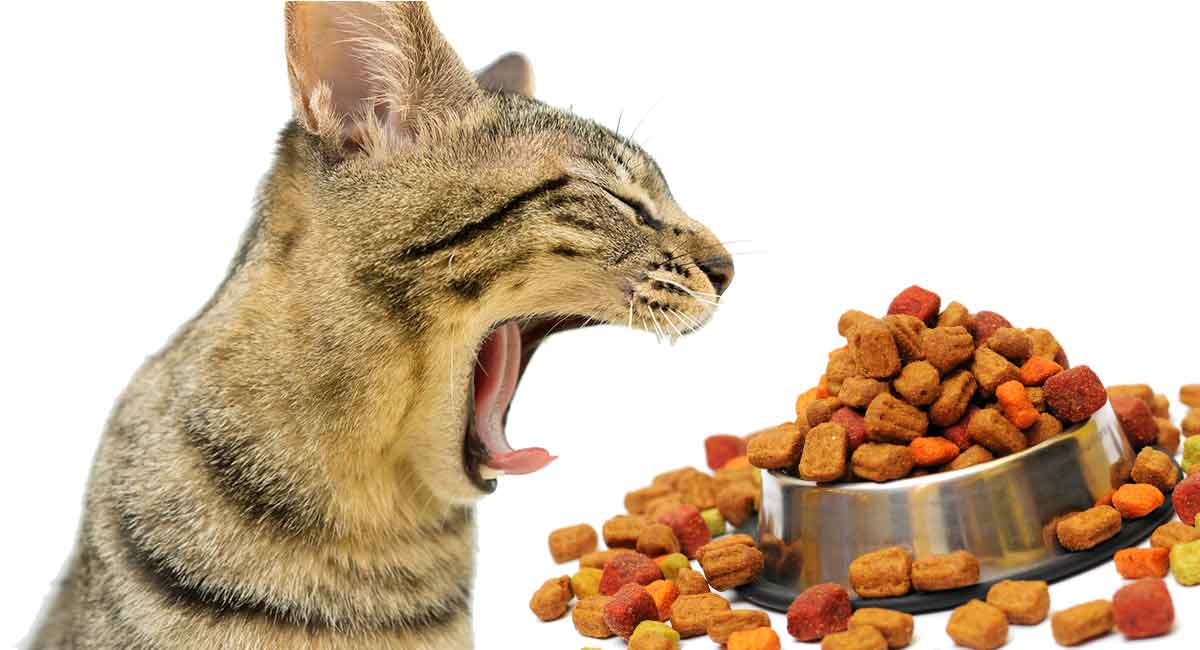 If your cat is prone to gastrointestinal trichobezoars, you'll definitely want to know about the best cat food for hairballs.
That's because (you guessed it) gastrointestinal trichobezoars is the very technical way of saying "hairballs".
In this article, we'll answer the questions most cat owners need to know:
What causes hairballs?
Are they dangerous?
And can you prevent them with anti hairball cat food?
All of these products were carefully and independently selected by The Happy Cat Site team. If you decide to make a purchase from one of the links marked by an asterisk, we may earn a small commission on that sale. This is at no extra cost to you.
What are hairballs?
A hairball is basically a wad of undigested cat fur that's soaked in your kitty's digestive fluids – nice!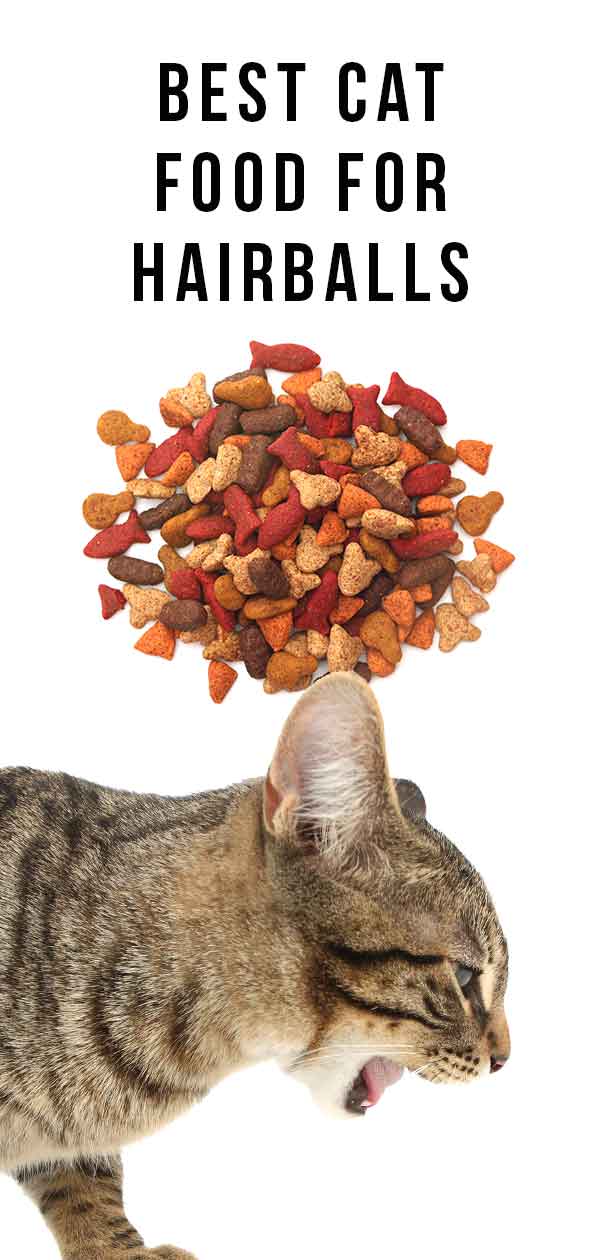 Hairballs are usually more sausage- than ball-shaped, as they have passed through the cat's esophagus prior to being coughed-up.
Hairballs usually measure between one and five inches in length.
What causes hairballs?
Most cat owners have been licked by their pet at some point.
You will have noticed your cat's tongue is rough, like sandpaper.
That's because the cat's tongue is coated with thousands of tiny barbs angled towards her throat. This clever design is handy for rasping meat off bones and for grooming.
As the cat grooms, the barbs (called papillae) clean each individual hair.
Although cats have two main shedding seasons each year, a few loose hairs are lost every day, and these stray hairs are often swallowed by the cat during grooming.
Usually, any hair your cat swallows passes harmlessly through her digestive system.
However, some of the hairs can remain in the cat's stomach. Eventually, the hairs form a clump that your cat coughs-up.
Long-haired breeds such as Burmese, Persian, and the Maine Coon are especially susceptible to hairballs.
When hairballs take over
Excessive grooming can cause your cat to develop large numbers of troublesome hairballs.
If your cat is over-grooming, she could be stressed.
Stress in cats commonly occurs following a change in environment or being hassled by other pets in the home.
Cats also groom more than usual to overcome the itchy sensation of parasites like fleas and mites, or skin conditions like dermatitis.
Sometimes, digestive problems like inflammatory bowel disease or a tumor obstructing the gut are responsible for preventing shed hair passing through your cat normally.
And still another cause of recurring hairballs are the cats who like to eat grass.
The indigestible plant fiber can combine with the fur in their gut and create a blockage.
If there's no obvious cause for your cat's hairballs, have a chat with your vet.
Are hairballs dangerous?
It's perfectly normal for your cat to have the occasional hairball.
However there are some signs that could indicate a problem.
Lethargy
Constipation
Repeated vomiting
Retching
Loss of appetite
Any of these signs could indicate that your cat has a hairball blocking her digestive tract.
If your cat shows any of these symptoms, contact your vet right away.
Since they can also be the symptoms of other ailments, it's important to get the right diagnosis.
A stuck hairball can usually be corrected with laxatives and intravenous rehydration, but sometimes surgery is necessary.
How to prevent hairballs
There are a few steps you can take that may help to reduce hairballs in your cat.
Grooming
Firstly, make time to give your cat a daily grooming session.
This doesn't have to take hours! All you need to do is give your cat a 10 minute brush to get rid of any excess loose hair.
Choose a brush or mitt that your cat likes, and enjoy the bonding experience!
Alternative exercise
If your cat is over-grooming due to stress, paying her more attention and introducing extra interactive play sessions can help.
Also, exercise can help to stimulate the cat's digestive system, helping to prevent constipation and encouraging the natural elimination of any hair that's been swallowed.
Hairball prevention cat food
Sometimes, a change in diet can help to prevent hairballs.
However, it's important to choose the right hairball prevention food.
Lots of pet food manufacturers sell a hairball formula cat food, but so far there's actually very little research about what ingredients work.
In 2004, a team of researchers in Australia reported that supplements of psyllium husk and slippery elm bark helped to reduce hairballs symptoms.
Psyillium husk is a source of fiber, and slippery elm bark is a natural emollient which helps make hairballs more, well, slippery.
In fact the emerging consensus is that careful addition of fiber to cats' diets stimulates their gut push hair through more effectively.
But since cats are carnivores and unadapted to digest large amounts of fiber, getting the right kind of fiber in the right amount is important.
In 2014, researchers in Brazil found that long sugarcane fibers added to cats' diets led to a reduction in a small sample of cats.
However the same teams found that cellulose alone, or sugar beet pulp did not reduce the number of hairballs in shorthaired cats.
So foods which contain fiber provided by cheap fillers or grains are unlikely to be the best hairball control cat foods.
And fiber isn't the only important thing.
If your cat will only eat dry food, be sure to choose a product that contains at least 10% moisture; dehydration can exacerbate constipation.
And of course, always make fresh water available for your pet.
What to look for in the best cat food for hairballs
Since research into hairball control cat food ingredients is still in the early stages, it's not yet as simple as walking into the pet store and choosing a diet which contains long sugarcane fibers or psyllium husks.
But there are still choices you can make to help out a cat who's prone to hairballs.
When buying hairball formula cat food, read the label and look for foods that contain premium quality meat. Avoid anything that contains meal, by-products, or rendered meat.
Cats' tummies are particularly adapted to digest animal proteins and fats – so their digestive system will work best when it's receiving those things.
The food should not contain cheap fillers, and there should be low amounts of digestible carbohydrates and dietary fiber.
Avoid foods that contain artificial preservatives, colors, or flavors. Some of these chemicals such as ethoxyquin have been linked to cancer in cats.
Best cat food for hairballs
Now, we're going to look at some of the best cat food for hairball prevention, starting with the best dry cat food for hairballs.
Best dry cat food for hairballs
Hill's Science Diet Hairball Control Cat Food* is a high-quality hairball control dry cat food that's made in the US from natural ingredients.
Only the best quality real chicken, lamb or salmon protein is used to ensure that your cat gets the very best.
A natural fiber blend is used to reduce the formation of hairballs – it looks like these include beet pulp and cellulose, but nonetheless happy cat owners swear that it works for them.
This food contains no artificial additives, preservatives, colors, or flavors.
Wellness Natural Hairball Control Adult Cat Food* is prepared using high levels of animal proteins.
No corn, wheat or other fillers are used in the recipe, and there are no preservatives or flavors added that may cause allergies in cats.
Pea fiber is added to help keep food and fur moving through your cat's gut.
Blue Buffalo for Cats Natural Adult Dry Cat Food* is a top-seller.
Blue Buffalo foods always contain real meat (chicken and turkey) as their first ingredient.
Wholesome garden veggies, fruits, and whole grains are added, together with cellulose and psyllium seed husks(!) for natural fiber to reduce hairballs.
This natural cat food is enhanced with Blue's exclusive LifeSource Bits, a unique blend of vitamins and minerals endorsed by holistic vets and nutritionists to boost immune system health.
The food contains no by-product meals, soy, corn, or wheat.
Hairball control wet cat food
Wet cat food is generally better for hairball control than dry recipes, simply because it is less likely to cause dehydration and constipation.
Hill's Science Diet Hairball Control Cat Food* is made with real chicken or ocean fish in a tasty pate texture.
The food contains natural vegetable fiber that helps to control the formation of hairballs by moving hair safely through the cat's digestive system.
The food has added taurine for good heart health and phosphorus for healthy kidney function, as well as essential nutrients for your cat's coat and skin.
Purina  Salmon & Rice Entree in Sauce* is a wet cat food for hairballs that's specially formulated to meet the nutritional needs of indoor cats, especially those who suffer from hairballs.
The primary ingredient is real salmon, and rice and corn bran are added to provide your pet with a natural source of fiber.
Essential nutrients are added to boost organ and immune system health.
Hairball control gel
Another useful hairball prevention and control product are hairball control gels.
The gel is designed to gently move hair through your pet's gut, preventing hairballs from forming and relieving the mild constipation that hairballs can cause.
You should never feed your cat human laxatives, and only give your pet laxative gel on veterinary advice.
Nutri-Vet Feline Paw Gel* is made in the US from 100% all-natural ingredients.
The gel contains natural oils and lubricants that help to reduce the formation of hairballs.
The chicken-flavored gel can be fed to your cat straight from the tube or given on the paw.
Hartz Hairball Remedy Plus Paste* is formulated to help hairballs pass quickly and smoothly through the cat's gastrointestinal tract.
Regular use of the product can help to prevent the formation of hairballs. Omega 3, 6, and 9 oils are added, together with vitamin E, to promote a healthy skin and coat.
Hartz Hairball Remedy also comes in salmon flavor that some cats may find more palatable than chicken.
Cat treats for hairball prevention
Most cats love treats!
And that's where owners can be smart and persuade their kitty to take a hairball remedy if gels are refused.
Tomlyn Hairball Remedy 60 Chews for Cats* are soft, chicken flavor chews that act like the gels, encouraging ingested hair to move through the cat's gut without staying around long enough to form hairballs.
Remember to follow the maker's guidelines on how many treats your cat should have every day; the treats have a mild laxative effect!
Best cat food for hairballs – summary
Hairballs are an unfortunate fact of life for many cat owners.
Hairballs form when your cat swallows tiny amounts of fur during grooming.
The hairs either pass through the gut with faeces, or eventually form a ball in the cat's stomach, which is usually vomited up without problems.
However, chronic hairball problems can indicate underlying health issues and you should have your cat checked out by your vet in this case.
One way of helping to prevent the formation of hairballs is to feed your cat a hairball prevention food such as one of those we've reviewed in this article.
Why not tell us if you tried one of the products we suggested!
Did the product help your cat and prevent hairballs from forming?
We'd love to know! Tell us your experience in the comments section below.
Affiliate link disclosure: Links in this article marked with an * are affiliate links, and we may receive a small commission if you purchase these products. However, we selected them for inclusion independently, and all of the views expressed in this article are our own.
References and further reading
Cornell University College of Veterinary Medicine, "The Danger of Hairballs", 2008.
Loureiro et al "Beet pulp intake and hairball faecal excretion in mixed‐breed shorthaired cats", Journal of Animal Physiology and Nutrition, 2017.
Barrs et al, "Intestinal Obstruction by Trichobezoars in Five Cats", Journal of Feline Medicine and Surgery, 1999.
Cannon, "Hair Balls in Cats – A normal nuisance or a sign that something is wrong?", Journal of Feline Medicine and Surgery, 2012.
Loureiro et al, "Sugarcane fibre may prevents hairball formation in cats", Journal of Nutritional Science, 2014.
Dann et al "A Potential Nutritional Prophylactic for the Reduction of Feline Hairball Symptoms", The Journal of Nutrition, 2004.
Reed et al, "Feline Trichobezoars – Composition and Degradation", Journal of Animal and Veterinary Advances, 2004.
Weber et al, "Influence of the dietary fibre levels on faecal hair excretion after 14 days in short and long‐haired domestic cats", Veterinary Medicine and Science, 2015.