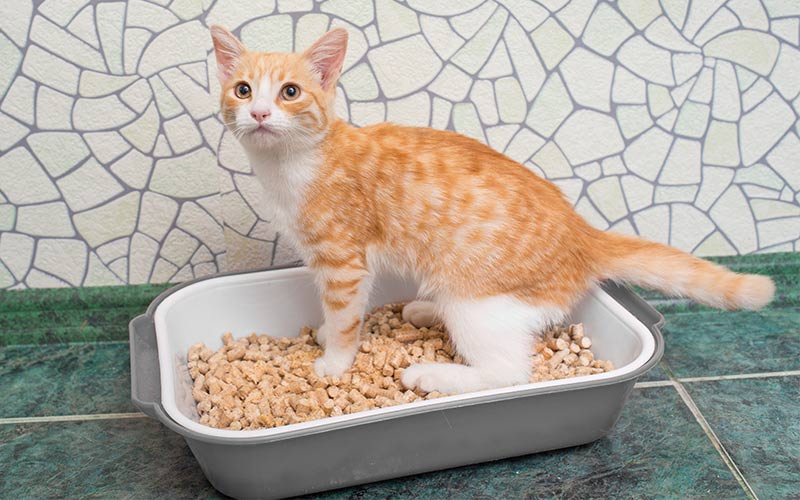 The best cat litter for odor control is a truly life changing product.
No one wants to live in a home dominated by unpleasant smells!
Luckily, the days when the only "inside cat" kitty litter options were sand, dirt or fireplace ashes are long gone.
In a hurry? Here are our top picks of the best cat litter for odor control
| | BEST CAT LITTER FOR ODOR CONTROL | BENEFITS | OUR RATING |
| --- | --- | --- | --- |
| | Ever Clean Cat Litter | Fragrance Free, Clumping, Odor Eliminating | |
| | Dr Elsey's Cat Litter | Natural, Clumping, No Scented, Virtually Dust Free | |
| | World's Best Cat Litter | Extra Strength Lavender Scented, Odor Eliminating | |
| | Blue Buffalo Cat Litter | Absorbant, Virtually Dust Free, Natural, Environmentaly Friendly | |
| | Feline Pine Cat Litter | Absorbs Liquid And Odors, Chemical Free, No Dust | |
You can find detailed reviews of these and even more of the best cat litter for odor control options too below.
From clumping to unscented, options. Along with some great cat urine deodorizers.
Today's picks for the best cat litter for odor control could make the tightest jaw drop.
All of these products were carefully and independently selected by The Happy Cat Site team. If you decide to make a purchase from one of the links marked by an asterisk, we may earn a small commission on that sale. This is at no extra cost to you.
Why Does My Cat's Litter Smell?
This is not a question with a single easy answer.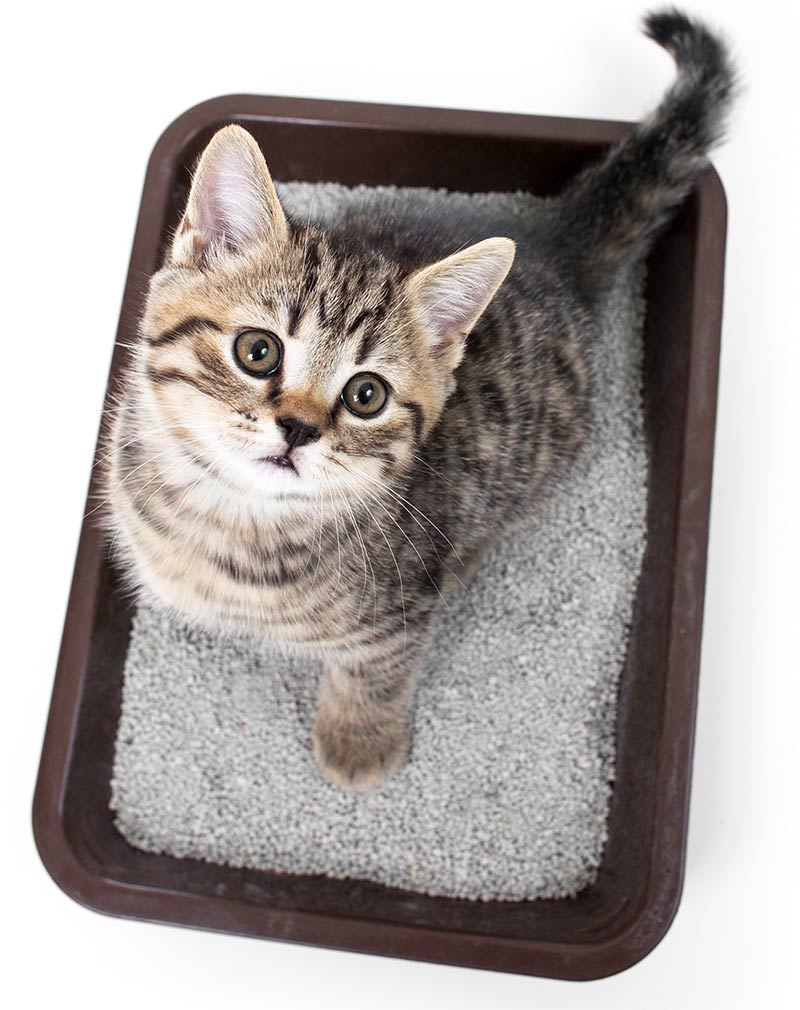 There can be a number of factors influencing how badly your cat's litter smells:
The type of food you are feeding your cat.
How many cats are using the litter box.
How often you clean the litter box.
If your cat is hydrated or dehydrated (concentrated pee smells more).
If your cat is healthy or feeling unwell.
Whether any cats use it more frequently or perhaps have elimination issues.
What type of cat litter you are using.
How sensitive you personally are to odor in general
Types of Cat Litter
Cats are picky over their kitty litter.
Some brands will encourage him to use the box, others will not.
And this will differ from cat to cat.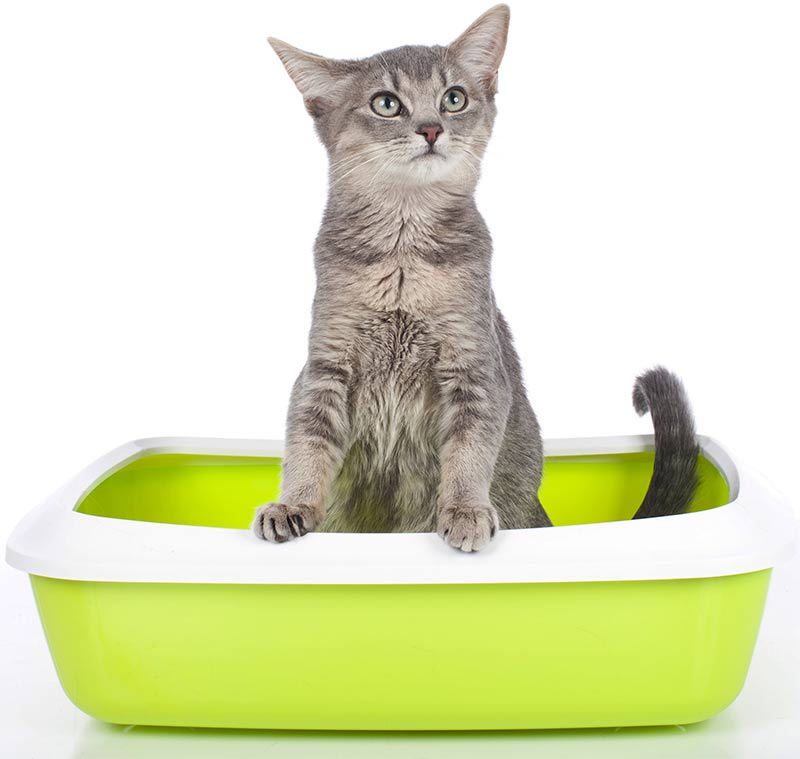 Here are some popular options. Not all of them will come in odor-fighting varieties though!
Clumping bentonite clay
This clay clumps well and is easy to clean up. However, it is dusty and heavy to work with.
Non-clumping clay
Made of non-bentonite clay, this litter is less pricey but needs to be cleaned more often due to odor build up.
Gel crystals
The crystals are made of silica, a highly absorbent material. This type of litter is good for odor control but can be dangerous if your cat ingests it.
Grass
This newer type of grass-based litter has had positive reviews so far in terms of absorption, odor control and biodegradability.
Recycled paper
Paper pellets or granules absorb well and generate no dust, which both cats and cat owners like. However, only the granule version clumps.
Corn or wheat
Both are biodegradable and absorbent, but some vets caution against using either of these litter options, since they can cause digestive irritation if ingested.
Pine
Pine controls odor quite well and is absorbent, but it doesn't clump very well. Plus, some people and cats don't like the scent of pine.
Nut shells
This is another newer litter option made of walnut shells, which are biodegradable, absorbent, clumping and odor-controlling.
Best Cat Litter for Odor Control
If there is one thing that all cat owners can agree on, it is this: cat waste does not smell good.
Here are our top picks for solving this stinky problem!
Blue Buffalo Naturally Fresh Cat Litter
This Blue Buffalo Naturally Fresh Cat Litter* is clay free and virtually dust-free.
Your cat won't track it around the house. It is eco-friendly and all natural.
It's also good value. One bag of this litter is equivalent to three bags of other cat litter products.
You can choose from pellets or clumping, cat attract, scented or multi-cat.
It comes in 6-pound, 14-pound or 26-pound bags.
Feline Pine Original Litter
This non-clumping all natural Feline Pine cat litter* is one of the best odor absorbing cat litter for non-clump litter fans.
Pine wood naturally absorbs both liquid and odors by binding to the waste.
The shavings are soft but won't track through the house or produce dust.
It is completely free from chemicals so it is also safe for you and your family.
It comes in a 40-pound bag.
World's Best Lavender Scented Litter
Extra Strength Lavender Scented* is the best cat litter for odor control for many cat homes.
It is crystal-based. This means the litter sucks moisture out of waste to eliminate odor.
It also makes cleanup easy and quick.
Reviewers say the somewhat higher price is more than worth it in terms of the extra use they get from this litter.
It comes in a 7-pound, 14-pound or 28-pound bag.
Best Clumping Cat Litter for Odor Control
In the world of cat owners, you are either a "clumping cat litter" or a "non-clumping cat litter" person.
You may just find your best kitty litter for odor control here:
Purina LightWeight Clumping Cat Litter
This Purina Tidy Cats clumping cat litter odor control* offers three options. Glade Tough Odors, 4-in-1 Strength or Instant Action.

All three are offered in several sizes for one or multiple kitties.
This lightweight litter is 99.6 percent dust-free and is designed to make cleaning the litter box fast and easy.
Arm & Hammer Slide Clumping Litter
The Arm and Hammer Slide Clumping no odor cat litter* gets its name from its "sliding" action when you go to clean out the litter box.
It just slides right out of the pan and into your waiting trash can.
The manufacturer guarantees your home will stay free from unpleasant odors for seven days.
This product is 100 percent dust-free and comes in three sizes (14-pound, 19-pound, 26-pound).
Nature's Miracle Clumping Cat Litter
Nature's Miracle might just be the best cat litter for odor control* in a multi-kitty household.
It not only fights the traditional litter box odor sources, but also reduces territorial odors.
It is also designed to withstand the rigors of a single litter box used by several felines.
The clumps form quickly and are easy to scoop and clean. This comes in a 20-pound and a 40-pound bag.
Best Unscented Cat Litter for Odor Control
When you are choosing the best litter for odor control, it is important to consider how you will react to the litter as well as how your cat responds.
For example, some cat owners can be highly allergic to the scents and deodorizers found in scented cat litter products.
Even though these additives are designed to address unwelcome litter box odors!
When you start with an unscented, nearly dust-free cat litter odor control product like one of the three listed here, you protect both your respiratory system and your cat's as well.
Dr. Elsey's Precious Cat Ultra Cat Litter
This incredibly popular all-natural Dr Elsey's Precious Cat litter* is free from scents, deodorants and perfume sources.
It is hypoallergenic and 99.9 percent dust-free.
The litter is formulated to ensure the box remains dry while the litter soaks up liquid waste.
It comes in an 18-pound and 40-pound bag.
The manufacturer states this is a great litter box choice if you use a mechanical or sifting litter box.
Ever Clean Unscented Cat Litter
This Ever Clean Extra Strength cat litter* uses carbon and plant matter-based technology rather than commercial scents or deodorizing agents to mask kitty litter box odors.
It also has a non-scented additive to stop the growth of harmful bacteria and microbes.
You can choose from an 18-pound or a 42-pound box of litter.
Boxiecat Premium Clumping Clay Cat Litter
This Boxiecat Premium Clumping cat litter* is unscented, hypo-allergenic and all-natural.
It won the Cat Fancy Editor's Choice Award in 2012 for best cat product of that year.
The litter is 99.9 percent dust-free and is designed to produce instant, easy-to-scoop clumps.
It works with any kind of litter box.
You can choose from a 16-pound or 28-pound bag.
Cat Litter Deodorizer
There are two different levels of cat litter odor control: deodorizing and eliminating.
Both can achieve similar or even identical effects, but the difference is often one of covering up or masking litter box odors versus neutralizing those same odors.
The following two sections introduce you to several highly rated products in each category.
Nonscents Litter Deodorizer
This scientifically formulated Nonscents Odor Control professional-grade cat litter deodorizer* stacks up as one of the best cat litter deodorizer options.
You can use it safely with any cat litter, it neutralizes rather than masks litter box odors and it doesn't have any chemical additives in the ingredients.
You can choose from 1 jar, 4 jars or an 8-pound bag.
If you prefer, the manufacturer also offers this product in a spray form* which is biodegradable and can also be used on pee pads and furniture.
Arm & Hammer Cat Litter Deodorizer
This tried-and-true Arm and Hammer litter odor control deodorizer* uses baking soda along with a moisture-activated scent to eliminate odors right after your cat uses the litter box.
Cat owners say the product really works even for multiple kitties. It comes in a 20-ounce box.
Litterbiotic Natural Litter Deodorizer
This unique Litterbiotic odor neutralizing product* uses probiotics and all natural ingredients to ensure your litter box sanitation system is safe for you and for your cat.
The manufacturer offers a 6-month money back satisfaction guarantee.
You can choose from a one-month, three-month or 24-month supply.
Cat Litter Odor Eliminator
Cat litter odor eliminator products are all designed to neutralize existing odors.
Some products also freshen air against future odors.
Depending on the size of your feline family, where the litter box is located and how sensitive you are overall to scents (whether cat pee or chemical fragrance) you may find one odor eliminator product works better for you than others.
Citrus Magic Litter Box Odor Eliminator
Citrus Magic* makes a respected line of all-natural air fresheners for general use, but this product was developed specifically to neutralize cat litter odors.
It is all-natural and made in the USA and can work equally well with one or several cats.
You can either add it to fresh litter or sprinkle it on top of litter as needed. You can order one 11.2-ounce cans or a pack of two.
Rocco & Roxie Odor Eliminator
This very popular and highly rated Rocco and Roxie Odor Eliminator* can be used anywhere there is cat odor. From the litter box to the carpet to the furniture.
It is a spray-on odor eliminator that uses bacterial enzymes to break down the compounds that cause the odor. It is certified child and pet safe and carpet safe.
The manufacturer offers a 100 percent money back satisfaction guarantee. You can order it in a 32-ounce bottle or a 1-gallon jug.
Best Cat Litter for Odor
We hope you have enjoyed learning about some of the most popular and highly rated cat litter for odor control products in use today!
We also hope you have discovered what is the best cat litter for odor control for your feline family!
Affiliate link disclosure: Links in this article marked with an * are affiliate links, and we may receive a small commission if you purchase these products. However, we selected them for inclusion independently, and all of the views expressed in this article are our own.
Resources
Karg, M., DVM, "Top Ten Litter Box Tips," Frederick Cat Vet, 2017.
Gross, D.A., "How Kitty Litter went from happy accident to $2 billion industry," The Washington Post, 2015.
Cottam, N., "Effect of an odor eliminator on feline litter box behavior," Journal of Feline Medicine & Surgery, 2007.
Weil, A., MD, "Is Kitty Litter Dangerous," Ask Dr. Weil, 2010.