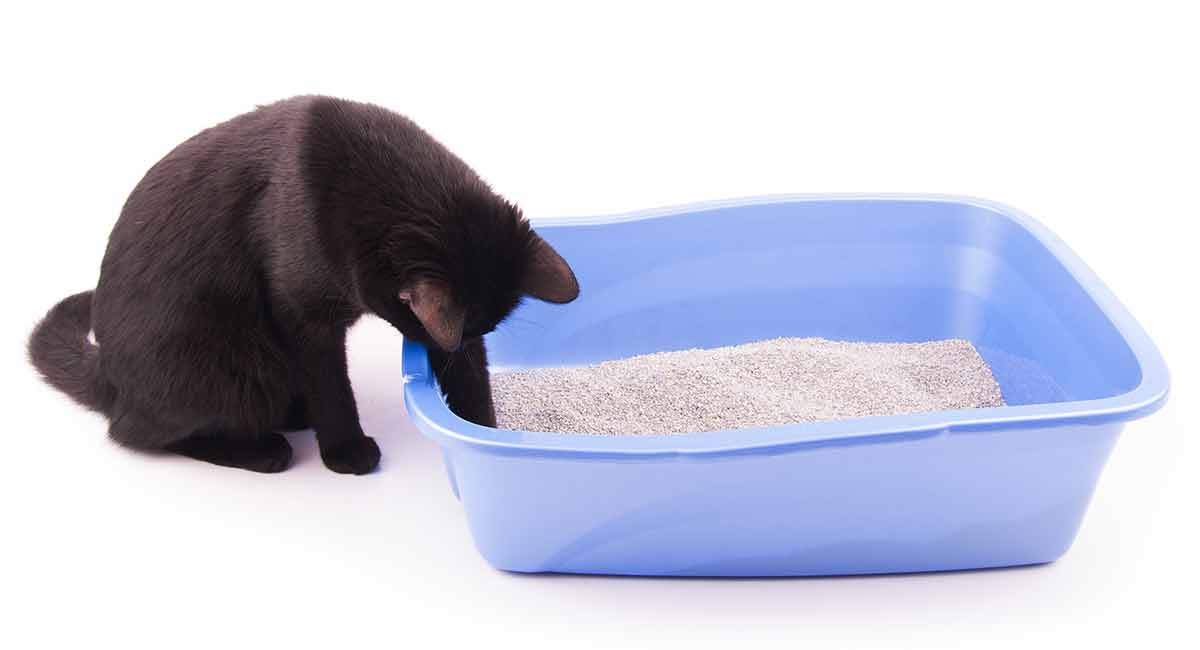 If you have a cat, there are some questions you don't appreciate the urgency of until you've lived together a while, such as "what is the best cat litter mat?"
Cat parents love their felines without exception, but when it comes to the litter box and all of its accoutrements, most of us are understandably less than thrilled.
Our ambivalence about such things as the litter box mat is easily assuaged however with the right kitty litter mat!
Believe me when I say that using the best cat litter mat alleviates much of the frustration that comes with that daily walk to the box to see what presents our cats have left us.
Cat litter box mat
There's no getting around the issue that cat litter spilling and spreading all over the place causes its fair share of problems.
There is the mess that must be cleaned up, plus the hygiene factor to consider.
Have you ever been mortified to discover a stray piece (or even clump) of litter somewhere it most definitely shouldn't be?
If you're a cat parent like me, I know you've found your fair share of litter tracked across the kitchen counter!
The good news is that the best litter mat has the capability of reducing the number of such unpleasant surprises.
We're going to take a look at the best cat litter mat for your unique situation. Whether you have one or more cats, frisky little kitty cats, or a mature grande dame of a feline.
Cat litter tray mat
But before we do, it's worth mentioning that the best cat litter mat works even better when it's used alongside other specialized products.
These can be litter boxes designed to spread less litter as well as non-tracking cat litter.
It doesn't hurt to use the right litter scoop, too!
Have you been searching for cat litter that doesn't track? If so, we have a terrific article for you to peruse on that very same struggle.
And be sure to check out Our Complete Guide To The Very Best Litter Box Options, including boxes designed to limit litter scatter. 
And, from simple scoops to high tech solutions – we help you choose the best cat litter scoop for your kitty here.
What is the best cat litter mat?
We've reviewed a variety of cat litter mats in a range of budgets.
All are designed to help keep kitty litter contained to the box area by knocking it of the pads of your cat's feet and keeping it trapped.
Best cat litter mat for big felines
If you have a big cat or a big litter box, it's a wise idea to invest in a large cat litter mat such as one of the following superior large litter mat options.
Easyology Large Litter Mat 35″ x 23″
Over 5,000 satisfied customers sing the virtues of this big cat litter mat that comes in an assortment of colors from lavender to beige, and it's not hard to see why!
Made with extra-thick and extra-large PVC material, the patented mat design claims to trap over 35% more litter than similar mats.
Did we mention that this fantastic mat was Voted #1 Cat Litter Mat on Amazon by several online magazines?
In addition to being sturdy the versatile mat is extra lightweight (2.2 lbs.) and water resistant.
Blackhole Cat Litter Mat – Extra-Large Size
Not just large and practical, this mat supports all types of cat litter including corn, clay, crystal, clumping, wheat, and pellets!
The jumbo sized mat is even large enough for two cats.
Ruff 'n Ruffus Pets Premium Non-Slip Cat Litter Mat
This lightweight mat comes in three sizes and any color you want as long as it's gray.
Gorilla Grip non-slip backing keeps the cat litter mat firmly in place, and previous purchasers say it's a piece of cake to keep clean.
Smiling Paws Pets BPA Free Premium Cat Litter Mat – Extra Large
This 47 x 33 inch litter tray mat is mammoth enough to handle the largest of kitty boxes.
In your choice of several tasteful colors it will look stylish doing so too.
The mat is BPA-free, odor-resistant, and urine proof so your floor stays dry and clean.
It has a non-slip backing and a simple shake or vacuum will clean it in a jiffy.
A 100% Lifetime Warranty sweetens the deal!
Best cat litter mat for urine leaks
Does your little one have a bit of a urine control issue?
Or maybe she's older and can't always get every last drop into the box?
Spills and leakage won't be a problem with a litter catcher mat that is also waterproof.
Here are some excellent options to choose from:
iPrimio Large Cat Litter Trapper Mat
Not only does this super smooth and attractive mat effectively trap litter from paws, it features a plastic film to protect your floor.
It comes in basic black and the XL size is 30 inches long by 23 inches wide.
Highland Farms Select Cat Litter Trapper
This economical, dual structure litter trapper mat is made of non-toxic EVA foam and designed to prevent messy spills.
Specialized design cat litter catcher mat
Who says that the best cat litter mat must be basic and functional only?
Some of the best mats have added features that go a long way toward making your litter box job much easier:
Pieviev Cat Litter Mat Litter Trapper
This mat has a double-layer honeycomb design that allows you to sift the top layer of litter into a convenient catch-all bottom layer.
Not only is it waterproof, it's soft, easy to clean and phthalate free.
Easyology Corner Litter Mat
Voted #1 Cat Litter Mat on Amazon by several online magazines, this gorgeous mat could easily be the prettiest cat mat you'll lay eyes on.
The convenient corner design measures 23 x 23 inches, and fits snuggly into the tightest of nooks.
It's lightweight, litter is easily removed with just a shake, and it comes with a money back guarantee.
Petfectshop Cat Litter Mat
This soft and cute as can be cat litter mat has a decorative design to complement its rugged capabilities.
It comes with a non-slip backing, and it's made of eco-friendly materials.
Leokis Premium Phthalate-Free Cat Litter Mat
This beautiful cat litter mat looks like a beautiful rug but it's actually a non-toxic, high-performing mat.
It's also easy to clean and popular with reviewers.
To top it all off, this gorgeous mat (available in three designer colors) comes with a 10 year guarantee!
Choosing your best cat litter tracking mat
We hope you enjoyed our review of the very best cat litter mats.
The best way to reduce unwanted litter scattered about the house is to use your cat litter trapper mat in conjunction with a non-tracking litter as well as a box designed to reduce litter scatter.
If you haven't already, be sure to check out our other informative article links above to learn about how you can limit the amount of unwanted litter that your kitty "shares!"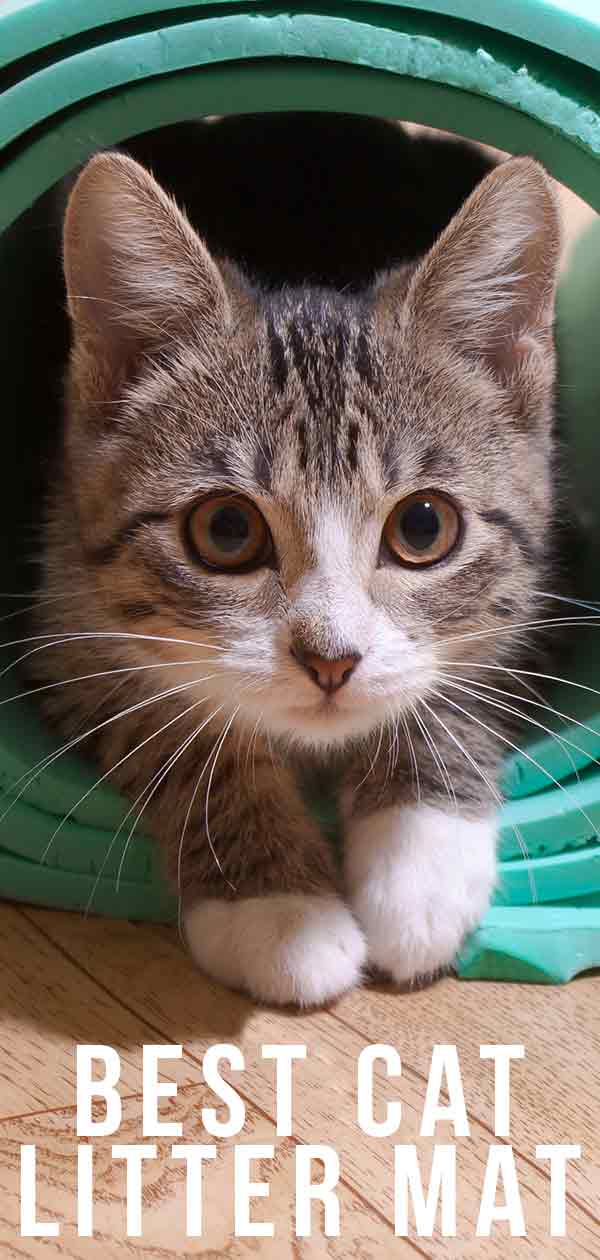 Do you have a favorite cat mat to recommend to other pet parents?
We'd love it if you share your suggestions in the comment section below!