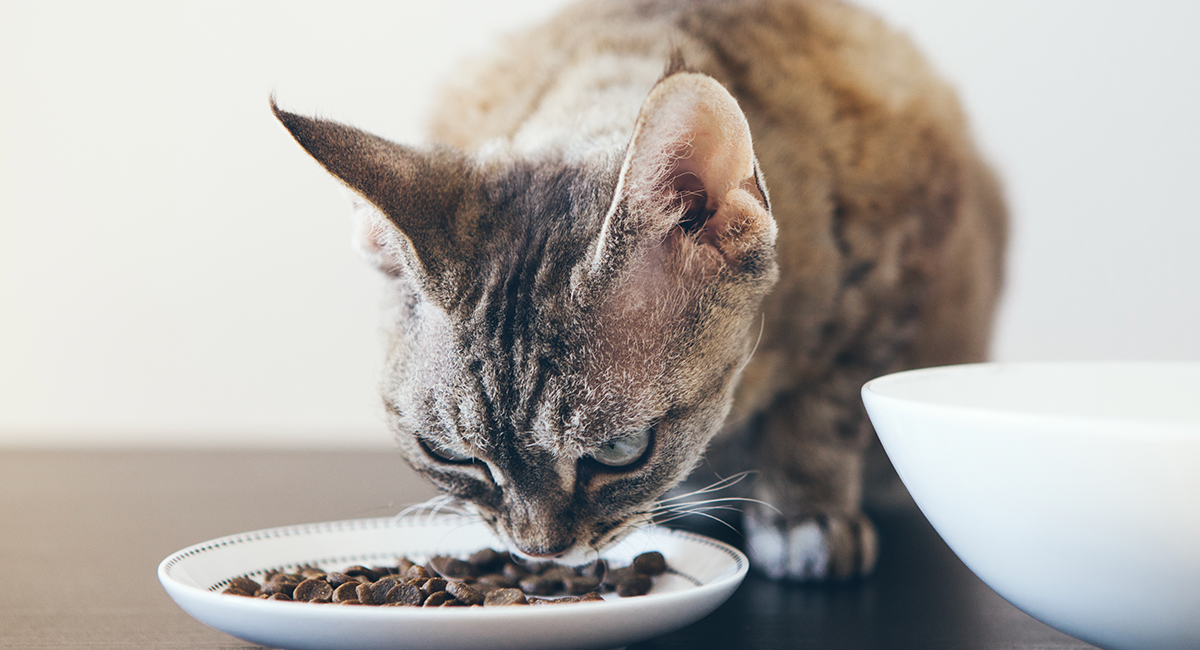 Are you looking for the best food for cats with kidney disease?
You're not alone. Chronic kidney disease (CKD) is very common in cats.
Although older cats are most at risk for CKD, even some kittens are born with kidneys that don't function properly.
While there is no cure for CKD, symptoms can be alleviated through plenty of hydration and a carefully managed diet.
This guide will discuss kidney disease in cats and look at cat food for kidney health to improve your cat's quality of life.
All of these products were carefully and independently selected by The Happy Cat Site team. If you decide to make a purchase from one of the links marked by an asterisk, we may earn a small commission on that sale. This is at no extra cost to you.
Kidney disease in cats
Kidney diseases lessen your cat's ability to get rid of impurities through their urine. This can lead to a toxic accumulation of waste in the bloodstream.
There are basically two types of kidney disease.
Chronic kidney disease is when kidney function declines over a period of time. Acute kidney disease occurs suddenly.
Some causes of chronic and acute kidney problems include:
infection
toxin exposure
kidney stones
trauma
cancer
high blood pressure
hereditary disease
Signs that your cat has kidney disease include:
weight loss
vomiting
diarrhea
increased thirst
decreased appetite
lethargy
bad breath
Left untreated, kidney disease can lead to numerous other health problems. An early diagnosis by a veterinarian is the best way to ensure that your cat lives as long – and as well – as possible.
Can kidney care cat food improve kidney disease?
Providing a renal support cat food is perhaps the best way you can positively impact your pet's health and slow the progression of kidney disease.
Dietary modification that includes kidney friendly cat food, which is lower in protein, phosphorus, and sodium content, and high in water-soluble vitamins, fiber, and antioxidants, is a proven part of CKD treatment.
What if my cat won't eat at all?
Unfortunately, cats with CKD often lose their appetite. A build-up of toxic waste products in the blood can lead to nausea and an aversion to food.
Many cats have trouble accepting a therapeutic diet and this can lead to severe weight loss.
This study found that 43% of cats had an abnormal appetite due to CKD.
Although you want your cat to have the best cat food for kidney disease, it's also important that they consume enough calories to prevent fat and muscle loss.
Sometimes eating some of the wrong foods is better than eating nothing at all. Cats with CKD who go without food for even a short time can develop significant health problems.
This article will also give you some ideas on how to fatten up a skinny cat.
Cons of choosing specialized cat food
The only downside to choosing kidney diet cat food is that it can take some time to find food your cat will eat.
You may have to offer a variety of renal cat foods before finding one that's palatable to them. Unfortunately, what they find appealing can sometimes change on a daily basis.
It's also crucial that new kidney cat food is introduced to them gradually. This will help with a smooth transition.
It can be frustrating for cat owners, but there is no "one-size-fits-all" cat food for kidney problems.
Your veterinarian should be able to help you choose the best diet formulation for your cat's specific nutritional requirements.
Benefits of choosing specialized cat food
This study on chronic kidney disease in cats found that cat food for renal failure produced a significant reduction in renal-related deaths.
Another study found that providing the best food for cats with kidney disease is the mainstay of managing chronic renal failure.
There are primarily two ways in which the best food for cats with kidney disease is beneficial.
When the kidneys aren't working properly, they are unable to remove toxic by-products. A diet with a small amount of high-quality protein minimizes the production of toxins and allows your cat to feel better.
High phosphorus accelerates renal failure. So a low phosphorus cat food for kidney disease is believed to slow progression of the disease and improve your cat's chances of survival.
This study found that cats who were fed cat food for kidney failure that is restricted in phosphorus and protein survived longer than those that were not fed this diet.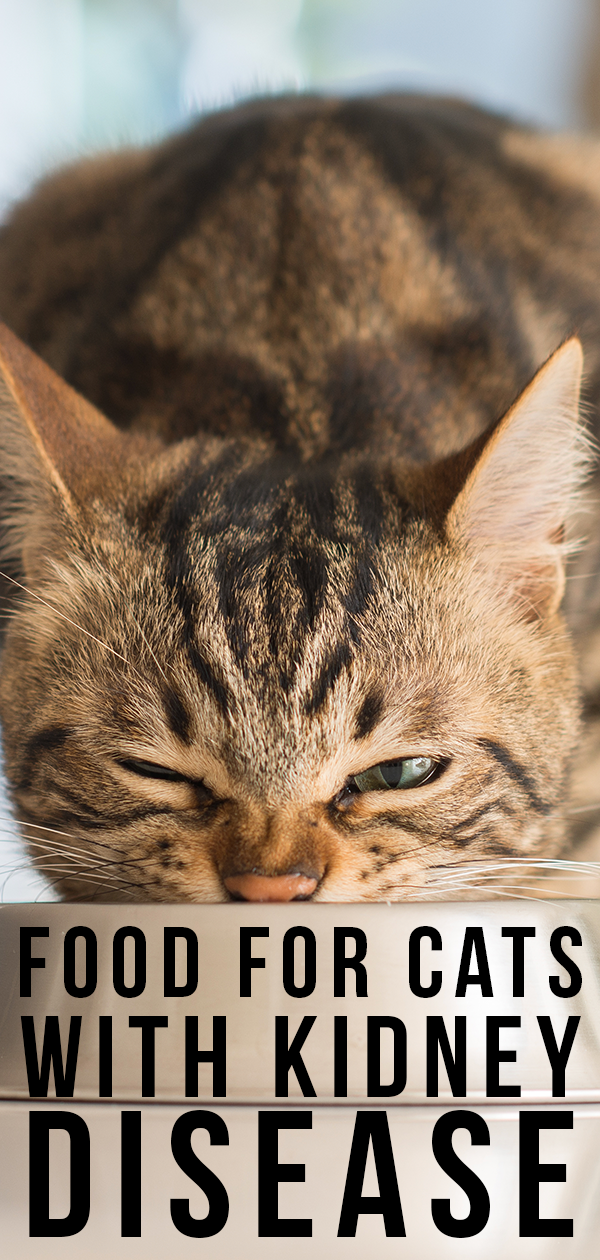 Food for cats with kidney disease
If your cat has kidney disease, feeding them food that is specifically formulated to minimize symptoms and slow the progression of the disease is the best way to ensure your pet has a long life.
Here are some popular dry and wet foods that are recommended for cats with kidney disease.
Dry Food Options for Renal Support
Hill's Prescription Diet k/d Feline Renal Health Dry Food* has reduced levels of protein, phosphorus, and sodium.
It includes omega-3 fatty acids and increased levels of B-complex vitamins to support kidney health.
VetriScience Laboratories Renal Essentials, Kidney Health Support for Cats* help maintain proper kidney function in felines. Renal Essentials Feline Bite sized chews were formulated to maintain normal kidney function during times of increased stress.
Notable ingredients include cordyceps sinensis extract, said to encourage energy production, kidney function, and the toxin removal process.
Some pet owners of senior cats with kidney problems noticed a marked improvement in their pets' appearance and activity level within a few weeks, as well as better lab results for their cat's kidney function.
Wet Cat Food Options
Purina Pro Plan Veterinary Diets NF Kidney Function Cat Food* has been scientifically formulated both to help minimize the signs of kidney failure and stop the disease from advancing further.
It contains a limited amount of high-quality protein, reduced sodium, low phosphorus, and omega-3 fatty acids.
Hill's Science Diet Senior Wet Cat Food* has a soft, smooth pâté texture and a savory chicken flavor.
Formulated for senior cats, it offers precisely balanced nutrition to sustain kidney and organ health. Its high quality ingredients are easy to digest for proper nutrient absorption.
More than 220 veterinarians, food scientists, technicians and Ph.D. nutritionists develop all of Hill's pet foods.
They're so confident your cat will enjoy their foods that they offer a 100% Satisfaction Guarantee.
Clinicare Feline Liquid Renal Care* is a liquid meal replacement for increased caloric intake in cats who are critically ill or recovering.
This product is intended for use under veterinarian recommendation only.
Calorie distribution is 30% protein, 45% fat, and 25% carbohydrate. It contains a variety of vitamins, minerals, and electrolytes and provides reduced levels of protein.
Hi-Tor Neo Diet for Cats* helps manage renal disease in cats with a low protein, restricted phosphorus formula.
The recipe is touted as highly palatable so that cats with no appetite are able to get enough calories.
A number of cat owners were delighted by how much their cats liked the flavor compared to other renal diet cat foods.
This brand was also noted for being more cost effective.
Best food for cats with kidney disease
When it comes to the best food for cats with kidney disease, remember to consult with your veterinarian.
Kidney disease is a serious health issue with many challenges.
Giving your pet the best food for cats with kidney disease is the most beneficial way to slow the progression of the disease and minimize symptoms so that your cat can have the best possible life.
Affiliate link disclosure: Links in this article marked with an * are affiliate links, and we may receive a small commission if you purchase these products. However, we selected them for inclusion independently, and all of the views expressed in this article are our own.
References and Further Reading
Elliott, J., et al, "Survival of cats with naturally occurring chronic renal failure: effect of dietary management," Journal of Small Animal Practice, 20018
Ross, SJ, et al., "Clinical evaluation of dietary modification for treatment of spontaneous chronic kidney disease in cats," Journal of the American Veterinary Medical Association, 2006
Cornell University College of Veterinary Medicine
The Ohio State University College of Veterinary Medicine
Polzin, DJ, et al., "Dietary Management of Canine and Feline Chronic Renal Failure," Veterinary Clinics of North America: Small Animal Practice, 1989
Freeman, LM, et al., "Evaluation of Weight Loss Over Time in Cats with Chronic Kidney Disease," US National Library of Medicine National Institutes of Health, 2016
Quimby, J., "Advances in Appetite Stimulants in Pets with Chronic Kidney Disease," content presented at the 2017 Hill's Global Symposium in Washington D.C., May 5 – 6, 2017
Ross, LA, et al., "Effect of dietary phosphorus restriction on the kidneys of cats with reduced renal mass," US National Library of Medicine National Institutes of Health, 1982