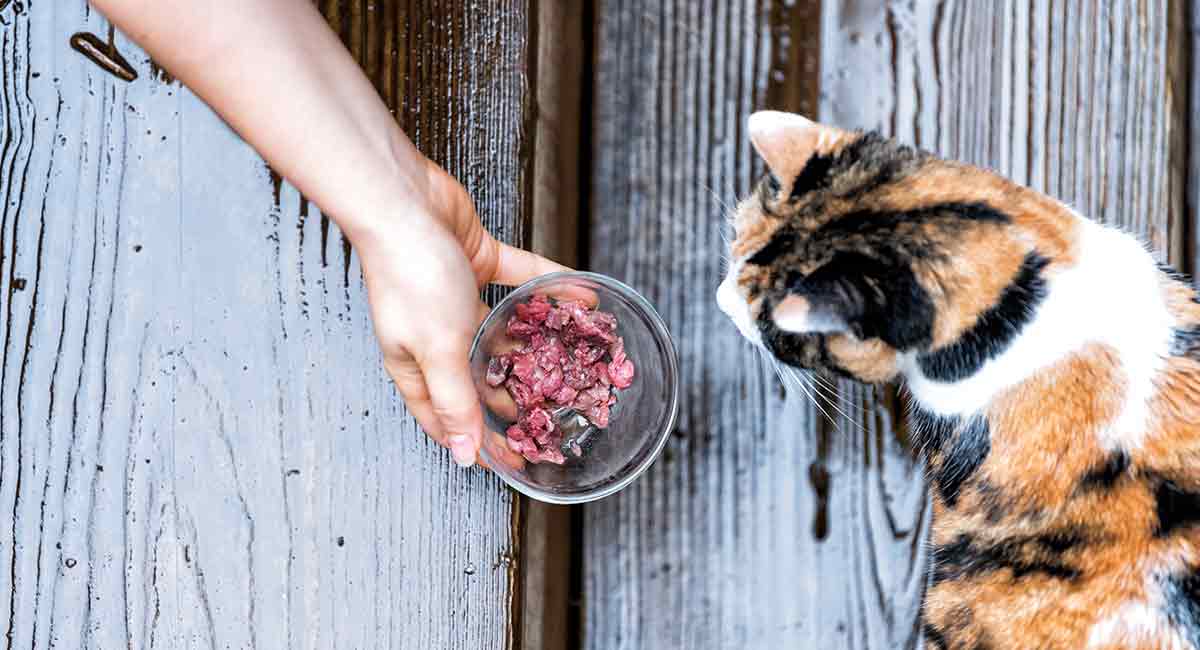 What are the hallmarks of the best food for outdoor cats?
Cats have become increasingly indoor creatures over the years.
But it is estimated that in the US around 50% of our feline companions still live at least part of their lives outdoors.
Whether your cat lives indoors or outdoors will affect various aspects of your kitty's life.
For instance, an outdoor cat will likely be more active than an indoor cat.
Therefore, it is important to make sure you feed your  outdoor cat a diet that meets their particular energy requirements.
It must keep them full and satisfied, without making them overweight.
Let's have a quick look at the basic nutritional requirements of cats, and then focus in on the best food for outdoor cats.
All of these products were carefully and independently selected by The Happy Cat Site team. If you decide to make a purchase from one of the links marked by an asterisk, we may earn a small commission on that sale. This is at no extra cost to you.
Best Food for Your Cat
Cats are obligate carnivores. That means their diet needs to be comprised mainly of meat derived protein.
Aside from plenty of protein, cats require a diet which includes specific amino acids such as taurine, arginine, methionine, and cysteine.
Unlike other animals, cats cannot produce these amino acids themselves.
They can't store them either. Therefore, they need to have these amino acids as a regular part of their diet.
Most commercially available cat foods will address these requirements, although the quality may vary.
Aside from ensuring your cat's nutritional requirements are being met, the food your cat eats also needs to be palatable.
No matter how nutritious the food you present to your kitty is, if your cat won't eat it, they will gain absolutely no benefit!
Indoor vs Outdoor Cats
We won't go into the debate surrounding whether you should keep your cat indoors or outdoors in this article.
If you would like to learn more about this debate, have a look at this article for a thorough discussion of both sides.
Needless to say, there are pros and cons for both housing options.
However,whatever you choose will have a bearing on their care requirements.
Safety and health
For instance, an indoor cat will be less likely to suffer injuries, such as those sustained in cat fights or traffic accidents.
They also won't be exposed to infectious diseases which can be fatal or life-limiting.
However, it is very likely that they will be less active than their outdoor counterparts.
This presents a challenge for indoor cat owners.
Their kitties are more likely to suffer health problems related to obesity and low levels of activity.
If you would like to know more about the best cat food for indoor cats, have a look at this article.
Naturally, the main concern for the owners of outdoor cats is the safety of their kitty, along with the safety of other neighborhood cats – because cat fights can be nasty.
Another consideration is the impact a free-roaming cat could have on the local wildlife.
Nutritional requirements
If your cat roams outdoors, you also need to ensure that their energy and nutrient requirements are met.
We will have a look at some quality cat food for outdoor cats later in this article.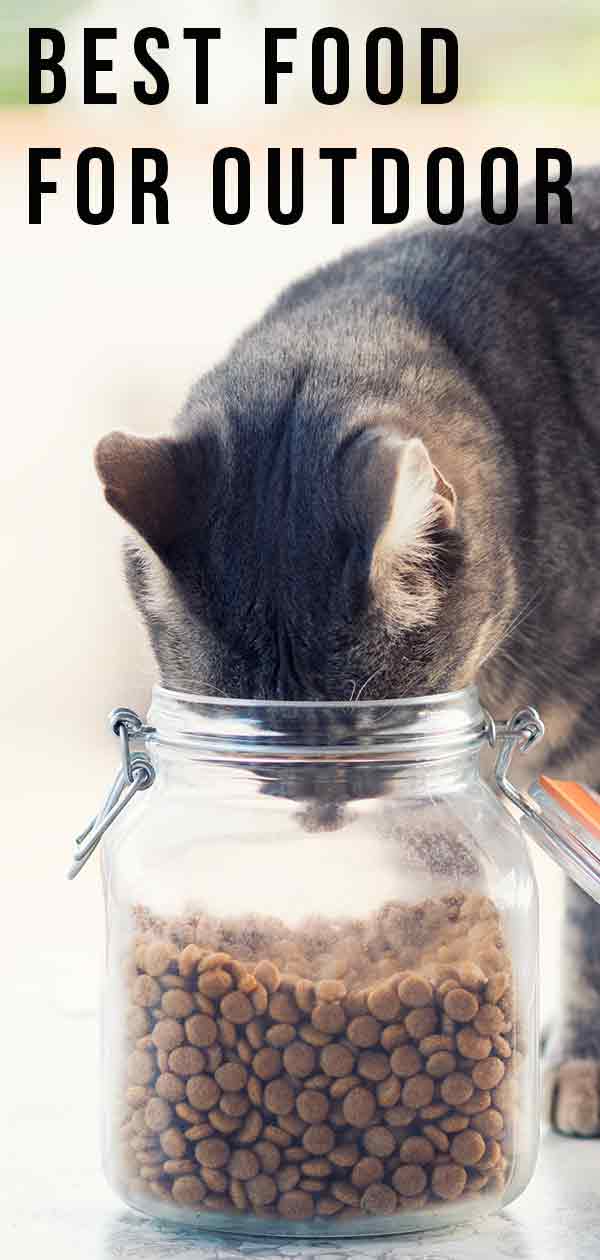 However, a word of caution is in order. Just because your cat roams free outdoors, avoid assuming they need to eat more.
One study found that the amount of time spent hunting impacted the chances of a cat being obese, not whether they were allowed access to the outdoors.
In other words, some cats will just laze about all day – whether they are inside or out!
Indoor Vs Outdoor Cat Food
When looking for guidance about what to feed your cat, there is plenty of advice out there about feeding indoor cats.
But, if you have a cat that is allowed free range outside, you may be wondering if there is anything in particular you should be feeding them.
What to Feed Outdoor Cats
The most important things to consider are
that your cat is eating a nutritionally complete diet
that they are maintaining a healthy weight
that they are active,
and that they find their food palatable.
Additionally, a cat that is well fed may be less likely to hunt and kill wildlife.
True, cats are natural predators. Some cats' drive to hunt is so strong, nothing will get in their way (aside from the front door).
However, a study published in 1998 found that cats who were hungry demonstrated more predatory behaviors when playing than those that had just eaten.
So aside from meeting your cat's needs, an outdoor cat that is well fed and satisfied may pose less of a risk to the local wildlife.
It is also important that outdoor cats have access to clean drinking water – preferably in a different location to their food (just one of those feline peculiarities).
Having said that, here are some suggestions for high quality foods that will provide your kitty all the nutrients they need to fuel their outdoor adventures.
Best Dry Food for Outdoor Cats
Dry food is the top choice for a lot of cat owners.
Purina ONE Tender Selects Blend Adult Dry Cat Food
If you are looking for a good all-round cat food that is at an affordable price point, then this is a good option.
Purina ONE Tender Selects* is cheaper than specialist diets, yet it is still made of quality ingredients for active cats who don't have any particular dietary requirements.

The main ingredient in this kibble is chicken. This means your kitty will get plenty of protein to keep them on the go.
Antioxidants are also important to keep your cat healthy, and the right antioxidants in correct balance are vital to prevent illness.
This formulation takes these needs into consideration.
Importantly, this food tends to be a crowd pleaser flavor-wise, which can be half the battle when creating a menu for a finicky feline.
Hill's Science Diet Adult Perfect Weight Cat Food
As mentioned, outdoor cats are not always sleek and lean. Some cats just like to lounge.
This might leave you wondering what your options are when it comes to encouraging weight loss in a cat that has access to the great outdoors and is failing to take advantage of all that room to roam.
This Hills Science Diet Adult Perfect Weight Cat Food* might be a good option.

As you would expect from any high-quality cat food, this formulation is high protein, and has all the essential nutrients and vitamins included.
The people at Hill's back their product and claim that 70% of cats put on this diet lost weight within the first 10 weeks.
This food is a little more expensive than other brands, but if you have a chubby kitty, investing a little more now to keep your cat healthy might save some hefty veterinary bills down the track.
Best Wet Food for Outdoor Cats
Does you cat turn their nose up at kibble and hold out for juicy dinners instead?
These wet foods for outdoor cats might fit the bill!
Iams Purrfect Delights Flaked Adult Wet Cat Food
This wet food from Iams is reasonably priced* and ticks the boxes flavor-wise for many felines.

Cats that are known to be picky eaters gobble this food up.
Of course, this is not a guarantee, but it is worth a try if you have a culinary connoisseur on your hands.
This food is available in chicken and fish flavors and is made from real ingredients – meaning it is not bulked out with cheaper fillers such as gluten, soy, and corn.
Purina Beyond Grain Free Natural – Adult Wet Cat Food
Another option for those on the lookout for wet food, Purina Beyond Grain Free* is an all-natural diet which is available in a huge range of flavors.

Just a couple include Quail, Duck, and Trout and Catfish.
Many of the flavors also include some vegetables, which in small amounts is a natural part of a cat's diet.
This is another budget-friendly option, and many have found that their cats like it just as much as they do the more expensive brands.
This range of food is offered in a pate texture, so bear this in mind.
While some cats like their food served in this fashion, others prefer chunks. We will leave you to sort that out with your cat.
Despite the wide range of flavors, meat is still the number one ingredient in each offering, which is important when it comes to feeding carnivorous cats.
A Word on the Pros and Cons of Specialist Food for Pets
You will find many cat owners firmly parked on either side of the fence when it comes to whether you should feed your kitty a specialist diet.
The topic is somewhat of a minefield – with ethics, nutrition, animal welfare, convenience, and the family budget all being thrown into the mix.
If you decide to feed your cat a commercially available diet, a little bit of research and perhaps a word with your veterinarian will help you determine what food is appropriate for your kitty.
Most good quality commercially available cat foods will provide everything your cat needs to stay happy and healthy.
Additionally, in the US, claims made on pet food labels must not be misleading by law.
So, if a cat food claims to meet all the nutritional requirements for cats, you can feed it to your kitty with a healthy degree of confidence.
Of course, if your cat has a diagnosed health condition, then following your vet's advice regarding special diets is vital.
Best Cat Food for Outdoor Cats – In Conclusion
There is heaps of information out there regarding what we should be feeding our feline friends, and it can be confusing to know what information to trust.
Thankfully, when it comes to finding the best food for outdoor cats, the advice from the professionals is not too complex.
If your cat is otherwise in good health, you do not need to feed outdoor cats any specialist diets.
Just ensure that what you are feeding them is nutritionally complete, high in protein, and last but not least, tasty!
We hope you have found this article helpful. And if you think others would find this information interesting, please be sure to share!
What Does Your Outdoor Cat Like To Eat?
Does your free range kitty have a favorite dinner?
Tell us what it is in the comments box!
Affiliate link disclosure: Links in this article marked with an * are affiliate links, and we may receive a small commission if you purchase these products. However, we selected them for inclusion independently, and all of the views expressed in this article are our own.
References and Further Reading