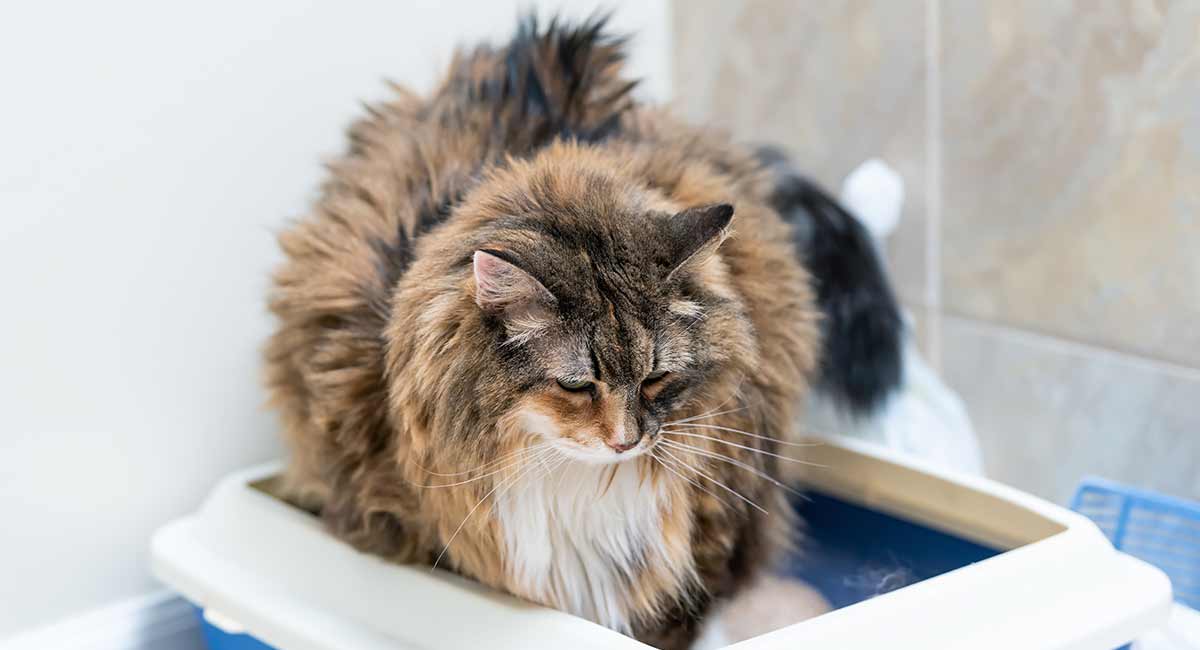 Are you looking for the best litter box for large cats?
Then you're in luck!
Today, we are going to cover why picking the right size litter box is so important for you and your cat.
We are also going to help you find the best litter box for your large kitty.
Let's begin!
All of these products were carefully and independently selected by the Happy Cat Site team. If you decide to make a purchase from one of the links marked by an asterisk, we may earn a small commission on that sale. This is at no extra cost to you.
How Large Is Large When It Comes to Cats?
If you are looking for the best litter box for large cats, then you've probably already decided that your cat needs a larger litter box.
But how do you know for sure?
On average, cats weigh between 7.9 and 9.9 pounds, but large cats (like the Maine Coon, for example) can be twice that size, weighing anywhere from 13 to 18 pounds!
With that in mind, if you have a cat between 10 and 18 pounds, then it's safe to say your cat is a large cat.
Picking the Best Litter Box for Large Cats
Most experts agree that having the right-sized litter box for your cat is just as important as keeping it clean and putting it in the proper location.
So when looking for the best litter box for large cats, make sure the litter box you're choosing is at least one and half times the size of your kitty.
In other words, you want to make sure your cat can move comfortably in his litter box.
Cats like to climb in, turn, and do their business with ease.
If your cat feels too squished in his litter box, chances are he won't use it.
If you're not sure what size to go with when getting a litter box for your cat, most cat enthusiasts suggest going with the bigger one.
It's better to be safe than sorry!
Now, with that in mind, let's go over some of the best litter box for large cats options.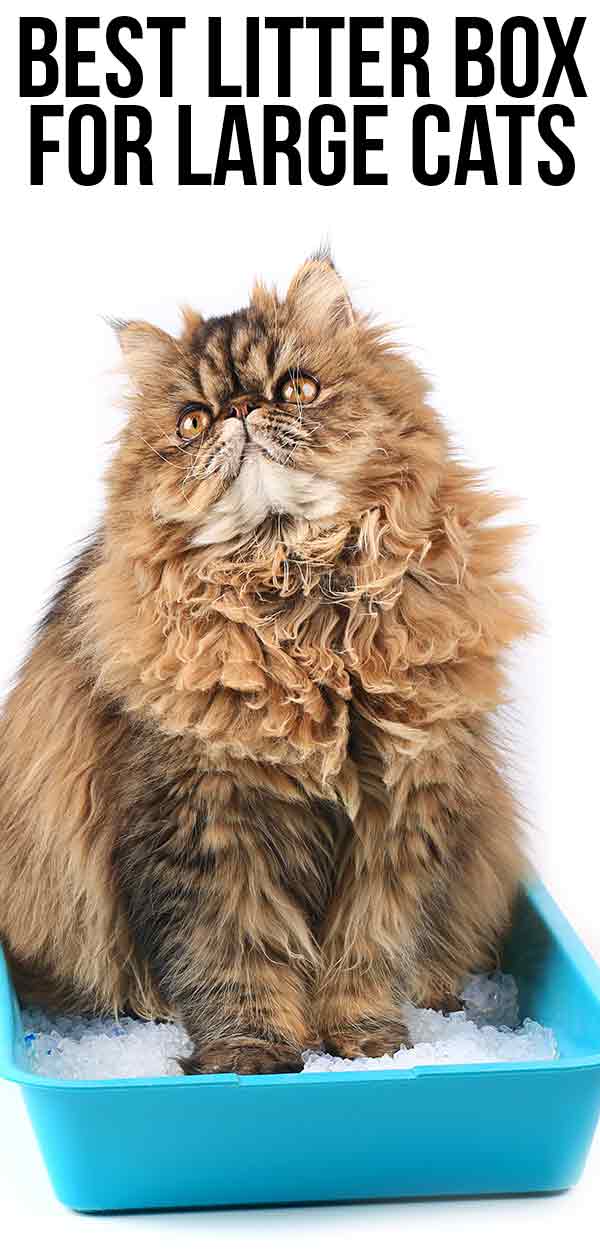 Best Litter Box for Large Cats
As we mentioned above, if your cat feels that his litter box is too small, he is less likely to use it or to be motivated to use it without making a mess.
To make things easier on you and your feline, we recommend a large litter box like the Petmate Arm & Hammer Large Sifting Litter Pan*.
We love that this litter box offers its very own sifting holes, which allow your cat's "business" to separate from the clean litter, making cleanup easy and quick.
Best of all, this litter box comes with antimicrobial protection to help fight against stinky odors and pesky stains.
Another Petmate product we love for large cats is the Petmate Litter Pan*.
This large cat litter box boasts a simple design and is perfect for large breed cats.
This large litter box is easy for your kitty to enter and simple for you to keep clean.
Not to mention this cat tray uses recycled materials, making it environmentally friendly as well.
Next on our list is PetFusion's BetterBox Litter Box*.
This is one of the best litter box for large cat options, as it is specifically designed with large cats in mind and aims to help cat owners who are experiencing behavioral issues with their kitties who are afraid of tight spaces.
We love that this large cat litter tray is also vet recommended and has nice, high walls to help eliminate potty splatter and leaks.
Best Extra Large Litter Boxes
It is one thing to look for the best litter box for large cats, but what if you have an extra large cat and need an extra large cat litter box?
Don't worry.
We have found some wonderful large litter tray options for your super big kitty who needs an extra large cat litter tray.
Let's start with the iPrimio Ultimate Stainless Steel Cat XL Litter Box*.
This extra large litter tray is stainless steel, which means it won't absorb odors, and it won't stain or rust!
We also love the Suncast Extra Large Cat Litter Box* as an extra large litter tray option.
This tray is easy to clean, has high walls, and is easy for your cat to get in and out of.
It is also great for homes with multiple cats.
Speaking of homes with multiple cats, let's talk about some options for those looking for extra large cat litter box multiple cats!
Best Litter Box for Multiple Cats
For the most part, a multi-cat household will do well with any extra large litter tray, however, these are our favorite options.
First, we have the Favorite 25-Inch Cat Litter Box*.
This is an extra large litter box with lid included, offering privacy for your feline and less chance of odor for you.
Petmate Clean Step Litter Dome
For more extra large cat litter box with cover options, check out the Petmate Clean Step Litter Dome*.
This is one of the best litter box for large cats options as it has steps into the domed litter box and promises to be not only an X large cat litter box but bigger than many other litter boxes.
But what about other large covered cat litter boxes?
Keep reading!
Best Large Covered Litter Boxes for Large Cats
If you are looking for some large kitty litter boxes that are covered, then this is the list for you.
One of the best litter boxes for large cats with a hood is the AmazonBasics Hooded Cat Litter Box*.
It is shaped perfectly to be placed in corners and out of the way, and its large design will accommodate any large cat.
And for a self-cleaning large litter boxes, check out the Omega Paw Elite Self Cleaning Roll 'n Clean Litter Box*.
We love that it is easy to clean with a sleek design.
And it's just perfect for that extra large cat in your life who likes to do his deed in private.
So What Is the Best Litter Box for Large Cats?
While some feline enthusiasts argue that not all cats like covered litter boxes, studies have shown that what cats really prefer is a litter box that is clean and that is big enough for them to move around in.
Making sure your cat's litter box is the right size for him is going to help reduce behavioral issues and alleviate potty-training mishaps.
So remember, keep your cat's litter box clean and make sure it's one and a half times the length of your cat.
Also, place it in a location that is easy for him to reach.
Good luck!
Let us know in the comments below if you have more advice about litter boxes. And if you loved this guide, check out our guide to the best cat nail clippers here!
Affiliate link disclosure: Links in this article marked with an * are affiliate links, and we may receive a small commission if you purchase these products. However, we selected them for inclusion independently, and all of the views expressed in this article are our own.
References
Lipinksi MJ, et al. "The Ascent of Cat Breeds: Genetic Evaluations of Breeds and Worldwide Random Bred Populations" Genomics. 2008.
Ellis JJ, McGowan RRS, Martin F. "Does Previous Use Affect Litter Box Appeal in Multi-Cat Households?" Behavioral Processes. 2017.
Grigg EK, Pick L, Nibblett B. "Litter Box Preference in Domestic Cats: Covered Versus Uncovered" Journal of Feline Medicine and Surgery. 2012.
Gartner MC, Powell DM, Weiss A. "Personality Structure in the Domestic Cat (Felis silvestris catus), Scottish Wildcat, (Felis silvestris grampia), Clouded Leopard (Neofelis nebulosa), Snow Leopard (Panthera uncia), and African Lion (Panthera leo)" The Edinburgh Research Explorer. 2014.
Randi E, Ragni B. "Genetic Variability and Biochemical Systematics of Domestic and Wild Cat Populations (Felis silvestris: Felidae)" Journal of Mammalogy. 1991.