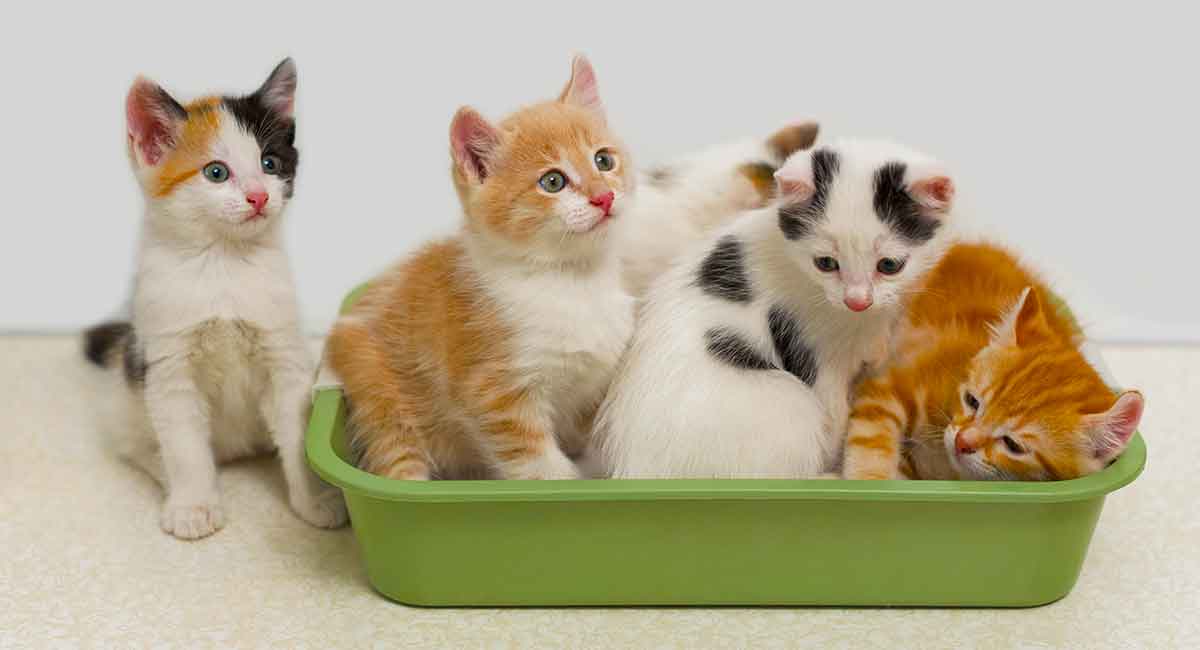 Finding the best litter box for multiple cats can be a process of trial and error as you test-drive different litter boxes to see what your cats like best!
In multi-cat families, finding the perfect litter box system can get even harder because some cats like to share litter boxes while other cats wouldn't dream of going where another cat just went!
For you, the cat owner, this can be especially mystifying as you study your cats' habits and try to decipher which cat prefers what litter box and how to select the best litter box for multiple cats in your household!
Why offer multiple cat litter boxes for multiple cats?
Today's feline wellbeing research shows the best litter box for multiple cats is usually more than one litterbox.
It turns out nothing puts a cat off their business like the sight of another cat's business already in the tray.
And when they can't relax in the litter tray, they're more likely to use another unintended corner of your house for their toilet.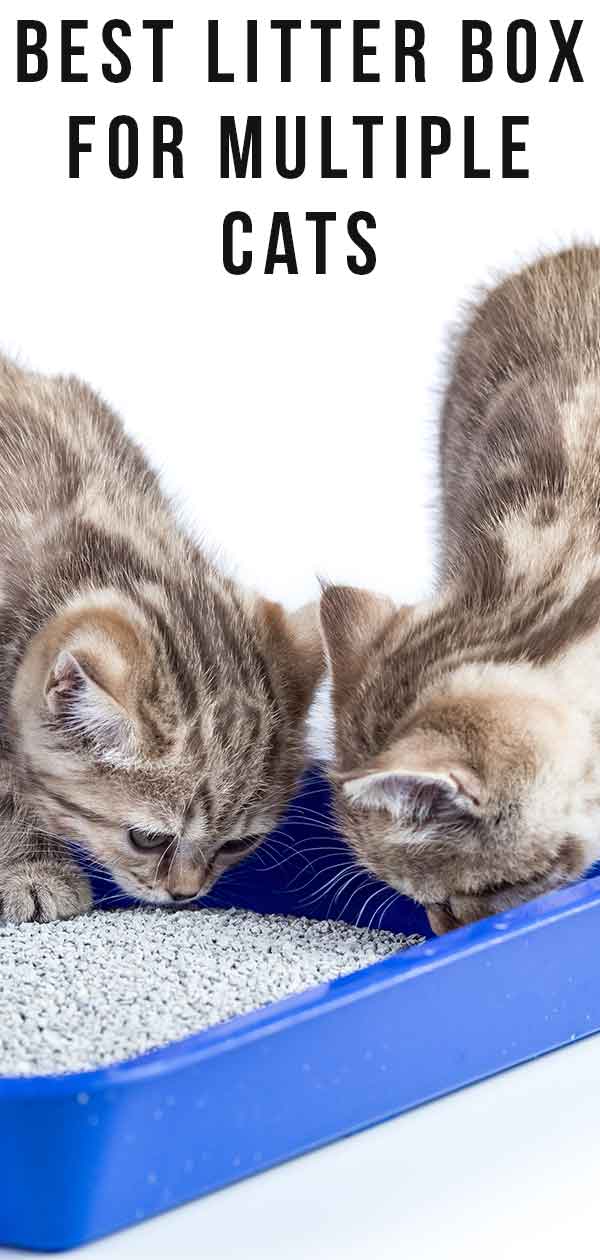 The magic formula for making sure more than one cat all use a litter box when they answer the call of nature is one litter box for every cat, plus a spare.
So if you have two cats, you need at least three litter boxes. If you have three cats, you need at least four litter boxes, and so forth….
Once they're in place, start observing how differently your cats behave while using the litter box.
Different cat have different toilet habits
For example, you might have one kitty who will come and go so silently you'll never even know she, well, went.
Then you may have another cat who simply insists on announcing his entry into the litter box at top volume and concluding his business by flinging "gently used" cat litter surprisingly far distances.
Also, while some cats may use just one litter box, other cats in the same family may insist on using every single litter box you provide.
And while some cats prefer a hooded box with a door flap, others will only go in an open-air box.
We don't really know why these head-scratching feline behavior differences exist, but we do know they are important to cats.
We also know you can do a lot to help your cats answer nature's call with privacy and comfort by providing multiple private and roomy kitty litter boxes.
How to choose cat litter boxes for multiple cats
As any feline behavior expert, veterinarian or experienced cat owner will tell you, finding the best litter box for multiple cats begins and ends with size.
Just like most people don't love having to squeeze themselves into and out of a postage stamp-sized bathroom, cats prefer to have plenty of space to stand up, stretch, turn around and select the best spot.
Speaking of which, your cats will also appreciate being able to find a clean (unused) space inside the litter box every single time they need to go.
For this reason, choosing a roomier litter box can translate into less scooping time for you!
Best litter box for two cats
If you are shopping for a litter box for two cats, you may not want a jumbo room-sized litter box!
But you do need a litter box that has a bit of extra leg and tail room so each cat can have some space and privacy even while they are all crowded in there together!
We've rounded up a few of what we think are the best litter box for two cats options for you to consider!
Petphabet Litter Box – Jumbo Hooded Kitty Litter Pan
This hooded litter pan comes in a number of fun colors so you can find the litter box that best matches your décor.
The top of the box is removable.
Owners say it is roomy enough for one Maine Coon or two smaller cats.
The translucent top cover prevents spilling and odor from escaping the litter box. The dimensions are 24.8L x 20W x 16.5H.
Amazon Basics Hooded Cat Litter box, Large
This hooded litter box features a swinging door so your cat can have privacy and you can keep litter off the floor.
There is a replaceable carbon filter to help with odor as well.
The plastic is stain-resistant and odor-resistant and easy to wipe clean.
Dimensions are 23.7L x 17.8W x 16.7H, so it is roomy enough for two standard cats.
The door can also be removed.
Good Pet Stuff Company Hidden Cat Litter Box
This jumbo-sized cat litter box looks exactly like a palm plant in a clay pot… except for the cat entry, which can be placed to the rear of the "pot".
It is made of leak-proof plastic with a vent/filter system for dust and odor control.
The measurements inside are 19L x 19W x 14H. The entire system is 42"H (with plant).
Best large litter boxes for multiple cats
As you are shopping for the roomiest and best cat litter box for multiple cats, we think these products offer plenty of variety to consider!
IRIS Cat Litter Box with Scoop
This stylish litter box comes in blue/white, off-white or beige.
It features curved sides and a deep interior for maximum comfort for multiple kitties.
The dimensions are 21L x 18.75W x 17H and the kit includes a litter scoop.
There is also a translucent flap door to minimize litter scattering after use.
Petmate 22026 Jumbo Hooded Litter Pan
This litter box is made of a durable material called Microban which resists bacteria growth, odor, staining and mildew/mold.
The dimensions of this jumbo litter box are 22L x 18W x 18.5H.
Owners say it is sufficiently roomy to hold two cats each weighing 18+ lbs. or three or more smaller cats.
iPrimio Non-Stick Plated Stainless Steel XL Litter Pan
If your kitties aren't shy about using an open-air litter box, this patent-pending design features a non-stick coated interior that won't stain, absorb odor or hold moisture.
iPrimio is an Amazon company so this product is backed by Amazon's satisfaction guarantee.
The dimensions of this litter box are 23.5L x 15W x 5H. The edges are rounded for your cat's safety.
Best oversized litter boxes for cats
If you've owned a cat before, you probably already know it is no secret even "only" cats prefer a palatially-sized litter box.
If you have more than one cat, and they like to share a litter box, then larger is definitely always better.
We think you and your kitties will love this selection of the best extra large cat litter box multiple cats!
Catit Jumbo Hooded Cat Litter Pan
This unobtrusive and roomy jumbo litter pan features a hood and a free sample of a carbon odor filter for you to try out.
The dimensions are 22L x 20W x 18H.
Cat owners say three medium-sized cats can fit inside with ease.
The door flap is removable in case your kitties like their box door-less.
Van Ness Odor Control Extra Giant Enclosed Cat Pan
The dimensions of this multi-cat litter box are 21.5L x 17.5W x 18H.
This litter box features an odor door and enclosed top along with a replaceable air filter for odor control.
Owners say even a 24-pound cat can fit inside with ease, and there is plenty of room for two or more smaller cats.
Favorite 25-Inch Extra Large/Jumbo Covered Litter Pan
This jumbo roomy cat litter box is perfect for multiple cats. It comes in dark blue (pictured) or beige.
The dimensions are 25L x 19W x 16.5H.
The non-stick surface is easy to clean.
If your cat "sprays," there is also a top-entry version of this same litter box that comes in beige, blue or black.
Best self cleaning litter box for multiple cats
Owning a cat is great, but sometimes scooping out the litter box is not so great – especially if you have multiple cats in your family!
Here, a self cleaning litter box can end up paying for itself quickly just in the time you save not having to rush to the box to scoop after each cat exits!
We think these are some of the best self cleaning litter box for multiple cat products and we hope you will agree!
CatGenie Self Washing Self Flushing Cat Box
You really do have to see this gizmo to believe it – it looks like a real toilet, but instead of water in the bowl, there is cat litter.
The litter box is self-cleaning in that it "flushes" and washes itself after each use.
It does require special cat litter granules and a hookup to the water and electrical to work.
The box will accommodate three standard-size cats aged six months or older.
The dimensions are 24.5L x 19.25W x 21H and there are two hoses: the water hose measures 8ft and the drain hose measures 10ft.
Omega Paw Self-Cleaning Litter Box, Large
This simple and economical multi-cat litter box is self-cleaning to the extent that you don't have to scoop – instead, you roll the box 180 degrees and that accomplishes the same goal.
The affordable price and high customer ratings is what makes this one of the best automatic litter box multiple cats.
This litter box works best when you use clumping cat litter.
The dimensions are 23L x 19W x 18.5H. Owners say one large (20+ lbs) cat or two to three small/medium cats can fit inside.
Best litter box hideaways for small spaces
If you have two or more cats and share a small space together, you may find concealing more than one litter box for multiple cats next to impossible….at least until you see these creative solutions!
In this section, meet three innovative and unique litter box hideaways that can turn your kitties' private room into a cat spa….and still keep your home welcoming and inviting for you and your guests!
Merry Products Cat Washroom Bench
This unique cat bench is incredibly room inside, measuring 20.2L x 35W x 19H.
It is a fully functional bench on top that can be used for seating or storage.
Inside, it can accommodate any style of kitty litter box your cats prefer.
You can choose between a white and natural walnut color bench.
There is a cat entrance door at one end.
New Age Pet ecoFlex Litter Loo
Just looking at it, you would never know you would never know this smart square table hides a kitty litter box inside of it!
The box comes in russet, antique white, espresso or grey.
The unique ecoFlex material is moisture-resistant and won't warp, crack or rust.
The dimensions of this litter box hideaway are 23.6L x 18.5W x 22H and there is a 1-year manufacturer's warranty included with your purchase.
Internet's Best Decorative Cat House & Side Table
This tasteful nightstand or side table comes in espresso or white and measures 19W x 20Dx 20.25H.
There is a hinged door with a knob that you can open for placing the litter box inside and removing it for cleaning.
There are top ventilation holes and one side has a small round hole for use with self-cleaning powered litter boxes.
Best litter box for multiple cats
We hope you have enjoyed learning about our top picks for the best litter box for multiple cats!
Do you have a special litter box issue you are trying to solve?
Please drop us a comment to let us know!
Sources
Estroff, E., et al, "Litter Box Problems," ASPCA, 2018.
Buffington, C., PhD, "Litter Boxes," Indoor Pet Initiative The Ohio State University, 2018.
Kornreich, B., DVM, "Feline Behavior Problems: House Soiling," Cornell Feline Health Center, 2015.
Ellis, JJ. "Does previous use affect litter box appeal in multi-cat households?," Science Direct/Elsevier, 2017.
Curtis, T.M., DVM, MS, Diplomat ACVB, "On Your Best behavior: The 10 Commandments of Cat Management," Today's Veterinary Practice, 2018.
Guy NC, Hopson M, Vanderstichel R. Litterbox size preference in domestic cats (Felis catus). Journal of Veterinary Behavior: Clinical Applications and Research 2014.