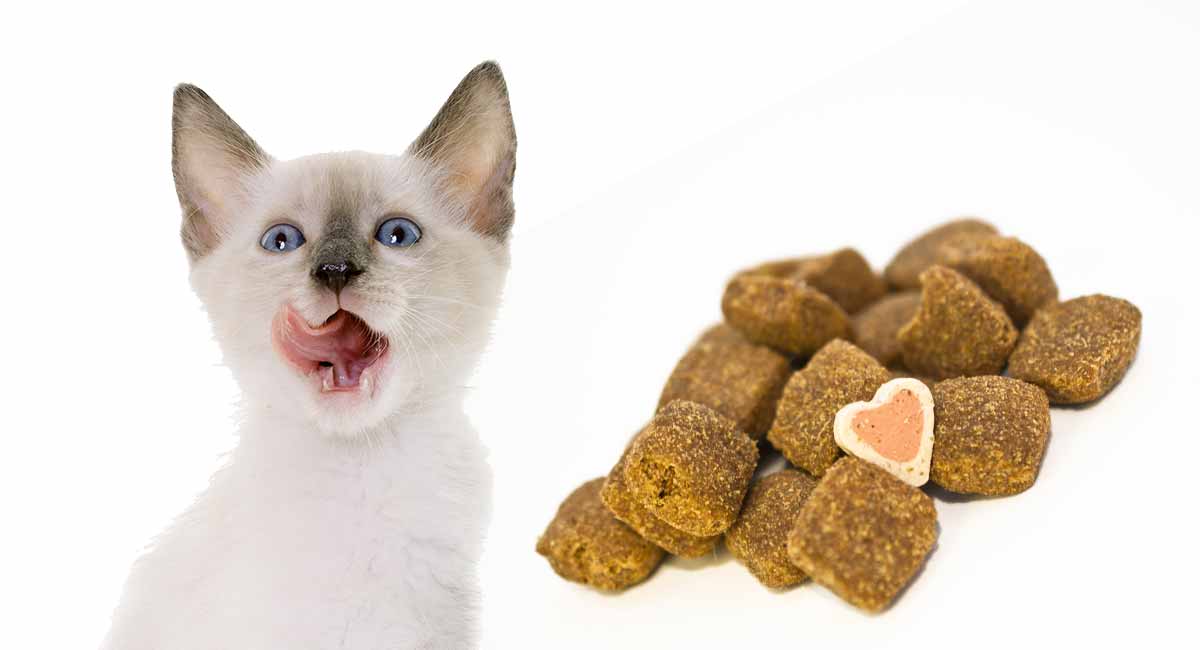 The best kitten treats are those that nourish your kitten through the early stages of growth. These treats should be nutritious and yet yummy.
You want to be able to motivate your little kitty when you train them. Still, no one wants to break the bank!
So finding affordable kitten treats — as the best treats for kittens should be — is also a major bonus.
All of these products were carefully and independently selected by the Happy Cat Site team. If you decide to make a purchase from one of the links marked by an asterisk, we may earn a small commission on that sale. This is at no extra cost to you.
The Six Best Kitten Treats
In a hurry? Then quickly browse our list of top kitten treats here.
Don't fancy any of them, or want to find out more? No worries! There is plenty of information on these best cat treats for kittens below. You'll also have lots of other choices in the article below.
Choosing The Best Kitten Treats
You love your kitten, so of course, you want to give them the best of everything. But when you're learning how to treat a kitten to some special foods, you likely have a few concerns. You want to be sure the treats you offer are healthy, nourishing and – most importantly – kitten safe!
You may be wondering "what treats can I give my kitten?" or even "can kittens have treats?" These are actually great, wise questions all kitten owners should be asking themselves!
This article will give you all the information you need to know about the best treats for kittens. We've covered everything from homemade kitten treats to the overall best cat treats for kittens. If you're a new kitty parent, you'll also appreciate finding good kitten treats for training, and much more!
We don't want you to spend three hours scouring the internet for recommendations. So we've done the dirty work for you. Check out our top picks of the best treats for kittens here.
Kitten Treat Quick Links
The Importance of Treats for Kittens
Feeding kittens treats is different from feeding adult cats treats. Your kitten is growing exponentially more than an adult cat. She also undoubtedly burns more energy by being more active. Unsurprisingly then, kittens need more of some nutrients, and a more controlled diet overall than adult cats.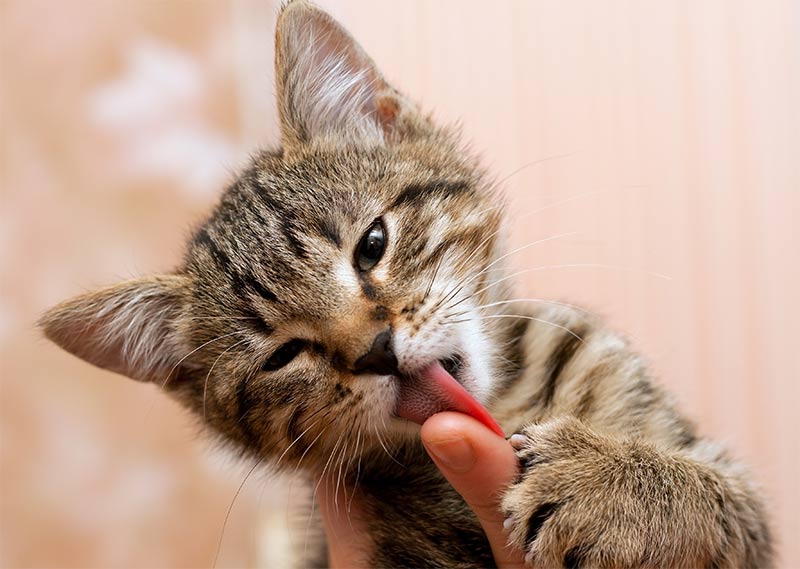 For one, your precious kitten was born without any teeth at all. We bet you didn't know that! For her first two weeks of life, she was toothless and completely dependent on her mom for nutrients!
But around day 14, your kitten got a big surprise when her little front teeth starting to grow in. After about six weeks, your petite fur ball had all of her baby teeth in place.
But then, probably right around the time you brought her home, your kitten got another big surprise as her baby teeth began to fall out to make room for her full set of adult teeth.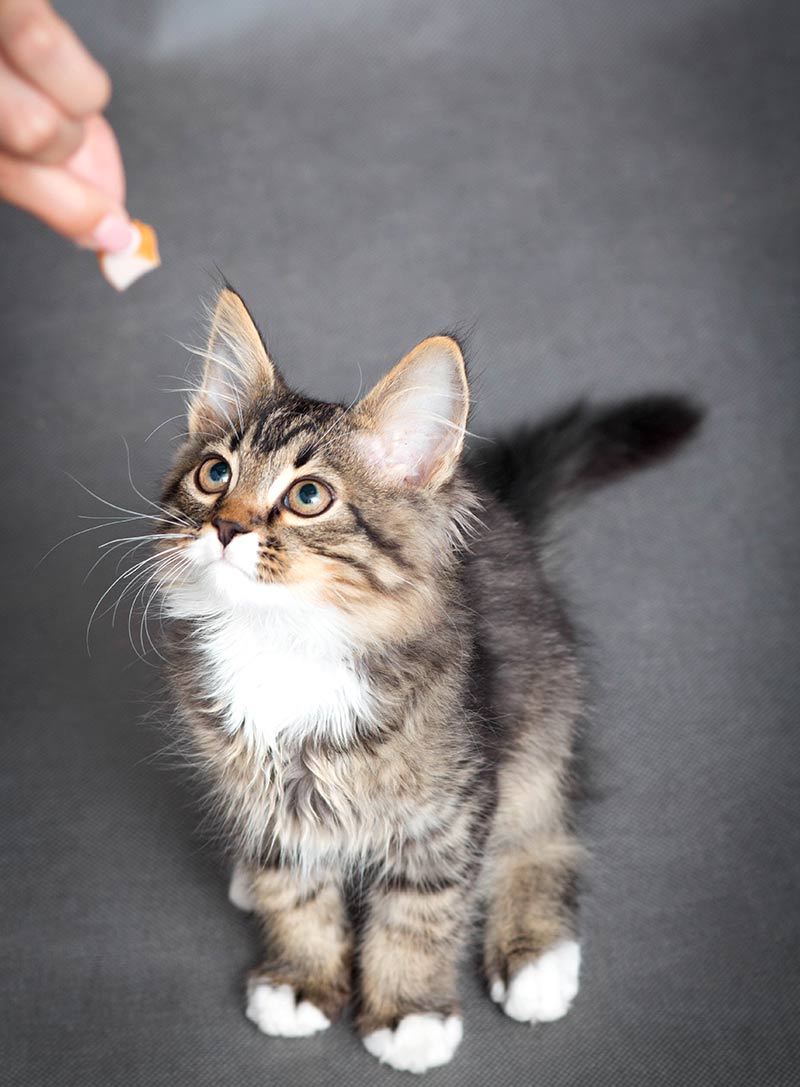 For new kitten owners, in particular, all these changes can make choosing the best cat treats for kittens pretty stressful!
Can Kittens Have Treats?
When answering the question "can kittens eat treats?" the short answer to this question is "yes."
But there is a caveat. Kittens need to follow a very specific diet in order to get all of the vitamins, minerals, amino acids and nutrients their young bodies need. This is necessary if they are to grow up healthy and strong as adult cats.
Unfortunately, "treats" — even good treats for kittens — are often insufficient to fulfill this dietary requirement. So even the best healthy kitten treats should only be offered as an occasional supplement to your kitten's regular daily diet.
You should therefore only feed them treats once or twice per week in larger portions, or daily in very small portions.
Veterinarians generally recommend that 90 percent of a kitten's daily nutrients come in the form of kitten food. Only 10 percent should come from kitten treat foods.
Introducing Kittens to Treats
Like all cat food, it is wise to introduce treats slowly to be sure your kitten — and their body — enjoy the treat. This way, you can figure out their preferences and know when they're reacting negatively to a treat.
Choosing the Best Kitten Treats
Finding good treats for kittens can be as simple as just paying attention. It all starts with checking the kitten or cat food ingredients list and choosing pure, whole food treats.
Remember also, if you choose to make your own treats, to avoid toxic ingredients such as raisins and grapes. If buying, select brands that are free from additives or fillers. Choose instead those with plenty of nutrients, vitamins, and minerals.
We'll get you started with some of our favorites.
Using Kitten Treats for Training Your Cat
Like any baby, your tiny kitten is already on the fast track to grow up into a big, strong, healthy and confident adult cat. And like any kitten owner, you also want to be sure your kitten grows up into an adult cat that is well behaved and doesn't scratch the furniture or spray-mark your carpets.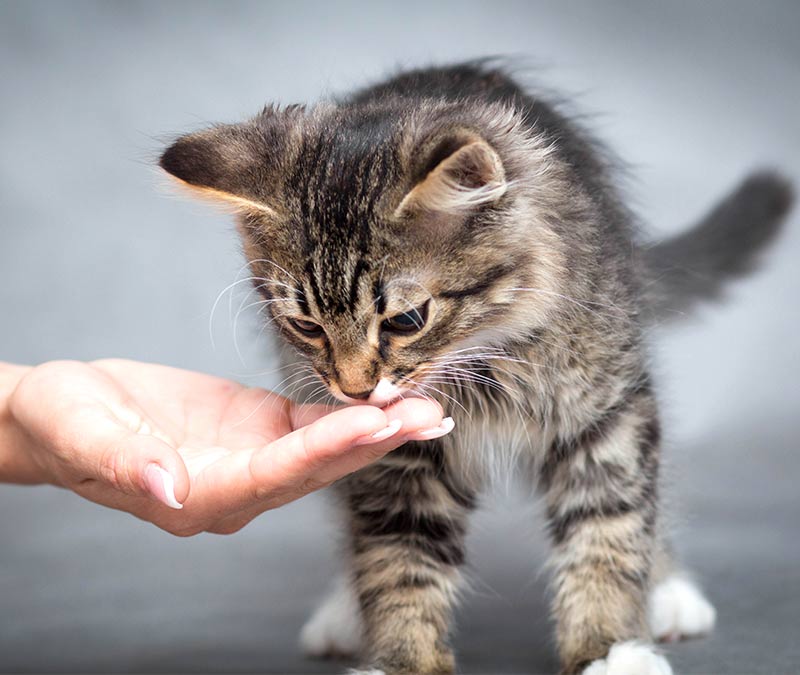 So the topic of the best kitten treats for training is one that every kitten owner is naturally very interested in!
We can help you there with some tips for offering kitten treats for training:
Small portions: When choosing kitten treats for training, it is important to keep portion sizes quite small. This prevents you from over-feeding your kitten treats at the expense of his daily kitten food diet.
Love is also a treat: You can also give your kitten non-food treats. Things like pets and cuddles or extra playtime are great for kittens. Plus, it helps you cut down on the amount of treat-based foods you offer.
Reward good behavior: Your goal when offering kitten treats for training should be to offer tiny morsels of the very tastiest treats. You should offer these the instant your kitten does what you want them to do. If you already know which treats your kitten likes most, perfect! Otherwise, you may need to do a bit of experimenting to find out.
Don't encourage begging: In line with the above, treats should not be given at your kitten's insistence. Especially not at the dining table — they're cute, but you're the kitty parent! Be firm.
Fitness treats: You can also make your kitten work for treats by encouraging movement and then rewarding them with treats. That way, there's no room for overweight kittens.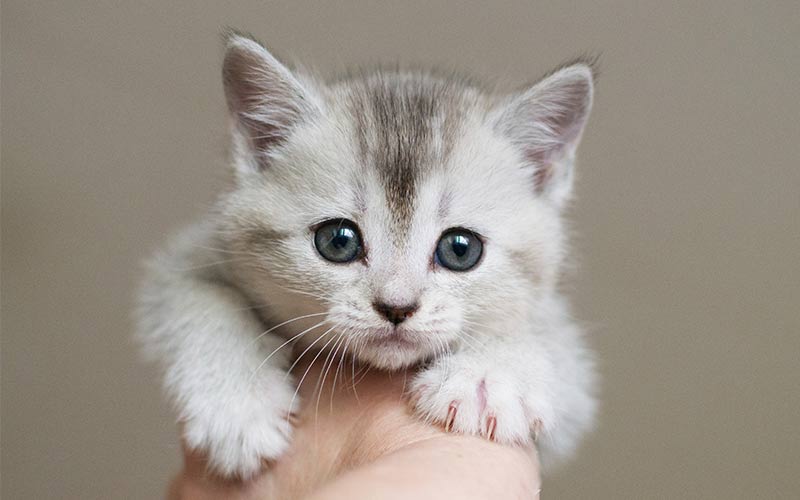 Best Training Treats For Kittens
Most kitten owners quickly find out that you can't go wrong with cooked diced chicken or tuna, if you happen to have some on hand.
You can also try these two popular and highly rated kitten training treats.
Wildside Salmon Cat Treats
The Wildside Salmon Cat Treats* are great.
A single-source protein treat, they are a great option for your kitten training sessions. They are packed full of Omega 3 and Omega 6 fatty acids. We love that they're made for both cats and kittens to enjoy in moderation.
Best Additive-Free Kitten Treats
It can be hard to find treats without a ridiculous amount of additives and preservatives. But these picks are different. These kitten treats are free of sweeteners, salt, and many other ingredients some kitty owners may frown at. Yet, they're still yummy! And, they contain all the necessary nutrients for your kitten.
Temptations Classic Treats for Cats
If you like Temptations Classic Kitten Treats*, you can choose from dairy, salmon, seafood, tuna, chicken or catnip flavors.
These treats can be pre-moistened to help your kitten chew them more easily.
Wellness Natural Pet Food Kittles Crunchy Natural Grain Free Cat Treats
Wellness Natural Kittles Kitten Treats* are a great choice for conscientious kitty owners.
You can choose from duck, turkey, salmon, tuna, chicken and whitefish. Each has cranberries and blueberries for antioxidants as well as whole veggies. These can be moistened as an occasional kitten treat.
Get Naked Kitten Health Semi-Moist Treats
The Get Naked kitten healthy treats are made without any sugars, sweeteners or salt and contain extra DHAs.
The softness of these treats also make them easy for teething kittens to chew.
Kitten Dental Treats
Cats and kittens can be very prone to developing dental problems. It's not rare to see kittens with everything from tartar to plaque build-up.
This can lead to gingivitis, periodontal disease or stomatitis, which is a form of plaque allergy that can be quite serious and painful.
Also, if you own a cat, you'll know that cats hate to go to the dentist just as much as most people do!
This has likely made you both hyper-aware of your kitten's dental health, and probably brought up some big questions. Because you want to make sure their teeth are as healthy as possible, you're wondering what kitten dental treats are best for kittens.
You've come to the right place. We know the value of kitten dental health. And we know that the more you can do to help your kitten maintain healthy teeth and gums at home, the happier you both will be.
Best Treats For Kittens Dental Health
Kitten dental treats like these two popular food options can definitely help you both with this goal.
Using cat kibble as kitten treats is totally safe as long as you feed in moderation, in addition to their regular diet.
Hill's Science Diet Adult Oral Care
The Veterinary Oral Health Council (VOHC) specifically recommends Hill's Science Diet Oral Care dry cat food* as a good treat to control tartar and plaque build-up.
For kittens, this food should be moistened before offering it as an occasional treat.
Order yours from Amazon here*.
Purina Veterinary Diet Feline Dental Health
The Veterinary Oral Health Council (VOHC) also recommends Purina Vet Diet dry cat food* to control plaque and tartar build-u
This food should also be moistened before offering it as a kitten treat.
Order yours from Amazon here*.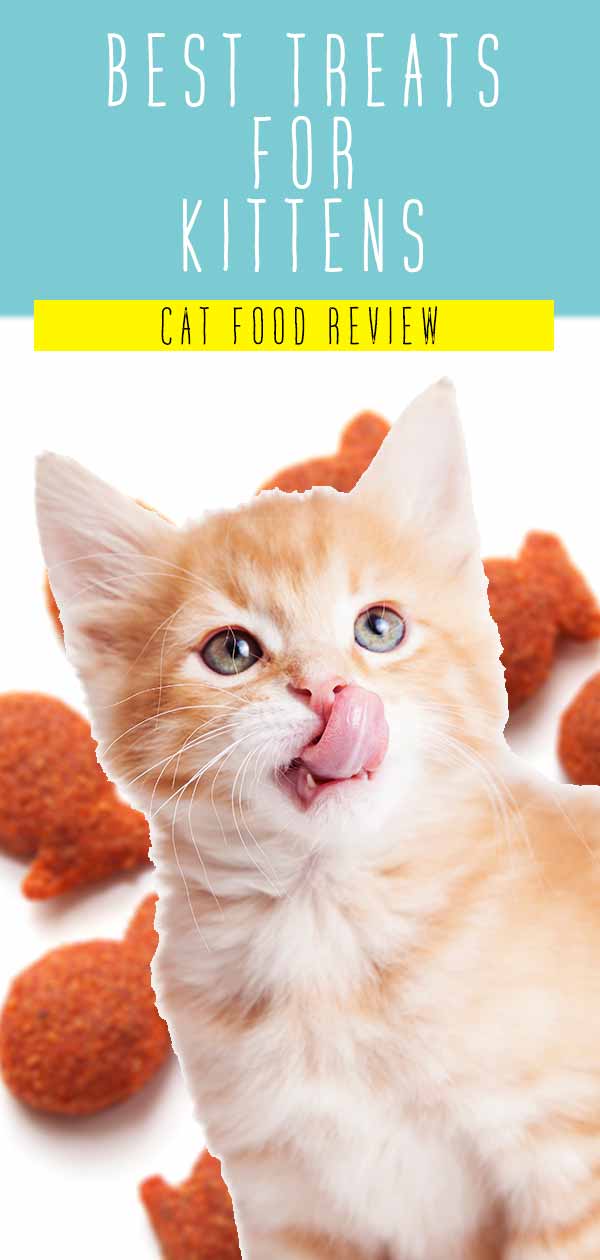 Homemade Kitten Treats
If you're a DIY person, you probably prefer to make your pets' food yourself. We salute you and want to see you and your kitten thrive. So we're recommending a few of our favorite recipes for homemade kitten treats.
Here is a lovely kitten treats recipe courtesy of Joy the Baker.
Joy is very conscientious in choosing the ingredients for her cat treats recipes. These treats are also nice and chewy, which is vet-recommended for cleaning a kitten's teeth and ease of chewing during teething.
Catnip* and cat grass can also be added to any homemade kitten treats recipe as a safe ingredient.
Catnip can be an especially fun base for kitten Christmas treats, since it is already quite festively green!
Healthy Kitten Treats
These healthy kitten treats are specifically formulated with a kitten's unique nutritional needs in mind.
Cats are obligate carnivores, which means naturally they would only eat meat. So a good way to get closer to this is through grain free or 100% protein cat treats.
Cloud Star Grain Free Cat Treats
The Cloud Star brand has some great grain free cat treats*.
Made with top quality meat, some vegetables and no corn, wheat or soy.
Purina Beyond Grain Free
These Purina Beyond Grain Free cat treats* are a healthy, natural way to treat your kitten.
They have a minimum of 30% protein, which is excellently high for a cat treat. There is also a no corn, wheat or soy guarantee. With the main ingredient being chicken.
Cloud Star Grain Free Buddy Biscuits
Another great Cloud Star choice are these Grain Free Buddy Biscuits*.
Made with premium meat and veg, they are guaranteed grain and gluten free.
Natural Balance Perfect Bites
Another well received options for grain free kitten treats is Natural Balance Perfect Bites*.
They are made with chicken, rabbit or salmon. These treats have no artificial colors, flavors or preservatives.
Best Meaty Treats For Kittens
Grain free treats are great, but 100% meaty treats are fantastic.
Thrive 100% Fish Cat Treats
A great choice is Thrive's 100% Fish Cat Treats.
This tube lasts a long time, as the small pieces are divided up well.
It contains only white fish, and is therefore a very healthy treat for any kitten or cat. Completely grain free too, of course!
Whole Life Single Ingredient
The Whole Life Single Ingredient Cat Treats* contain just chicken.

Cooked, freeze-dried and carefully sealed, these cat treats will appeal to even the pickiest kitty. And they're super healthy too.
Best Kitten Treats
We hope you have enjoyed learning more about the kinds of foods kittens can enjoy as special treats!
This is a very special and precious time in your life with your kitten – after all, she won't be a kitten for very long!
Depending on your preferences, you may choose a 100% meat-based treat (ideal for the carnivorous kitten). You may also decide to choose one with some grain. But remember that treats should just be treats. Kitten food should comprise 90% of your animal's diet.
By offering the best kitten treats that are nutritious, healthy, good for growing teeth and bodies, and tasty too, you can make sure your sweet little fur baby grows up to enjoy a long, wonderful life with you!
Which good treats for kittens do you like? Have you tried any of these best treats for kittens? Or are you more of a homemade kitten treat kind of person? Please comment below and let us know!
Affiliate link disclosure: Links in this article marked with an * are affiliate links, and we may receive a small commission if you purchase these products. However, we selected them for inclusion independently, and all of the views expressed in this article are our own.
Resources and Further Reading
PetMD. Cat Treats and Snacks: What's Healthy? Cook, A. BVM&S.
Bellows, J., DVM, Dipl. AVDC, ABVP, "Dental Disease in Cats," VCA Hospitals, 2008.
Feinman, J., DVM, "Kittens: Dr. Jeff's Recommendations for New Owners," Home Vet, 2017.
Lindell, E.M., VMD, DACVB, "Top 5 Kitten Behavior Tips," Veterinary Behavior Consultations: Clinician's Brief, 2016.
This article has been extensively revised for 2019