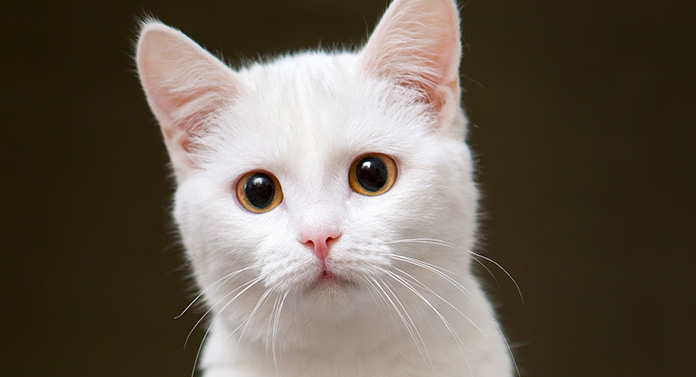 White cat breeds include some of the most distinctive, loving and intelligent pet kitties around. Today we'll take a look at what makes the all white cat so special. We'll find out what to expect from white kittens' coats, and whether our ideas about the white cat personalty are right!
Contents
White cats are wonderful. Their glossy snowy coats have new people falling in love with them every day. Some are cross breeds or moggies, with no family history that you know of. Others can be purebred, from pure white cat breeds or breeds that produce all white cats. Welcome to our most interesting, fun and informative white cat facts!
1. White Cats Are Often Deaf
Are white cats deaf? Yes, white cats are often deaf. The gene which causes deafness is linked to the coat color white. Chalky cats with blue eyes are more likely to be deaf, as this eye color is also caused by the same gene.
One study of purebred white cats found that approximately 20% of them were deaf in one or both ears. Of these deaf individuals, around half were deaf in both ears and half were deaf in just one. In cats that have inherited the deafness gene, it is possible to find physical signs of impending hearing loss in kittens from 4 days old!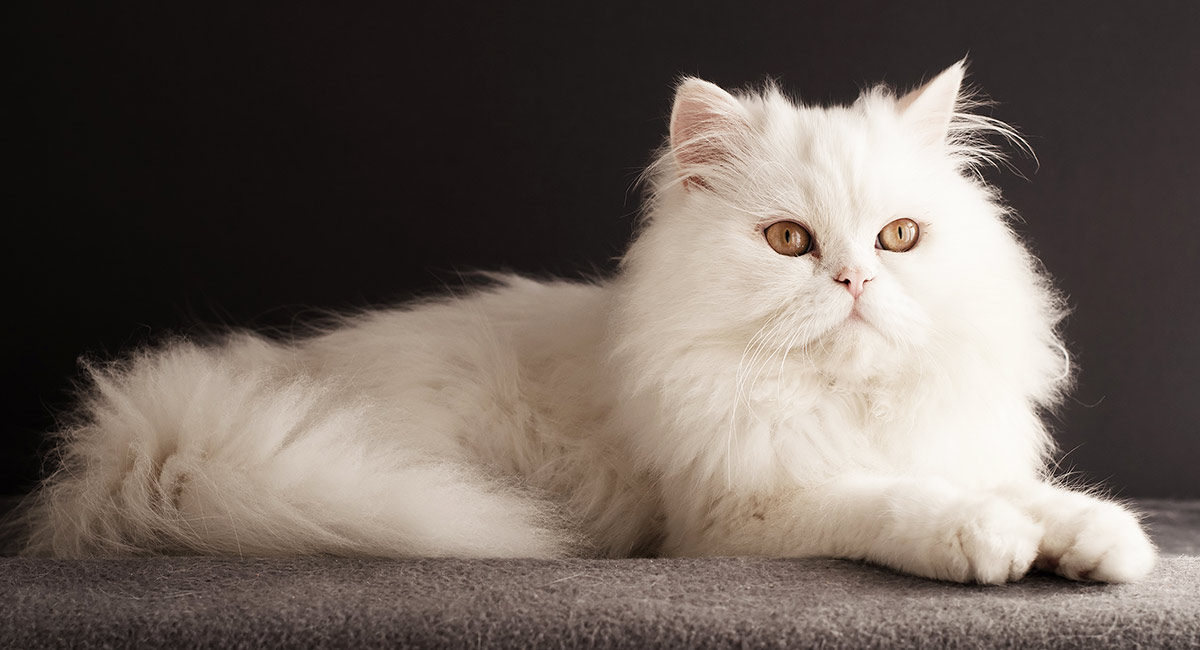 2. White Cats Have Helped Scientific Research
Did you know white cats help deaf children and adults? By improving our understanding of them, researchers have designed better ways to improve hearing loss in humans!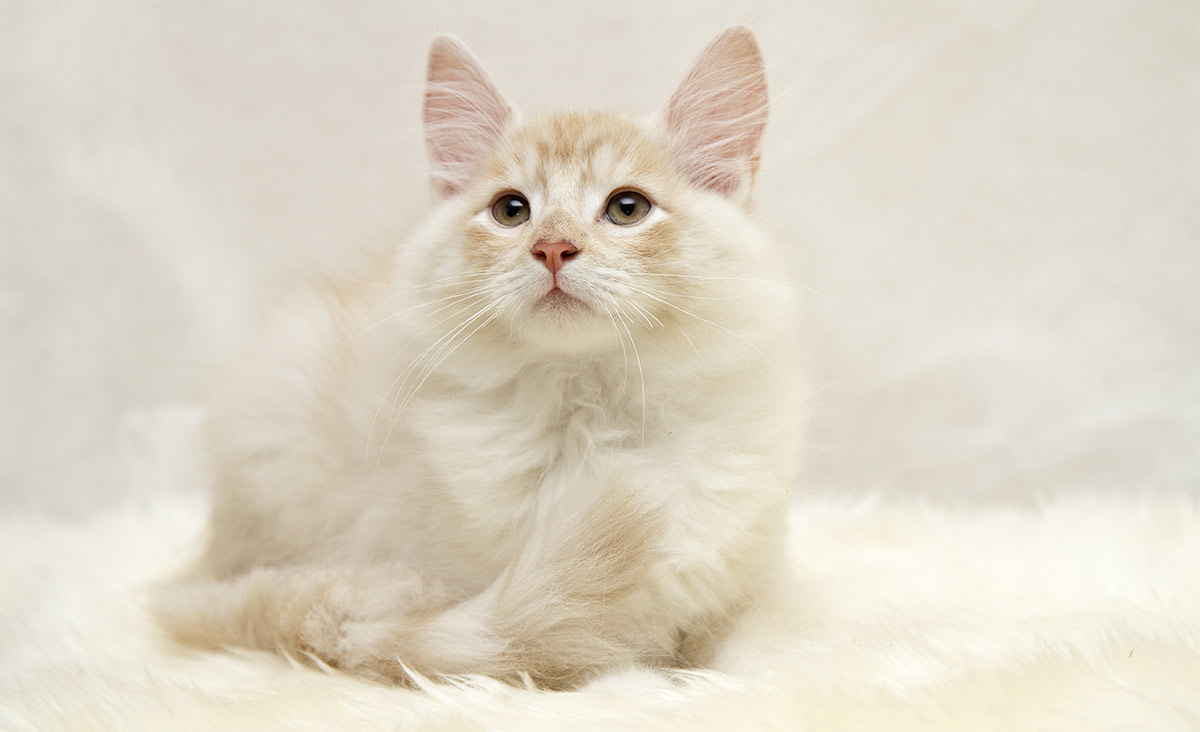 3. White Cats Are Seen As Being Shy and Calm
White cats personality is not related to their coat color, but instead is a reflection of their breed and upbringing.
However, a 2012 study showed that people have pre conceived ideas about cat personality, despite the lack of evidence. White kitties were seen as less bold and active, and more shy and calm than other colors of cats.
4. White Cats Are Popular Fictional Characters
White cats aren't just popular in real life as pets, they are also pretty big in the world of TV, movies and even books. Some of the most famous fictional white cats include:
Hello Kitty
Duchess from Disney's Aristocats
Marie from Disney's Aristocats
Simon's cat
Can you think of any more?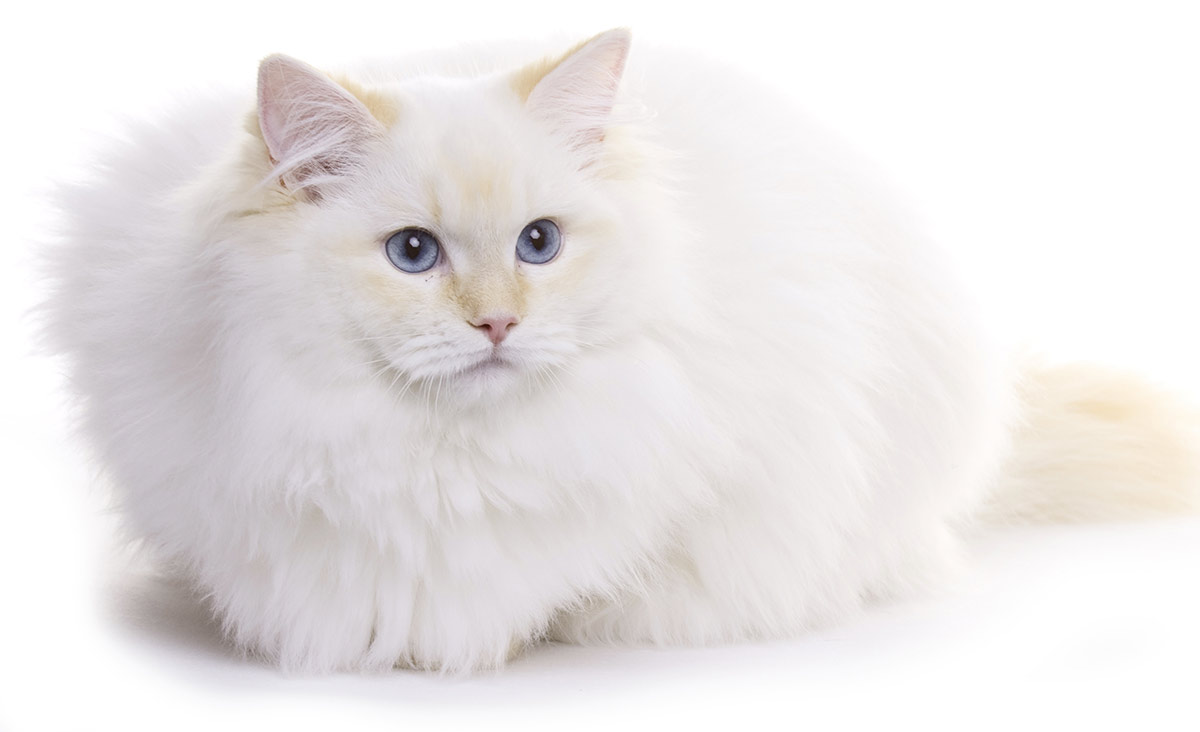 5. There is No Single White Cat Breed
There are several all white cat breeds. These include the Turkish Van, Angora and Oriental Foreign White cat. There are also lots of types of snowy cats that can be born to other breeds. Like the white Persian cat, Cornish Rex or Devon Rex.
Turkish Van Cat
The Turkish Van is fairly large and has a soft, white coat of fur. They are active and a little clumsy, but very affectionate.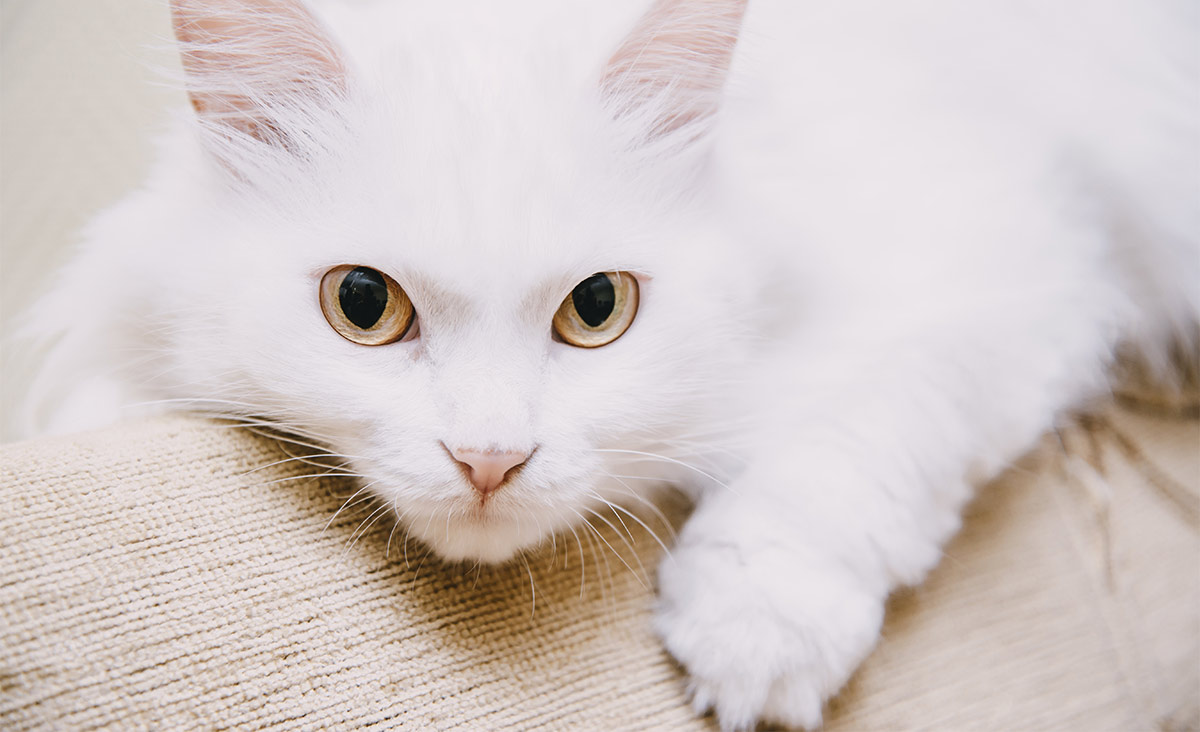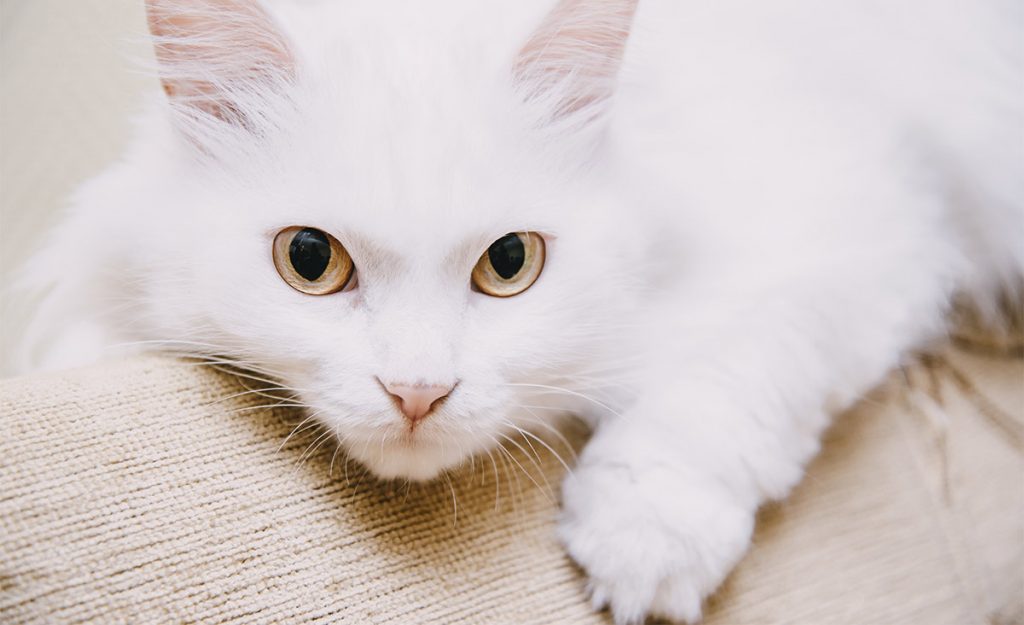 Angora Cat
The Turkish Angora cat is another fluffy, white kitty. Their gentle nature makes them great for homes with children, and their enthusiasm for life means they are never a dull companion.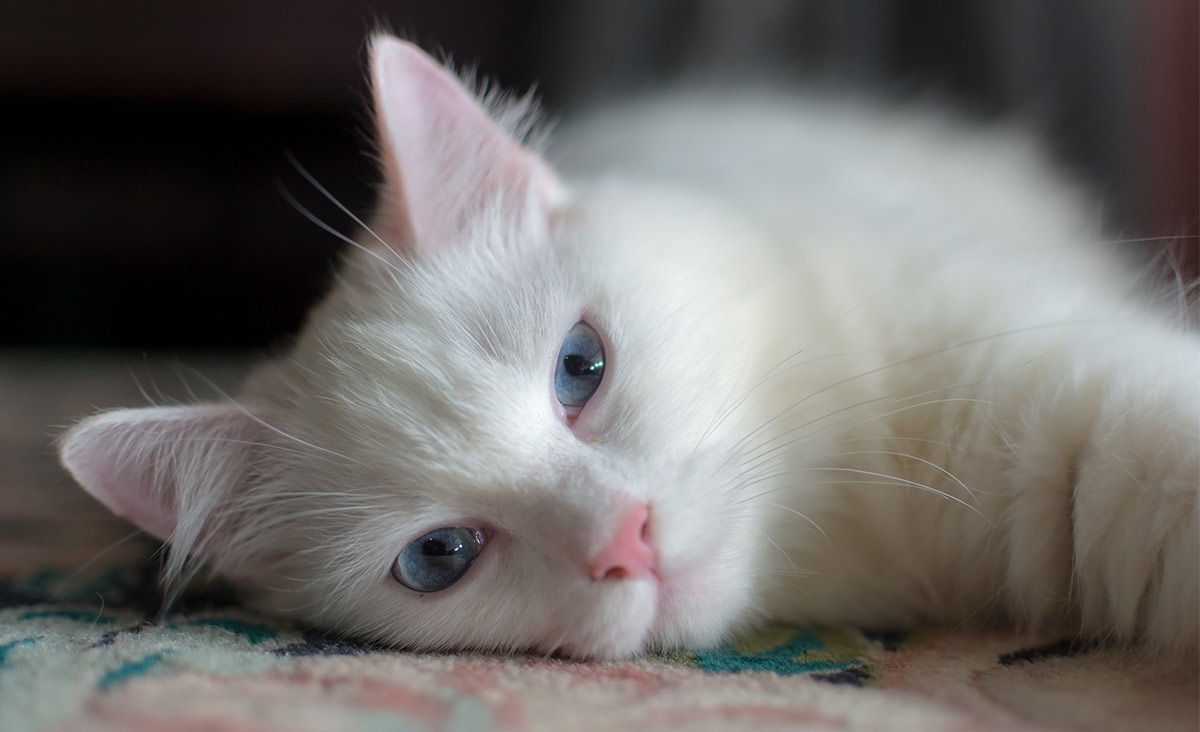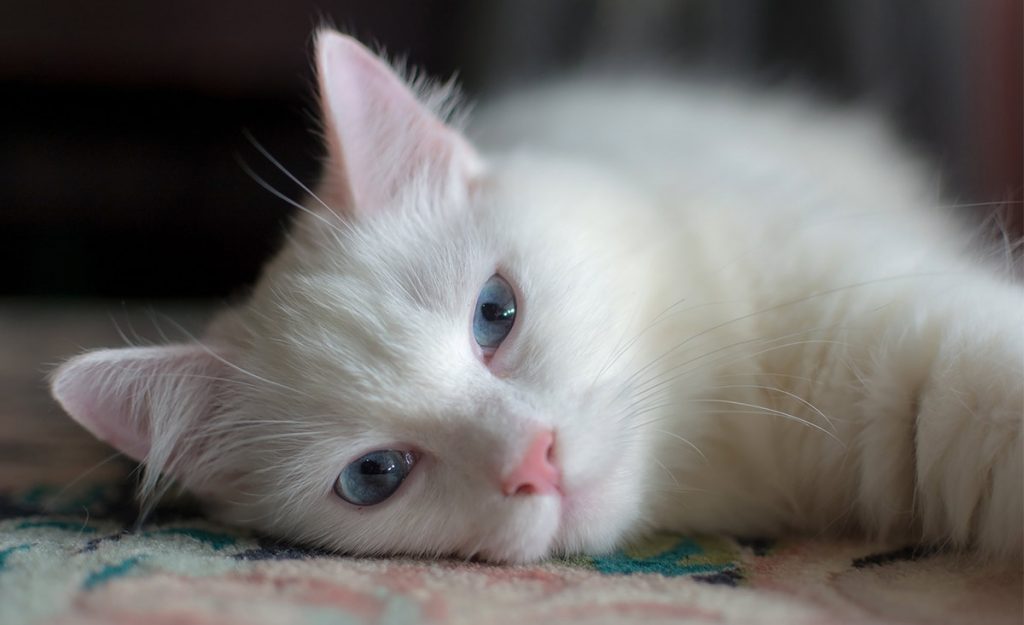 Oriental Foreign White Cat
Oriental Foreign White cats are sharp faced and wide eyed. Their delicate bone structure gives them an elegant look.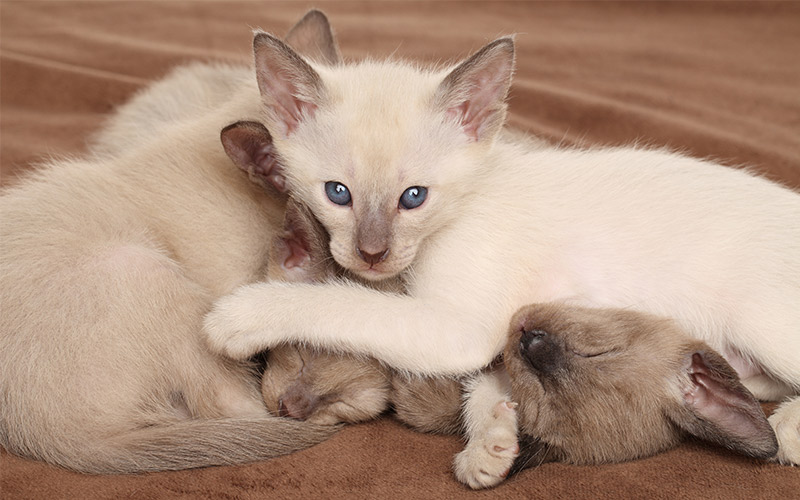 Persian Cat
The Persian cat is fluffy, long haired and flat faced. They are known for their calm quiet nature, but sadly some health issues too.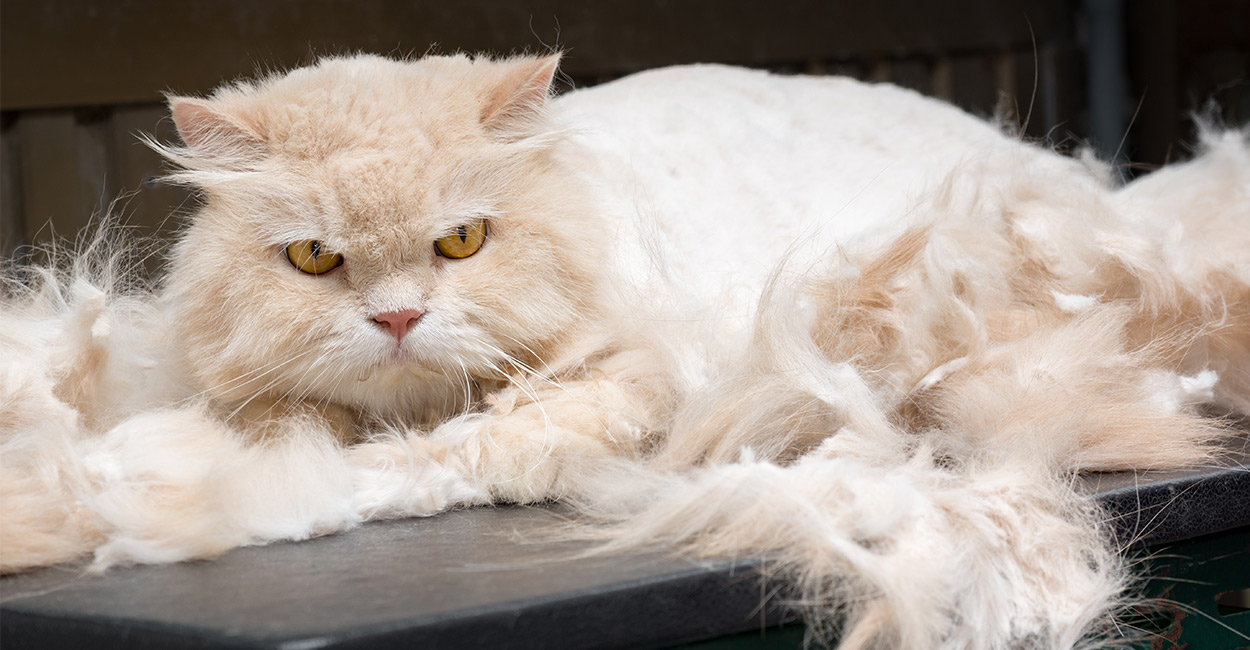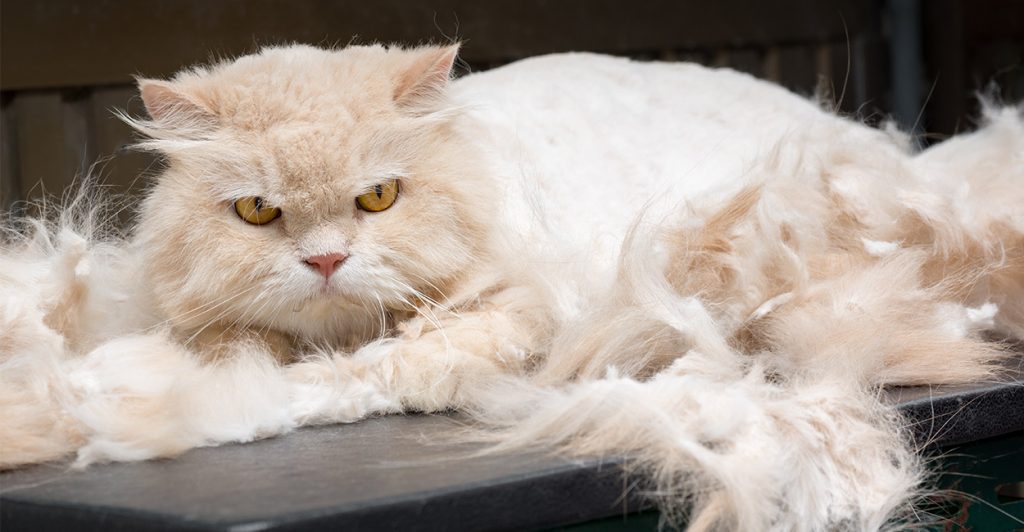 Cornish Rex
A Cornish Rex is acurly coated cat with a big set of ears. They look amazing and match that with a friendly nature and soft personality.

Devon Rex
The Devon Rex breed are another curly coated white cat. They are very family and even dog friendly, and make lovely pets.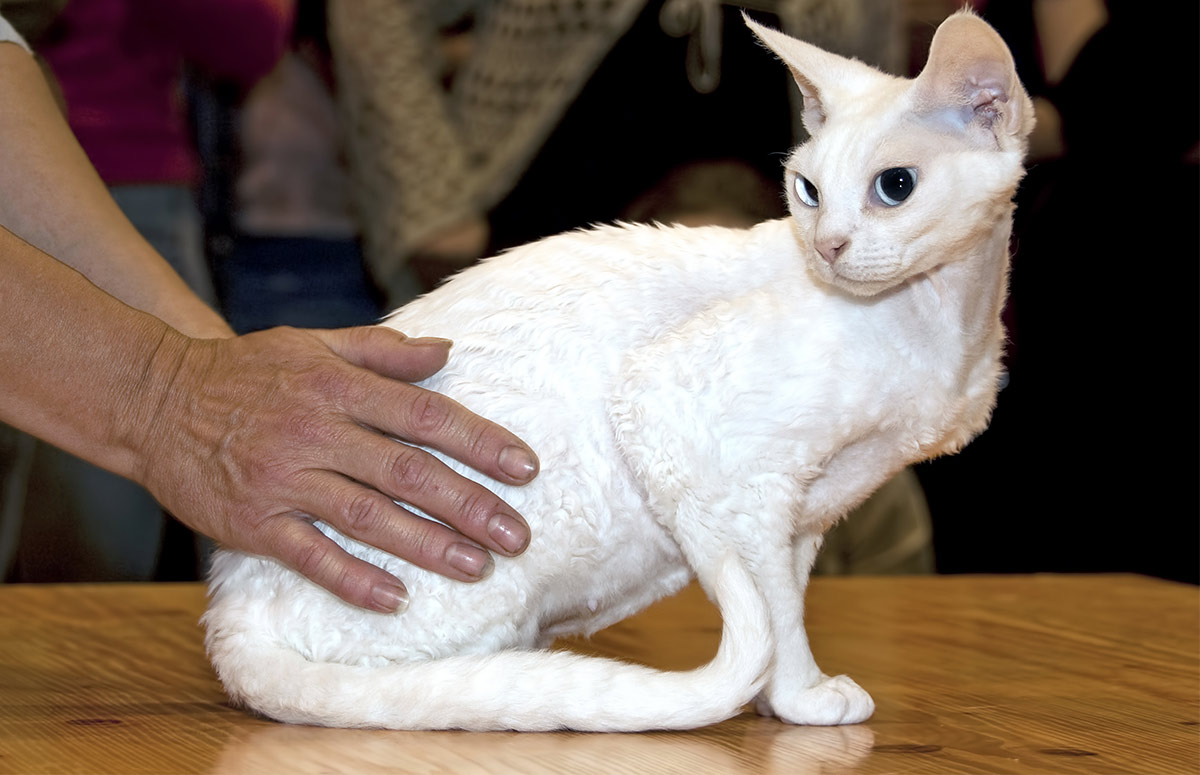 6. White Cats Aren't Albino
Albino animals are unable to produce any pigment across their body. Whereas white cats usually get their color from either the dominant white gene or the white spotting gene. You can read more about the science behind albino cats and white coloring in the guides linked below.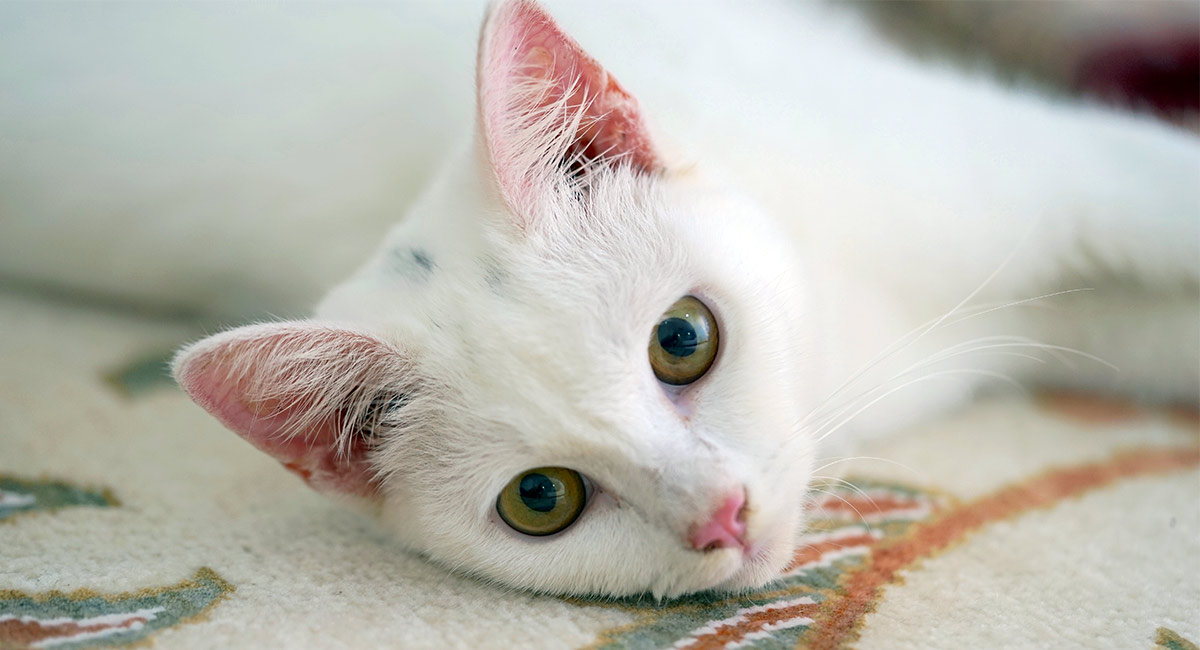 7. White Cats Can Have Any Eye Color
Feline eye color can vary widely. Basically, anything goes when it comes to their big, beautiful peepers! Common white cat eye colors include blue, green, gold, amber and yellow.
Lots of kittens have blue eyes when they are small, which change to their permanent color before they are a few months old. But a white kitten with blue eyes is one of the lucky ones that may keep this color forever. Some white cats can even have two different colored eyes.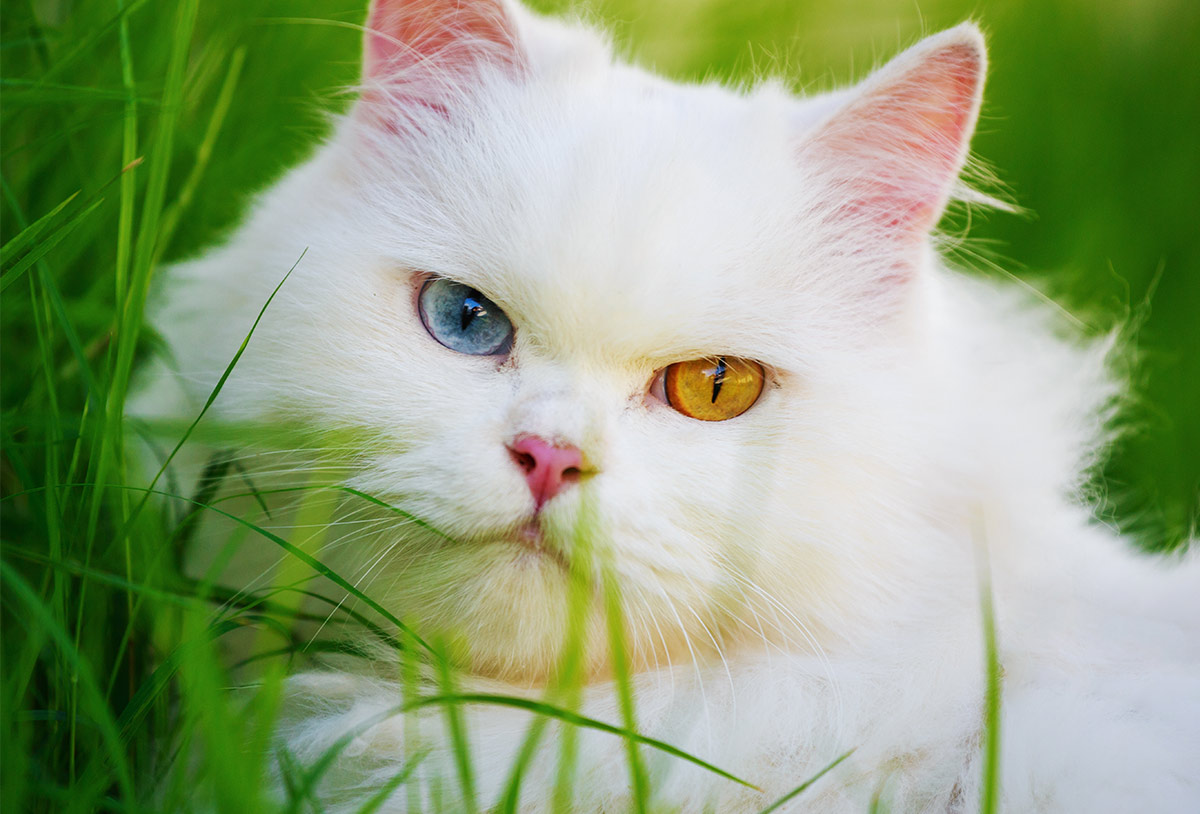 8. White Cats Can Have Different Types of Coat
Coat color isn't related to coat length in pale kitties. You can find examples of white shorthair cat breeds, as well as long haired white cats. White Cornish and Devon Rex cats can even have gorgeous curly coats!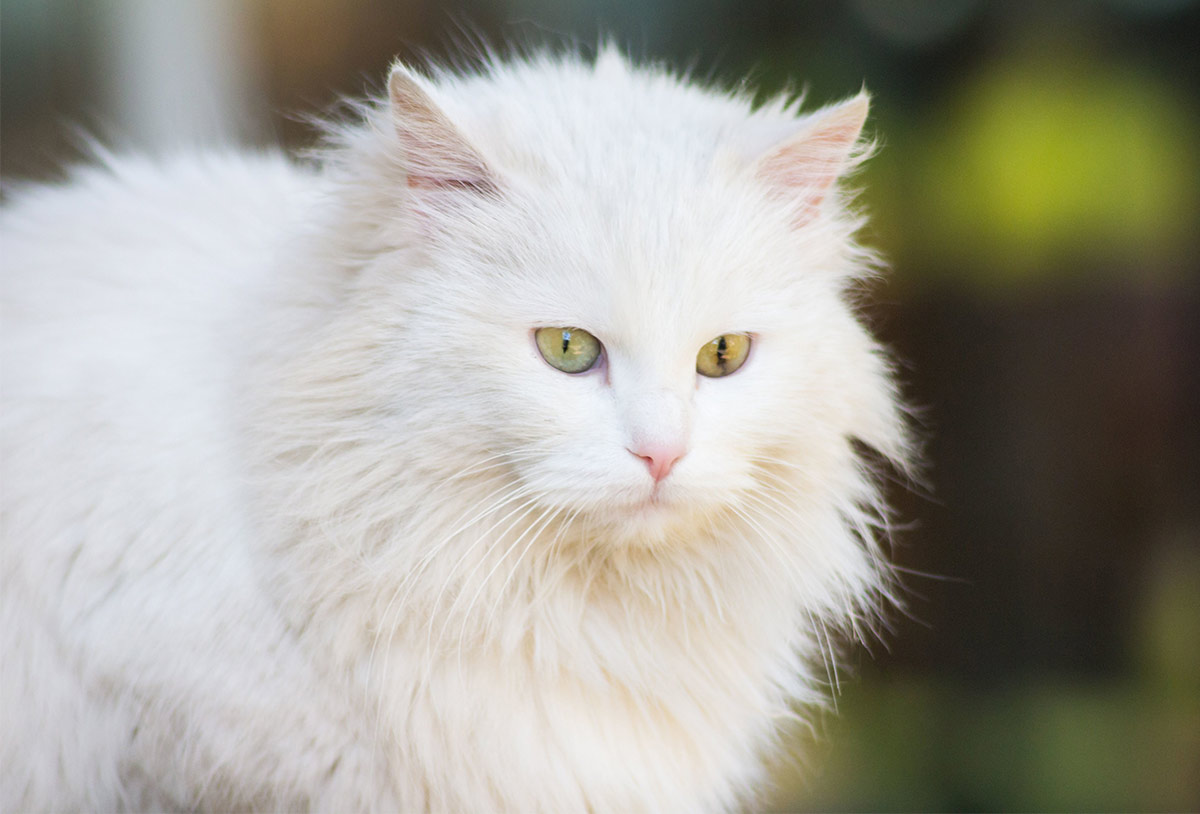 White Cat Facts
Completely colorless cats really are incredible creatures. Although they are often troubled by hearing loss, these playful kitties don't let it dampen their spirits. White cats can make great pets, provided you do your research and pick one from a healthy breed.