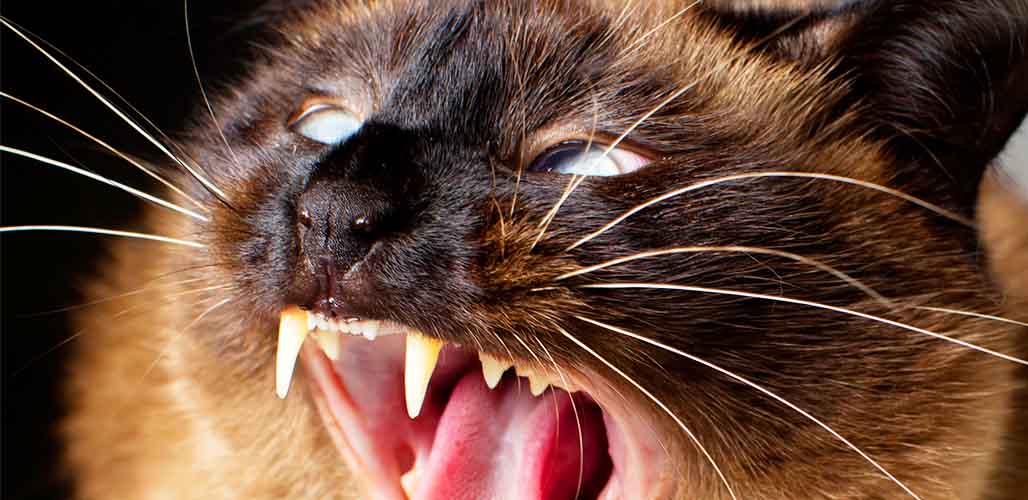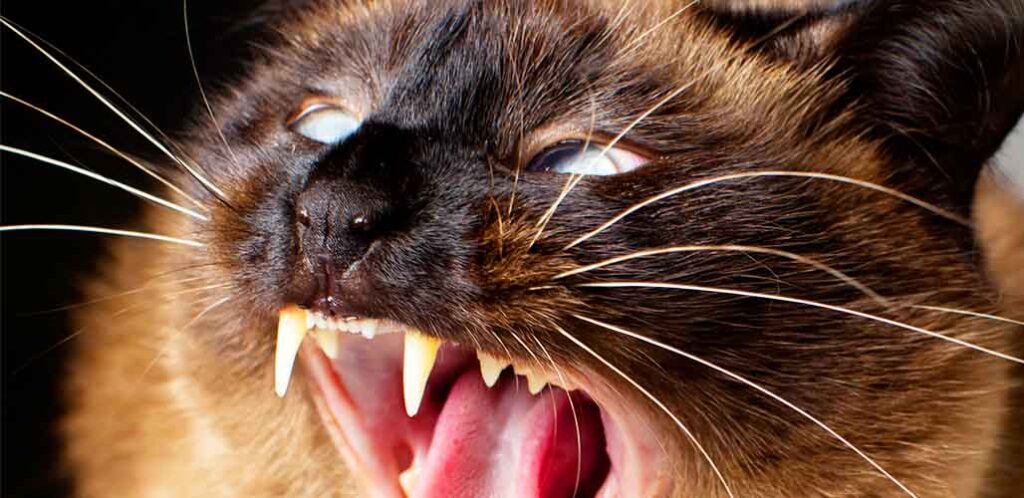 Siamese cats in stories and on screen are often kind of unfriendly. But why are Siamese cats mean? Is it something that we bred into them on purpose, or did it happen by accident? And how true is it anyway? I decided to find out how this iconic breed got their fearsome reputation, and whether I actually owe them an apology after all. And it turns out the answer isn't completely straight forward. So here's everything you need to know about the dark side of Siamese cat temperament.
Contents
Why do we think of Siamese cats as being mean?
When my mom was a kid, she had a Siamese cat (or 'Meezer') called Darfuff, and her family love to recount stories about how that cat had it in for my grandad. Every day when he got home from work, Darfuff would lie in wait on the gatepost, ready to pounce and wrap himself around my grandad's arm, holding on with his claws. And that's how he'd arrive through the front door most times – with his furious feline attacker still hanging off his sleeve.
But this breed's reputation isn't limited to family anecdotes of low key inter-species bullying. The Siamese cats in the Disney classic Lady and the Tramp are portrayed as sneaky and sinister. Elsewhere long coated Siamese cats – better known as Himalayans – play villainous roles in The Secret Life Of Pets and Meet The Fockers. So it's fair to say, these color point kitties have been firmly typecast as the baddies of the feline world. But why are they known for being so mean? Is it even fair on them? Are they actually mean at all?
Siamese cat temperament
There's an ongoing difference of opinion in the cat world about how reliably a cat's breed predicts their personality, and vice versa. So it's usually misleading to say that any one breed is 'always this' or 'always that'. But despite that, lots of sources are pretty unified in describing Meezers, and these are the kinds of things they have to say:
In a survey of veterinarians, Siamese were perceived as being active and vocal.
Another survey of show judges characterized the breed as outgoing, friendly and attention seeking.
When one group of researchers observed a wide range of cats with their owners, they reported that the Siamese were the most likely to vocalize and seek out contact with their owner.
And finally, the Cat Fanciers' Association describes their temperament as 'vocal, affectionate, active; can be insistent.'
So there are some lovely qualities to enjoy there. But if you think it sounds like 'can be insistent' covers a multitude of sins, you're probably right! These cats have BIG personalities, and people tend to either love them or hate them for exactly that reason. Let's have a closer look at how some Meezer cat traits are sometimes (mis)interpreted as being 'mean'.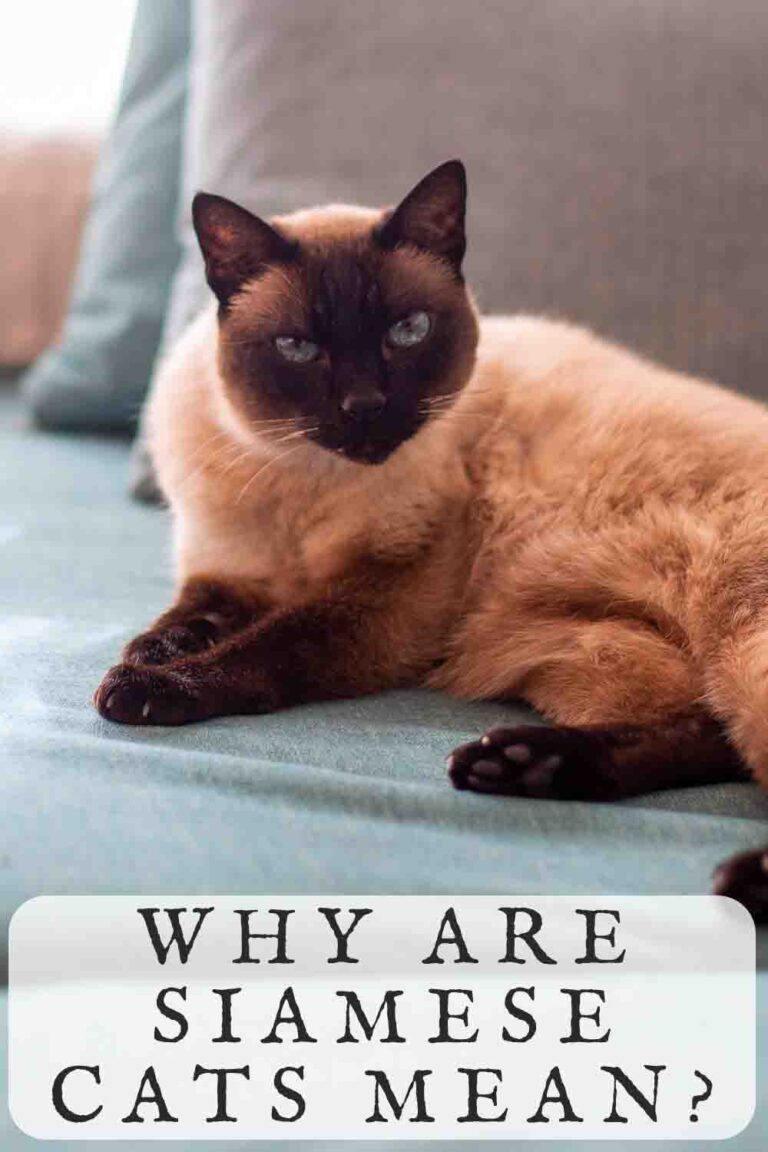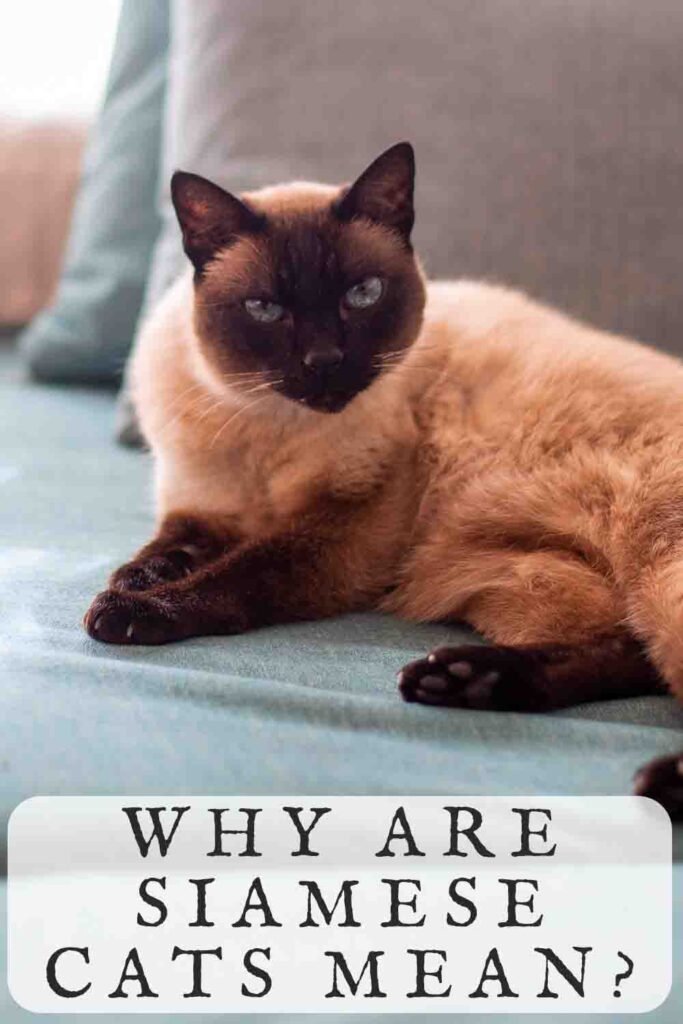 Chatty cats
Siamese cats are famously vocal. Making a lot of noise isn't inherently mean, but if it rudely awakens us from a deep sleep or an afternoon nap, it can easily start to feel spiteful.
Thrill seekers
Anecdotal wisdom among some vets is also that Siamese cat are among the most destructive cats. This is not motivated by malice though. It's actually that they are very athletic and inquisitive pets, who love physical activity and playing games like chase. It takes a fair bit of effort on the part of a Meezer owner to channel all that energy into acceptable activities – especially while a young cat is in their prime, and if they are kept indoors. Cats without enough outlets for their physicality are likely to channel their energy into unwanted destructive behaviors like scratching instead.
Attention lovers
Siameses are exceptionally people-focussed cats. Whereas the classic stereotype of a cat is one of aloof disinterest, Meezer owners on pet forums often report that their pet follows them from room to room, forms a particularly close bond to one special person, and hates to be left alone. Unfortunately, this means that they are also more than averagely vulnerable to separation anxiety, and might resist accepting other household members who want to share their favorite person.
Specific evidence of aggression in Siamese cats
Establishing whether Siamese cats truly are meaner than the other breeds is notoriously difficult, but there are some notable pieces of research in veterinary research journals.
For example, one study of cat bite injuries in the Valencia region of Spain found that Meezers were the most frequent culprits, accounting for just over 2 in 5 bites. But, the authors also noted that Siamese cats are very popular in that region generally. So were they over represented in bite statistics because they are meaner than other cats? Or were they no more likely to bite than other breeds, but there were simply more of them? The researchers couldn't say for sure.
In another veterinary review of behavioral diagnoses in cats between 1991 and 2001, Siamese cats were disproportionately likely to be brought before their vet for being aggressive, or eating something they shouldn't. Both of these actions be interpreted as mean, but they are far more likely to come from a place of fear (in the case of being aggressive) or curiosity (in the case of stealing your lunch).
On the other hand, in an owner survey of whether coat color is linked to perceived aggressiveness, torties, calicos, black-and-white, and gray-and-white cats were most likely to be described as aggressive, but color point cats like Meezers were not. So even in research, the answer is still not clear cut.
Is Siamese cat meanness an accident of breeding?
If a mean streak does exist in this breed, where could it come from? Well, everyone knows what a Siamese cat looks like. From their wedge-shaped head and angular features, to their striking color points and bright blue eyes. Siameses have been popular at cat shows for over 100 years, and winning isn't just about prestige. Show champions can go on to have lucrative breeding careers. So competition is fierce, and winning is decided by looks, not temperament. So perhaps in the past that means breeders have been tempted to make breeding decisions based on what the kittens are likely to end up looking like, rather than what kind of personality they're going to inherit. In other words, mean tendencies could have been accidentally favored and passed on alongside specific physical traits.
How to raise a friendly kitten
Hopefully it goes without saying that not all Siamese cats are mean. For thousands of owners, they are treasured companions. I never met the notorious Darfuff, but I've had the pleasure of meeting several sweet and affectionate Meezers in my own lifetime. So here are our top tips for raising a kitten which is all loveliness:
Start with friendly parents. Look for a breeder who chose their litter's parents because they are wonderful pets with winning personalities, not just because they have a wall full of show ribbons.
Socialize your kitten. Socialization is the process of introducing a very young kitten to lots of different kinds of people, and making sure those encounters are overwhelmingly positive by using treats, toys and games. This sets them up with the confidence to embrace new encounters when they're grown up.
Play with them. Meezers are active, playful, and highly sociable. They need social interaction, and if you meet that need in the first place, and they're less likely to cause trouble trying to get you attention or entertain themselves in some other way.
Why are Siamese cats mean – summary
Siamese cats have a bit of a reputation for being mean. It's not entirely unearned – this breed is among the most likely to display aggressive or destructive behavior, and even their biggest fans concede that they are rather demanding. But it's also probably a little bit based on some misunderstandings about what motivates feline behavior. They are never malicious, and they are incapable of being motivated by malice.
Happily, there are also some easy steps we can take to raise our cats to have excellent personalities. Which is why the elegant Siamese is still the perfect pet for so many people. Let us know what your experience of Meezers is in the comments box down below – have you formed a negative impression, or won't you hear a word said against them?
More on the slinky Siamese
References
Bamburger & Houpt. Signalment factors, comorbidity, and trends in behavior diagnoses in cats: 736 cases. Journal of the American Veterinary Medical Association. 2006.
Fogle. The Cat's Mind. Wiley. 1995.
Palacio et al. Incidence of and risk factors for cat bites: A first step in prevention and treatment of feline aggression. Journal of Feline Medicine and Surgery. 2007.
Schwartz et al. Separation anxiety syndrome in cats: 136 cases. Journal of the American Veterinary Medical Association. 2002.
Stelow et al. The Relationship Between Coat Color and Aggressive Behaviors in the Domestic Cat. Journal of Applied Animal Welfare Science. 2016.
Turner & Bateson. The Domestic Cat: The Biology of Its Behaviour. Cambridge University Press. 2000.
Wilhelmy et al. Behavioral associations with breed, coat type, and eye color in single-breed cats. Journal of Veterinary Behavior. 2016.