If this is your first time – Billy's story starts here: Billy's Blog
Today, at last, the waiting was over, and we brought our new 8 week old kitten Billy, home to live with us.
I woke up early, as excited as a five year old on Christmas Day, and we collected Billy mid-morning.
He still seemed so very small!
Being put into a pet carrier and taken for a car ride by a complete stranger, is a pretty scary experience for any cat, never mind an eight week old kitten.
But it was only a short drive and Billy took it in his stride. And didn't make a sound.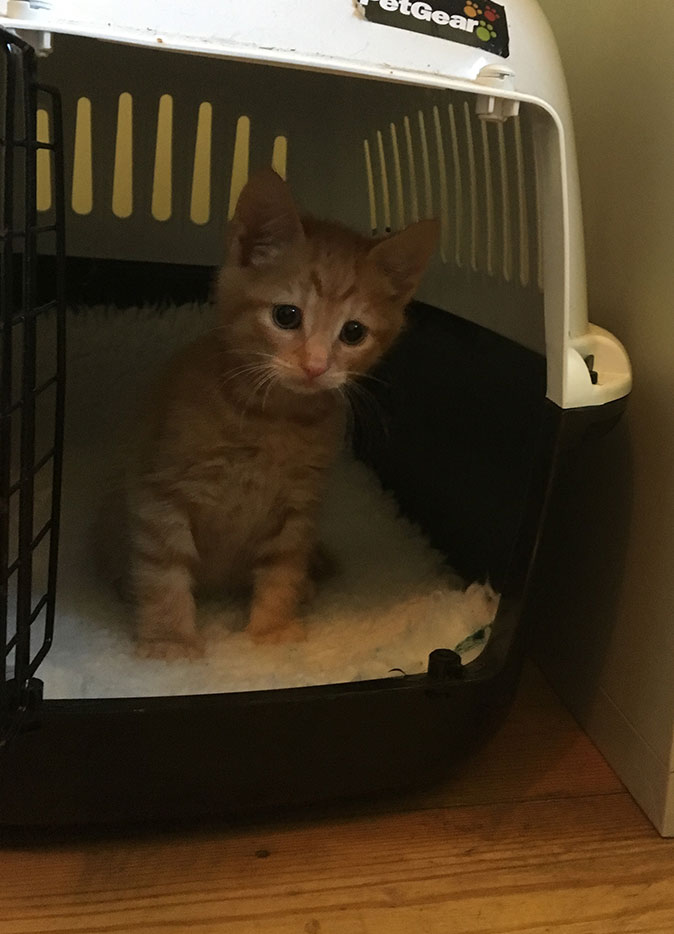 When we arrived home, we placed Billy's carrier on my office floor and opened the door.
He looked a little worried, and sat in the entrance of the crate for a while, watching us with a serious expression on his face.
Getting our kitten to leave the travel crate
After ten minutes or so, I opened a tin of kitten food and dipped my finger into it.
Billy happily licked the food from my finger, purring loudly,  and soon followed my hand out of the crate and into his new world.
Carefully, very carefully, the little ginger kitten made his way around the edges of my small office sniffing and examining as he went.
He looked at each of the toys we had bought for him in turn, and investigated the fern in the fireplace, patting the leaves gently with his paws.
Lucy and I watched enchanted for a while, then I went to fetch us a cup of coffee.
Billy makes himself at home
I returned a few minutes later to the sounds of much scampering.  Billy had decided that this was a safe place and was bounding backwards and forwards across the room, playing with toys and computer cables with equal enthusiasm!
I picked him up and cuddled him for a moment and his 'engine' immediately kicked in.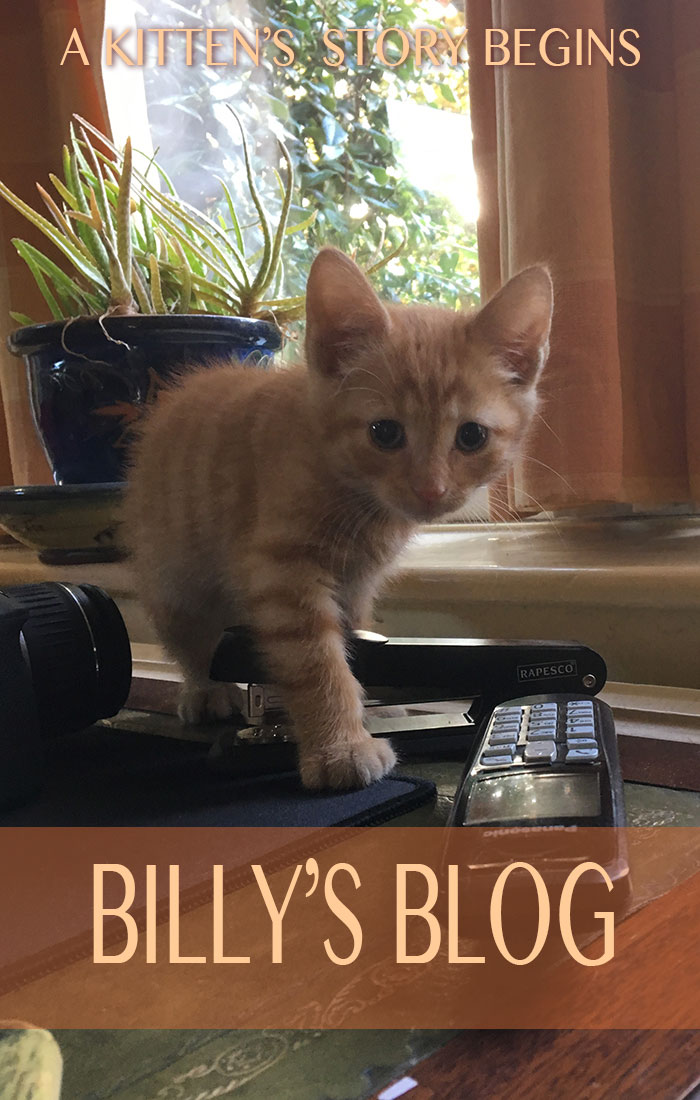 This kitten has the loudest purr I've ever heard from such a tiny scrap! He has clearly been well socialised, is unafraid of people, and is used to being carried and stroked.
So much for my worries about 'feral behavior' and kitten taming!
The kitten ignores loud noises
One thing that was beginning to worry us though, even in this first hour or so, was Billy's apparent lack of reaction to any of the noises going on around him.
He didn't jump when doors were open or closed, and didn't seem to notice any of the sounds that we made.
I fetched a dish with a teaspoon of kitten food in it and made some 'kissy noises' to attract his attention.
My intention is to teach Billy to associate food with my whistle so I was aiming to whistle gently as soon as he noticed the food.
But while it was easy to get Billy's attention visually, we couldn't seem to get any reaction to any of the noises we made.  So we started trying a bit harder.
Can our kitten hear?
We rattled some keys when he wasn't looking.  Scrumpled and tore some paper behind him. Nothing.
We found a metal dog bowl, put some coins in it, and shook it.  Nothing.
Beginning to worry, I clapped my hands.  Nothing.  I clapped them again, much louder. Not the tiniest twitch of an ear.
Could Billy be deaf?
Worn out with all the fun and oblivious to the concerns that were building around him, Billy fell sound asleep on Lucy's lap.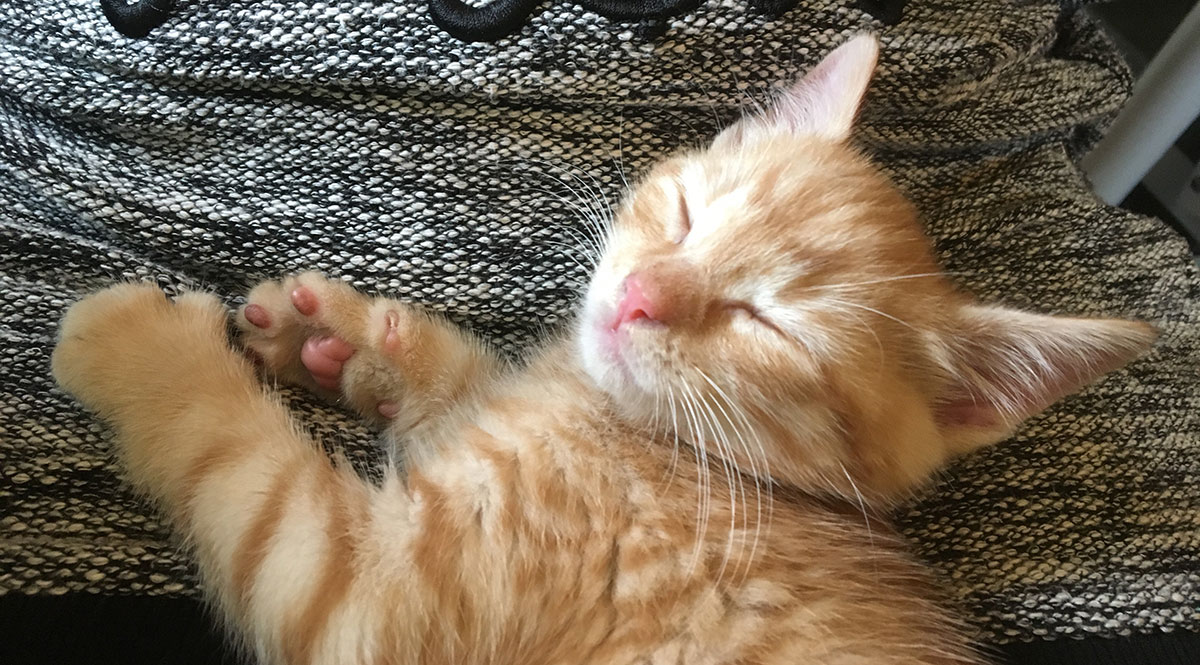 It's a long time since I had had a kitten, and I wasn't sure if the lack of reaction we were seeing to sounds, were abnormal or just Billy being Billy.
We concluded that it is entirely possible at this stage, that Billy is just a very chilled and un-reactive cat.  Perhaps he is used to a great deal of background noise and doesn't see any of the sounds we have made around him as relevant.
But we do need to recognise that so far, Billy is showing no signs of being able to hear.
Later that morning, my husband called in to say hello and welcome to Billy.  He too noticed a lack of response to sound in our new kitten.
A confident kitten
We took Billy into the kitchen with us while we had lunch, then back to the office afterwards. This time we left the door open, and Billy slipped through the baby gate to explore the hall and the first few steps of the stair case.
Everywhere he went, his tail was held high and Billy spent much of the afternoon chasing small balls up and down the hallway.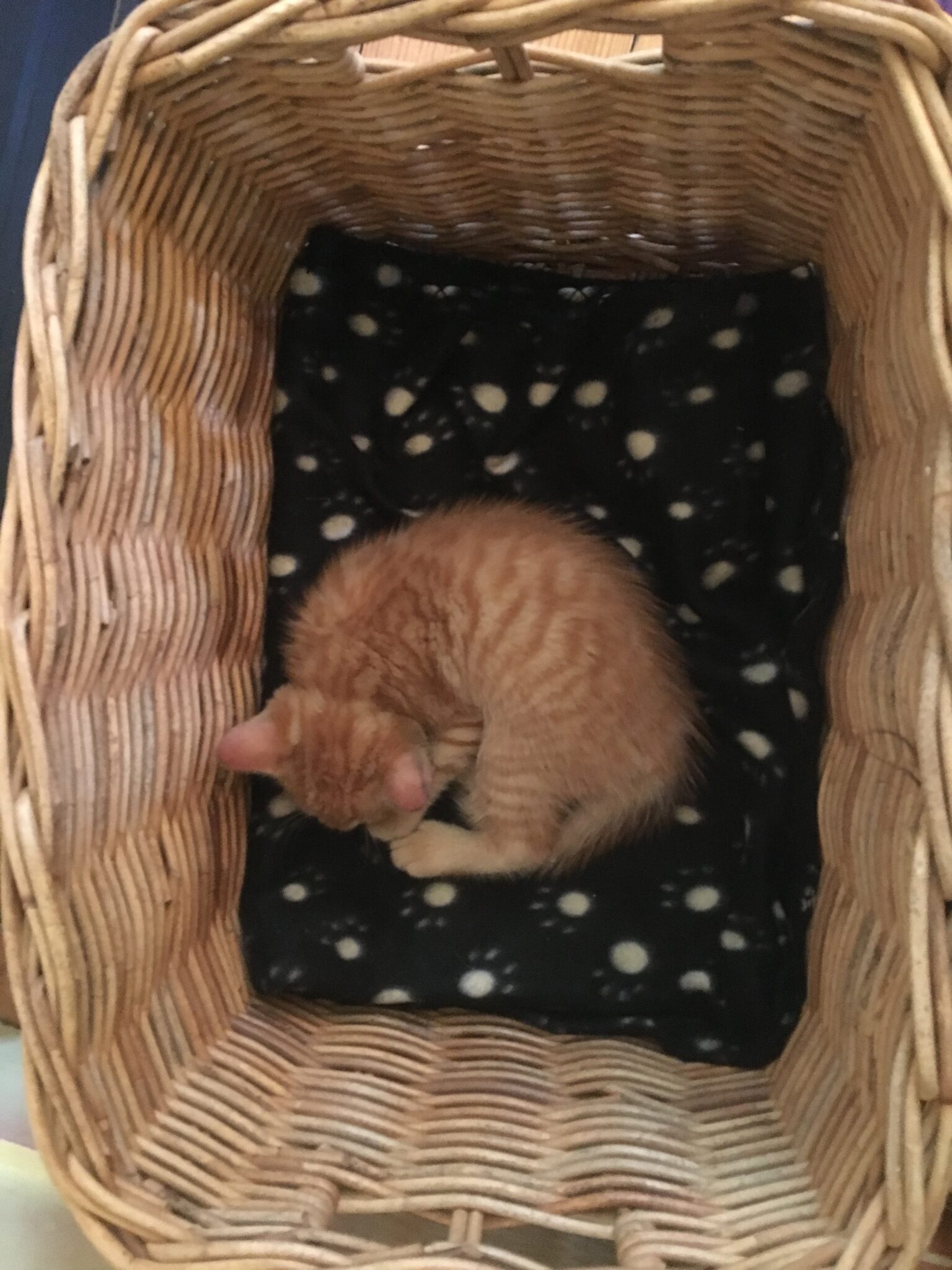 He took a short nap in a basket, then it was off for a quick visit to the litter tray, and more ball chasing.
He is certainly a confident little kitten
When my son came home that evening, he thought he could see signs of Billy responding to sound, which was heartening.
Cable chewing kitten!
Billy seems very keen on chewing the cables in my office and I was concerned about leaving him loose in there overnight unsupervised.
So we decided that it would be safest for him to sleep in the travel crate.
I'd expect a puppy to chew cables, but I hadn't really considered this to be a kitten thing.
Tomorrow we are going to get some 'trunking' to run the cables through.
Billy the kitten's first meals
We managed to fit three tiny meals in before 7pm and I decided not to feed Billy again until morning to give him the best chance of being clean and dry in the crate overnight.
Each meal has been very tiny in order not to upset  Billy's tummy.
Baby animals are often stressed at being removed from their birth home and stress can lead to tummy upsets.  Adding loads of new food into the equation makes things worse, so it's usually better to start off gently and increase gradually
I reckon he won't starve by being on short rations for a day or  two.
What are we feeding our 8 week old kitten?
I am giving Billy a complete wet kitten food called 'Thrive'.  It comes in tiny 75gram cans.
By the end of the day he had only had  part of a single can.  I imagine that once we are on full rations, he'll get through two or three cans a day.
On top of the wet food I sprinkled a few pieces (5 or 6) of Royal Canin kitten food – this is a complete food too, only dry.
I'd like Billy to be happy to eat either dry or wet food, and as both are 'complete' it's okay to mix them.
Billy's first evening
Billy climbed up next to me while I ate my supper and fell fast asleep on the kitchen bench on a small rug I had put there for the purpose.
After supper, I scooped up the rug with the kitten inside, and took him with me to the living room.  He slept most of the evening on the couch, while we watched TV .
We are all so smitten by this tiny little ball of fur.  Such a big day for him, and everything taken in his stride.
Tomorrow there will be dogs to meet and much more.  But for now,  the day was coming to an end.
I popped Billy into his crate at 10pm and shut the door, turned out the light in my office.  Would Billy cry?  Would he be upset in the crate.  I really hoped he would just relax and sleep
We went up to bed, thinking about him, and wondering what the small hours would bring.
DAY 2 October 18th  Billy is 8 weeks old today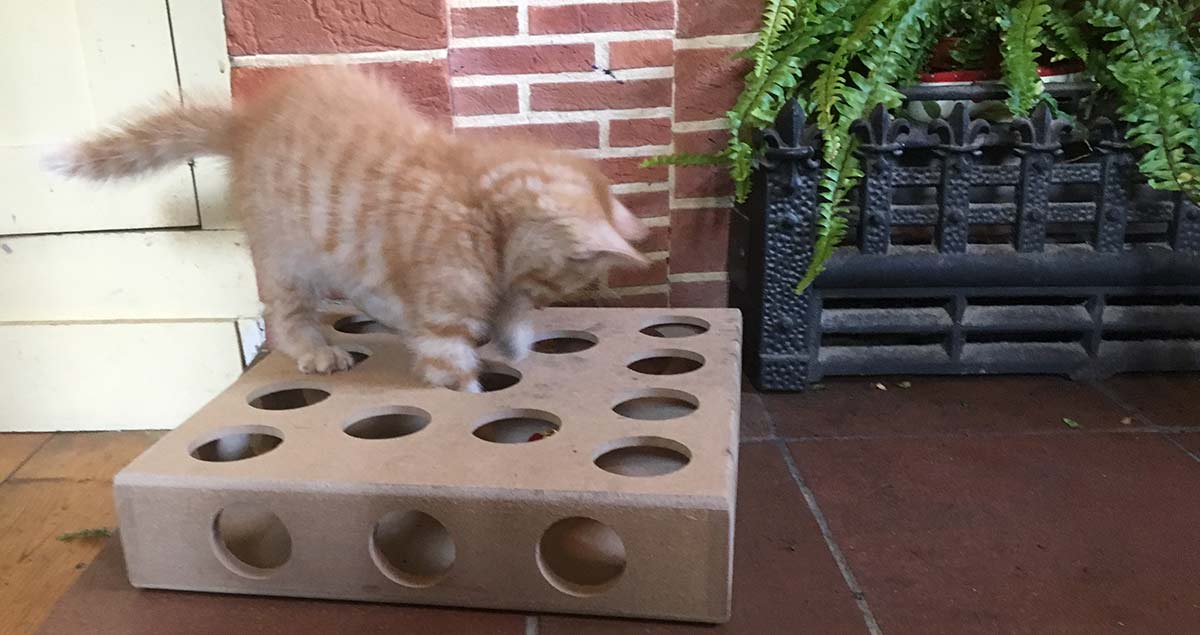 Today was Billy's first full day in his new home, and it started early!
My alarm went off at 5:30 and I went downstairs in the dark,  to let Billy out of his crate.  We had not heard a sound from Billy all night and he seemed to be asleep when I turned on the light.
What a lovely welcome I got!
I opened the crate door and Billy came rushing out purring and stretching and rubbing himself against me, as friendly and happy as could be.
He followed me into the kitchen, winding himself around my legs while I scooped his breakfast into a dish, polishing it off with relish while I started my laptop and drank my coffee.
A great start to kitten toilet training
I felt the vet-bed in his crate and it was warm and dry.
A trip to the litter tray followed his breakfast and Billy then spent a happy hour playing on the kitchen floor while we had our breakfast and more coffee.
Billy's hearing
A couple of things have happened early on in the day that make me think Billy might not be deaf.  One was a 'soot fall' down the chimney which he appeared to notice.
It could have been coincidence that he looked up at this point, but I don't think so.
Another was Billy seemed to have a slight reaction one of the dogs 'blowing' under the kitchen door. He does still seem very unaware of sounds around him generally, but I am encouraged by these two reactions
Billy helps out
After the family had left for work and college, Billy and I repaired to the office where he typed a q and a z on my current Word document, then played with his cat puzzle toy while I did some work.
At one point during the morning he managed to shut down my Macbook and apparently sign me out of iCloud, while walking across the keys.
I have no idea how – but apart from that – an hour or two passed pleasantly enough.
Photographing and filming our kitten
I love taking photos. I'm not great at it, but getting Billy has been a good excuse to replace my ancient Canon 350D.
I'm finding all the photos of him on my iphone a bit blurry as it doesn't capture movement very well.
And I'm hoping to really get to grips with my new Canon 80D and learn to use it properly. So I've bought a 'for dummies' manual to go with it.
This morning I filmed Billy playing with his puzzle toy, using my iPhone, and tried to take some decent still photos with my new camera, only to discover that it had no memory card.
So it is back to the iPhone for photos this morning
Introducing the kitten to the dogs
As far as I know, Billy has never met a dog.  There were no dogs in the house where he was born and his first reaction to seeing one of  mine was a typical feline reaction to a threat.
He made himself as big as he could by arching his back and puffing up the hair along his spine and down his tail.  For added impact he kept himself turned sideways.
It is very comical to see such a tiny creature attempting to look tough, but my heart went out to him.
It's the first time he'd shown any real sign of fear.
I have three dogs, two labs and a very elderly cocker spaniel.  The young labrador is bouncy and a bit 'in your face' and the old spaniel is not particularly tolerant of puppies and other young animals, so I decided to start Billy off with my older, very gentle Labrador Tess.
I brought Tess into the hall outside my office for the morning.
There's a baby gate across my office door and she slept on one side, while Billy watched her from the safety of the other.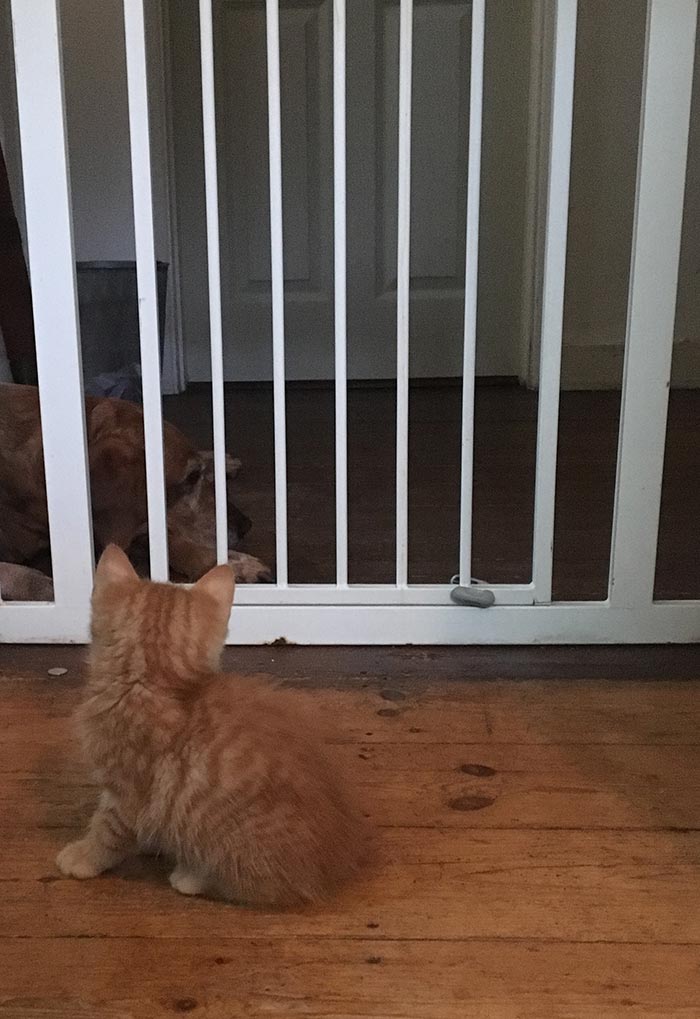 Billy can walk easily between the bars of the gate but he seems to know that she can't follow him.
After a short while he stopped making himself BIG and sat down to regard her with interest.  She responded by thumping her tail at him.
Although Billy can walk between the bars of the gate, but he didn't quite pluck up the courage to do that today while she was there.  I think we made progress though, and I'm confident that his natural fear of her will be replaced by interest and curiosity.
I won't push things.  Billy can do this in his own time.  But Tess will be there, every morning for an hour or two, and he'll have to get used to that.
A kitten's afternoon
The afternoon passed swiftly as I was very engrossed with work.
Billy seems to like taking a nap in my lap. He has progressed from climbing up my legs using his claws as crampons (ouch) to jumping into my lap from the floor in one leap.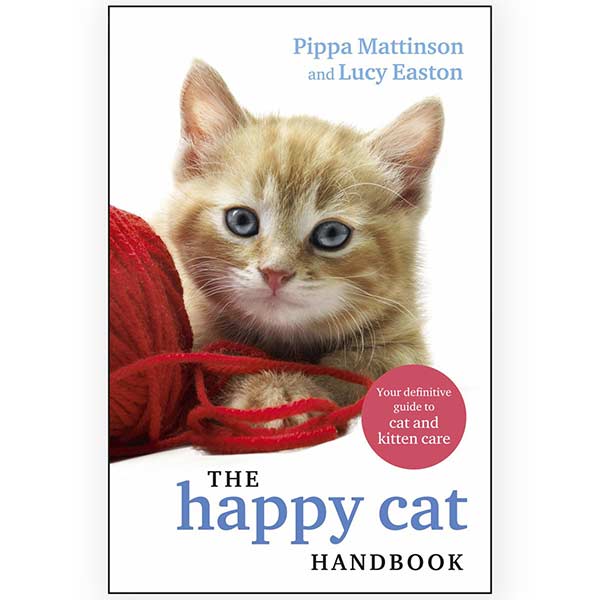 Less painful, but more surprising.
He enjoys kneading with his claws out so I have been putting the 'kitten cave' on my lap to save my thighs from needles.  It also means I can lift the kitten cave onto the desk once Billy is asleep.
He slept for a couple of hours like this after lunch.
Where's Billy?
At one point during the evening, I thought I had lost Billy.
I couldn't see him anywhere in the room.  We found him eventually asleep inside his scratching post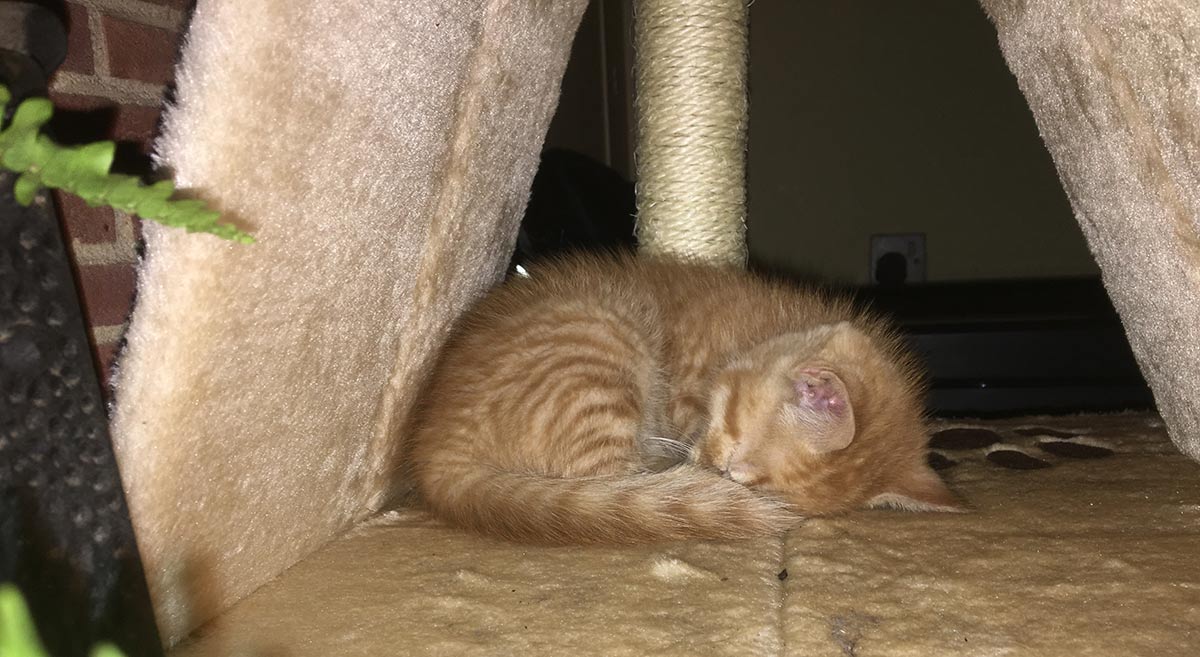 Despite the question mark over his hearing, I am giving a little whistle each time I feed Billy.  If he can hear, then I can build on this in the future.
He is still very fascinated by the cables in my office and though I have ordered some trunking to tuck them away, it hasn't arrived yet.
So for the second night running, I put Billy into his travel crate at bed time with a couple of tiny bits of kibble, crossed my fingers that he wouldn't be upset, or wake us up too early, and went upstairs to bed.
In the event, it wasn't Billy that woke me up in the early hours of the morning.  But that's a story for another day
Continue reading Billly's Blog…
Free Updates For Cat Lovers!
Our cat care articles, tips and fun facts, delivered to your inbox
Your Amazing Cat!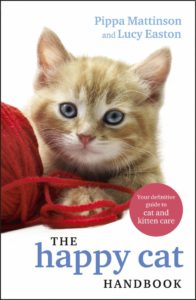 We are so excited to share our new book with you!
If you have enjoyed your visit to The Happy Cat Site we think you'll love The Happy Cat Handbook.
Written by the founders of this website including the author of the hugely successful Happy Puppy Handbook, it's packed with cat care information and fascinating cat facts.
Grab your copy today!
Free Updates For Cat Lovers!
Our cat care articles, tips and fun facts, delivered to your inbox