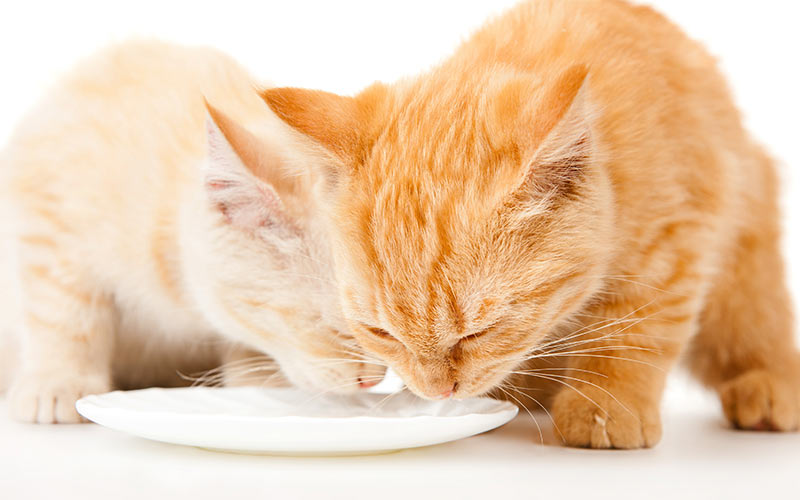 Cats can drink milk occasionally and in very small amounts, but it isn't the best thing to feed them. My cat loves trying to steal milk from the counter, our glasses and even bowls of cereal. He loves the taste, and clearly finds drinking it enjoyable and even relaxing (provided we don't catch him in the act!) But unless you are giving an abandoned kitten some pet safe formula, milk really should be left off the menu. Today I'll share why I avoid feeding milk to my adult cat, and what cows milk substitutes there are that you might want to try to offer your kitty.
Contents
If you have a cat, you probably know that cats love milk. They seem to crave it, and if you leave some out too long, your kitties might jump on the table and drink the milk from the bottom of your bowl! But why do cats like milk so much? And can cats drink milk safely? And if so – what kind of milk can cats drink?
Can Cats Drink Milk?
We don't recommend that adult cats drink milk. And nor would your local veterinarian if you happened to ask.
Some cats can cope with dairy better than others however. The best way to figure out if your cats can have milk is to offer just one tablespoon of milk at a time. Then monitor their health for about 12 hours. If you don't see signs of gastrointestinal distress, it may be all right to offer a drop of milk as a very occasional treat. But this really isn't a good idea.
Milk doesn't have essential nutrients that cats need. So if you are desperate to share some with them, you should only give them a small amount. Milk should never make up a regular part of any cat's diet, and is never okay for weaned kittens.
Is Milk Good For Cats?
Domestic cats can get all the nutrients they need from the commercial food you buy them, plus water. Milk is not a natural part of cats' diets. They don't need it – they just like it!
Cats enjoy the high fat content in dairy products. Research has shown that milk drinking induces relaxation behavior in cats, the same way grooming and drowsiness do. In other words, the act of lapping milk gives cats pleasure. But milk is not recommended as a way of calming cats. The effects on the cats' intestines will quickly negate any potential benefits!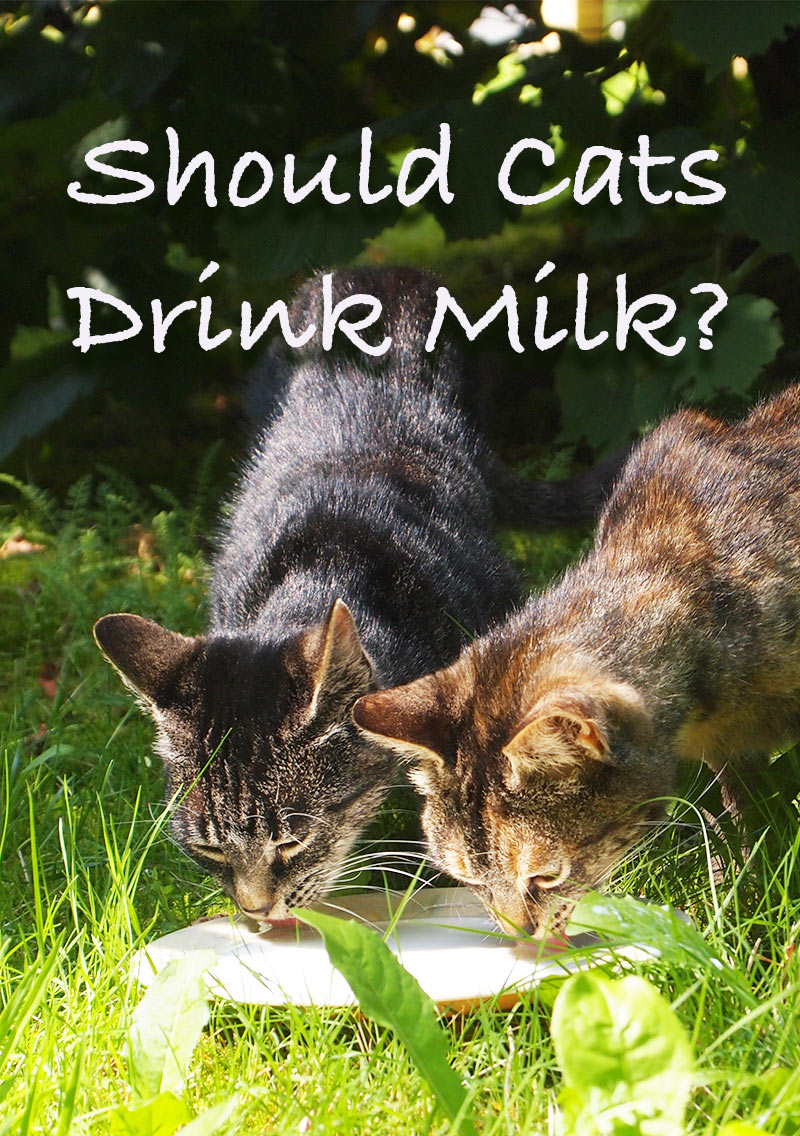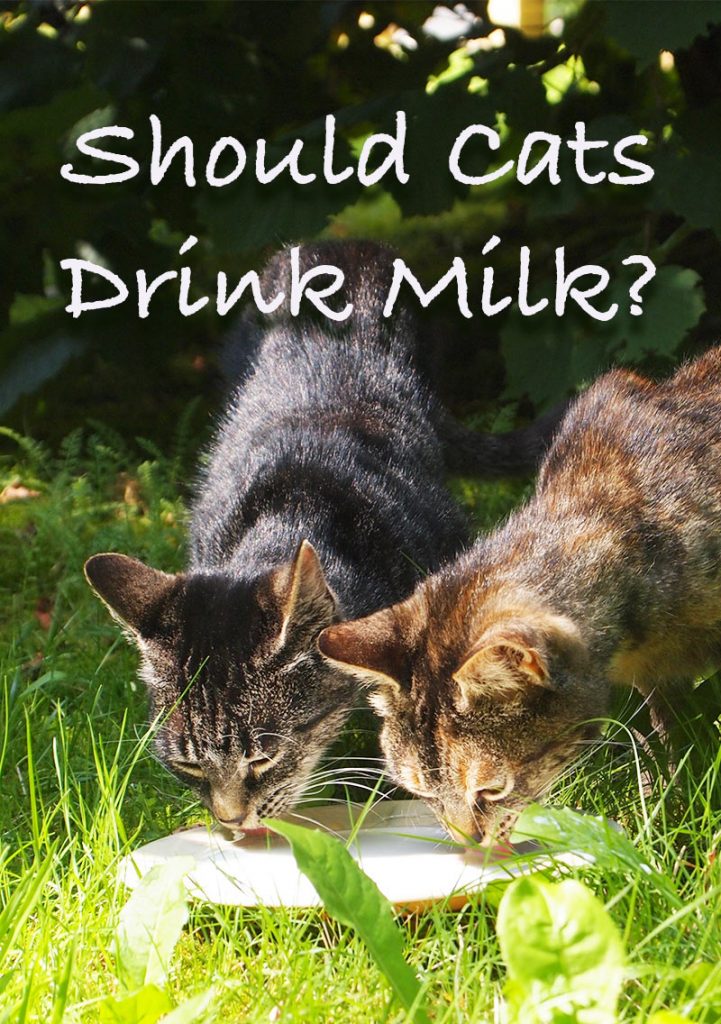 Is Milk Bad For Cats?
All cats are individuals, and some can handle milk better than others. But this doesn't mean it's a good idea to give it to any of them. In general, milk is bad for cats.
Cats drinking milk or dairy products may develop symptoms of gastrointestinal distress. These include vomiting and diarrhea, upset stomach, gassiness, and soft stools.
Giving milk to cats is like giving them junk food. The cats won't get enough of the nutrition they need, because milk dilutes the nutrients from their better food sources. Also, research shows that feeding milk to cats as part of regular, long-term diet can result in negative effects on longevity, reproduction, bone structure, and growth.
Are Cats Lactose Intolerant?
Like most adult mammals, cats cannot handle lactose. Lactose is a natural sugar found in milk and dairy products. This means that they lack an enzyme, called lactase, that is need to digest lactose. So, lactose remains in the digestive system and begins to ferment, causing stomach upset.
Kittens do make lactase and can actually handle the lactose in milk. But milk does not offer the protein, antibodies, and vitamins that growing cats need. This means that giving kittens milk can harm their development. After they are weaned from their mothers, kittens stop developing lactase.
Milk Allergies In Cats
In studies, almost a third of cats have been shown to have some kind of food sensitivity. This includes allergies to lactose, and another milk protein called casein. However, not all cats are allergic to lactose or casein.
Allergies often show up in cats as gastrointestinal distress, or on the skin dermatologically as hives or redness. Inside the gut, milk allergies show up as congestion, edema (swelling from fluid retention), degeneration of the villi (small projections from the mucous membranes), hemorrhage, and an increase in plasma cells.
Cat allergies sound serious, but can be managed successfully. You just have to avoid those foods your cat is allergic to!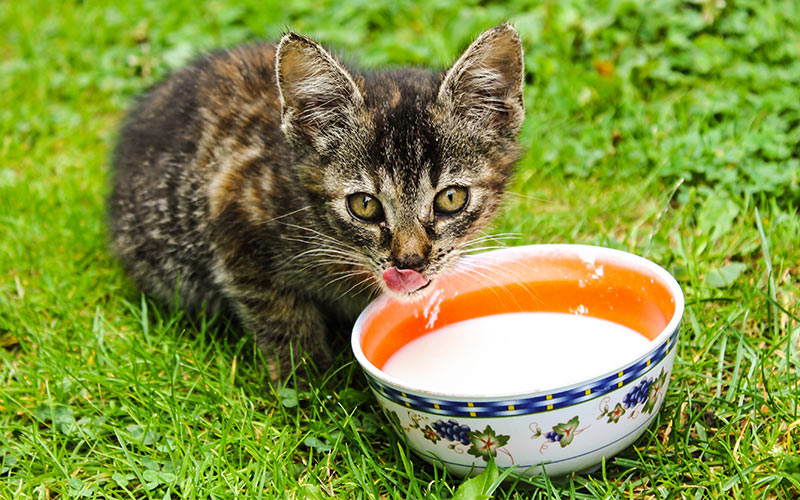 Can Cats Drink Other Types Of Milk?
Unfortunately, the answer to that all important question of what kind of milk can cats drink is almost none. We don't think giving milk to cats is a good idea. But, we understand that some people really want to share a tiny bit with their furry friend. So, with the proviso of the quantities being very small and the frequency being rare. Let's have a look at the kind of milk cats can drink.
The different types of milk are discussed in detail below. But, in summary – if your cats show a tolerance of milk, you can generally feed them raw cow and goat's milk. Stay away from plant- and nut-based milks such as soy milk, almond milk, and coconut milk.
If possible, do not feed pasteurized milk, and stay away from high-carb milks like sweetened condensed milk and evaporated milk. Some companies make milk for cats that replace regular milk. If you really want to know what kind of milk can cats drink – Cat-Sip may be a good option if your vet approves.
Can Cats Drink Cows Milk?
Yes, some cats can drink a very small amount of cow's milk, but you should be careful. In general, you should avoid giving cats whole cow's milk or cream because of the higher fat and sugar content. Organic skim milk or milk with a 1% fat content is preferred.
Lactose-free cow's milk is also a safer option. Some veterinarians prefer milk substitute products such as Cat-Sip, available in pet stores.
Raw Milk For Cats
If you are going to feed your cat cow's milk, you should stick with raw milk. Research has shown that raw, unpasteurized milk has fewer negative effects on the development of cats than many other types of milks.
Can Cats Drink Pasteurized Milk?
Pasteurized cow's milk has been shown to cause skeletal abnormalities, developmental deficiencies, and reproductive issues in felines. So, if you want to feed your cats milk, avoid pasteurized milk products.
Sweetened Condensed Milk or Evaporated Milk
Scientists believe that sweetened condensed milk may be the worst milk you can feed your cat.
Evaporated milk is also bad for cats. Excessive carbohydrates in these types of milks cause the same kinds of problems you see from pasteurized milk, only more severely.
Can Cats Drink Soy Milk?
Soy milk is made from soybeans. Cats are carnivorous, and should not be given soybeans. Their digestive systems do not have enough carbohydrate-metabolizing enzymes to handle plant-based proteins. Also, some cats are allergic to soy proteins.
Is Almond Milk Safe For Cats?
Almond milk does not contain lactose, so you might think it would be fine to feed this to cats. But, although almonds are not considered toxic to pets, they can still be dangerous.
Almonds have a high amount of oils and fats. These may cause vomiting and diarrhea. Sometimes, eating almonds can result in pancreatitis in cats. A half gallon of homemade almond milk can contain as many as 16 human-sized servings of almonds. So almond milk is not a good option for cats!
Can Cats Drink Coconut Milk?
When you want to know what kind of milk can cats drink, you might ask whether cats can drink coconut milk. Sadly, the short answer is no. Avoid giving cats coconut milk. As with almonds, coconuts have a high amount of oil and fat. Although coconuts are technically not nuts, they have some similar properties to nuts and fruits. They are drupes, also known as stone fruits.
Cats' digestive systems cannot handle plant proteins. Coconuts, which grow on palm trees, fall into this category. Specific research on this question is sparse. Yet, studies also show that coconut milk can protect rats from ulcers and increase their antioxidant levels. Past studies have shown that rat digestion is similar to cat digestion.
Veterinarians and other experts believe that cats benefit from coconut oil, which is different than coconut milk. For example, coconut oil is known to increase antioxidant levels in rats.
Is Goats Milk Safe For Cats?
If your cat can tolerate milk, raw goat's milk is a good option for a small and infrequent treat. Goat's milk generally has a higher mineral and vitamin content than cow's milk, and includes some taurine.
Goat's milk is slightly lower in lactose levels, though the difference is very minor. Studies have shown that in rats, goats' milk is more easily digestible than cow's milk. And, it allows more absorption of iron and copper. Fat and weight gain in rats was improved with goat milk, and cholesterol levels were lower.
Can Kittens Drink Milk?
Ideally, kittens will get milk through their mothers. Mother cats are called queens, and cat milk is called queen's milk. Cats require several essential nutrients that are not essential in most other animals, including humans. These are niacin, vitamin A, and vitamin D, and the amino acids taurine and arginine.
Cats need taurine for good vision, normal digestion, heart health, normal reproduction, and a healthy immune system. Cats can only manufacture a limited amount themselves, and deplete it quickly.
Low levels of arginine have been linked to cataracts, anorexia, and decreased growth in kittens. Cats can't synthesize arginine, so they get it from their diets. Queen's milk is the best way for kittens to receive these nutrients in the correct amounts.
Regular cow's milk and goat's milk should never be used for kittens. These milk types do not have the fat, protein, or calories that kittens need.
Kitten Milk Replacer
In certain situations, kittens may not have access to their mother's milk. If this is the case, the best option is to find a foster mother. If that isn't possible, you should purchase a commercial kitten milk replacer. This will include those all-important amino acids.
The kittens should fed with a bottle, or using a tube if needed. Kitten milk replacers generally include the correct moisture, nutrient levels, and energy requirements for kittens. However, they tend to have low arginine and taurine levels. They may also be low in arachidonic acid, a fatty acid cats need. That's why queen's milk is still a better option, if available.
Home formulas may not have the nutrients required, so avoid them unless the recipe has been approved by a board-certified veterinarian.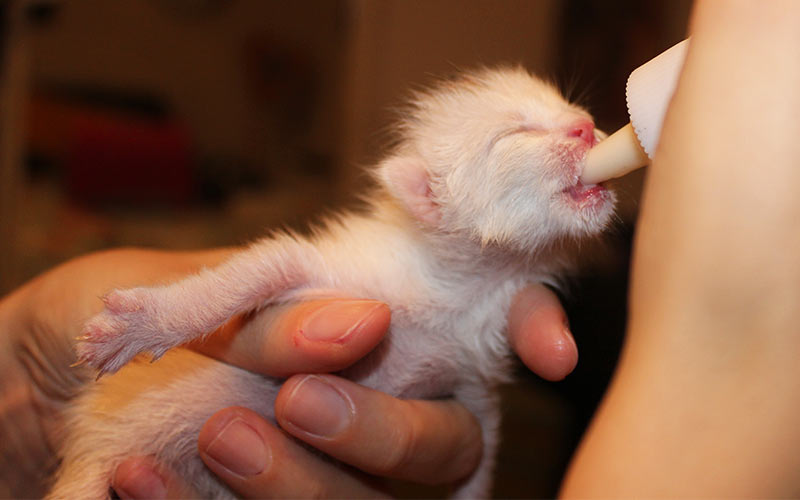 How Much Milk Does A Newborn Kitten Need?
Scientists say kittens should get 13-18 milliliters of kitten milk replacer per 100 grams of body weight, to start with. As they get older, this amount should be gradually increased. Base the increase on health, appearance, and weight gain. Kittens should be gaining around 18-20 grams per day.
If your kittens are active and responsive to what's around them, they are doing well. If they are always vocalizing and hungry, you may need to reevaluate. Kittens should be given regular cat food starting at around three-four weeks. They should be completely weaned at six weeks.
Can Kittens Drink Baby Formula?
Human baby formula is very high in lactose. The extra lactose allows baby formula to have a consistency more like breast milk. But, even though kittens can digest lactose, it's too much. So, if you give it to your kittens, they may suffer gastrointestinal distress. The resulting diarrhea can dehydrate them during an important time in their development.
Additionally, taurine, arginine, and other amino acids and nutrients are not available in baby formula in the correct amounts to support a growing kitten.
Can Cats Drink Milk?
Ee all know that cats like milk. Research shows that milk calms cats and gives them pleasure. But studies also show giving cats milk is not good for them, because most cats are lactose intolerant and some are allergic. Milk as part of a regular diet can have major negative health consequences for cats.
Still, if your individual cat seems to be able to handle milk, the best milk to provide is raw cow's milk or goat's milk. But only give a tablespoon of milk once a week at most.
Do your cats like milk as a treat? Have you tried giving your kitty some of the different milks listed here? Which is their favorite?
More Fun Cat Facts
References
Cervantes et al. (1983). "Serotonergic influences on EEG synchronization induced by milk drinking in the cat." Pharmacology Biochemistry & Behavior.

Debraekeleer. (1998). "Comparative analysis of milk replacers for puppies and kittens." Journal of Animal Physiology and Animal Nutrition.
Guilford et al. (2001). "Food sensitivity in cats with chronic idiopathic gastrointestinal problems." Journal of Veterinary Internal Medicine.
Park et al. (2006). "Physico-chemical characteristics of goat and sheep milk." Small Ruminant Research.
Pottenger. (1946). "The effect of heat-processed foods and metabolized vitamin D milk on the dentofacial structures of experimental animals." American Journal of Orthodontics and Dentofacial Orthopedics.