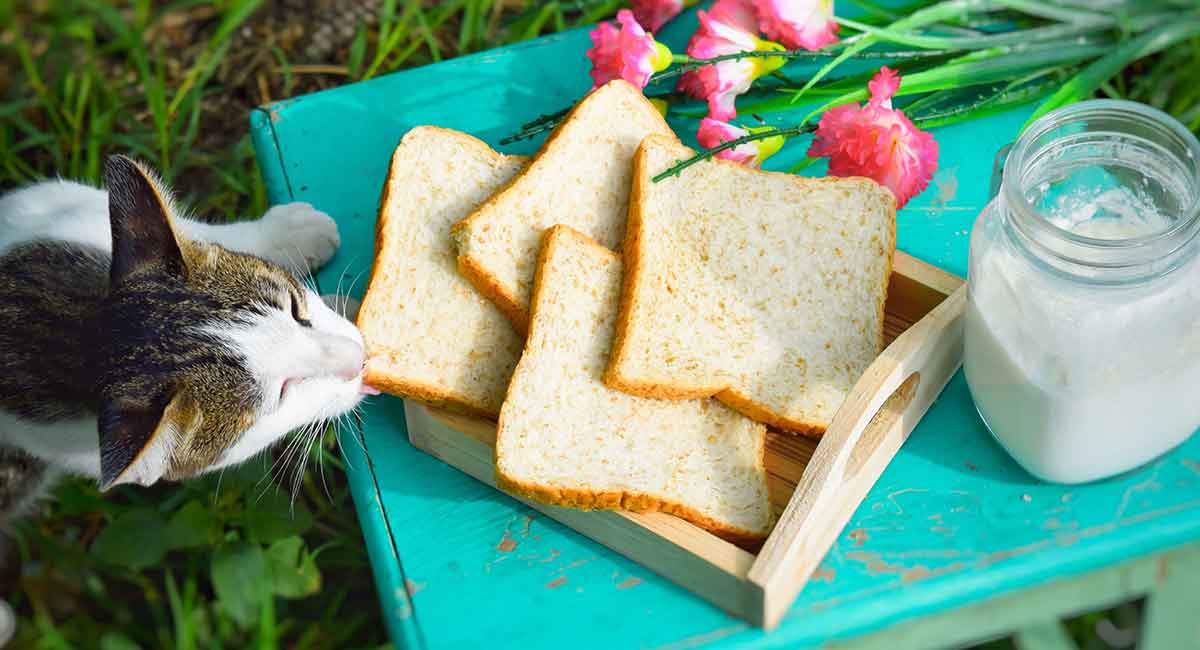 Can Cats Have Bread?
Have you ever wondered, when you're having a piece of toast at breakfast or a sandwich at lunch, "Can cats eat bread?" It's natural to wonder if your cat can eat it. Especially if your little feline friend just happens to be staring up at you with those big beautiful eyes while you eat.
For the most part, bread is okay for your cat to consume. However, it doesn't actually contain essential nutrients for your cat's diet.
A small bite of bread here or there may do no harm to your cat, but you need to be careful about any additional ingredients added to bread which can be dangerous for your cat to have. If you're wondering, "Can cats eat garlic bread? The answer is no.
While plain bread isn't necessarily beneficial, it is generally a benign treat in small quantities.
"Can cats eat bread?" In this article, we'll break down this question into smaller bits of information you can chew on.
What Is A Healthy Cat Diet?
Cats are obligate carnivores by nature and their natural healthy diet calls for a high amount of protein in order to maintain their muscle mass. Obligate carnivores refer to animals that require meat in their diet and cannot subsist off a plant-based diet.
Cats also derive essential amino acids from protein. Amino acids are the building blocks of proteins. We use them to build cells in the bodies and to complete a number of important biological processes.
Essential amino acids are the amino acids our bodies can't produce themselves and need to be consumed ready-made in our diet. Cats must get eleven different essential amino acids from their diet.
A healthy cat diet should also contain a moderate amount of fat. Cats should receive essential fatty acids from their food, such as Omega-3 and Omega-6 fatty acids.
Minerals such as calcium and iron are important, as well as vitamins, including A, B, C, D, E, and K.
What Does Bread Contain?
We need to understand what nutrients bread offers when talking about cats and bread and then see if those nutrients are beneficial to cats.
Bread is not 100% carbohydrates. It also contains a low amount of fat and sugar as well as some protein.
Bread can be a good source of fiber, especially the crust and bread made with less refined grains such as wholemeal. It also contains B vitamins such as folic acid and niacin. Many loaves of white bread are fortified with iron and calcium during the manufacturing process to make them healthier.
Does Bread Contain The Nutrients Cats Need?
You will notice that carbohydrates didn't make the list of nutrients needed by cats. That is because cats have no need to consume carbs. They are not essential to a healthy feline diet. In fact, their digestive system is not designed to handle high quantities of fiber.
Approximately 10% of a cat's diet is carbohydrates in the wild, and this comes from the small mammals, birds, insects, reptiles, amphibians, and insects wild cats eat.
Their greatest nutritional need is high-quality protein from an animal source. The small amount of protein found in bread does not meet the quality, quantity, or essential amino acid composition that cats need.
It is particularly important for cats to have animal protein; their digestive system is highly specialized to breakdown a meat-based diet, and they can't extract the nutrients they need from any other diet.
So now we know that cats don't need bread, but can cats have bread if they seem partial to it?
Or is bread bad for cats?
Generally speaking, small amounts of bread are safe for cats.
Cats and Bread
Carbohydrates and fiber are generally the two main nutrients in bread. The carbohydrates in bread may not harm your cat in small quantities, but a high carbohydrate diet has been associated with obesity and as a contributing factor in Type-2 diabetes in cats.
Also, fiber should not constitute more than 10% of a cat's diet as it is difficult for them to digest and interferes with the absorption of other nutrients.
At this time, there are no known studies that demonstrate any gluten intolerance in cats. However, cats can develop an allergy to carbohydrates. Cats are not born with allergies. They tend to develop them over time with regular exposure to a certain food. Regular consumption of bread may or may not contribute to a carbohydrate allergy later on.
Bread does not provide any nutritional or health benefits to your cat. Occasional nibbles of bread are not likely to cause any issues for your feline friend, but regular consumption may have a negative impact on their health.
Do Cats Like Bread?
Generally, cats prefer food with a strong aroma and can be rather particular about food texture.
It seems unlikely that bread would pique the interest of a cat but some owners say their cats love bread and will beg for it. Other cats walk away with their nose up in the air when offered a taste.
It will depend on your particular cat. There certainly isn't any hard and fast rule.
Cats also don't have sweet receptors on their tongues so sweetbreads are especially unlikely to have them snooping around your plate.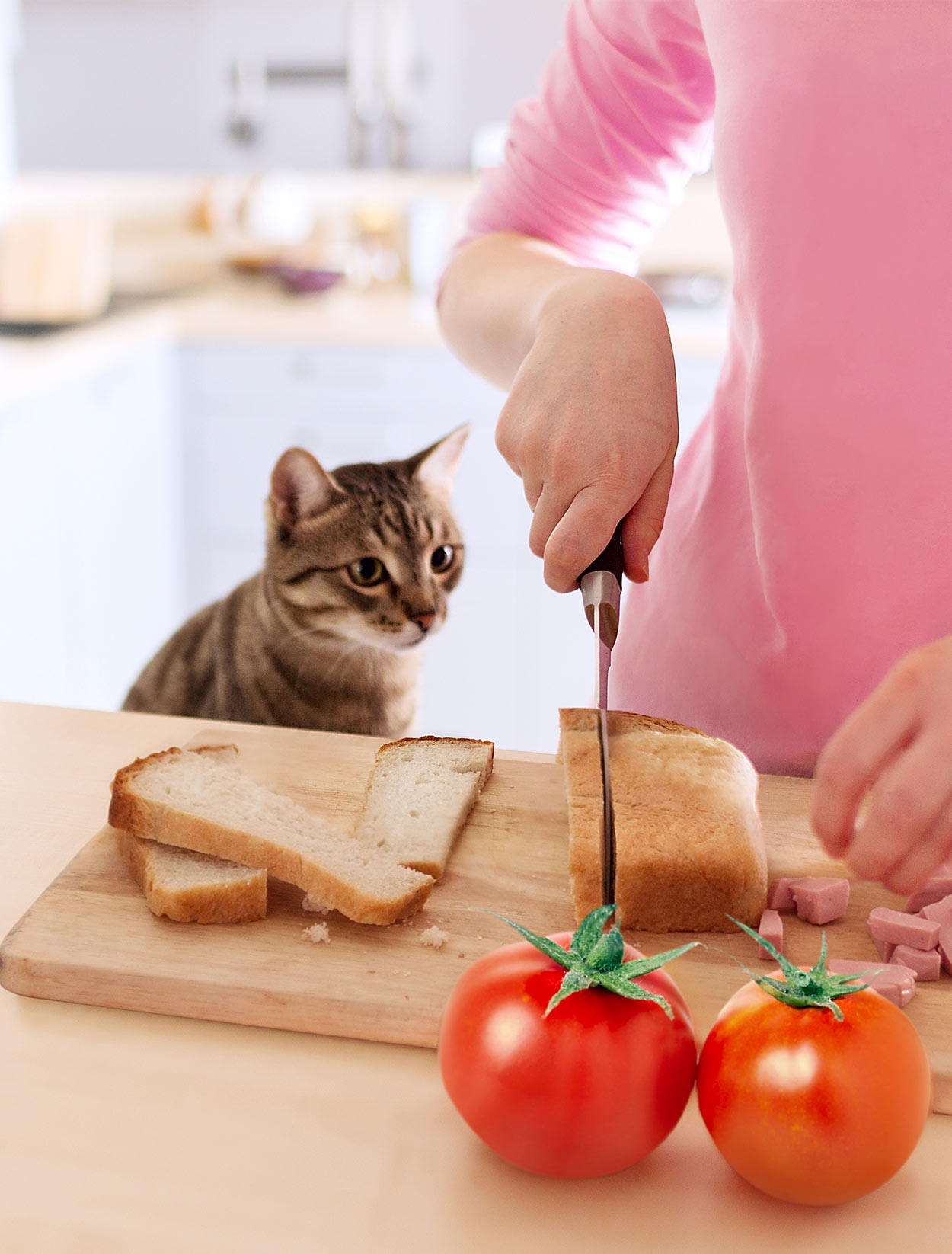 Is Bread Safe For Cats?
Most bread is not toxic or dangerous to cats. They can eat a little here or there without any grave side effects.
So if your cat already has a penchant for small amounts of bread, there's no need to suddenly revoke his toast privileges. Saving a small piece as an occasional treat is generally safe.
Is Bread Bad For Cats?
Certain bread products do tip the balance from a rare, benign treat to potentially very dangerous.
Cats must not consume uncooked yeast dough; uncooked bread dough containing yeast can lead to alcohol poisoning and bloat in cats. Both of these conditions can become life-threatening.
Bloat can occur as a result of the yeast dough expanding in the warm, moist environment of the cat's stomach. It is a serious condition that can result in death and requires immediate veterinary assistance.
The yeast can also ferment sugars while in the stomach, producing ethanol, and causing alcohol poisoning; in serious cases, this can cause cardiac arrest and death.
If you think your cat has ingested uncooked yeast dough and you see any worrying symptoms, contact your veterinarian.
Is Bread Good For Cats?
So, can cats eat bread? Yes, however, just because a cat can eat bread doesn't mean they should. Or at least, not as a significant part of their diet.
The nutritional profile of bread is completely opposite to the nutritional profile needs of a cat as we have discussed.
Cats need a lot of animal protein and fats, and bread only contains trace amounts of these which are often not animal based.
While bread does contain some trace vitamins and minerals which cats do need, there are no essential nutrients in bread that cannot be found in more appropriate food sources and in more adequate quantities.
In other words, there is no nutritional reason to add bread to your cat's diet.
Can Cats Eat Savoury or Sweet Bread?
Some types of sweet and savory bread have additional ingredients that are dangerous to cats.
Some of these ingredients include garlic, onion, leeks, chives, macadamia nuts, raisins, chocolate, and caffeine.
In other words, make sure options such as garlic bread are never given to your cat.
If a cat consumes garlic or any of these other forbidden ingredients, it could start to show some of the following symptoms:
Lethargy
Weakness
Vomiting and/or diarrhea
Reduced appetite
Pale gums
High body temperature
Muscle tremors
Abnormal heart rhythm
Abdominal pain
Increased thirst
Seizures
Orange or dark red urine
Decreased urination
Disorientation
Trouble breathing
Contact your veterinarian if your cat demonstrates any of these signs. If you cannot reach your veterinarian, and you have immediate concerns, you can also call the ASPCA Animal Poison Control or Pet Poison Helpline.
Can Bread Give My Cat An Upset Stomach?
Bread is not likely to be the cause of an upset stomach unless your cat has developed a carbohydrate allergy. Note that if carbohydrates are the culprit, your cat should also be showing symptoms from eating any cat food with vegetables, wheat, barley, or corn in the mixture.
Common signs of a food allergy in cats include vomiting, diarrhea, and itchy skin. If you are concerned your cat may have a food allergy see you, veterinarian, right away as the source must be identified and eliminated from their diet as soon as possible.

Can Kittens Eat Bread?
We've answered the question, "Can cats eat bread?", but what about kittens?
Kittens actually require more nutrients and calories than an adult cat. Their digestive systems are also more sensitive than that of an adult. They should only be fed high-quality kitten food.
Like a full-grown cat, kittens are carnivores too, and their diet should be focused around quality animal protein. It is not deemed toxic to kittens but bread consumption is not recommended.
Cat Bread Treats
Fully cooked bread dough can be eaten in small quantities and used as an occasional treat.
Cats may also sample bread in the form of toast. Some cats may even prefer the crunchy texture of toast.
Alternatives To Bread For Cats
If you want to share a healthy treat with your cat, try offering a small cube of melon like cantaloupe. Cantaloupe has some of the same amino acids as meat, and it is speculated that it is the smell of these amino acids that attract cats.
Some cats enjoy munching on grass, and if that is the case with your feline, try feeding them spinach as a leafy green treat. There is a recipe
You can also look at more options here:
Summary: Can Cats Eat Bread?
If you've ever noticed your cat eyeing your toast or sandwich, and wondered, can cats eat bread? The short answer is yes.
Bread is not toxic to cats, but it also does not have any beneficial properties that would make it a great addition to your cat's normal diet.
Cats need a diet high in proteins and fats from animal sources in order to stay healthy.
While most bread won't actively harm your cat when eaten in small and infrequent amounts, it also doesn't provide them with the essential nutrient they need to maintain muscle mass and support all their different bodily processes.
The regular addition of bread to your cat's diet can have adverse effects on their health. And the ingestion of either raw yeasted bread dough or bread containing additives (like raisins, chocolate, caffeine, onions, leeks, garlic, and chives) can be dangerous for your cat.
If you choose to allow your cat little bites of bread, be sure to use this as an occasional and extra special treat, not a daily snack.
Have you given bread to your cat?
You can let us know about your experiences with cats and bread in the comments below.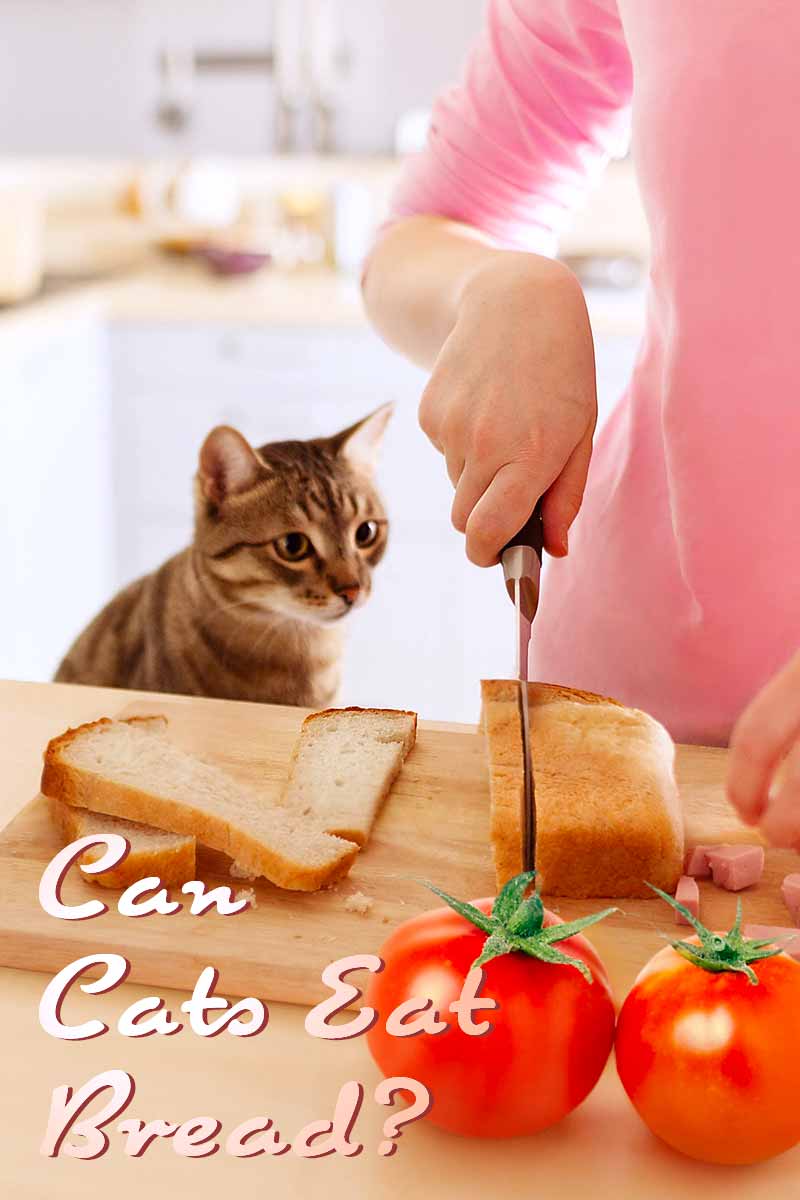 References And Further Reading
This article has been extensively revised and updated for 2019.