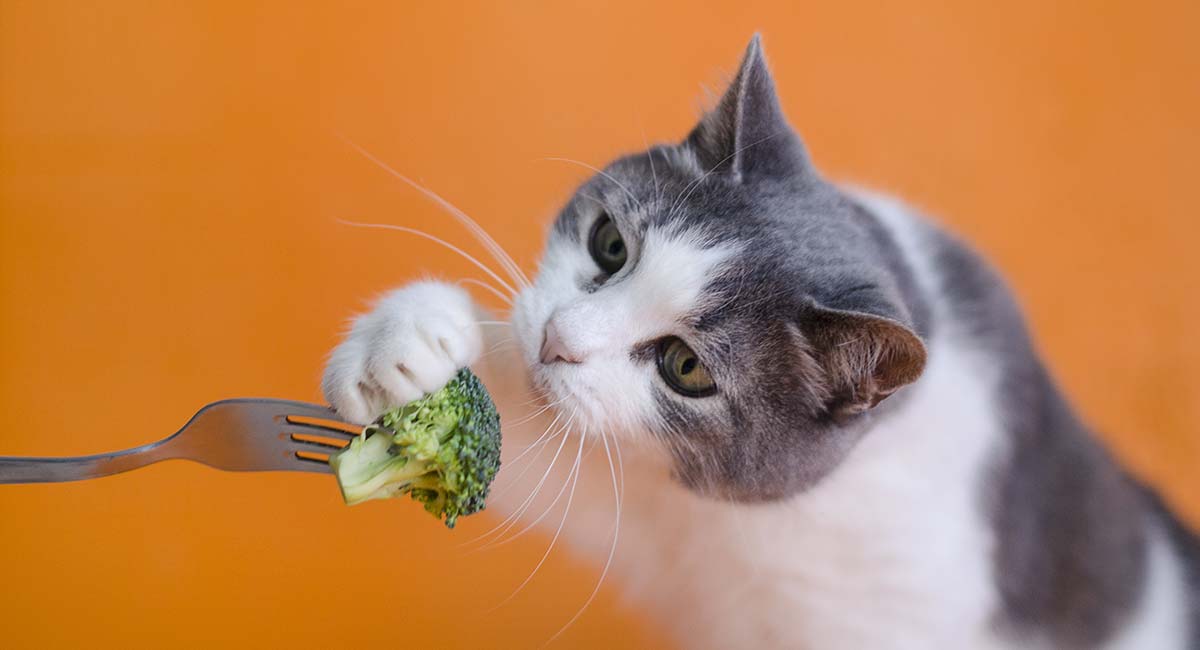 Can cats eat broccoli? Broccoli is safe for cats to eat in small quantities. But as they are obligate carnivores, they cannot digest it efficiently. Or take advantage of the nutritional value it offers humans.
Steamed, unseasoned broccoli retains the most nutrients, whilst minimizing the risk of choking or digestive upset.
There is no scientific evidence about the benefit of broccoli to cats.
Cats and Broccoli
Broccoli is a staple vegetable in many cultures around the world. Plus, a common food item in kitchens. But can cats eat broccoli?
If you let your cat into your kitchen, it's more than likely they've had a sniff of some broccoli at some point or another.
But does this unassuming vegetable pose a threat to our feline friends?
The short answer in most cases is no. In moderation broccoli will not pose any risk to your cat.
But, there are still more questions that need answers!
Other Important Questions
Is raw broccoli safe for your cat? Are there any benefits for cats eating broccoli?
Any long-term risks of cats eating this veggie regularly?
In this article, we will cover any possible questions you may have about the benefits and risks of feeding your cats broccoli!
Where Does Broccoli Come From?
Before we jump straight into whether cats can eat broccoli, let's take a look at where it comes from. Broccoli is a Brassica known for its edible flower buds and stalk.
It has been a part of English and American cuisine since the 1700s.
It's high in dietary fiber and various minerals and nutrients. Making it a very nutritious vegetable.
Broccoli also has antioxidant and anticancer effects, according to a study published in the Preventative Nutrition and Food Science Journal in 2015.
Do Cats Get the same Nutrients?
Due to these reasons, it's no wonder that many cat owners hold an interest in giving their cat broccoli.
But, it is very important to remember that a cat's digestive system and dietary needs are inherently different from a human.
Will the nutrients and benefits broccoli offer be of use to a cat?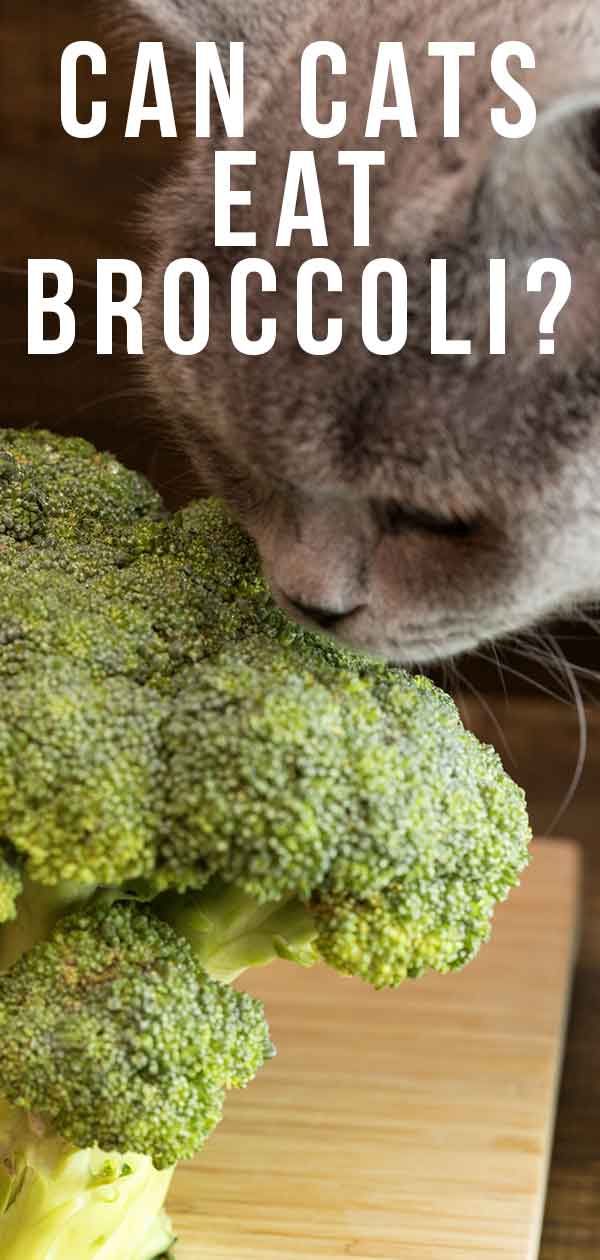 What Is a Natural Cat Diet?
Can cats eat broccoli as part of their natural diet? Cats are obligate carnivores.
Also known as "true" carnivores. Such animals need a diet mostly made up of meat.
This is due to the fact that they need nutrients and amino acids only found in meat.
They need a high amount of protein daily. With adult cats needing around 2 to 3 times more protein than omnivorous species.
So, while in most cases broccoli doesn't pose a threat to cats, it certainly isn't necessary for a cat's diet.
Cats Don't Need Plants
Cat's simply aren't required to eat vegetables. They get everything they need to survive from meat-based diets.
Vegetables can also be tough for cats to digest.
They aren't equipped with a digestive system tailored to break down fibrous plant matter.
Too much of it can lead to gastrointestinal problems.
Cats Might Not Like Broccoli!
Despite not being a vital component in their diet, some cats may simply enjoy broccoli for the taste and fun of chewing it.
But are all the parts of broccoli safe?
How does the method of preparation affect its digestibility?
Let's take a further look.
Can Cats Eat Raw Broccoli?
While a cat certainly can eat raw broccoli, it is not the best option for them.
Uncooked broccoli is even tougher for cats to digest. Meaning it can quickly lead to gastrointestinal issues.
Small pieces of uncooked veg are also more likely to pose a choking hazard to your cat.
Feeding a cat raw broccoli avoids any nutritional value being lost to cooking. But, it's still a better idea to only give cooked broccoli.
This is because it is much easier for them to digest.
But does the choice of boiling or steaming broccoli make any difference?
Can Cats Eat Boiled Broccoli?
Boiled broccoli is one of the easiest forms of the vegetable for the cat to digest. As cooking softens and breaks down the tough plant fiber.
Boiling your broccoli will ensure that the vegetable is well cooked.
However, boiling broccoli has been linked with a loss in some of the nutrients and healthy compounds present in raw broccoli.
A study published in the Journal of the Zhejiang University Science B found that there was a significant loss of chlorophyll, vitamin C, soluble proteins and soluble sugars in boiled broccoli.
A large decrease in glucosinolates, a compound linked with anticancer properties, was also noted.
So, this form of broccoli could be said to be the easiest to digest. But the least nutritionally valuable.
Can Cats Eat Steamed Broccoli?
Steaming broccoli offers somewhat of a middle ground between raw and boiled.
The same study outlined above that looked into the effects of boiling broccoli concluded that steaming broccoli avoids the large losses of nutrition and glucosinolates.
But, steaming broccoli leaves it partially uncooked.
So, it is harder for your cat to digest than boiled broccoli but easier than completely raw.
To summarize, steamed broccoli retains a lot of nutrients that would otherwise be lost by boiling. But can be much harder to digest due to it being partially raw.
Can Cats Eat Broccoli Leaves?
Broccoli leaves do not pose any extra threats to cats and are as safe as the broccoli florets.
It's also been found that the leaves have a high number of antioxidants and anticancer compounds.
Their digestibility depends on how they are prepared. Just like the florets.
Boiled is the easiest to digest. While raw is the hardest.
Boiling may run the risk of losing some of the health-related compounds.
Can Cats Eat Broccoli Stems?
Like the leaves, broccoli stems should also pose no threat to your cat.
The stem was also identified with having a high amount of antioxidants and anticancer compounds.
Again, their digestibility hinges on how they are prepared.
Is Broccoli Good for Cats?
So now that we know that broccoli is a generally safe food for your cat, are there actually any benefits for cats who eat them?
We know that broccoli is a great vegetable with a lot of nutritional value.
But that's in humans.
As explained earlier, cats are obligate carnivores with completely different dietary needs from us.
Vegetables aren't a required part of their diet. And they struggle to digest them efficiently.
Feed an Appropriate Diet
A cat should be on a healthy diet that already covers any nutritional benefit that broccoli could offer.
Both dry and wet cat food is formulated with all their dietary needs in mind.
Plus, while broccoli has been found to have antioxidants and anticancer compounds, there are no scientific studies or evidence to suggest that cats can take advantage of them.
Humans may be able to. But cats have a very different digestive system.
It remains to be seen whether cats can use these properties for themselves.
So, the nutritional and health benefits of broccoli is questionable.
There are much better sources of nutrition for cats out there that are much easier on their stomachs.
Is Broccoli Bad for Cats?
As long as broccoli is given as an occasional treat on top of an already healthy diet, broccoli should pose no threat.
If too much is given, it can lead to gastrointestinal problems. This is due to the fact that cats struggle to digest plant matter to begin with.
Raw broccoli should also be avoided. As it's even harder on them to digest and they could choke on it.
On the other hand, boiled broccoli could be seen as an empty meal. As many of the nutrients will have been lost to the cooking process.
Steamed broccoli still holds nutritional value. But may be a struggle to digest.
But Don't Worry About Toxins
However, despite all this, there are no toxins to worry about. As long as the broccoli is fresh and has been washed.
To be clear, cats should never be moved onto a fully vegetarian diet.
As mentioned before, they need a primarily meat-based diet. So vegetables do not contain vital amino acids that they need to survive.
Do Cats Like Broccoli?
Some cats certainly are interested in broccoli. But it differs from cat to cat.
Cats may be drawn to broccoli much in the same way they are drawn to grass and other plants.
While there isn't a concrete reason as to why cats sometimes choose to chew and eat plants such as broccoli when there is no dietary need, vets have lots of ideas.
Some Possible Reasons
It's possible they just enjoy the taste or the new texture.
Or they may just be exploring another aspect of the world with their mouth!
It may also be an attempt to clear their stomach by purposefully making themselves vomit or to relieve constipation.
The list of possibilities goes on!
See our article here for more information on the topic.
Can Cats Eat Broccoli?
So to summarize, cats can eat broccoli in moderation as a treat on top of an already healthy diet.
The method of preparation is important.
Raw broccoli should be avoided due to the additional difficulty in digestion.
Steamed and boiled broccoli can be a fine treat if your cats enjoy it.
Keep in mind that steamed broccoli can still be tougher to digest than boiled. But it holds more nutritional value.
It's also good to realize that the stem and leaves can work as treats too.
The nutritional benefits of feeding broccoli are unnecessary on top of an already healthy diet. But, if your cat enjoys the taste and fun of eating broccoli, it can be a fulfilling treat.
Anything to Add?
So there we have it!
We hope you have learned everything you need to know about feeding broccoli to cats.
Have you owned any cats with a love for broccoli?
Do you have anything to add?
Let us know below!
What Other Food Can Cats Eat?
We've got plenty of other guides to food for your cat. Check out more in our other articles below:
References and Resources
Hwang, JH, et al, Antioxidant and Anticancer Activities of Broccoli By-Products from Different Cultivars and Maturity Stages at Harvest Preventative Nutrition and Food Science, 2015
Zoran, DL, The Carnivore Connection to Nutrition in Cats Journal of the American Veterinary Medical Association, 2002
Little, S, August's Consultations in Feline Internal Medicine Elsevier Health Sciences, 2015
Yin, S, Vegetarian Cat? CattleDog Publishing, 2011
Yao, G, et al, Effects of different cooking methods on health-promoting compounds of broccoli Journal of Zhejiang University Science B, 2009
Johnson, IT, Glucosinolates: bioavailabity and importance to health International Journal for Vitamin and Nutrition Research, 2002
Lee, JA, Why Do Cats Eat Plants, and Should I Be Worried? Pet Health Network