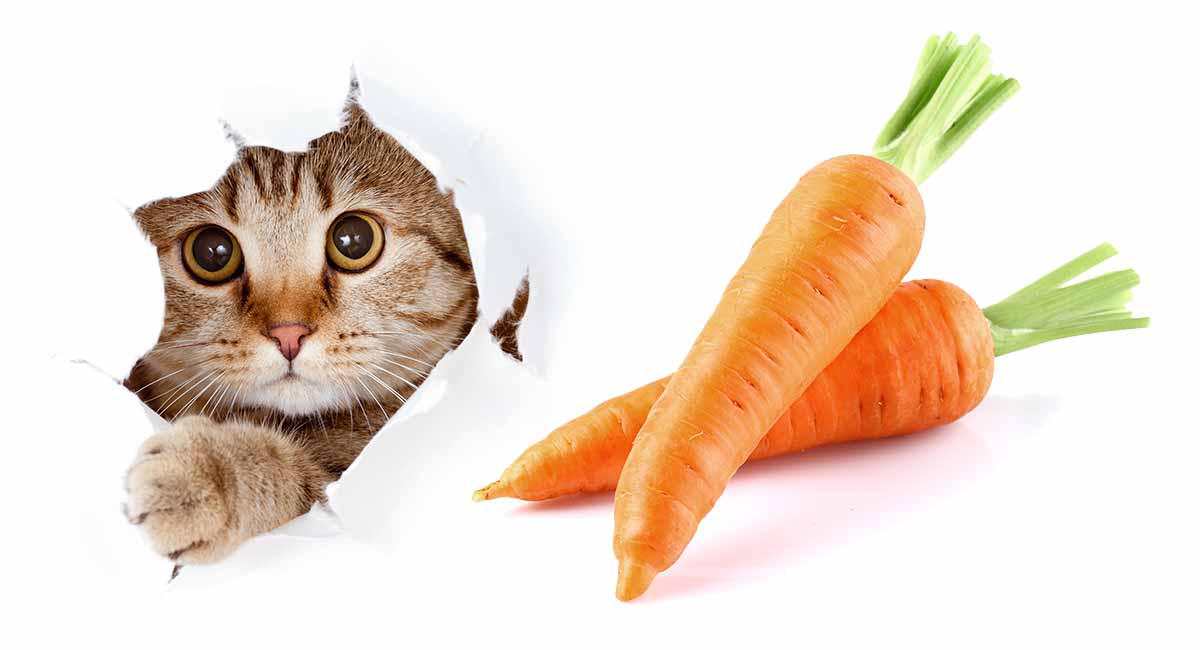 Yes, cats can eat carrots.
In fact, carrots are an ingredient in one-third of commercial dry cat foods, and one-quarter of canned cat meals.
However, chunks of raw carrot may be difficult for your cat to digest and also present a choking hazard.
So let's look in a bit more detail about whether cats can eat carrots, and what the pros and cons are.
Can Cats Eat Carrots? Find Out More
Maybe you like the idea of making some homemade food for your cat and are curious to know if cats and carrots are a good mix.
Or perhaps you've been researching new brands of cat food and wonder why carrot is listed as one of the ingredients.
In this article, we'll look at the answers to both those questions, and more.
Interesting Facts About Carrots
The Latin name for carrots is Daucus carota of the subspecies sativus. Carrots belong to the Apiaceae or Umbelliferae family, which also includes parsley, celery, and parsnips.
The carrots we grow in our gardens and buy in the shops are domesticated cultivars of the wild carrot. The plant itself is sometimes known as Queen Anne's Lace.
The orange color of carrots comes from the beta-carotene they contain. Originally though, carrots were white.
It's thought that the purple and yellow varieties were first grown by default, simply as a result of carrot genetics.
Once carrot farmers began to purposefully select these colors, they then used selective breeding to create the orange carrot we know today.
Are All Vegetables Safe For Cats?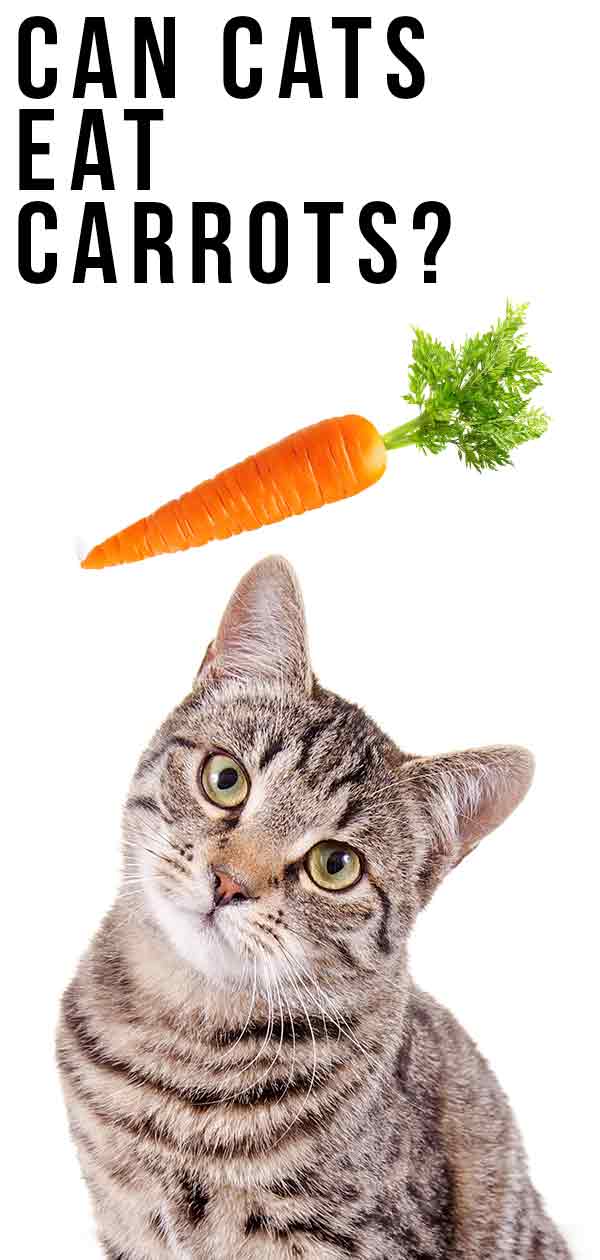 We all know the benefits of eating vegetables ourselves. They contain a range of vitamins and minerals, antioxidants, and fiber.
But is the same true for our cats?
The digestive systems of cats have adapted to work in a very different way to ours.
In fact, they have become obligate carnivores – so highly specialized to digest meat and animal fats that they can't digest plant matter efficiently at all.
Are Any Vegetables Okay?
That doesn't mean vegetables are inherently harmful to cats.
Certain vegetables, including carrots, are indeed safe for cats. However, they provide little nutritional value for them.
Other vegetables should be avoided altogether. Tomatoes, mushrooms, garlic and onion are all toxic to cats.
Are Carrots Safe For Cats?
Carrots are definitely safe for cats, as long as they're prepared correctly.
We'll look at how to prepare carrots a little later in this article.
But, first, do cats actually eat carrots? The answer is yes!
In fact, carrots for cats are a pretty common ingredient in commercially prepared cat food.
Let's take a look at that in more detail.
Carrots in Cat Food
A 2018 market analysis found that carrots were the number 1 vegetable added to pet food. The others were beets, ancient grains, sweet potatoes, and blueberries.
Breaking this down further into just cat food, a survey carried out by Petfood Industry found that 33% of dry cat foods that were sampled contained carrot. 26% of canned cat food contained carrot.
While it's unlikely that you'll see any evidence of carrot in dry kibble, other than the fact it's on the ingredients list.
In wet food, manufacturers suggest cat owners now want to see recognizable pieces of both meat and vegetables.
What This Means
This trend may well influence how pet food manufacturers prepare their products in the future.
In fact, one of the wet cat foods we feed the 4 cats in our household has chunks of both meat, carrots, and peas.
Upon inspection, vegetables are usually the third ingredient listed on the label and account for 4% of the contents.
But why is all that carrot in there if cats can't digest vegetables?
Carrots for Storage and Bulk
Kibble is a popular way to buy pet food – it's easy to store, easy to serve, and doesn't perish. But it needs starches and fiber to give it volume and make it "shape-able" and "dry-able".
Adding root vegetables like carrots is a classic way to achieve this, and make the practical advantage of dry pet foods possible.
Carrots and Vitamin A
For humans, carrots are an excellent source of Vitamin A, from the alpha-carotene and beta-carotene they contain.
Unlike humans, cat's bodies are relatively inefficient at converting beta-carotene into Vitamin A.
Instead, cats require dietary Vitamin A that can be used immediately, and in cat food, this is usually a synthetic version which is added to commercial feeds.
So, while carrots are a source of Vitamin A, they certainly aren't the primary supply of it in your cat's diet.
However, there's some evidence that beta-carotene may still be beneficial to help manage the symptoms of cats with renal disease.
Can Cats Eat Raw Carrots?
While eating a tiny shred of raw grated carrot dropped on the floor certainly won't harm your cat, a slice of raw carrot may do them harm.
Now, this isn't because cats can't eat carrots, because they can.
The problem with slices or chunks of raw carrot is that it can be difficult for your cat to chew.
This can present a dangerous choking hazard.
Raw carrot is also much harder for your cat to digest.
If your cat does eat a chunk of raw carrot and isn't choking or displaying any other unusual signs, then don't worry.
Can Cats Eat Carrot Tops
There's no reason why cats can't eat carrot tops, in fact, some might like the occasional nibble.
It's unlikely that you'll see them do this very often, though.
Recipes
Can cats eat carrots in a homemade food recipe? There's no reason why not.
You may decide you'd like to have a go at making your own cat food including carrots.
Choosing to feed your cat a homemade diet is becoming more popular.
However, care should be taken to ensure both the correct nutritional levels for your cat and that food is prepared and stored properly.
We recommend you only feed your cat homemade meals with carrot which have been approved by their vet.
Can Cats Eat Carrots – Summary
Hopefully, we've now answered the question if cats can eat carrots or not!
As a popular ingredient in both wet and dry cat food, it's likely your cats eat carrots on a daily basis.
However, they have very little nutritional value for cats.
So, if you prepare your cat's meals from scratch, or they like a carroty snack, it's important to make sure they don't eat too much at the expense of consuming animal proteins and fats.
Do your cats eat carrots in a homemade recipe too? Let us know in the comments below.
More Foods for Cats
Interested in learning about some other food options for cats? If you love sharing food with your cat, make sure you read about each new item before giving it to your kitty!
Here are some great links:
References and Further Reading
Tamokou et al. 2017. Antimicrobial Activities of African Medicinal Spices and Vegetables. Medicinal Spices and Vegetables from Africa.
Yu and Paetau-Robinson. 2006. Dietary supplements of Vitamin E and C and Beta-Carotene reduce oxidative stress in cats with renal insufficiency. Veterinary Research Communication.
Zaccari and Saadoun. 2019. Food Security, Nutrition and Health. Encyclopedia of Food Security and Sustainability.
Green and Fascett. 2016. Meeting the Vitamin A Requirement: The Efficacy and Importance of
Ceta-Carotene in Animal Species. The Scientific World Journal.
Remillard, R. 2008. Homemade diets: attributes, pitfalls, and a call for action. Topics in Companion Animal Medicine.