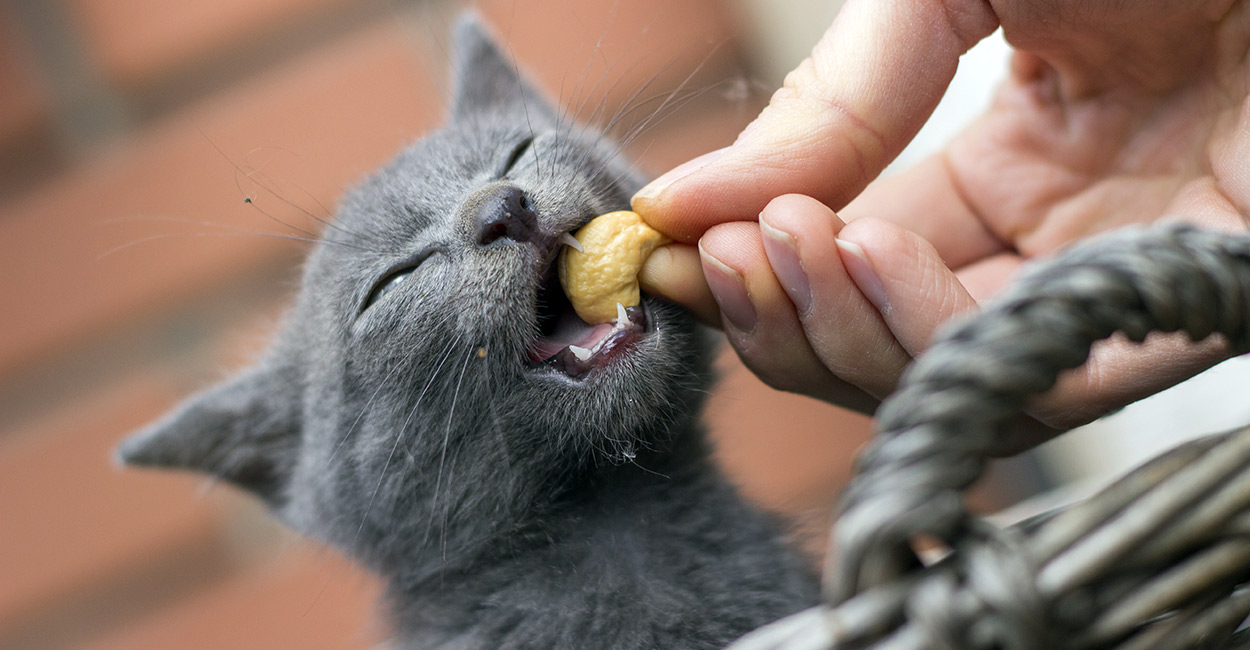 Ever wondered can cats eat cashews? Or can cats have cashew milk? Wonder no more… Tanya Clark is here with the answer.
Cashews are a delicious taste treat, and a handful can hit the spot on most days for me.
And my cat Fuzzy pokes his head into the open canister whenever I turn to some for a snack.
I don't know if he truly likes the smell of them, or just wants to sneak some forbidden "people food!"
It seems cruel at times to happily munch away on the nuts while I deny him his share.
The question, "Can cats eat cashew nuts?" is a valid one, but perhaps it should be rephrased to, "Should cats eat cashew nuts?"
Can cats eat cashew nuts?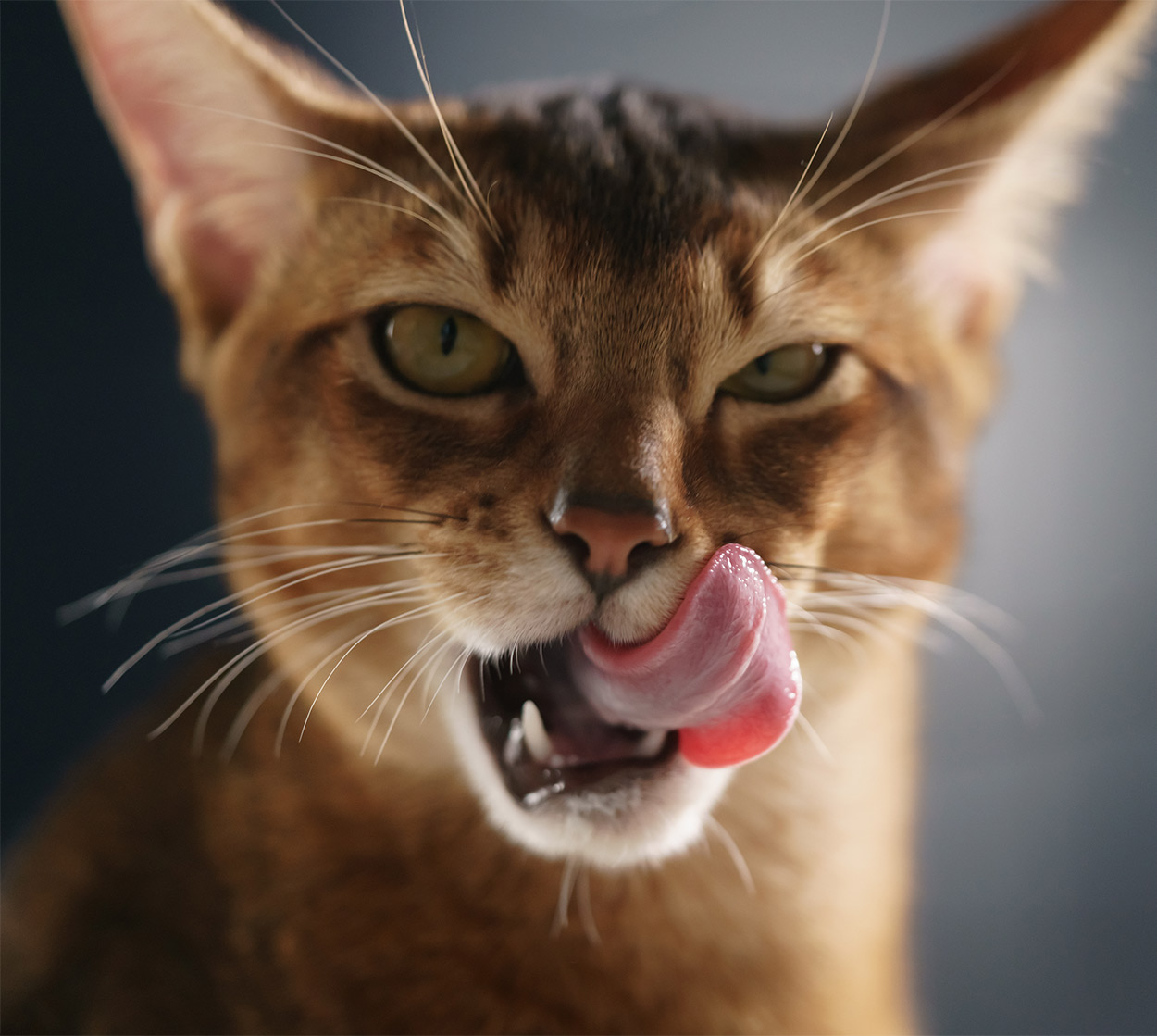 In a nutshell (pun alert!) the short answer is no.
Humans are omnivores meaning that we can thrive on a diet of both plants and proteins.
Cats are obligate carnivores, which means they require a high protein diet.
In the wild big cats eat meat almost exclusively because they do not extract nutrients efficiently from plant-based ingredients.
While our own little lions may have been tamed considerably, their digestive system requirements remain "wild."
The fact is that cats do not need to eat cashews.
Are cashews bad for cats?
Where there's a short answer, there is of course also a long answer, and in this case it won't won't hurt most cats to sneak a bite or two of cashew every now and then.
It's doubtful that the majority of naughty felines will eat enough cashews to incur a toxic effect.
A cat's original diet was made up primarily of proteins, with the scarcest amount of carbohydrates added in.
Modern researchers have conducted numerous studies to determine the optimal feline diet.
What do they conclude?
Many experts consider the optimal house cat diet to be one composed mainly of protein and fat, with the smallest bit of carbohydrate.
Let's find out more about cashews, to see how they fit.
Where do cashews come from?
Although they are now grown in many parts of the world, the cashew tree is indigenous to Brazil and it's believed that the Portuguese began exporting the tasty commodity way back in the 16th century.
The tiny consumable is eaten out of hand, made into a deliciously smooth butter, and sprinkled atop cookies and even savory dishes.
The rise of cashew nuts
Today modern cashew tree farms are clustered in India, Vietnam, Nigeria, and the Ivory Coast.
According to one report, the majority (60%) of cashew nuts are consumed as a snack item with the remainder being used in butters, ice creams, baked goods, and my personal favorite — chocolates.
In case you're wondering, cashews are pricier than other nuts because of the amount of labor involved in the processing and manufacturing systems.
Nonetheless, we can't seem to get our fill of the delectable little kidney-shaped nut. According to one estimate, global cashew production has risen tenfold over the past 50 years.
What is a cashew apple?
Not as well known, nor as widely consumed, the edible, deliciously sweet cashew apple also grows on the cashew tree.
The red, sometimes yellow, cashew apple is a mere 2 to 4 inches long.
So why have you and I never bitten into this little delicacy?
Delicacy is the optimum word here; the tropical apple is thin-skinned making it in impractical to ship globally.
The fruit bruises easily, limiting its shelf life and all important eye-appeal.
Instead, the fruit's pulp is widely used in Latin American countries where the juice is extracted and used in everyday drinks and alcoholic beverages.
The case of the cashew imposter
In fact you might say that the cashew nut has stolen some of the cashew apple's glory!
That's because the popular little nut is actually what is known as an "accessory" or "false" fruit.
In fact, the cashew apple is not even considered to be the true fruit of the cashew tree; that honor belongs to a little shape that juts out from the bottom of the cashew apple.
And it is within this growth that the cashew nut (which technically is a seed, not a nut!) sits.
The nut itself is surrounded by a shell that has a skin-irritating acid within it, but with a proper roasting the acid is rendered impotent; cashews are almost always sold to consumers de-shelled.
Interestingly enough, this acid is related to a similar dermatitis-inducing chemical found in poison ivy.
It is a little known fact that having an allergy to either poison ivy or cashew may mean that one is also sensitive to pistachio or mango as these are all within the same botanical family.
Cats and cashews
What is most important to us here is the fact that cashews can provoke an allergic response.
Getting back to our original topic, the fact that some cats may be allergic to cashews is one reason we should resist the temptation to indulge our furry friends.
Some people would also argue that cashews also pose a choking hazard to cats, and thus should be avoided at all costs.
While this is factually true, hard kibble can also pose a choking risk, and yet owners around the globe feed tons of it to our pets every day.
In reality many, many things, edible or otherwise, have the potential to lodge in the throat and pose a choking hazard.
Perhaps a greater reason to avoid combining cats and cashews lies in the nut's nutritional profile, and risk of triggering an allergic reaction.
Are cashews poisonous to cats?
Cashews per se are not poisonous to felines, but neither are they necessary to their diets.
Per 100g, cashew nuts are 44% fat, 30% carbohydrate, 18% protein, and a splash of water.
It looks high in fat and protein to us, right?
But for a cat the proportions are all the wrong way round.
They need food high in protein, moderate in fat, and low in carbohydrate.
And the proteins should contain specific types of amino acids which cats need to get from their diet.
Animal protein is easier for cats to digest, and has a more suitable profile of amino acids.
And whilst it's true that cashews also contain vitamins and minerals, the high fat content in cashews can cause digestive upset in felines, not to mention contributing to obesity over time.
Symptoms of feline digestive upset
If your cat has eaten a cashew or much more, how can you tell if she is in harm's way?
If the food has upset her stomach she may vomit or develop diarrhea.
In addition, the high fat content in the nuts can cause inflammation of the pancreas, a dangerous condition that requires immediate treatment.
Pancreatitis symptoms include lethargy, fever, and loss of appetite.
Allergic reaction to cashews can include difficulty breathing, swelling, and rash.
If your cat shows any of these symptoms after ingesting cashews call or visit your vet immediately for direction and advice.
What about cashew milk?
If you haven't noticed, cow's milk has a bit of competition in the refrigerated section of the grocery aisle these days.
Soy, rice, and almond milk are all popular for a variety of health reasons.
These alternatives are good choices for individuals who are lactose intolerant, thus unable to drink cow's milk, and for those who don't want to consume dairy or animal products.
Nut milks are typically made by soaking the meat in water, grinding it into a paste and again combining with water before being strained into its liquid form.
There is little left of the nut's inherent nutrients in the milk.
Can cats drink cashew milk?
Again, the short answer is a qualified "no".
A cute kitty lapping up a bowl of milk makes for a sweet scenario, but milk of any variety is simply not required to build a healthy cat.
Like the nuts, cashew milk may provoke an allergic response in your cat, and in high quantities cashew milk can be too fatty for your kitty's digestive system.
A small amount of cashew milk very occasionally won't cause long term harm to a non-allergic cat, but what cat wants to stop at just one lick of delicious, creamy, fatty milk?
Like most things in life, prevention is worth a pound of cure when it comes to engaging in behavior best left alone!

Can cats eat cashews?
When eaten in moderation cashews are can be part of a healthy diet for humans. Conversely, cats do not need to eat cashews either as a snack or as part of a healthy diet.
While a random cashew or lick of cashew milk likely will leave your cat in perfectly fine shape, it's best not to get into a habit you have to break in the future.
I don't know about you, but once my cat gets used to a treat, he expects that treat!
So, instead of tossing your cat a cashew, why not have a bag of kitty treats handy as you munch down on nuts? Treats made for cats are a much better snack alternative for our pets.
Chances are your kitty will be happy with a bona fide cat snack, and on the plus side you won't feel as if you're depriving your precious little one!
Are cashews your cat's vice?
Have they managed to snaffle one, and kept pestering you for more? Have you managed to wean them onto something more suitable?
Let us know in the comments section below.
Sources
Mc William, V. et al, The prevalence of tree nut allergy: a systematic review, Current Allergy and Asthma Reports, 2015
Sicherer, S.H., et al, Prevalence of peanut and tree nut allergy in the United States determined by means of a random digit dial telephone survey, The Journal of Allergy and Clinical Immunology, 2003
Zoran, D.L., et al, Effects of nutrition choices and lifestyle changes on the well-being of cats, a carnivore that has moved indoors, Journal of the American Veterinary Medical Association, 2011