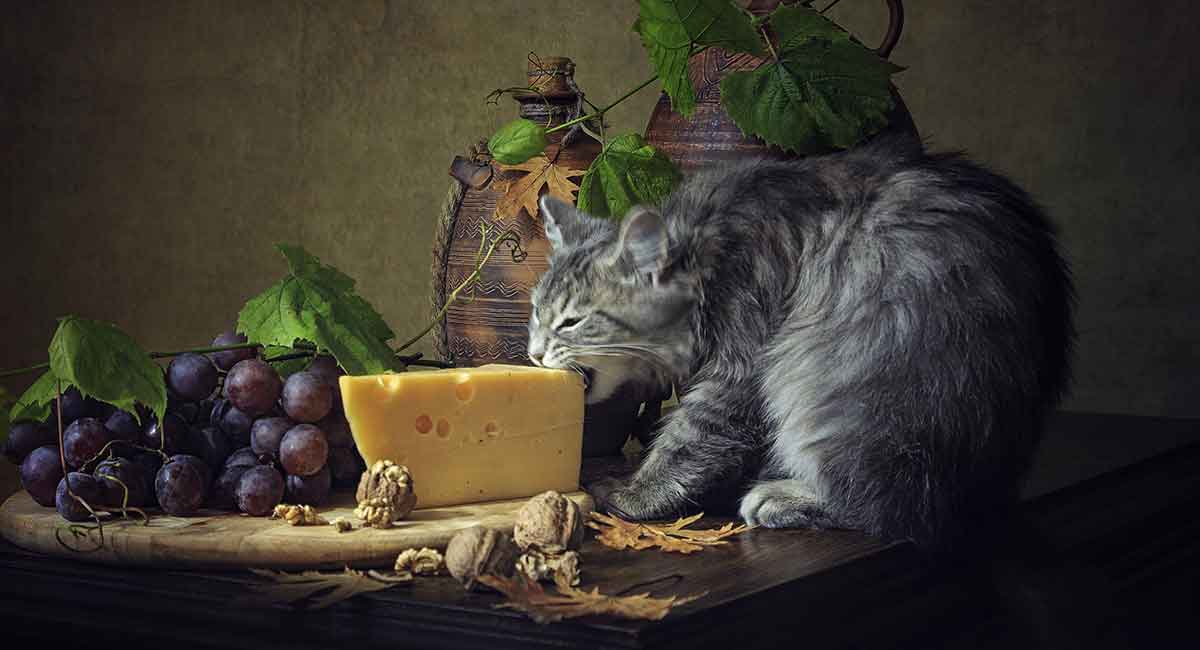 Can cats eat cheese safely? Or, when it comes to kitty snack time, is it better to leave the cheese in the fridge?
If cats eat cheese, it's unlikely to have a serious effect. But the answer isn't completely straightforward. Often, there are other ingredients within the cheese that come into play.
Is cheese bad for cats? Let's take a look at the detailed answer.
Can Cats Have Cheese?
Cats are obligate carnivores, which means that they need to eat meat. Meat, therefore, is the primary ingredient in their diet.
A natural, healthy diet for a cat would probably not normally include cheese, or other dairy. But you may have noticed something about your cat.
Cats are well known as the curious creatures of the animal kingdom. As such, they always seem to keep a keen eye on their human companions. This is especially true when it comes to food.
You may notice that there are certain foods that will encourage a bit more of a kitty stare than others. Dairy items are certainly on the top of the list. In fact, your cat probably tries to get your attention with a so-called solicitation meow.
If the needy and desperate meow is a common occurrence while you are eating a bit of cheese, then you may be tempted to give your sweet and furry feline what he is asking for.
The good news is that, broadly speaking, cats can eat some types of cheese in small quantities. And the food is unlikely to make them deathly ill.
However, this is only true as long as the cheese is a plain variety that does not contain an ingredient that is harmful to your pet.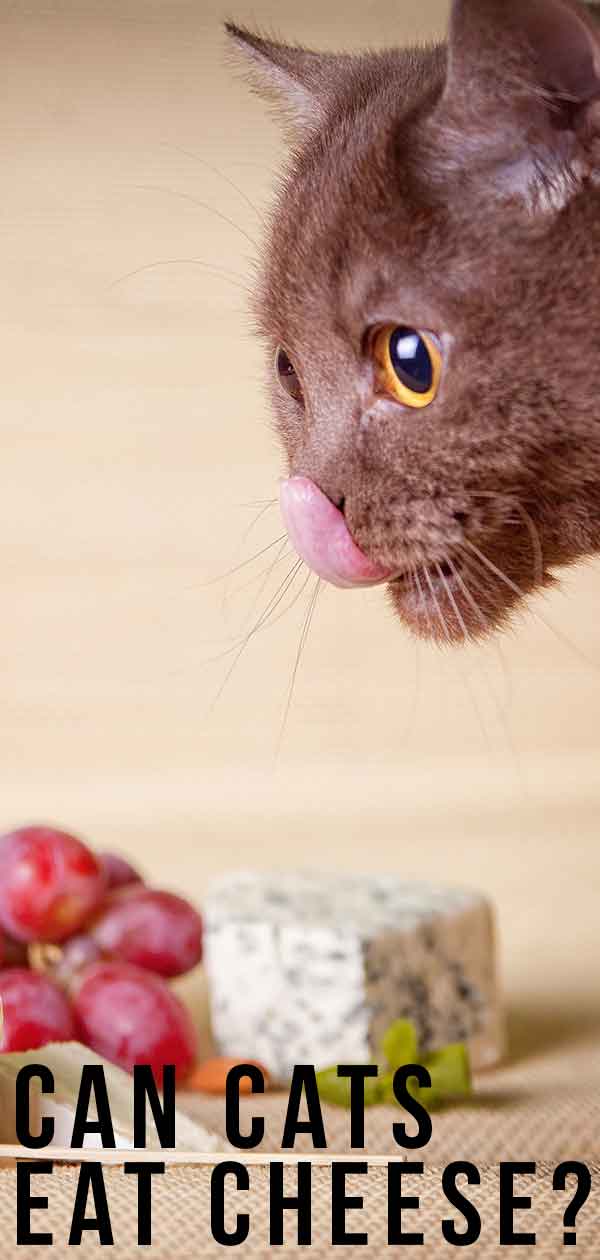 Cats And Cheese
"Can cats eat cheese?" is a very broad question, so the answer isn't totally simple. There are several types of cheese, and they don't all have the same ingredients. Some of the possible ingredients may be harmful to your cat.
A few harmful ingredients include garlic and onion. Basically, any food in the Allium family is bad for your cat.
Onions, green onions, chives, garlic, and leaks are all foods that can cause health issues. Specifically, the organosulfides in the foods cause an abnormal breakdown of the red blood cells in the body. This is due to oxidative damage of the hemoglobin, and can cause anemia.
Anemia can be life-threatening, and it tends to affect cats more seriously than dogs. So keep those garlic and onion flavored cheeses away from your cat!
Garlic, onion, and other spices are often added to cheese spreads too. So you should be especially careful with these types of food items.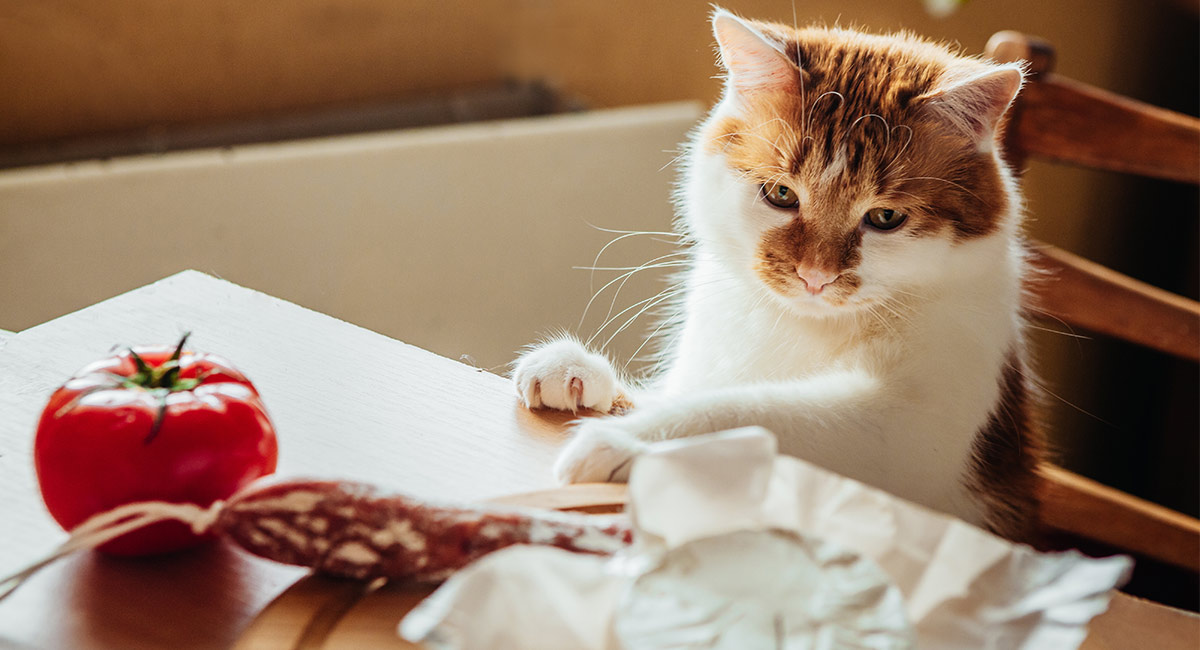 Even if you do not think there are any harmful ingredients in your cheese, take a quick look at the packaging and the ingredient list to make sure.
Why Do Cats Like Cheese?
If you have a cat that seemingly begs for every scrap of food you have, then you may wonder if cats even like cheese specifically.
Also, if certain cheeses might make some cats ill, then why are they so eager to consume it in the first place?
Well, studies show that cats are likely to choose foods based on their specific dietary needs.
Macronutrients like fat, protein, and carbohydrates are the three things that felines require in their diet.
While cheese does not have a lot of carbs, it is certainly packed with fat and protein.
This can explain why cats seem to go crazy over ice cream, cream cheese, and other types of foods that are packed with lactose.
But should they eat them, even if they want to?
Is Cheese Safe For Cats?
Is cheese bad for cats?
Since cats do need and crave protein and fat, then it may seem like a good idea to slip your kitty some cheese every now and again.
Can you give cats cheese? Well, this may be fine, but you might want to skip products made with cow's milk to avoid potential intestinal issues. You can try giving your cat goat milk cheese or ice cream. However, you should always look for a pasteurized variety.
Also, there are a wide variety of lactose and dairy free options on the market, so give one of those a try. Soy, hemp, rice, coconut, and almond milk products are a good choice, but they will have varying amounts of fat and protein.
For example, soy has more protein and less fat than dairy milk, and hemp has more fat and protein. Coconut, soy, and almond milk have a thicker and smoother texture than hemp and rice milk.
Some cats are a bit picky about the texture of their food, so keep this in mind when choosing your dairy free items.
Is Cheese Bad For Cats?
So, if cats can have cheese, you may want to know if is bad for them.
Well, cheese is a dairy food, and to consume and digest dairy properly, an enzyme called lactase must be present. Lactase is the enzyme that is lacking if you are lactose intolerant.
However, an intolerance usually means that there is some lactase in the body, but not enough to break down large amounts of foods that contain lactose.
Lactose is a special type of sugar, made up of glucose and galactose. This is found in all food items that contain milk. When it comes to cats, most felines are somewhat lactose intolerant. They typically do have some lactase, but not nearly as much as the average human.
Cats have varying degrees of the lactase enzyme, and the enzyme is most abundant in kittens. This allows the young cats to consume and digest milk while nursing.
As soon as felines shift to eating more solid foods, the body adapts and less and less lactase is produced.
So, your cat may be like your lactose intolerant friend who can have a small bit of cheese on occasion or like that family member who has to avoid all dairy foods altogether. It really depends on the cat!
Is Cheese Good For Cats?
Is cheese okay for cats, or is it going to cause an issue?
Well, you probably have no idea until you actually feed your cat a bit of cheese. Choose your cheese wisely.
When it comes to cheese, the softer ones are going to contain more lactose. So opt for a harder cheese, and also look for aged varieties. Extra sharp cheddar and Swiss cheese are good choices to experiment with, since they have fairly low levels of lactose.
Give your felines a small bit of cheese and then wait to see if there are any intestinal issues.
If your feline is extremely lactose intolerant, then you may notice diarrhea and gas issues within a short period of time. This is a sign that your cat probably should not have any dairy.
If no issues develop, then you can give your cat a small bit of cheese on occasion, but stick with the low lactose types.
Can Cats Eat Cheese With A High Salt Content?
The high fat and protein content in your cheese may be enough to drive your cat wild, but there is one ingredient in the treat that may not be so healthy for your feline. That additive is salt.
An increase in sodium chloride can cause hypertension and kidney problems in felines, according to studies.
On the other hand, a high salt diet is often suggested for cats who have calcium stones, since the salt assists in dissolving them.
If salt is a concern, then you may want to look for low-sodium varieties of cheese.
Can Cats Eat Soft Cheese?
Some soft cheese include cottage cheese, cream cheese, and mozzarella.
Unfortunately, you already know that softer cheeses contain more lactose. So, can cats eat cream cheese? Or can cats eat cottage cheese?
Well, cottage cheese, cream cheese, and mozzarella contain a good deal of lactose.
However, the low lactose cheese like Swiss, cheddar, and Parmesan are often low in sodium as well.
Can Cats Eat Hard Cheese?
Harder cheeses are actually better options for a cat, since they tend to be lower in lactose.
Since cats are lactose intolerant, this should help with the effect the cheese may have on your cat's tummy.
If you plan to try cheese out on your cat, choosing a hard cheese is a good starting point.
Can Cats Eat Smoked Cheese?
It is possible to smoke different types of cheese.
As mentioned throughout this article, some types of cheese are easier for a cat to digest than others.
So, ultimately, feeding your cat smoked cheese depends on the type.
Can Cats Eat Unpasteurized Cheese?
No, it's best for cats not to eat unpasteurized cheese.
Studies show that unpasteurized goat's milk, like the kind used to create cheese through the cold-enzyme treatment process, can allow the Toxoplasma gondii parasite to be passed to your feline.
This is the parasite that can cause toxoplasmosis in humans.
It is healthier for a cat to eat cheese that has been pasteurized.
Can Cheese Give My Cat An Upset Stomach?
Depending on the type of cheese, and the amount of lactose, your cat's tummy may react negatively to it.
It really all comes down to the fact that cats do not produce as many enzymes as necessary to break down dairy products high in lactose. Some cats may react more strongly than others.
If your cat does show signs of an upset stomach after eating cheese or any other dairy product, it's best to stop feeding them the product immediately. If the signs persist, it's always wise to play it safe and discuss it with your vet.
Can Cheese Treat Lactose Intolerance In Cats?
Because some cats are able to eat small amounts of cheese without any apparent ill effects, some may believe that cheese can actually help to treat lactose intolerance in cats.
However, simply because some individual cats are able to tolerate dairy better than others does not mean that it works across the board.
Don't rush into feeding your cat cheese just because you saw another cat owner do so!
Eating cheese will not change whether a cat is lactose intolerant or not.
Can Kittens Eat Cheese?
If fewer enzymes are produced as your feline ages, then it may seem safe to give a bit of cheese to your kitten.
This is not true, though, since lactase production reduces significantly as soon as a kitten begins to wean.
Most kittens will begin weaning at about four weeks.
If you give a kitten any food that upsets the intestinal tract at this time, then diarrhea is likely to follow.
Diarrhea alone is not a big deal as long your kitten is staying hydrated.
However, loose and watery stools are often a sign of a bigger issue.
For example, it may be a sign of feline panleukopenia or a parasitic infection. Both of these ailments, as well as other types of infections require treatment.
You may miss the signs of a serious ailment if you incorrectly attribute the diarrhea to an upset stomach from some cheesy treats.
Cat Cheese Treats
It's likely that your cat may just want to eat cheese exactly the way you eat it.
She may even want the cheese you're eating right now!
But that doesn't mean you have to share exactly what's on your plate. If you're going to try to give your cat a small amount of cheese, here are a few different ways to do it.
A small slice of cheddar or Swiss, cut thin
Crumble a small slice of cheese over dry food
Mix cheese crumbles in with wet food
Alternatives To Cheese For Cats
If you've decided to shy away from putting cats and cheese together, or if you've tried giving your cat cheese and it didn't go well, here are a few other treat options.
Can Cats Eat Cheese Summary
Can cats eat cheese and stay healthy?
Yes, in moderation and only with specific sorts. And it depends on the cat!
Next time you wonder to yourself, "Can cats eat string cheese?" you may just want to throw a bit of your snack to your begging feline.
A bit of cheese here or there is unlikely to hurt your cat, but you do need to start with small pieces as well as a low-sodium and low lactose variety.
As with any new food or treat, make sure to ask your veterinarian if it is okay or simply a bad idea, even if you are opting for lactose free cheese.
Do you have any quirky stories about cat and cheese? Have you given cheese to your cat? You can let us know about your experiences with cats and cheese in the comments below.
References and Further Reading
Guilford, WG, et al., Food sensitivity in cats, NCBI, 2001
McComb, K, et al., The cry embedded within the purr. Current Biology. Volume 19, Issue 13, pR507–R508, 14 July 2009
Hewson-Hughes, A, et al., Balancing macronutrient intake in a mammalian carnivore: disentangling the influences of flavour and nutrition. Royal Society. 15 June 2016.
Dubey, JP, Verma, SK, Ferreira, LR, Oliveira, S. Detection and survival of Toxoplasma gondii in milk and cheese from experimentally infected goats. J Food Prot. 2014 Oct;77(10):1747-53. dos 10.4315/0362-028X.JFP-14-167.
Cowgill, L.D., Segev, G., Bandt, C. Effects of dietary salt on body fluid volume and renal function in healthy cats.J Vet Intern Med 21, 2007, 600–601.
This article has been extensively revised and updated for 2019.