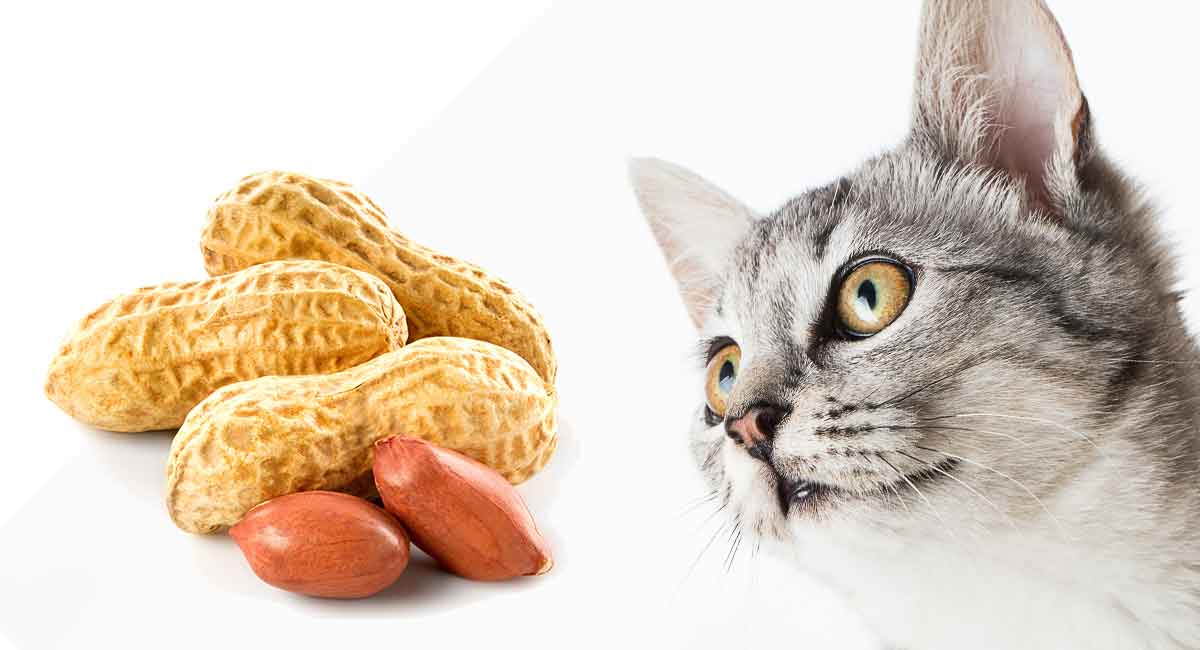 Cats can safely eat peanuts. However, as they are not an animal protein, peanuts should not become a staple of cats' diets, because their digestive systems are not adapted to extract good nutrition from them.
Furthermore, they are often high in salt and pose a choking hazard.
Where do peanuts come from?
Despite their name, peanuts are not actually nuts. In fact, the peanut is a legume, so it is related to beans and peas.
The part of the plant that we know as the peanut is its seed, which grows in the ground.
Peanuts grow in the tropics and subtropics and are classified as both a grain legume and oil crop.
What is a Natural Cat Diet?
Cats are obligate carnivores, meaning they have to eat meat. A natural cat diet would consist of things like meat, bone, and organ.
In fact, some people are now choosing to skip the kibble and feed their cat raw meat directly. Learn more about a raw diet here.
Cats need animal proteins since they can't synthesize the amino acids they need to stay healthy from any other food source. So their diet needs to provide them with these amino acids directly.
Obviously, peanuts are not meat. Though peanuts do contain protein and fats, these are not necessarily the same kinds that cats need.
Can cats eat peanuts that are boiled?
Boiled peanuts are peanuts that have been cooked in boiling water. Generally, these are 'green' or raw peanuts, not fully mature peanuts, boiled in salt water.
Boiled peanuts are popular in some parts of the United States, such as the South. You can also find these in parts of Asia, Africa, and South America.
Your cat is likely to be interested in these – and any of the other peanut products we discuss here – because they have seen you eat them and are instinctively drawn to explore new things.
Cats can eat peanuts that are boiled, but as with anything not part of their natural diet, these should only be offered in moderation.
Always keep your cat company while he eats peanuts, so you can intervene if one goes down the wrong way.
Can cats eat dry roasted peanuts?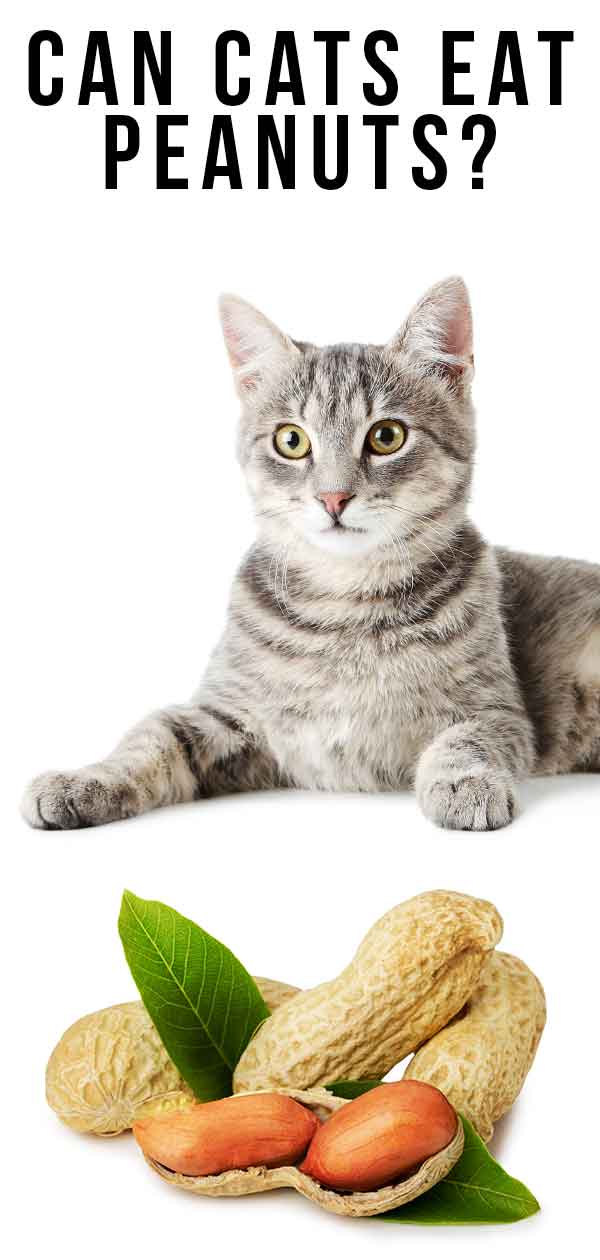 Dry roasted peanuts are roasted without the use of oil or water, either in the oven or in a frying pan. Dry roasted peanuts have similar fat, carb, and protein content to raw peanuts.
If you buy commercial dry roasted peanuts, these will often contain added salt for flavor.
Salt contains sodium, which may cause health issues in humans if consumed in too high amounts.
The effects of sodium for cats are not as well-studied. However, you can assume that there is an upper limit to the amount of sodium your pets should receive.
Feeding your cat a balanced diet designated for cats is the safest way to avoid feeding them too much sodium.
Can cats eat peanuts that are salted?
Salted peanuts are raw peanuts that have salt added. As mentioned, some dry roasted peanuts are salted as well. These are a common household snack food.
Again, given the uncertainty of the effects of sodium, it's best to refrain from giving your cat too many salted peanuts.
However, if you give one as a treat or your cat happens to nibble one off the floor, there should not be any issues.
Are peanuts good for cats?
Though peanuts are high in protein and fat, these nutrients are plant-based.
Cats need to eat a meat-based diet, which provides them with things like taurine, niacin, Vitamin A, Vitamin B1, and Vitamin B12.
In sum, peanuts are not generally required or healthy for cats. At the very least, you do not need to be worried about adding peanuts to your cat's diet, and leaving them out will not make your cat any worse off.
Are peanuts bad for cats?
The occasional peanut or two is not bad for kitty.
However, feeding too many or making them a mainstay of your cat's diet will likely have adverse effects.
You should keep your cat on a diet formulated specifically for cats. Anything else should be added in moderation. Too many peanuts could lead to your cat getting too much fat or not enough of the nutrients he should be eating, like meat-based amino acids.
Do cats like peanuts?
Any cat owner knows that cats are very picky eaters.
Some love 'people food,' and some won't touch it.
The only way to know if your cat likes peanuts is to offer some to her.
Of course, this should be done in moderation only. For all new foods, keep an eye on your pet to ensure that he does not have an allergic reaction.
You may be wondering, will my cat enjoy peanuts if I give him peanut butter? Read more about cats and peanut butter here.
Can cats eat peanuts?
So, in looking for an answer to 'can cats eat peanuts?' the answer is that while a peanut or two won't hurt your cat, it should be nothing more than the occasional treat.
Make sure your cat is receiving a balanced diet formulated for cats. If you're uncertain about what treats to give, pick up cat treats from a pet store.
If you do offer your cat peanuts, just be sure that they don't have anything added except for salt. Remember that chocolate, onion, and garlic – three foods it wouldn't be surprising to see on or with peanuts – are toxic to cats.
So, before you bust out the trail mix, keep in mind that raisins and grapes are highly toxic to cats as well.
What Else Can I Give My Cat?
Happy snacking! If you want to find out more, we have plenty of other food guides! Check them out below:
References and Resources
Putnam, D. H., Oplinger, E. S., Teynor, T. M., Oelke, E. A., Kelling, K. A., & Doll, J. D. (n.d.). Peanut. Retrieved from
Nguyen, P., Reynolds, B., Zentek, J., Paßlack, N., & Leray, V. (2016). 'Sodium in feline nutrition.' Journal of Animal Physiology and Animal Nutrition,101(3), 403-420. doi:10.1111/jpn.12548
Mattes, R. D., Kris-Etherton, P. M., & Foster, G. D. (2008). 'Impact of Peanuts and Tree Nuts on Body Weight and Healthy Weight Loss in Adults.' The Journal of Nutrition,138(9). doi:10.1093/jn/138.9.1741s
American Chemical Society (2007, November 01). 'Boiled Peanuts Pack Big Antioxidant Punch.'
Healthy Pets, 'Antioxidants and Probiotics Can Extend Your Cat's Life.'