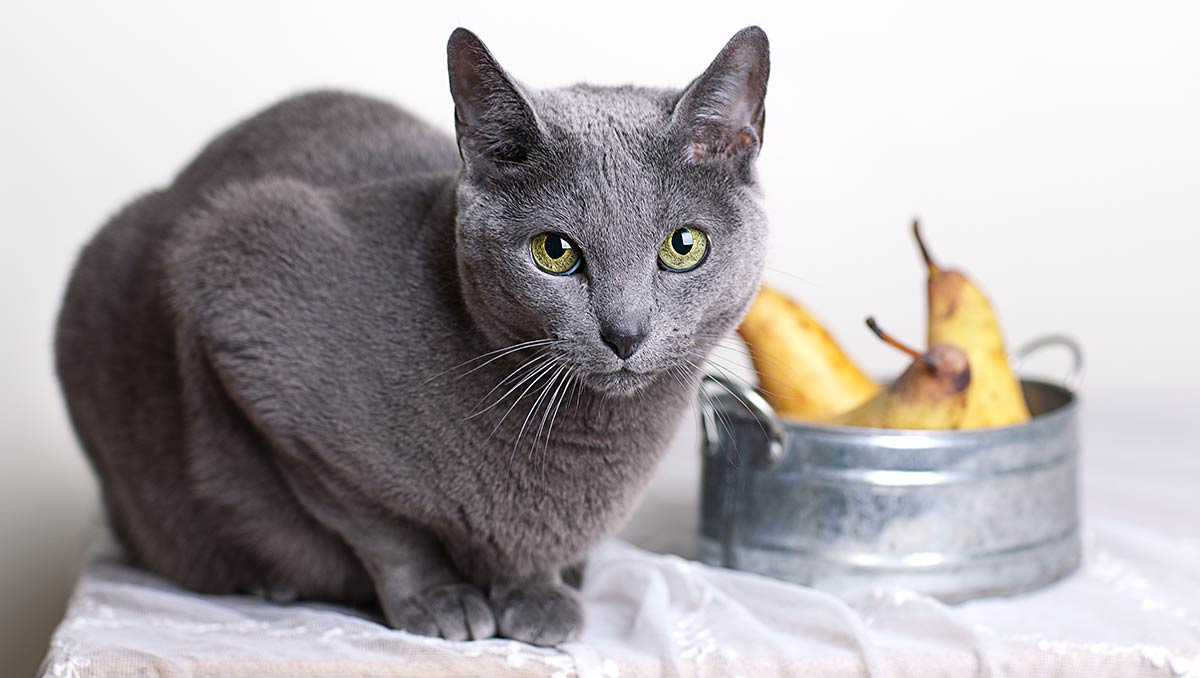 Has your cat been eyeing up your fruity snack? Does she lick your plates clean on the counter top and constantly badger you to share? In this article we are going to answer a surprisingly common kitty feeding question – can cats eat pears?
Cats are obligate carnivores.
They must eat meat to stay healthy.
But that doesn't mean Kitty can't occasionally enjoy a harmless vegetarian treat.
We are going to take a look at pears and cats. Are they safe, bad or good for them? Let's find out!
Are pears safe for cats?
The fleshy part of pears are safe for cats to eat in small quantities.
What is not safe for Kitty is the pear pips, or seeds. These items contain cyanogenic glycosides, which can affect blood oxygen levels and kill a cat if eaten in sufficient amounts.
If you're feeding your feline a bit of pear, make sure it contains no pips.
If you are not convinced and the term cyanogenic glycoside doesn't sound familiar, you may know the substance by another name. That name is cyanide, a deadly poison. Obviously, you don't want your cat consuming a potentially poisonous pip!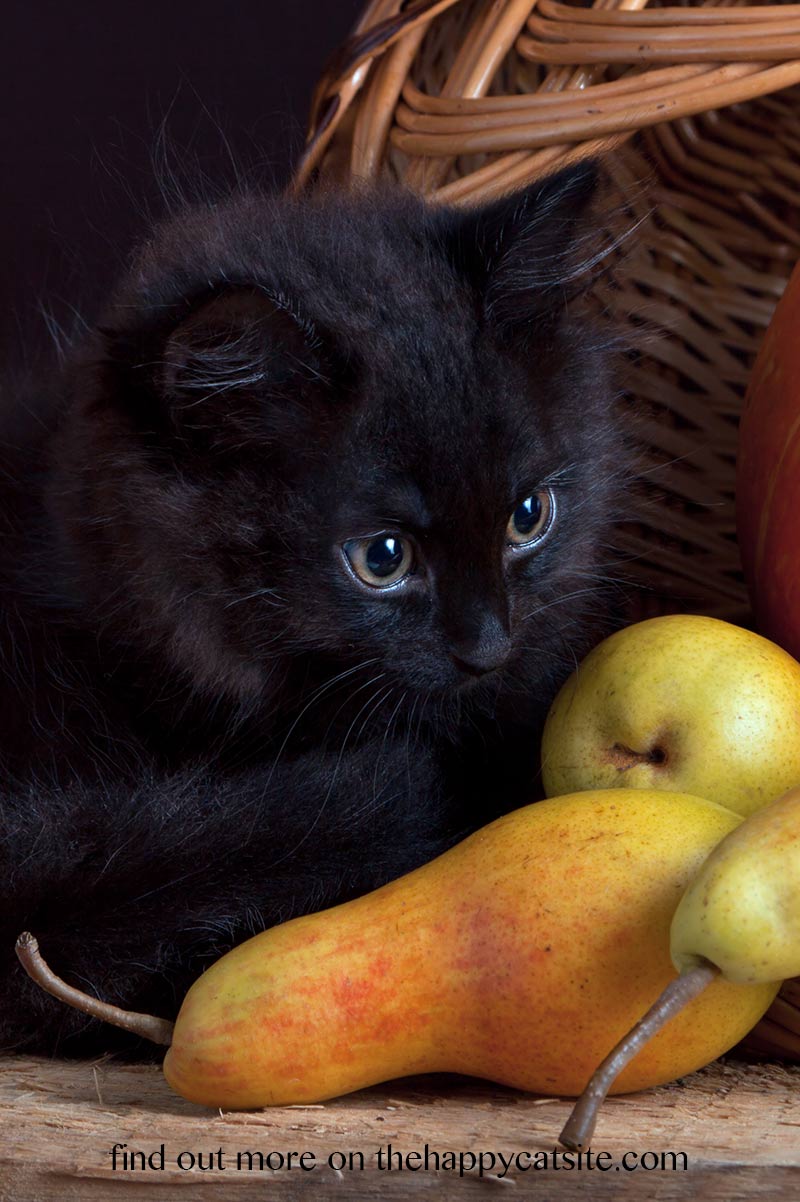 Pears aren't the only fruit whose seeds contain cyanogenic glycoside. The same holds true for apples, as well as peach, apricot, nectarine and plum pits. A cat is unlikely to eat a large pit, but an apple or pear seed is easy to swallow.
If you think your cat ate a pear pip, it's better to be safe than sorry. Call your vet and let her know what happened. She may want you to bring the cat in or instruct you on how to induce vomiting if the cat ate pips just minutes beforehand.
While the odds of your cat becoming poisoned from bits of pear are low, pears could have a deleterious effect on some feline digestive tracts.
Check your cat's litter box after he starts regular pear snacking. If he's experiencing diarrhea, it's probably wise to cut out the pear treats.
Are pears bad for cats?
In moderation, pear fruit is fine for cats. But keep in mind that felines don't need to eat any food other than meat.

Which Plants Are Poisonous To Cats?
You aren't depriving your cat if you only feed him high quality food designed for felines. I promise!
Some cats develop a definite taste for pears, especially if their people eat them regularly. But, no matter how much your cat begs, avoid giving him more than a little bit of pear.
You might also like to consider giving it to him in his bowl, rather than straight from your hand.
Feeding treats from the hand can lead to bad habits. You could create a little feline monster, batting food out of your hand or trying to snatch it from you. If he understands he only receives the pear in his bowl, your cat will likely behave better.
If you are going to give your cat pears, feed him only the fresh variety. Canned pears swim in sugary syrup. That's not good for cats.
If your cat has been diagnosed with diabetes, don't give him pears or any other types of fruits as treats. Like all fruits with their rich sugar content, pears are bad for diabetic cats.
With cats that have metabolic issues, such as hyperthyroidism, check with your vet to find out what sort of treats are safe to feed him. Treats he enjoyed when he was healthy are often out of bounds once disease hits.
Are pears good for cats?
In small amounts, pears are good for cats. They contain lots of fiber, which helps digestion. Too much fiber, however, can result in diarrhea.
Pears also have cancer-fighting properties. They are devoid of sodium, fat and cholesterol, so they won't harm Kitty's cardiovascular system. In fact, pears can help lower high blood pressure.
Pears are full of antioxidants, which help keep the immune system functioning well. The fruit is an excellent source of vitamin C, which helps the body's cells grow and repair themselves. However, cats don't need to depend on fruits and veggies for their vitamin C needs – they manufacture this vital nutrient in their own livers.
To ensure your cat is getting benefits from his pear treats without negative consequences, wash the fruit before eating. That's good advice for any fresh fruit you consume, with or without Kitty. Washing the pear removes any traces of pesticide.
To keep you and Kitty extra safe, peel the pear before eating. You should at least peel the part offered to your cat. Many cats like the taste of pears, but aren't keen on the peel.
Fruits, veggies and foods cats should never eat
An occasional bite of pear is fine for Kitty, but there are other fruits and vegetables that can prove deadly to felines. If your cat ever eats any of these foods, call your vet at once. Based on the amount consumed, your vet may want you to bring your pet in immediately for evaluation.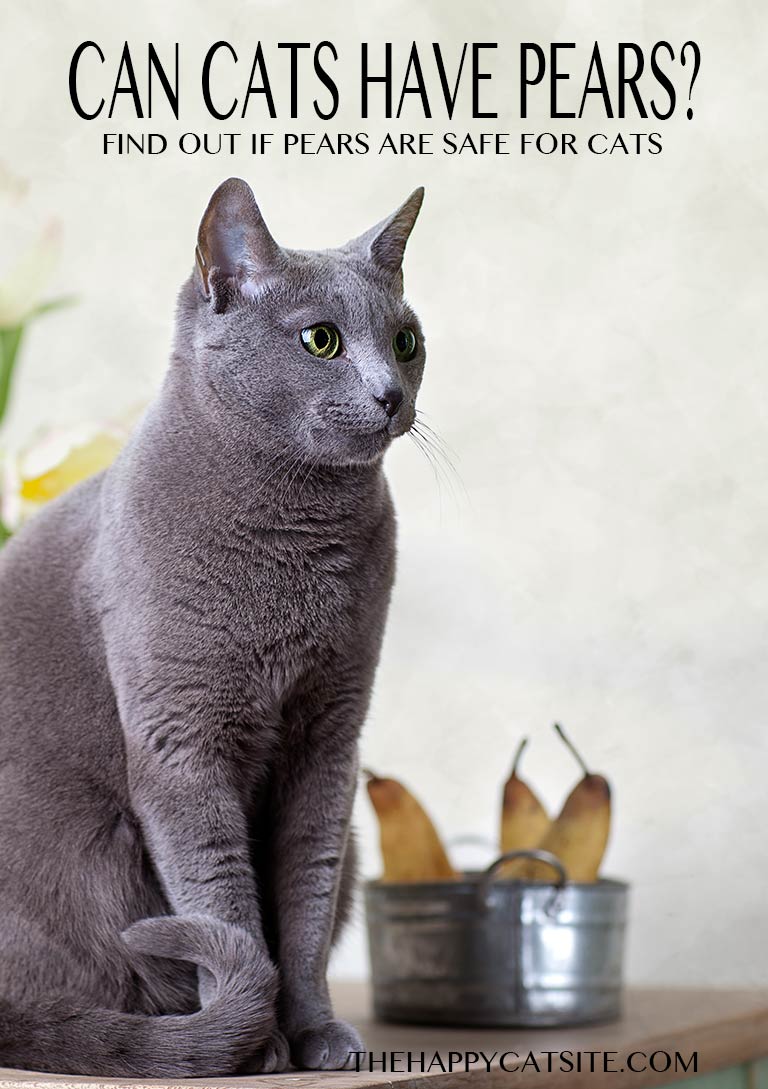 Grapes and raisins can cause kidney failure in cats. Raisins are simply dried-out grapes. Be careful of "hidden" raisin, such as those in bread or breakfast cereals.
Onions, garlic, chives and shallots are all members of the allium family. Cats should never eat anything containing these vegetables. A relatively small amount of onion, for example, can cause hemolytic anemia, or red blood cell damage.
Many "people" foods contain onions and garlic. That's why it's best to avoid letting your cat eat any processed foods. Chinese food, pizza, even some baby foods contain garlic or onion.
Avocado – or guacamole dips – will almost certainly cause your cat to vomit. In a worst-case scenario, the cat may also suffer breathing problems and could die. Keep such dips – and chips, with their garlic and onion ingredients – away from Kitty.
Other forbidden foods for felines include tomatoes, broccoli and rhubarb. It's also not wise to give your cat dairy products.
While a saucer of milk won't kill him, it almost guarantees an upset stomach and loose bowels.
Can cats eat pears?
For most cats, mealtimes are the highlights of the day. Some cats –
whether indoors or out – are basically out of sight until it's time to eat.
If your cat wants a small piece of pear once in a while, it won't do him any harm. Don't buy pears especially for your cat – share yours with him.
Share a pear with your cat and add some stroking and head rubs. Make "pear time" quality time for you and your pet.
References and Further Reading