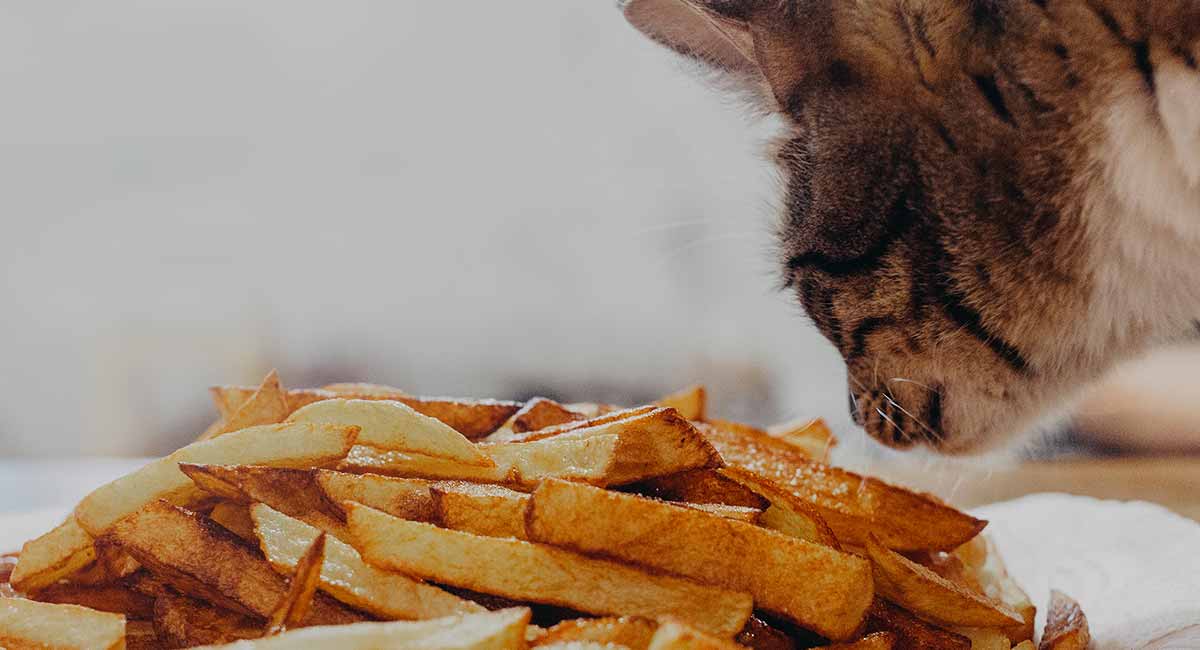 Can cats eat potatoes?
Cats should never eat raw potato, potatoes which have started to turn green, or the shoots of sprouted potatoes. These contain alkaloids which are harmful to cats, even in small doses.
Cats can eat small quantities of cooked potato without ill effects, but they won't get any nutritional value from them.
Let's look in more detail at what happens when cats eat potatoes.
The Humble Potato
Potatoes are used as the primary ingredient in dishes throughout many different cultures. So it's no wonder that this question seems to spring up often: "Can cats eat potatoes?"
Are they toxic for them? Are there any dietary benefits?
As one of the most cultivated crops around the world, you likely have some potatoes or at least some potato-based products around the house right now!
In this quick article, we will give you the lowdown on whether feeding potatoes to your cat is a good idea.
Where Do Potatoes Come From?
Potatoes are the tubers of a plant called Solanum tuberosum, which exists within the nightshade family.
Tubers are an underground part of the plant stem that serves as a food reserve for the plant and an area where new buds will sprout.
This is the part we eat!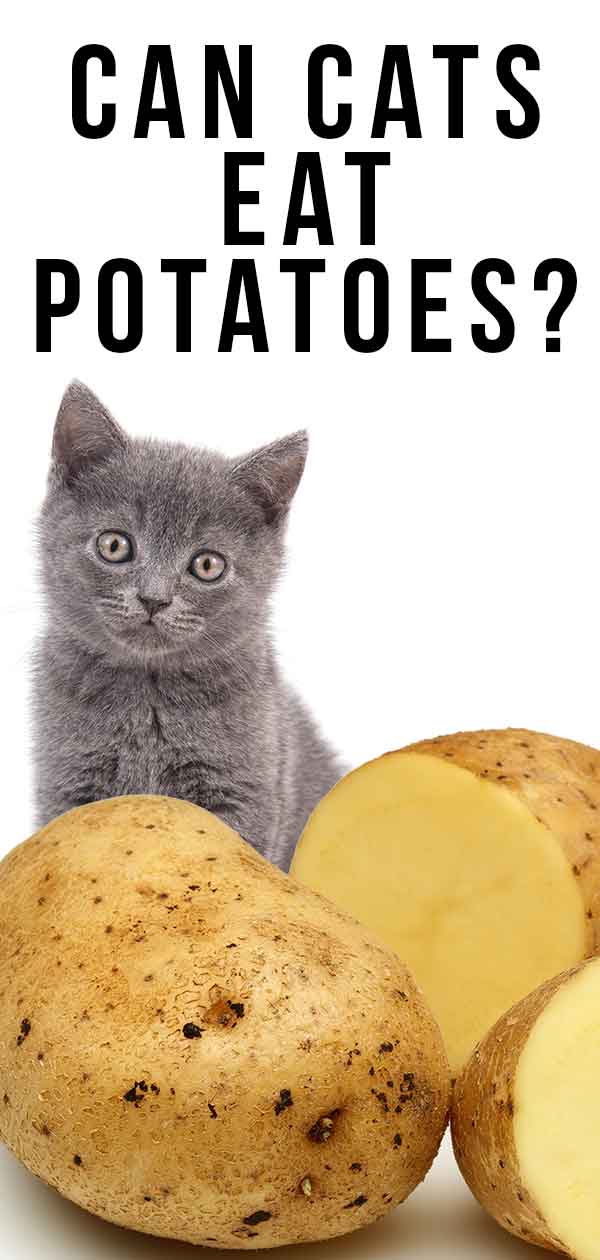 Can Cats Eat Potatoes?
So let's get into the meat of the matter. Can cats eat potatoes?
The answer is, in most cases, cooked potatoes are safe for your cat to eat. However, there are certain conditions in which they may become a serious danger to cats.
Potatoes can contain an alkaloid called solanine. It is primarily present within the green sprouts and green skin of a potato.
A potato skin transitions in color to green mainly in response to sunlight. This is due to increased production of a green pigment called chlorophyll.
Alkaloids
While this pigment is harmless, it can be a sign of alkaloids within the potato. Light, and stress factors such as bruising, cutting, and slicing, can also increase the amount of solanine present.
Solanine is the danger within the potato. These alkaloids can not only make your cat sick, but you too if you ingest too much of it!
Therefore, the green sprouts of potatoes and potatoes with green skin are the major concern when it comes to our cats.
When Are Potatoes Safe And When Are They Toxic?
So far the answer hasn't been too straight forward. Potatoes can be prepared in many different ways. They can be served raw, boiled, mashed, fried…the list goes on. Let's look at when can cats eat potatoes.
This leads to another question.
Does the method of preparation have an effect on the potential toxicity for our cats?
Let's discuss a few specific methods.
Can Cats Eat Raw Potatoes?
The ASPCA states that raw potatoes may be problematic for pets.
This is due to the concerns around solanine. Raw potato is more likely to contain harmful alkaloids including solanine.
They are also much harder to digest, and more likely to pose a choking hazard.
A study published in 2016 stated that peeling potatoes reduced alkaloid content by 20-58%. This is because a large percentage of the solanine in a potato forms in the skin.
We recommend not feeding your cat raw potatoes. And the answer to, "Can cats eat potato skins?" is a definite no. Never give your cat potato skin to eat.
Can Cats Eat Cooked Potatoes?
Can cats eat mashed potatoes, or potatoes that are cooked in other ways?
While cooked potatoes are generally safer for cats to eat, there are still some concerns. Cooking potatoes has varying effects.
Boiling, microwaving, and baking have insignificant effects on the reduction of alkaloids like solanine.
However, frying potatoes at a high heat was reported to be the best method of reducing alkaloids, with a drop of 77%-94%.
Therefore, fried potatoes tend to have the lowest amount of solanine. However, they are also the most likely to be flavored with seasonings that are unsafe for your cat as well!
Other methods can lead to significant amounts still being present and could cause sickness in your cat if the potato used in the cooking process had green areas.
How Much Solanine Is Toxic For Our Cats?
While it would obviously be inhumane to test how much solanine would be toxic in a cat, we can make some educated assumptions.
A study found that a 100 pound person would have to eat 16 ounces of a fully green potato to receive a toxic dose of solanine. This equates to eating an entire large potato.
As cats are obviously much smaller and have significantly less body weight than your average human, we can safely assume they would only need to ingest a much smaller amount before they begin experiencing symptoms.
They would likely only need to eat a small percentage of their body weight of a green potato to receive a dangerous dose.
Therefore, green potatoes should always be avoided, whether they have been cooked or not.
Solanine Poisoning In Cats
A cat who has ingested a toxic dose of solanine is likely to experience abdominal pain and diarrhea. In severe cases, coma and death is a real possibility.
If you suspect that your cat has ingested part of a green-skinned potato or the green sprout, get them checked out by a vet immediately.
If you are based in America, you may also call the ASPCA Poison Control Center emergency phone line at (888) 426-4435.
Are There Any Benefits to Feeding Cats Potatoes?
Cooked potatoes that have no green skin can be harmless for cats in moderation. But is there really any nutritional benefit?
Cats are obligate carnivores, which means their gut is highly adapted to digest animal proteins and fats.
The nutritional value cats can gain from eating potatoes is negligible. They can be a source of fiber, but a good diet will already have this covered.
Fried potatoes such as fries and potato chips may have the lowest chance of solanine, yet they regularly contain high salt and vegetable fat content. Neither of these are good for your kitty.
The high carbohydrate content of potatoes can also cause weight gain if they are eaten regularly.
Can Cats Eat Potatoes – A Summary
So, can cats eat potatoes? In conclusion, potatoes don't really offer any value to your cat's diet, and there are certainly much better sources of nutrition out there.
Solanine poisoning can be a real concern and it's just safer overall to leave enjoying potatoes to the humans!
We hope this article has helped answer your question!
What do you think about feeding potatoes to cats?
Let us know below!
And if you want to find out more, check out whether cats can eat broccoli!
References and Resources
American Society for the Prevention of Cruelty to Animals
Keller, N, Household Toxins: Dogs and Cats World Small Animal Veterinary Association World Congress Proceedings, 2014
Reeves, AF, Varietal differences in potato tuber greening American Journal of Potato Research, 1988
Omayio, DG, et al, A Review of Occurrence of Glycoalkaloids in Potato and Potato Products Current Research in Nutrition and Food Science, 2016
Pavlista, AD, Green Potatoes: The Problems and the Solution University of Nebraska-Lincoln Extension, Institute of Agriculture and Natural Resources, 2001