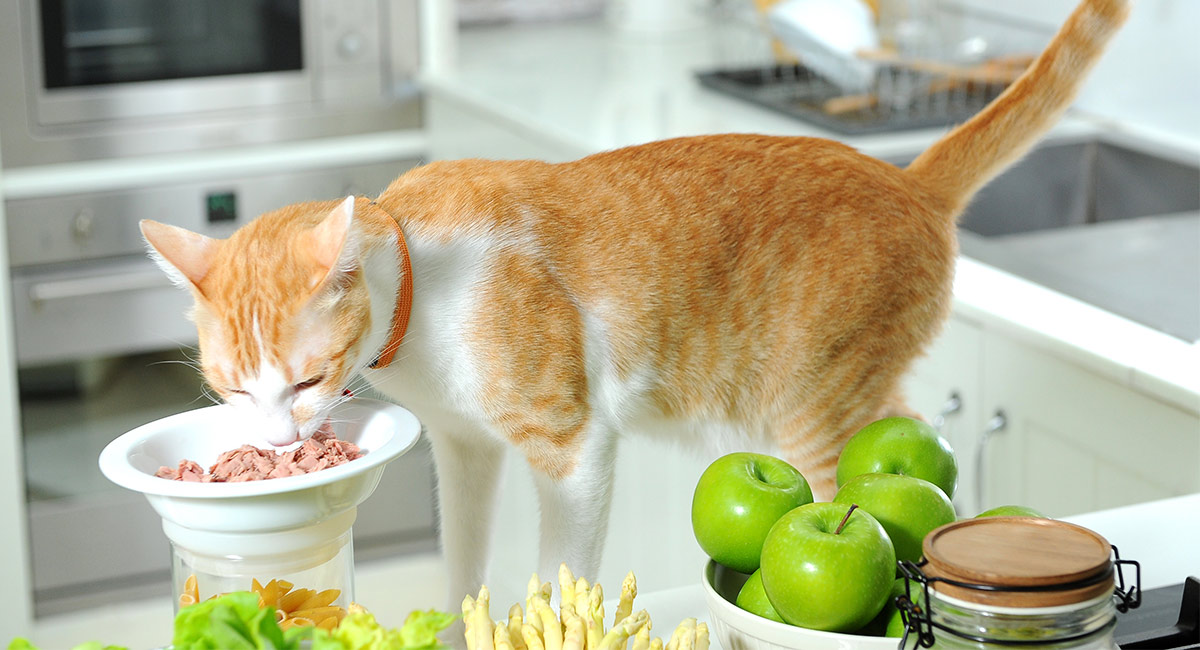 Can Cats Eat Tuna? Is It Good For Them? And Which Varieties Are Safe? Let's Find Out In This Complete Guide To Cats And Tuna!
Including Some Great Cat Safe Tuna Choices!
Our old cats would go nuts every time I made a tuna sandwich.
When they smelled that tuna, I got some real affectionate felines rubbing against my leg.
And they stayed that way the whole time I was eating.
Cats and tuna go hand-in-hand in our culture, too.
Tuna patterns adorn cat bowls, beds and toys in the form of art.
It can be easy to assume you should give your cat fish, since it's what they seem to like. And it's such a strong association.
But it's also fairly common knowledge that some human food is bad for our pets.
And that may make you start wondering: can you feed cats tuna?
And even if they love it, is feeding cats tuna a good idea?
Can cats eat tuna?
Is canned tuna good for cats? Can cats eat tuna from a can and feel the health benefits?
Well… sometimes!
Cats can have tuna right out of the can as long as it's 100 percent real fish in water.
But many types of fish may have artificial fish flavoring, which has been linked to hyperthyroidism.
So check the label for any types of flavoring if you're looking at a product that's normally for humans.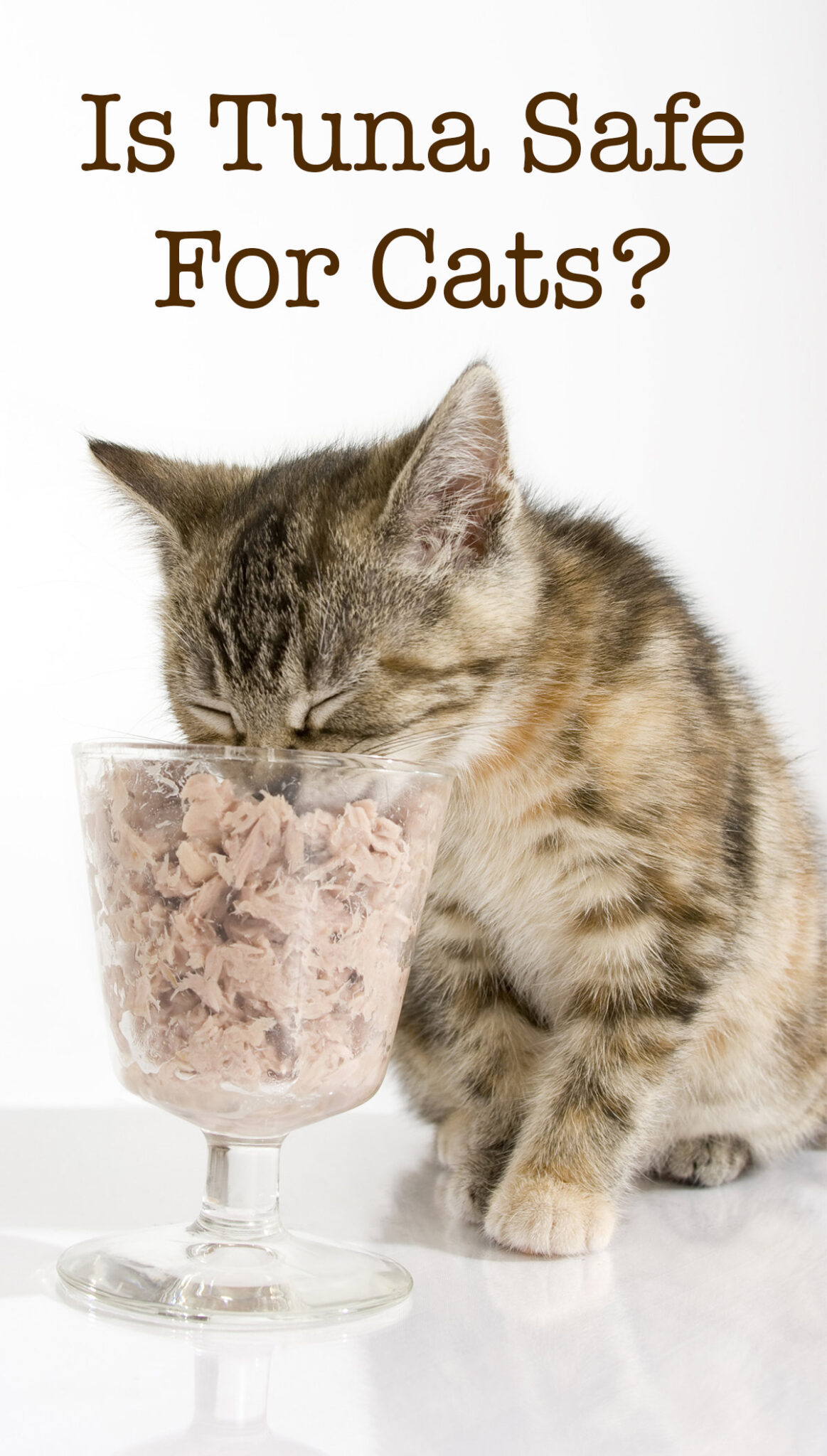 In addition to this, take into consideration a cat's natural diet is not likely to contain tuna. Tuna is a deep saltwater fish, so cats wouldn't exactly have access to it in the wild.
So tuna for cats, while a fun treat, isn't always the best for the cat.
Let's look at why and what forms we can feed in more detail now.
Is tuna bad for cats
Feeding cats tuna can turn out to be bad for cats, since the thiamine can degrade in processing, storage and feeding..
There is also the risk of mercury poisoning.
So, at best, the cat should only get tuna once or twice weekly as a treat.
Just because cats go coo coo for tuna, doesn't mean we should be giving cats tuna at every meal.
Is tuna good for cats
Cats can tend to have low thirst drives, as compared to other pets. Out in the wild, cats are used to getting hydration with their food. For instance, eating a juicy mouse.
This is where giving cats tuna treats can be helpful, as long as it is the natural canned kind in water mentioned above.
Tuna for cats can add some hydration to your cat's diet.
You can also use tuna to get a cat used to a new type of canned food, if they are snubbing their noses at it.
Simply place a small amount of tuna onto the top of the new canned food.
Gradually push the tuna into the canned food with each meal, and then phase out the tuna.
Can cats eat raw tuna?
Just because sushi is all the rage for humans doesn't mean a cat should eat it.
There are a few risks with raw fish, mainly that it can have bacteria that can cause food poisoning.
Vet have also in rare cases found raw fish can break down thiamine, actually causing a coma!
While not tuna for cats, one scientific study found that a diet of raw carp or raw herring led to all the signs of thiamine deficiency in cats.
So fish should never be fed exclusively.
Can cats eat canned tuna
Can cats eat tuna from any can?
Some veterianarians caution against human canned tuna for cats.
If you find a canned cat food that contains tuna, you'll likely be ok. These contain other added nutrients to keep your cat healthy.
Care should be taken when you look into human grade tuna right out of the can however.
Cats tend to lose their metaphorical pants over tuna.
It has a distinct, seductive smell for them.
However, if you feed your cat too much tuna, they'll start to crave it. Possibly to the exclusion of eating other foods.
It addition to the thiamine issues listed above, too much tuna for cats can lead to Vitamin E deficiency. That can lead to Steatitis, a condition characterized by body pain.
Unless it's a canned cat food, tuna should be limited to occasional treats.
If you really want to be on the safe side, limit feeding cats tuna to special occasions.
Tuna juice for cats
Whilst tuna juice isn't an ideal meal for cats, in small quantities it's not unsafe.
If your cat is off her food, you can save tuna juice and put it over the other types of canned cat food to get her to eat it.
You can freeze and thaw out the juice.
However, you do need to use caution.
Cats with high blood pressure or heart disease might not be able to withstand the higher salt content.
It's best used in the short term and only after a quick chat with your vet.
Can cats eat tuna in oil?
Vets tend to warn people away from oil.
The excessive oil and salt in non-water packed tuna is not a great idea for your kitty's diet.
So, again, stick to as pure of a tuna as you physically can when giving cats tuna.
That means staying away from the types of fish that are flavored and coated in oil.
Can cats eat tuna in brine?
Brine from tuna should only be used in an effort to combat your cat's picky eating .
It's ok to pour a little of the brine from canned tuna over their normal food.
The distinct flavor of the brine will get the cat to eat if he or she won't touch anything that's not tuna.
Reduce the amount of brine until the cat no longer needs it.
Tuna cat food
Giving cat food with tuna in it lets your cat in on the best of both worlds. They get that tuna flavor they love, but the cat food is fortified with the nutrients they need. Finally, tuna and cats can go together.
Purina Beyond Natural Grain Free Chunk in Gravy Wet Cat Food – Tuna, Mackerel and Carrot Recipe
As far as well-known, trusted brands go, Purina is at the top of the list in canned tuna for cats. And their Beyond Natural Grain Free option is well received.
https://www.amazon.com/Purina-Beyond-Natural-Mackerel-3-Ounce/dp/B00JVHSGUO/ref=as_li_ss_tl?ie=UTF8&qid=1509557688&sr=8-1-spons&keywords=tuna+cat+food&psc=1&linkCode=ll1&tag=thehappycat-20&linkId=3d3eeb142fa55fedfcda79164e757e65
This recipe contains real tuna and has no corn, wheat or soy.
It also has no added artificial colors, preservatives or flavors.
It contains veggies in savory gravy.
Check it out on Amazon here.
Purina Fancy Feast Grilled Gourmet Wet Cat Food – Tuna
Purina Fancy Feast has done a great job marketing itself to owners who want to truly give their cat the best. The fluffy cat on the silk pillow says as much.
This variety gives your cat a grilled tuna flavor that they'll like.
The savory gravy is crafted so that it doesn't overpower the tuna flavor.
And it keeps the tender texture that cats love.
Purina Friskies Flaked Wet Cat Food – With Tuna
This Purina Friskies canned tuna for cats also contains real tuna.
As the name of the product suggests, the tuna comes in a tender, flaked texture.
They also made sure to pay attention to the smell so your cat comes running.
Purina also focuses on balanced nutrition. It's like giving your cat tuna right out of the can, without the thiamine deficiency.
Meow Mix Tender Favorites Wet Cat Food Cups in Sauce – Tuna and Shrimp
Want to give your cat the best of the seafood world? Check out Meow Mix Tender Favorites.
You can't go wrong with this tuna and shrimp flavor full of real tuna and full shrimp in a sauce.
The brand also advertises a balanced blend of vitamins and proteins.
You'll wonder why you can't manage to eat this good.
Purina Pro Plan Canned Wet Cat Food – Tuna Entrée
Purina Pro Plan have another canned tuna for cats made with real tuna.
This food boasts optimal fat levels and protein.
It's also formulated to help support a healthy immune system.
There's a money back guarantee for if you have the world's pickiest cat on your hands.
Wellness Gravies Natural Grain Free Wet Canned Cat Food – Tuna Dinner
Here's a natural, super healthy option by the Wellness brand.
This canned tuna for cats is completely grain-free, all-natural and carrageenan-free (an empty food additive made from red seaweed).
This cat food is just tasty bits of tuna in real gravy.
It's also only made in North America, which is good if you've heard some of the internally packaged animal food horror stories.
SHEBA Perfect Portions Pate Entree Wet Cat Food Trays – Whitefish and Tuna
This Sheba Perfect Portions cat food boasts real meat as the first ingredient.
The food is corn-free and has no soy or wheat for cats with sensitive diets.
It also has no artificial flavors or preservatives.
One package contains two individually wrapped servings.
Can I feed my cat tuna?
Cats and tuna fall distinctly into a gray area.
You should not under any circumstances give your cat nothing but tuna. It is not what they would live on in the wild, no matter how much your cat tries to tell you otherwise when you go for that fish sandwich.
Giving cats tuna simply does not provide the nutrients needed for your cat to be healthy, especially thiamine and Vitamin E.
However, there's no denying cats love tuna. So it's ok to give as an occasional treat.
Just be wary of any signs that your cat is snubbing their usual food in favor of hoping they can get that sweet, sweet tuna.
And if you have a "tuna junkie" on your hands, cover the cat's other food with tuna brine or juice. Reduce gradually until the cat no longer needs it.
Is your cat crazy for tuna? Feel free to share stories in the comments section below.
References
Free Updates For Cat Lovers!
Our cat care articles, tips and fun facts, delivered to your inbox