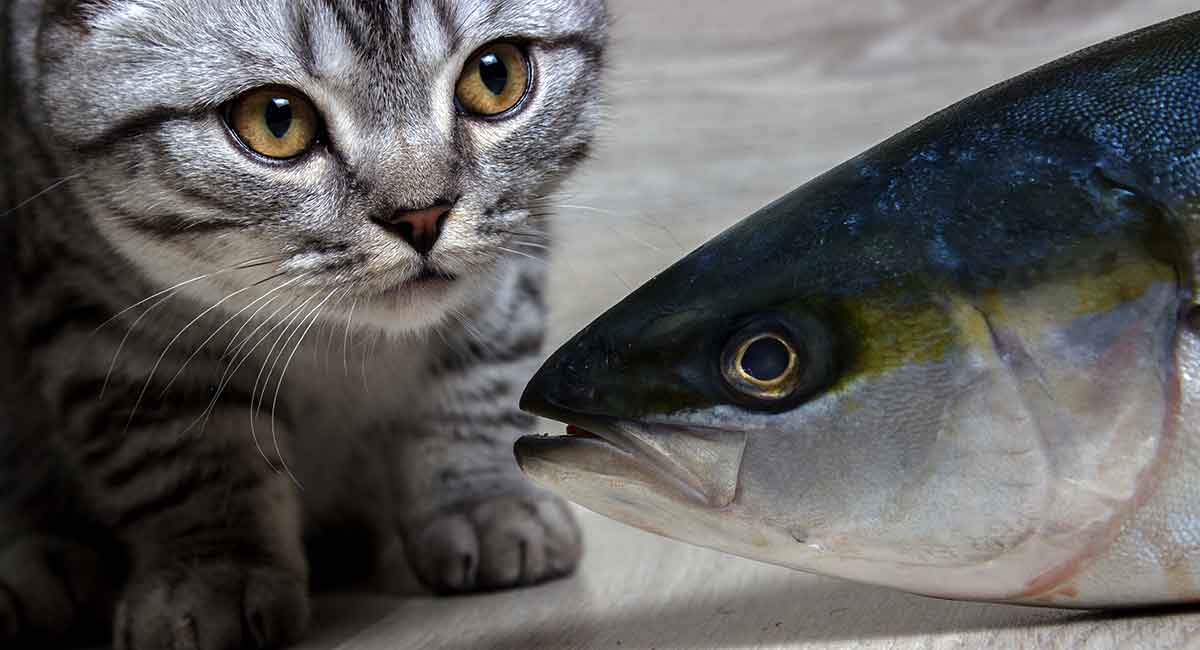 Can cats eat tuna?
It can be easy to assume you should give your cat fish, since it's what they seem to like. And it's such a strong association.
But it's also fairly common knowledge that some human food is bad for our pets.
And that may make you start wondering: can you feed cats tuna?
The quick answer is, yes, cats can eat tuna safely. But it takes a little foresight and research on your part to make sure that your cat stays safe and healthy with this food.
Can Cats Have Tuna?
Cats are obligate carnivores, which means that their main food is meat.
A cat's natural diet is not likely to contain tuna. Tuna is a deep saltwater fish, so cats wouldn't exactly have access to it in the wild.
That doesn't mean that the cat cares whether it's natural for him to eat tuna or not, of course.
There's something about the smell of tuna that makes a cat perk right up.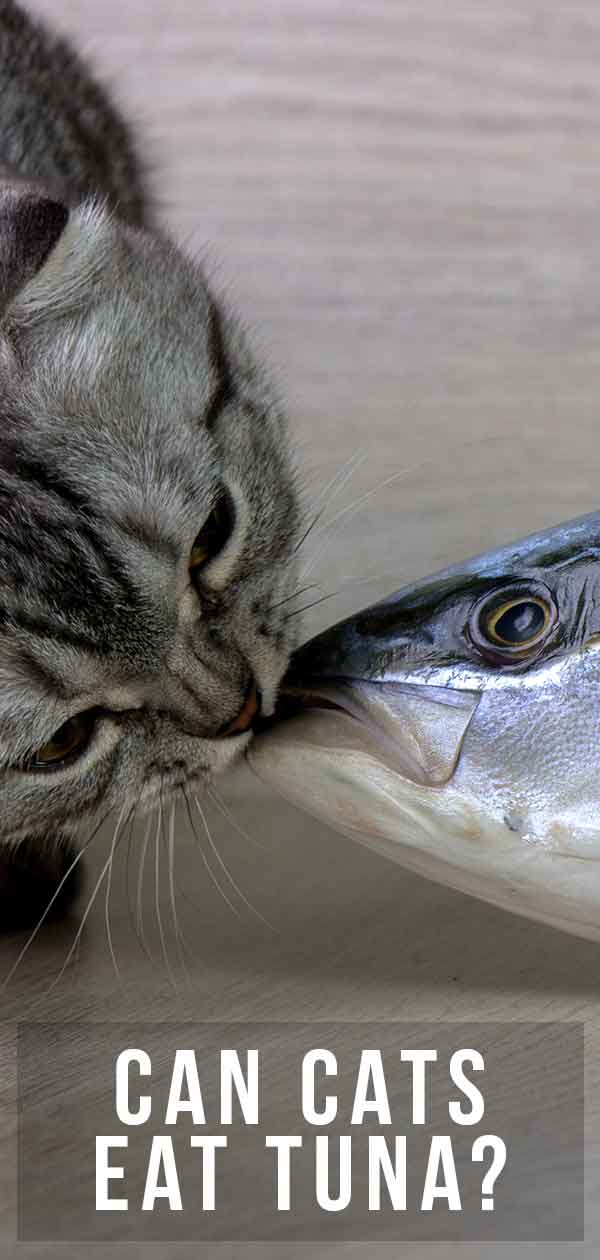 Cats and Tuna
Cats can have tuna, but it's best to be reasonable with it. Too much of a good thing is still too much.
But tuna can be helpful for cats.
Cats tend to have low thirst drives, as compared to other pets. Out in the wild, cats are used to getting hydration with their food. For instance, eating a juicy mouse.
This is where giving cats tuna treats can be helpful, as long as it is the natural canned kind in water. Tuna for cats can add some hydration to your cat's diet.
You can also use tuna to get a cat used to a new type of canned food, if they are turning up their noses at it.
Simply place a small amount of tuna onto the top of the new canned food. Gradually push the tuna into the canned food with each meal, and then phase out the tuna.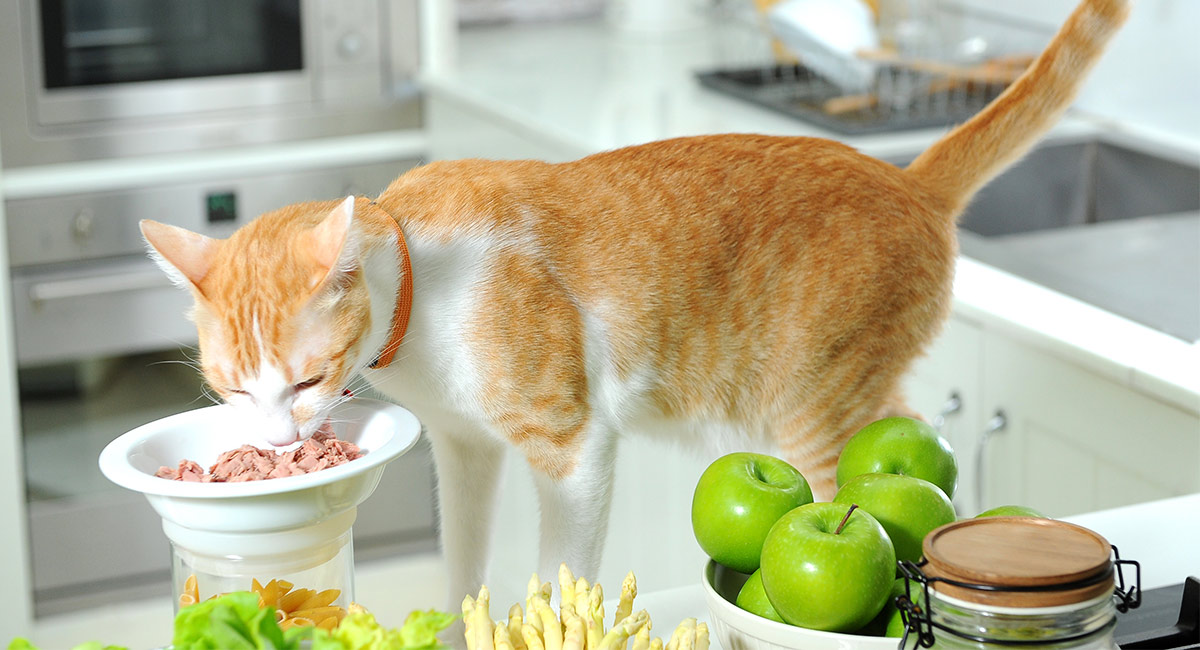 Why Do Cats Like Tuna?
Our old cats would go nuts every time I made a tuna sandwich.
When they smelled that tuna, I got some real affectionate felines rubbing against my leg.
And they stayed that way the whole time I was eating.
Cats tend to be interested in anything that we are eating. But something with that salty, fishy smell is bound to be ten times more interesting than almost any other kind of food. They are definitely drawn to fish!
Is Tuna Safe For Cats?
Cats tend to lose their metaphorical pants over tuna.
It has a distinct, seductive smell for them.
However, if you feed your cat too much tuna, they'll start to crave it. Possibly to the exclusion of eating other foods.
Too much tuna for cats can lead to thiamine issues and Vitamin E deficiency. That can lead to steatitis, a condition characterized by body pain.
Unless it's a canned cat food, tuna should be limited to occasional treats.
If you really want to be on the safe side, limit feeding cats tuna to special occasions.
Is Tuna Bad For Cats?
Feeding cats tuna can turn out to be bad for cats, since the thiamine can degrade in processing, storage and feeding.
There is also the risk of mercury poisoning.
So, at best, the cat should only get tuna once or twice weekly as a treat.
Just because cats go coo-coo for tuna doesn't mean we should be giving cats tuna at every meal. Cats benefit from moderation just like humans do!
Is Tuna Good For Cats?
Is canned tuna good for cats? Can cats eat tuna from a can and feel the health benefits?
Well… sometimes!
Cats can have tuna right out of the can as long as it's 100 percent real fish in water.
But many types of fish may have artificial fish flavoring, which has been linked to hyperthyroidism.
So check the label for any types of flavoring if you're looking at a product that's normally for humans.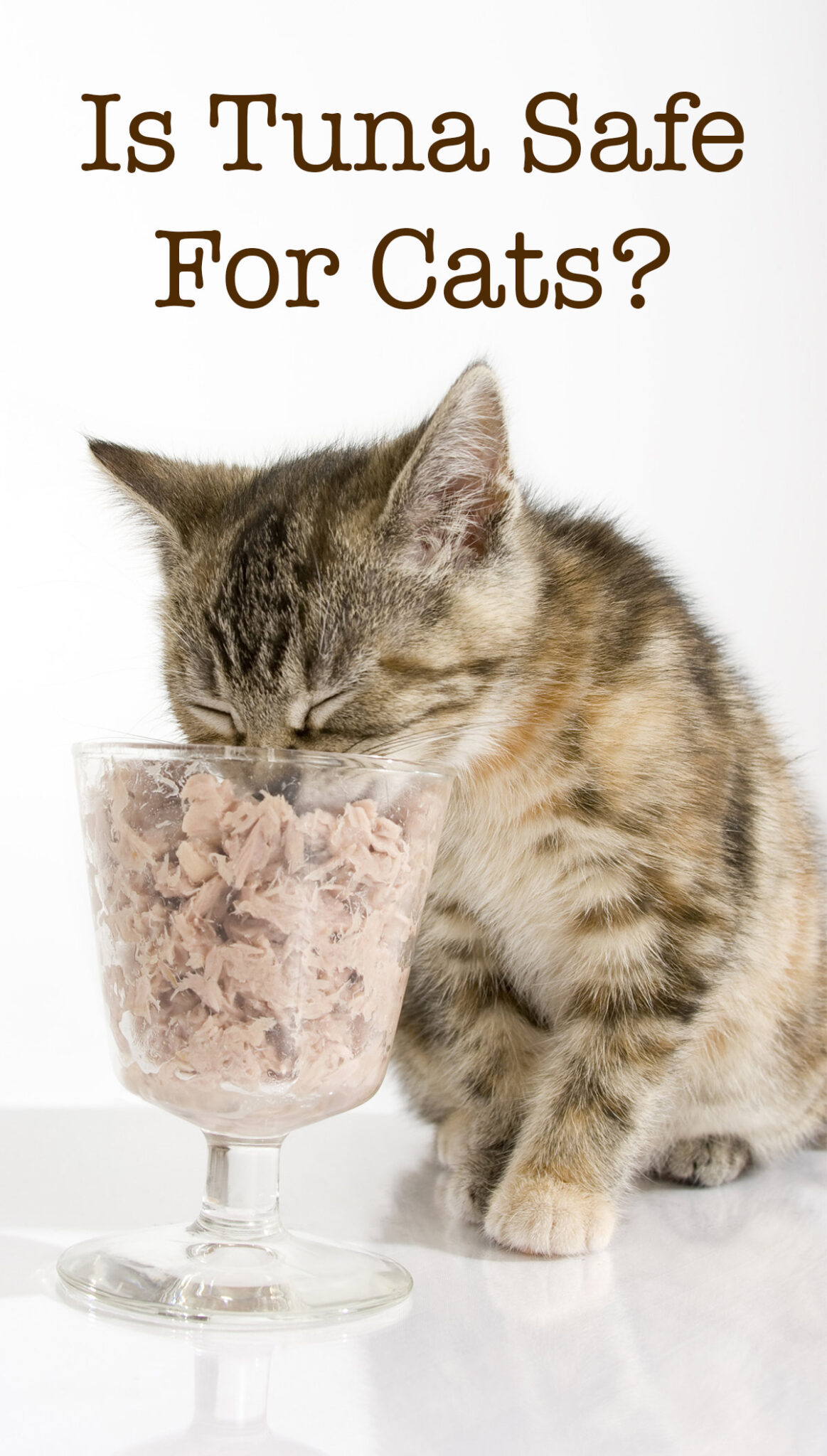 Can Cats Have Raw Tuna?
Just because sushi is all the rage for humans doesn't mean a cat should eat it.
There are a few risks with raw fish, mainly that it can have bacteria that can cause food poisoning.
Vet have also in rare cases found raw fish can break down thiamine, actually causing a coma!
While not directly regarding tuna for cats, one scientific study found that a diet of raw carp or raw herring led to all the signs of thiamine deficiency in cats.
So fish should never be fed exclusively.
Can Cats Have Canned Tuna?
Can cats eat tuna from any can?
Some veterinarians caution against human canned tuna for cats.
If you find a canned cat food that contains tuna, you'll likely be okay. These contain other added nutrients to keep your cat healthy.
Care should be taken when you look into human grade tuna right out of the can however.
Can Cats Eat Tuna Fish Sandwiches?
More or less the same goes for this question as for the above.
An added caution, however, involves the ingredients that are included in the tuna fish sandwiches.
Often, ingredients such as pickles, olives, and celery can be added, and frequently tuna fish sandwiches are made with mayonnaise.
These aren't likely to be toxic to your cat, but the combination of all these things may cause a stomach upset.
Can Cats Have Tuna In Oil Or Brine?
Vets tend to warn people away from oil.
The excessive oil and salt in non-water packed tuna is not a great idea for your kitty's diet.
So, again, stick to the purest tuna possible when giving cats tuna. That means staying away from the types of fish that are flavored and coated in oil.
Brine from tuna should only be used in an effort to combat your cat's picky eating.
It's okay to pour a little of the brine from canned tuna over their normal food.
The distinct flavor of the brine will get the cat to eat if he or she won't touch anything that's not tuna.
Reduce the amount of brine until the cat no longer needs it.
Can Cats Eat Tuna Juice?
Whilst tuna juice isn't an ideal meal for cats, in small quantities it's not unsafe.
If your cat is off her food, you can save tuna juice and put it over the other types of canned cat food to get her to eat it.
You can freeze and thaw out the juice.
However, you do need to use caution.
Cats with high blood pressure or heart disease might not be able to withstand the higher salt content.
It's best used in the short term and only after a quick chat with your vet.
Can Tuna Give My Cat An Upset Stomach?
Small quantities of tuna, especially if given only as an occasional treat, should not upset your cat's tummy.
This is, of course, making sure to pay attention to the above cautions about using canned tuna in water.
Keep in mind that any excess in food has the potential to cause an upset.
Just like if you ate too much chocolate you'd end up with a stomach ache, giving in to your demanding kitty and feeding him tons of tuna all at once isn't likely to end well.
Can Tuna Treat Pickiness In Cats?
Cats are notorious for their tendency to be picky eaters. But they almost universally perk right up at the faintest hint of fish! So it isn't surprising that some believe that tuna is the best remedy for pickiness in cats.
It's true, as mentioned above, that tuna can be useful for getting a cat to eat.
And small amounts of tuna or of the juice can convince a cat that maybe it does want to try that new food, after all.
But remember that using tuna too often can simply train the cat to only want to eat all tuna, all the time. So it may actually end up causing more pickiness.
Tuna can be a useful tool, but it should not be your cat's only food.
Can Kittens Eat Tuna?
Just like an adult cat, a kitten can definitely eat some tuna now and then.
In fact, if your family has adopted a new kitty and you want it to like you the best, tuna can make one of the best bribes!
That said, remember that kittens and young cats are still growing and have special dietary needs.
So it's especially important when they are this age to focus on a kitten food that is specially formulated for their nutrition.
Cat Tuna Treats
If you're looking to reward your cat, the appropriate tuna treat might be just the thing.
There were several ideas mentioned previously in this article, but here a few more for good measure.
A spoonful of tuna
Tuna mixed in with wet food
Tuna juice or brine on top of dry food
Keep in mind that there are several cat food options out there that incorporate tuna as an ingredient. Giving cat food with tuna in it lets your cat in on the best of both worlds. They get that tuna flavor they love, but the cat food is fortified with the nutrients they need.
Alternatives for Cats
Since it isn't always wise to only give your cat tuna, here are a few other options to help you mix it up!
Can Cats Eat Tuna Summary
Cats and tuna aren't as much of a slam dunk as you might have thought.
You should not under any circumstances give your cat nothing but tuna. It is not what they would live on in the wild, no matter how much your cat tries to tell you otherwise when you go for that fish sandwich.
Giving cats tuna simply does not provide the nutrients needed for your cat to be healthy, especially thiamine and Vitamin E.
However, there's no denying cats love tuna. So it's okay to give as an occasional treat. Just be wary of any signs that your cat is snubbing their usual food in favor of hoping they can get that sweet, sweet tuna.
And if you have a "tuna junkie" on your hands, cover the cat's other food with tuna brine or juice. Reduce gradually until the cat no longer needs it.
Have you given tuna to your cat? You can let us know about your experiences with cats and tuna in the comments below.
References and Further Reading