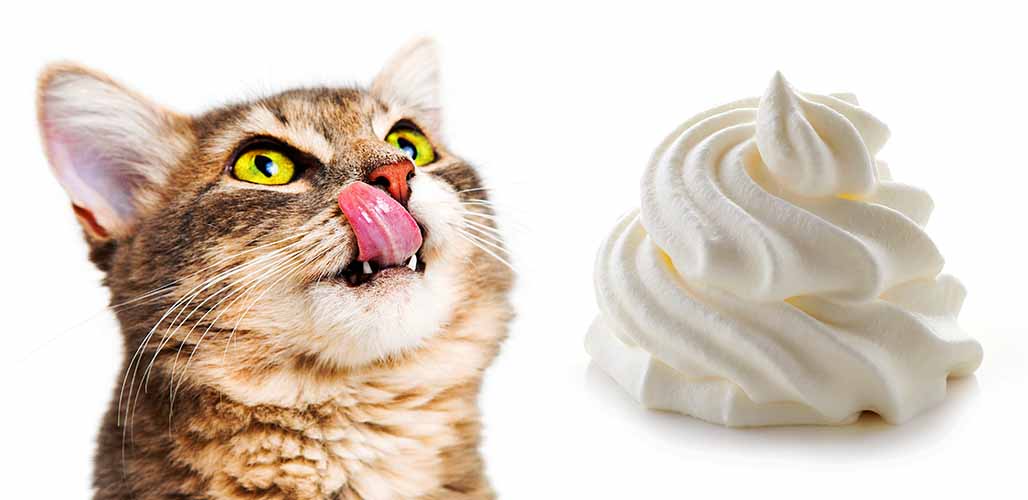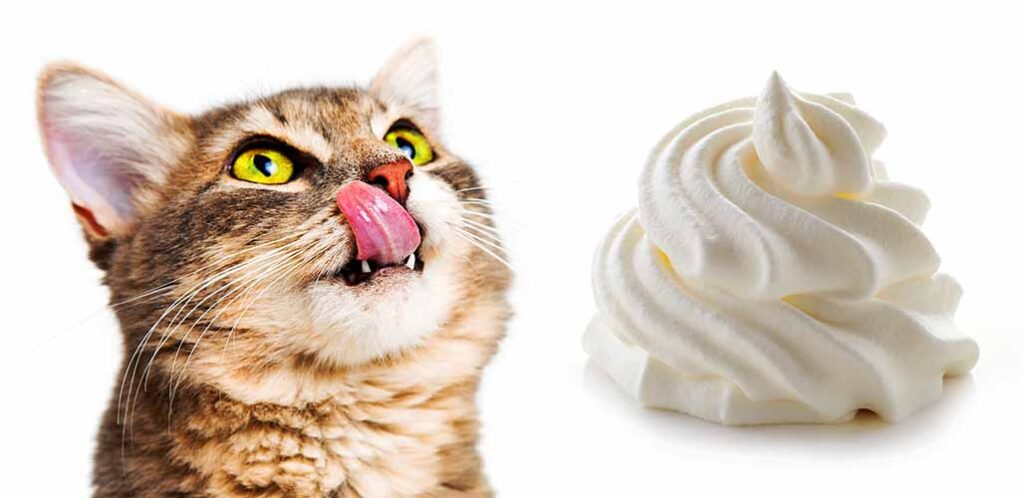 Can cats have whipped cream or is this delicious topping best avoided? Whipped cream is generally safe for cats to eat in very small amounts, but should not be a regular part of their diet. It's only natural to want to share your favorite foods with your cat. And, since the typical picture of cats involves a big bowl of milk, you might assume that whipped cream is a perfect treat for them. But, whipped cream can actually cause our cats some serious problems when given in large amounts. Our complete guide to whipped cream for cats takes a closer look at the pros and cons of this potential treat.
Contents
Can Cats Eat Whipped Cream?
Most cats can eat very small amounts of whipped cream with no real problems. But, even very small amounts can cause digestive problems, including excess gas. This is because many adult cats are actually lactose intolerant.
Cats are obligate carnivores. So, they only need meat to survive. They need lots of protein in their diet, as well as some other important nutrients, such as taurine and vitamin A. Dairy should not be a large part of your cat's diet. Neither should overly sugary treats. So whipped cream is not ideal. Particularly if your cat is lactose intolerant.
Some cats might enjoy eating whipped cream. But, just because they like this treat doesn't mean it's good for them. So, it's important to analyse the pros and cons before offering this food. And, in the case of whipped cream, the cons outweigh the pros.
Is Whipped Cream Bad for Cats?
As we already know, a lot of cats are lactose intolerant. If this is the case for your cat, you should avoid whipped cream altogether. Dairy products like whipped cream can lead to stomach upsets, diarrhea, indigestion and excess gas.
But, lactose intolerance isn't the only reason that whipped cream is bad for cats. So, even if your cat does not experience problems with dairy, they can still experience problems when eating whipped cream. Let's take a closer look at some of the main problematic ingredients and the issues that whipped cream can cause.
Sugar and Fat Content
Whipped cream is a very sweet treat with lots of added sugar. It is also very high in fat and calories. Too many sugary treats can lead to weight gain and obesity, as well as an upset stomach.
Obesity is becoming a major problem for our pets, particularly dogs and cats. Keeping our cats at their optimal weight is important for their overall health. If your cat is overweight, you should avoid snacks like whipped cream completely. Your veterinarian may also suggest smaller meal sizes, but work with your vet before adjusting meal sizes to ensure your cat doesn't lose too much weight, or lose weight too quickly.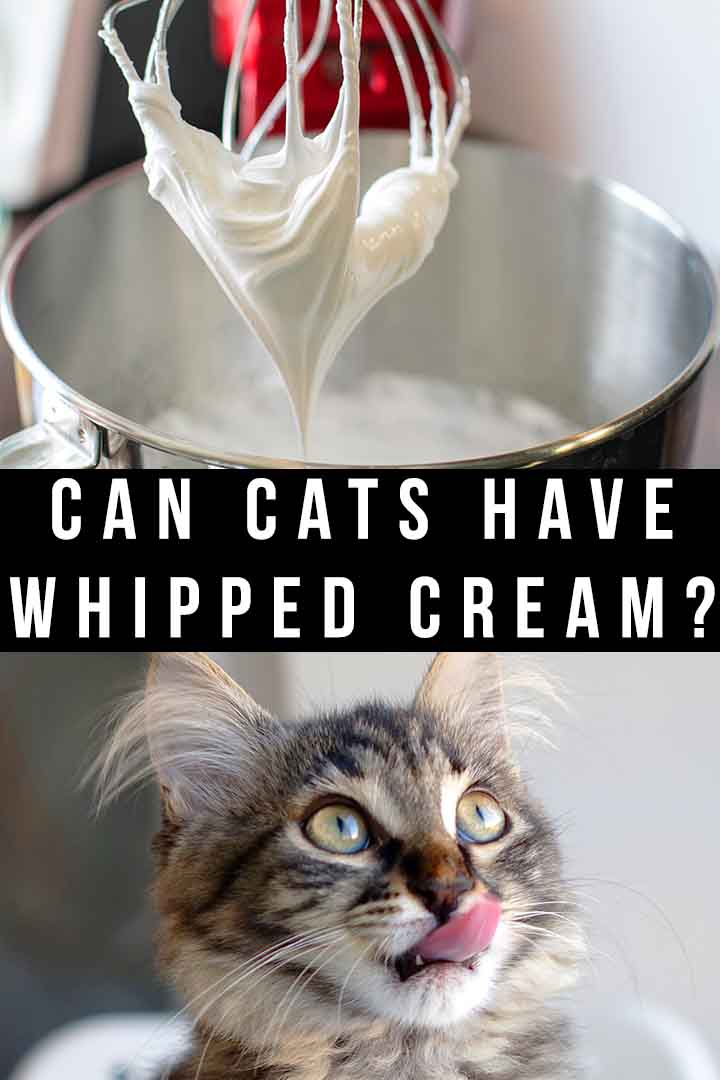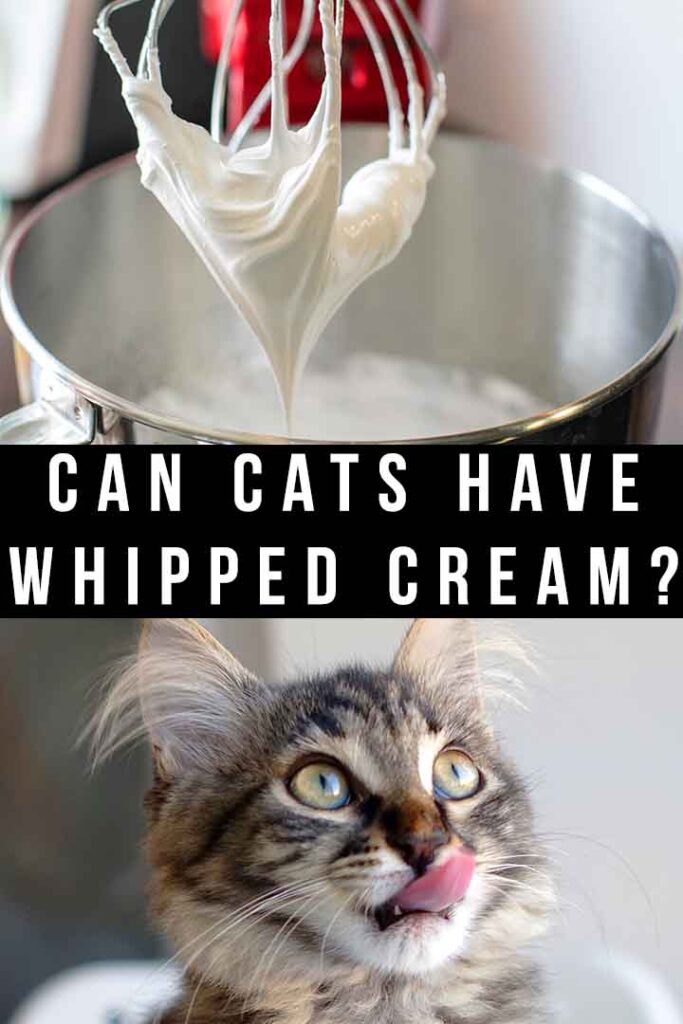 Added Sweeteners
Sugar-free whipped creams can, in some instances, be even worse for your cat than a standard whipped cream. So, it's important that you check the ingredients list carefully.
Xylitol is a common sweetener that is often used in sugar-free products. This ingredient is toxic to dogs, and many veterinarians will also recommend keeping it away from cats. Another common sweetener in whipped cream is vanilla extract, particularly in homemade recipes. Vanilla extract contains ethyl alcohol, which can be very harmful to our cats in large quantities.
Carrageenan and Nitrous Oxide
Carrageenan is another ingredient often found in whipped cream. It's used to give whipped cream the correct thick and creamy texture. Some cat foods also include this ingredient, but it is much less common in modern recipes. Carrageenan is quite a controversial ingredient, because it can be problematic for our cats. It can lead to gastrointestinal inflammation in cats and other gut issues. So, you might want to avoid it altogether, just in case.
Nitrous oxide is commonly found in whipped cream that comes in a spray can. It acts as a preservative to keep the cream fresh, but also as a propellant to help you get the cream out of the can nozzle. Nitrous oxide is occasionally used as an anaesthetic in veterinary treatment, but isn't necessarily something you want your cat to be inhaling regularly.
Is Whipped Cream Good for Cats?
Whipped cream can provide some important nutrients, especially to humans. It's a good source of dairy, and it contains other nutrients and vitamins in very small amounts, such as Vitamin A, Vitamin E, and even protein. However, these beneficial nutrients are found in very small amounts.
As obligate carnivores, cats thrive on a high protein, meat-based diet. They do not need whipped cream. Though whipped cream can offer some important nutrients, these are in a very small amount, so alternative meat-based foods and treats are usually a better option.
Can Cats Have Whipped Cream from Starbucks?
Starbucks sell 'puppuccinos', which are simply small cups of whipped cream. These are popular with pet owners, particularly dog-owners. But, cat owners are increasingly purchasing this treat for their kittens.
Unless you're able to look at the cream they use, or unless a staff member is willing to check for you, you likely won't know the ingredients or the nutritional makeup of your puppuccino. Many websites estimate the calories and nutritional contents, but there's still a small chance that the whipped cream could contain non pet-safe ingredients, like xylitol.
In general, puppuccinos are as safe and nutritional as store-bought whipped cream. But, there are much better, alternative treats available for your cats. Puppuccinos should not be a regular treat.
Can Cats Have Heavy Whipping Cream?
Heavy cream and whipped cream have very similar nutritional makeups. But, heavy cream has a higher milk fat content than whipped cream. It is also much higher in calories than whipped cream.
Heavy cream, like whipped cream, can be offered as a very occasional treat. But, it should not form a regular part of your cat's diet. Offering heavy whipping cream in large quantities will likely cause an upset stomach. And offering it too frequently can lead to weight gain, obesity, and its associated health problems.
How Much Whipped Cream Can Cats Have?
Since all cats are obligate carnivores and many are lactose intolerant, whipped cream does not need to be part of their diet. Offering even the smallest amount can lead to stomach problems like excess gas.
But, if your cat doesn't seem to suffer these consequences, and they enjoy whipped cream, you can offer it as a very occasional treat. One teaspoon every couple of weeks is plenty. But, bear in mind that smaller breeds generally need fewer calories than larger breeds. So, if you have a small breed, you might want to consider reducing the amount of whipped cream you give them as a treat.
Most cats will enjoy eating whipped cream as it comes. So, there's not much you need to do in terms of preparing it. Just make sure the brand you've chosen doesn't contain any toxic ingredients, particularly if it's a reduced sugar variety.
Alternative Treats to Offer Your Cat
Cats are carnivorous mammals. So, they thrive on a diet of meat. Dairy products like whipped cream don't really have a place in their regular diet. And, the cons of this treat tend to outweigh the pros. But, you can consider offering up some meaty treats, as a healthier alternative! For instance:
Cooked, boneless chicken pieces
Cooked beef
Sliced ham
Fish
Liver
And so on. Just remember to give all treats in moderation. Your cat should already receive all the nutrients they need from their regular diet.
Can Cats Eat Whipped Cream?
Does your cat like the taste of whipped cream? Or is this a treat that you tend to stay away from? Dairy products like whipped cream can affect all cats differently. So, some will like it more than others! And, some might experience stomach problems too severe to warrant offering this treat again.
Whipped cream is generally safe for cats, but can cause excess gas and other stomach issues. And, when given too often, can lead to weight gain and obesity. So, you might want to consider a healthier, meatier alternative.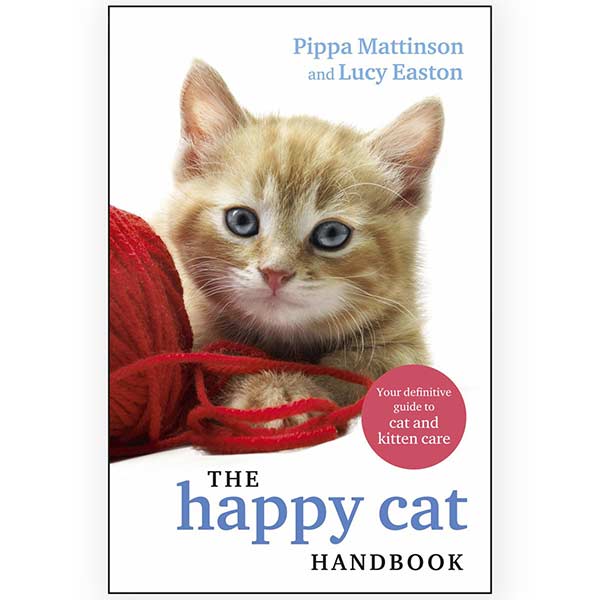 Readers Also Liked
References and Resources
Your Amazing Cat!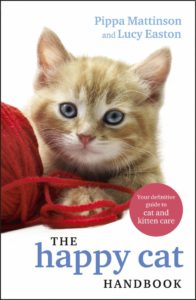 We are so excited to share our new book with you!
If you have enjoyed your visit to The Happy Cat Site we think you'll love The Happy Cat Handbook.
Written by the founders of this website including the author of the hugely successful Happy Puppy Handbook, it's packed with cat care information and fascinating cat facts.
Grab your copy today!