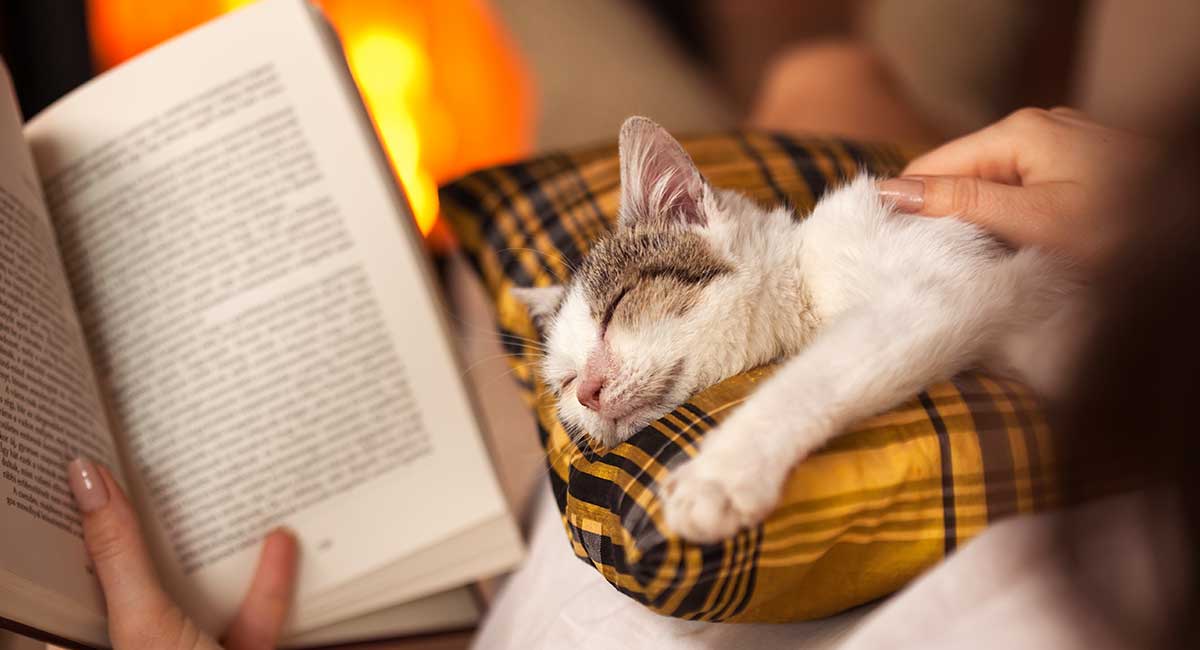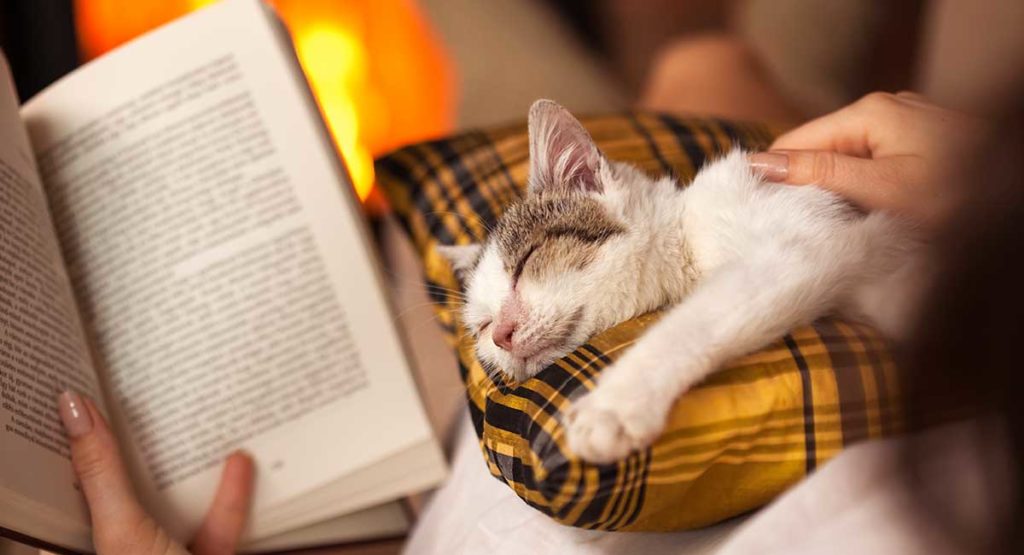 Cat books can be funny or serious. Gifts, distractions or investments.
The cat books we don't think your bookcase should be without in 2020 are:
All of these products were carefully and independently selected by the Happy Cat Site team. If you decide to make a purchase from one of the links marked by an asterisk, we may earn a small commission on that sale. This is at no extra cost to you.
The Best Cat Books For 2020
Welcome to our run down of the most entertaining, informative, and all round best cat books for 2020.
We've got some unmissable new publications for you, and we've added included a fab recommendation left by one of our readers too.
So whether you're looking for a gift for a loved one, or want an exciting new cat read for yourself, we have the perfect book for everyone.
Here are some links to help you navigate this article.
Our brand new category for 2020 is 'cat books for kids', so we're very happy to say we have something for all ages now!
Funny Cat Books
These humorous takes on life with a feline overlord, sorry, pet cat, are guaranteed to raise a knowing chuckle from any cat owner.
They're a great pick me up, and perfect gift.
How To Tell If Your Cat Is Plotting To Kill You, Matthew Innman
This offbeat compilation of cartoons and musings* from founder of The Oatmeal website Matthew Innman is one of those love it or hate it books.
Some folks find it a bit vulgar, but most are going wild about it.
It does contain some adult themes, so be advised this one for the grown ups only!
I Could Pee On This, Francesco Marciuliano
Here's a cute little hardback book* of amusing cat poems and prose.
Only cat people will get this!
The Unadulterated Cat, Terry Pratchett
The late, great Terry Pratchett writes that he brought home a pet cat because
Our garden was debated territory between five local cats, and we'd heard that the best way to keep other cats out of the garden was to have one yourself. A moment's rational thought here will spot the slight flaw in this reasoning.
And thus begins a side-splitting, dryly humorous memoir of cat ownership.
This book* is perfect for anyone who enjoys Pratchett's other books, or whoever looks at their cat and thinks "what have I done?"
Cat Books and Stories
On to cat stories!
These cat books tell the amazing real-life tale of some beautiful cats out there.
Bailey No Ordinary Cat, Erin Merryn
Erin Merryn is better known as the remarkable activist and driving force behind Erin's Law.
But she's also a cat lover, and this book charts the life and times of her Instagram-famous cat Bailey*.
This is a small book with a big heart. Be ready with the tissues!
A Street Cat Named Bob, James Bowen
Poignant, heart warming and inspiring, no wonder they made it into a film.
A Street Cat Named Bob* is the memoir of street musician James and the injured cat who claims him as his person.
This touching story has topped best seller lists and been followed by numerous sequels.
A must read for anyone who wants to be reminded about the best of human nature.
Super Cats: True Tales of Extraordinary Felines, Ashley Morgan
While the stories of Bailey and Bob pack a lot of heavy emotional clout, Super Cats* is a somewhat lighter read.
Full of carefully researched stories of cats doing extraordinary things, from remarkable acts of heroism and compassion to incredible journeys.
You're bound to find plenty of anecdotes and mini-chronicles perfect to start conversations with and share with other cat-a-holics in your life.
Cat Books By Celebrity Cat Trainers
If you're looking for something a little different, take a look at these books by celebrity cat trainers.
These can help you train and bond with your own feline friend!
Total Cat Mojo, Jason Galaxy
If you're a Jackson Galaxy fan you'll love his most recent book*.
Jackson's compassionate approach will help you understand and relate to your cat, and use that knowledge to eliminate undesirable behaviors.
The Trainable Cat, John Bradshaw and Sarah Ellis
John Bradshaw and Sarah Ellis are among the most prolific and highly respected experts on cat behavior today.
Billed as "a practical guide to making life happier for you and your cat"*, this cat book is packed with detailed information on how felines learn.
It's an accessible entry point to understanding what makes your cat tick.
Cat Science & Cat Behavior Books
Whether you love to approach everything from a scientific angle, or you're just looking for a deeper insight into why your cat is the way he is, these books all deliver clearly-explained insight into the inner world of cats.
The Behavior of the Domestic Cat, John Bradshaw and others
What anthrozoologist John Bradshaw doesn't know about cats isn't worth knowing!
This is a serious and in-depth study* of our feline friends.
It's almost a textbook in nature, but don't let that put you off.
We think this book is especially valuable for anyone fostering or adopting an older cat.
It will provide insight into why cats behave the way they do, and how lay the foundations of your new relationship with them.
Cat Sense, John Bradshaw
Our final offering from John Bradshaw (we promise!)
Cat Sense* is not for the fainthearted but perfect for true cat geeks with scientific leanings.
Now onto our new category of cat books for 2020…
Cat Books for Kids
Is a younger member of your family completely cat mad?
These days there is a great selection of books available for younger readers.
Our favorites include an engaging guide to getting your first pet cat, to fun works of fiction for kids with big imaginations.
Pete the Cat and the Itsy Bitsy Spider, James Dean
James Dean's Pete the Cat books have become cult classics for a whole generation of pre-schoolers, and this latest offering* is sure to be no exception.
When Pete meets the eponymous arachnid of the famous nursery rhyme, he knows exactly what to do to help out.
To make this cat book into an even more special gift, you can also pair it with your child's very own plush Pete*.
The Cat In The Hat, Dr Seuss
Dr Seuss's books were revolutionary when they were first published in the 1950s, and their popularity hasn't dropped a bit since.
The Cat In The Hat* tells the madcap story of an entertaining cat who comes to brighten up two children's rainy afternoon.
This is great cat book to share with kids who are just starting to read for themselves.
And it's also a title to hold onto for posterity and pass down to bookcase of the next generation.
Warriors box set, Erin Hunter
For older kids, you can't go wrong with these gripping stories* of good and evil, mythology and magic, as lived out by rival clans of wild warrior cats.
This immensely popular series is prefect for those tricky-to-buy-for preteen years, when kids won't be seen dead near anything they consider babyish, but aren't quite mature enough for free reign of the bookshelves.
The Everything Book of Cats and Kittens, DK
This educational cat book for kids* is full of cute photos and fun facts about felines.
It's an exciting window into the world of cats for any child who's shown an interest in them.
And it's also a great resource for preparing any kids about to start living with their own pet cat for the first time.
Reader Recommended Cat Books
Earlier this year we threw the 2019 edition of this article open for recommendations from our lovely readers.
And reader Benny didn't disappoint.
He recommended The Cat Who Ate His Tail*, by psychologist and writer Jacqueline Simon Gunn.
Scroll down to the comments to find out why he enjoyed it, and leave your own recommendation for this category!
Our Cat Book
Finally, forgive us if we can't consider this list complete without including our own Happy Cat Handbook*.
The Happy Cat Handbook is a complete guide to choosing and raising a happy, healthy cat.
In it, the Happy Cat Site founders Pippa and Lucy take the latest scientific research about cats, and make it readable and fun.
Your Favorite Cat Books
We love reading as much as we love writing and look forward to hearing your suggestions for more books to add to this page.
Let us know what cat books you've read recently and why you liked them.
We'd especially love to hear about your favorite children's books about cats.
And don't forget to add your all time favorite!
Affiliate link disclosure: Links in this article marked with an * are affiliate links, and we may receive a small commission if you purchase these products. However, we selected them for inclusion independently, and all of the views expressed in this article are our own.