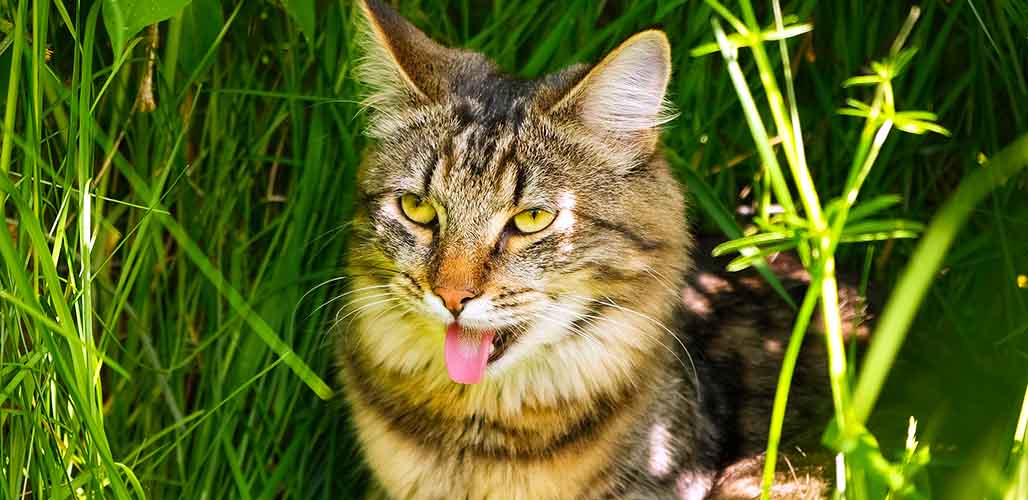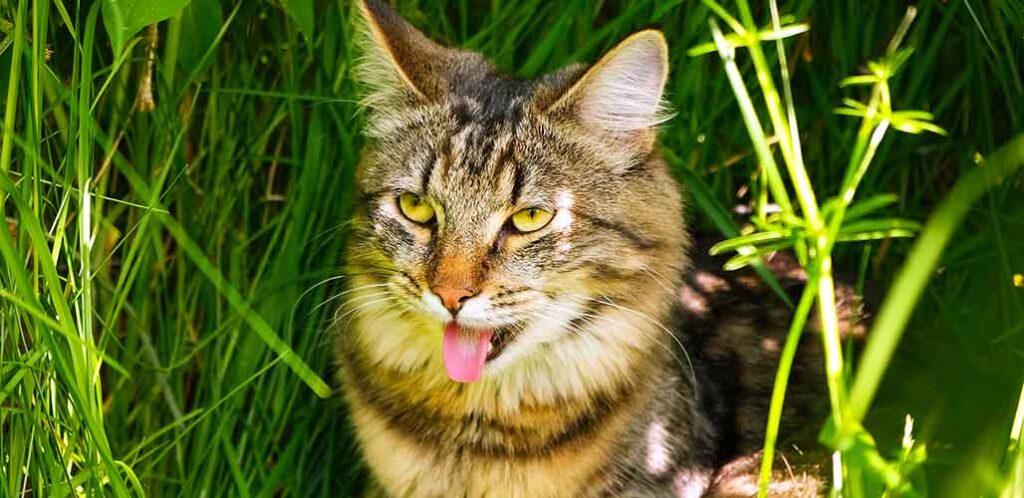 Here's a fun feline trivia question for you: can cats breathe through their mouth? I have hardly ever seen any of the cats I've lived with breathing through an open mouth, and I bet that now you're thinking about it, you haven't seen it much either. In fact, they can breathe through their mouths, but under normal conditions they don't. What's more, if they're doing it frequently and for more than a few minutes at a time, it could be a sign of an underlying health problem, and you shouldn't ignore it. Here's everything you ought to know about mouth breathing in cats.
Contents
Can cats breathe through their mouth?
Physically, yes, cats are capable of both inhaling and exhaling through their mouths. But, under normal conditions they instinctively prefer to do so through their noses. So it is more normal to see them breathing with their mouths shut. In fact, their mouth pretty much always stays shut, unless they are eating, drinking, grooming or vocalizing (for example meows or hisses). Occasionally though you might catch your cat panting or breathing through their mouth. Since they don't like having to do it, it's usually a sign of being under physical stress, or needing urgent medical attention.
Mouth breathing after exercise
Like the cat in the video at the top of this article, cats sometimes pant through their mouth after intense physical exertion, like chasing a smaller prey animal or fighting a rival tom cat. In these situations, breathing through their mouth might help them get their breath back. When cats breathe through their mouth after exercise, it should pass pretty quickly, and within a few minutes.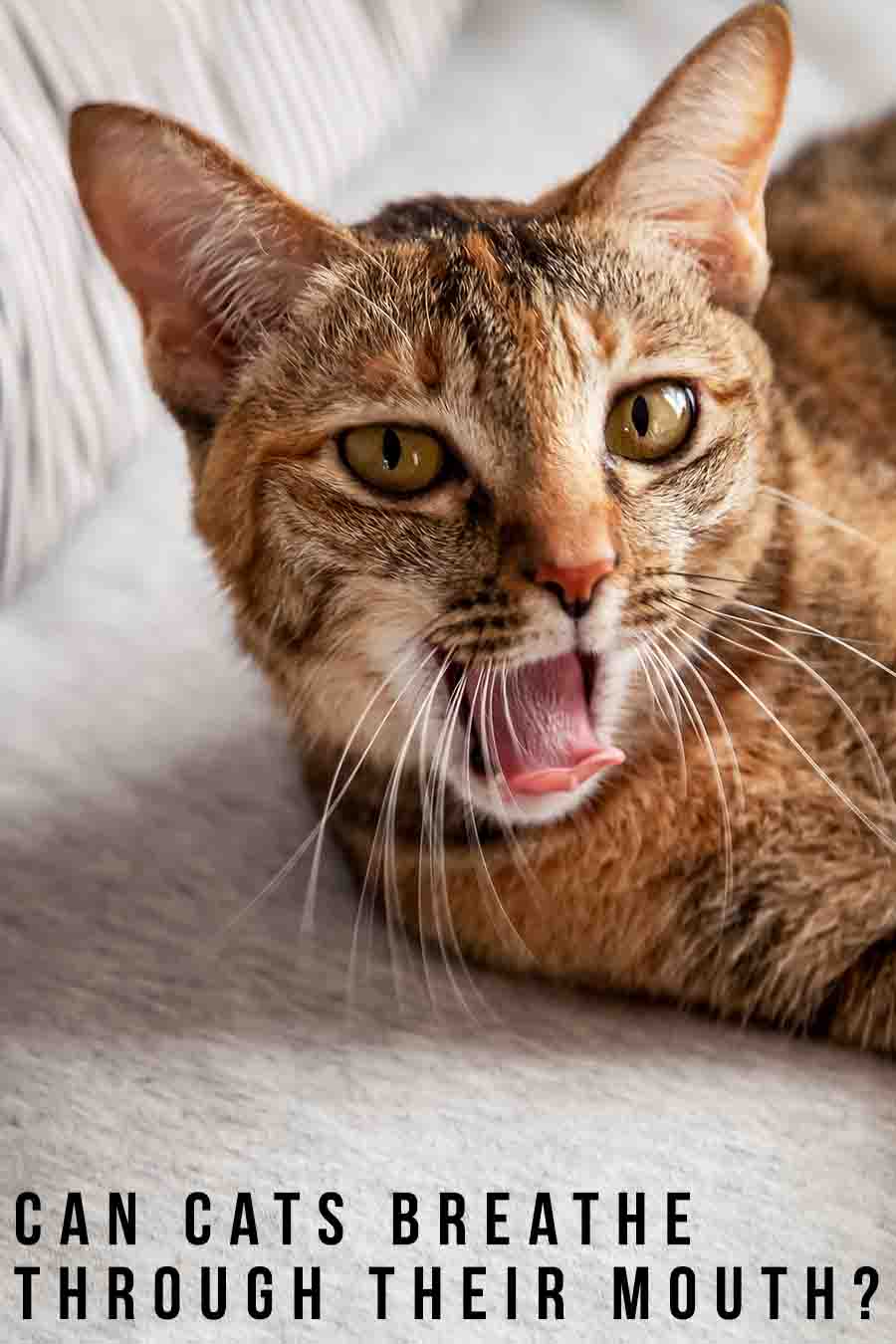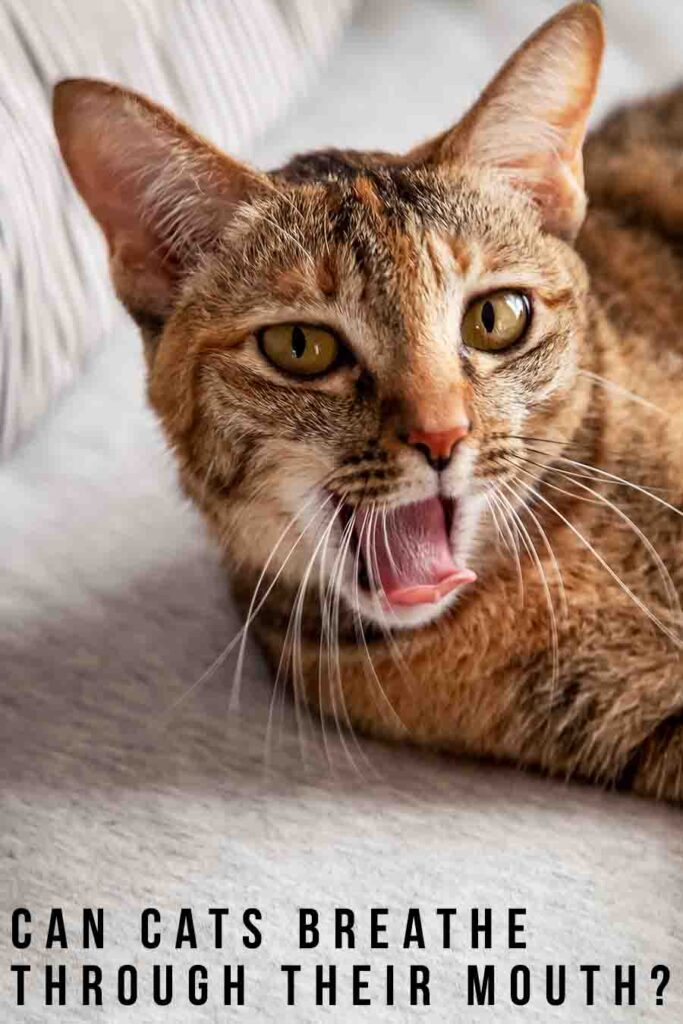 Do cats pant from their mouth to keep cool?
Unlike dogs, cats don't normally rely on breathing through their mouth to cool down. When they breathe through their nose, the air cools down the blood in the surrounding tissues (called nasal turbinates), and the cooled blood returning to their heart lowers their core temperature too. In addition, cats can cool themselves by sweating from their paws and licking their coat. When they lick their fur, evaporative cooling causes the temperature at the surface of their skin to reduce. And usually, these cooling strategies are enough, so they don't pant.
When to seek medical attention
If you observe your cat breathing or panting through their mouth continuously for more than a few minutes at a time, and it isn't related to physical exertion, it can be a warning that they need medical attention. Breathing through their mouth can be a symptom of:
Something stuck in their nose
A tumor or polyp blocking their nose
Inflamed nasal passages
Lung infections
Congestive heart failure
Something is stuck in their nose
This is the most common cause of rapid onset mouth breathing that can't be attributed to exercise. If your pet has started panting out of the blue, and isn't showing any signs of stopping, it's possible that something has become lodged in their nasal passages. When this happens, their breath often starts to get pretty smelly too. Common culprits are small round objects that are light enough to be accidentally inhaled, like seeds or beads. You'll need veterinary help to locate the obstruction, and remove it.
A tumor or polyp is blocking their nose
On the other hand, mouth breathing which gets gradually more frequent over time could be caused by a polyp or tumor which is growing and gradually filling their airway. When they breathe through their nose, cats with these growths tend to make a distinctive snorting sound. As well as making your cat uncomfortable, tumors and polyps can trap and accumulate mucus (boogers) behind them, which becomes a breeding ground for infections.
Their nasal passages are inflamed
Cats might also resort to breathing through their mouth if inflammation of the tissues in their nose have made their nostrils too narrow to breathe through comfortably. A common cause of this is chronic rhinitis – recurring episodes of inflammation in the nasal cavity, usually triggered by a historic case of feline herpesvirus that permanently damaged the lining of their airway.
They have a lung infection
Next up, mouth breathing can be a symptom of both viral and bacterial respiratory infections. Since these are both unpleasant and uncomfortable for your cat, and frequently highly contagious, they need prompt medical attention.
Congestive heart failure causing breathing difficulties
Mouth breathing can also be a symptom of congestive heart diseases, such as hypertrophic cardiomyopathy. This is especially relevant to for cat breeds which are vulnerable to genetically-inherited heart disease, such as Maine Coons and Ragdolls.
Mouth breathing in flat faced cats
Finally, the rise in popularity of cat breeds with exaggerated flat faces, like Persians, Himalayans and British Shorthairs has also resulted in a new generation of cats with an increased likelihood of mouth breathing problems.
Flat faced breeds have been achieved by selectively breeding from individuals with the shortest jaw bones, so that over time, the squashed shape of their descendants' heads have become more and more pronounced. However, the soft tissues of the palate inside the roof of their mouth haven't always kept pace with changing shape of the bones. In other words, they have too much soft tissue, and not enough space for it. The soft tissue ends up blocking their airways, and they may have to resort to breathing through their mouth to compensate.
When this happens to lots of individuals from the same breed, people sometimes try to describe it as 'normal for the breed'. However, just because it is frequently occurring, doesn't make it okay, or change the fact that the individuals affected are uncomfortable and struggling. They will also be more prone to conditions such as heatstroke.
Flat faced cats who are affected by breathing problems can sometimes be helped by surgery to remove some of the excess soft tissue. But, it is no substitute for choosing a cat with a healthy face shape in the first place.
Can cats breathe through their mouth? Summary
Cats are physically capable of breathing through their mouth, but usually they do not. They might pant for a few minutes after exercise to get their breath back, but if you observe your cat mouth breathing for long periods, or unrelated to exercise, there is a strong possibility of it being a symptom of something that requires medical attention. Let us know if that's something you've had to deal with, using the comments box down below.