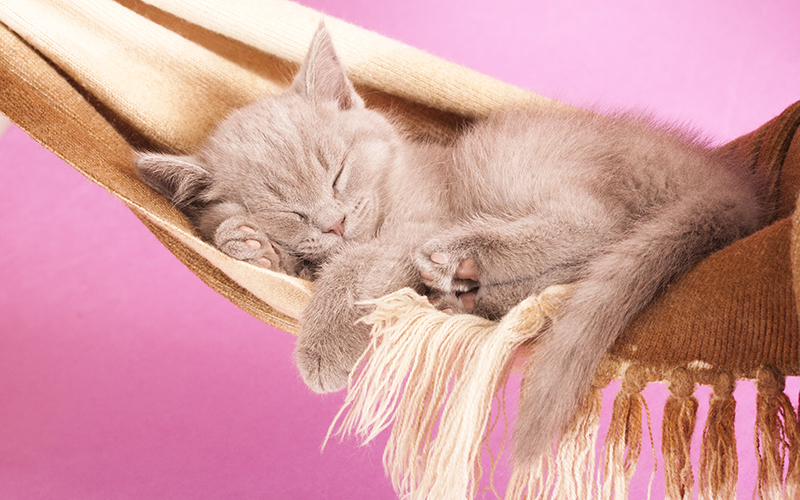 Welcome to the wonderful world of cats and hammocks. Providing you the information you need to find the right cat hammock for your kitty.
We'll take a look at what a cat hammock is, why cats love hammocks and help you to pick the best of the bunch.
So your kitty can enjoy hanging out around the house!
All of these products were carefully and independently selected by The Happy Cat Site team. If you decide to make a purchase from one of the links marked by an asterisk, we may earn a small commission on that sale. This is at no extra cost to you.
What is a cat hammock?
Cat hammocks are made to mimic a cat's natural sleeping environment. Cats love to be elevated off the ground and observe their surroundings from above.
Cat hammocks provide a feeling of security and comfort for your kitty.
There are many kinds that attach to chair legs, cages and even windows.
Let's first take a look at why cats love hammocks.
Why do cats love cat hammocks?
Have you ever noticed big cats in the wild all stretched out and sleeping soundly atop a large tree branch? Domestic cats are no different.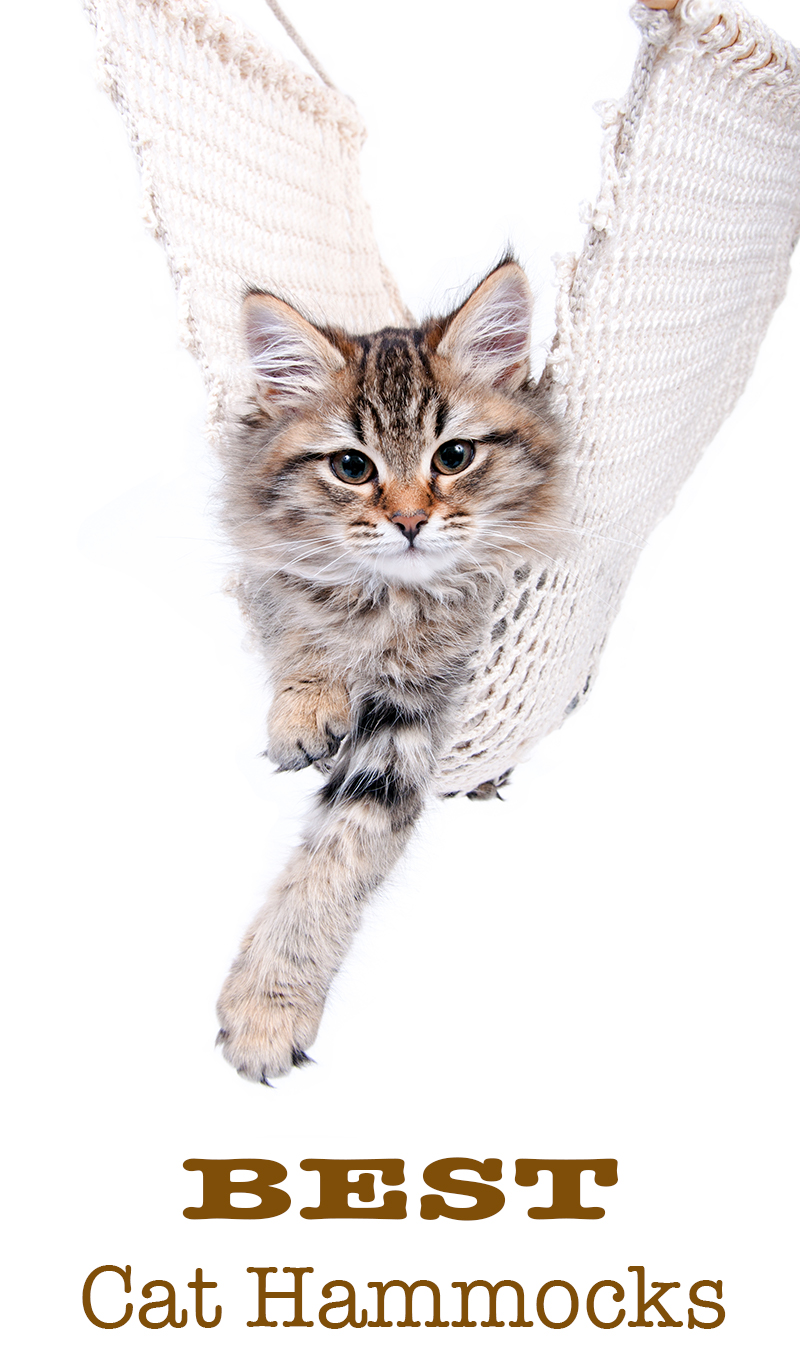 They love to be off the ground and supported by a sturdy structure. Hammocks provide the support and comfort that any cat would love.
They support your cat's weight and provide a look-out post, which makes your kitty feel happy and secure.
There are many different types of cat hammocks we will explore in this article to help you find the right one for your kitty.
Cat window hammocks
What better way to give your cat a terrific view of the outdoors than a hammock by the window.
Your cat will love being perched high up with a view of the outside.
Oster Sunny Seat Window-Mounted Cat Bed* is a popular cat bed that gives your cat a view of nature by using industrial suction cups, which mount directly to your window.
This window hammock for cats supports up to 50 pounds, which should be sufficient for any breed of kitty.
Sunny Seat is also a well-rated brand* that uses suction cups.
It is made of a breathable cloth, which ensures that kitty does not overheat.
This one supports up to 30 pounds of weight. Still plenty for the average cat.
Cat hammocks with stands
A cat hammock with stand is convenient because you just set it up and the hammock hangs freely without need for a cage or chair.
TRIXIE Pet Products makes a Baza Cat Tree* that falls into this category.
It is made of a plush fabric and has natural sisal wrapped scratching posts.
TRIXIE Pet Products also makes another cool freestanding cat hammock called the Miguel Fold and Store Cat Tower*.
It is convenient to use because you just unfold it and your cat can get on top of the hammock.
It is also easy to store because when you need more space, just fold it closed.
Cat tree hammock
Looking for a fun cat tree with multiple levels, cubbyhole, and hanging ball on a rope? Songmics Cat Condo Tree* offers this with a hammock, too.
Your kitty can have lots of fun running up and down the tiers, scratching on the posts, and just chilling out on this kitty condo.
If you have multiple cats, then the Merax Cat Tree Condo* is a good option.
It has multiple places to sleep on, a hammock, scratching poles, and even a little ladder for your kitty to climb up on!
Want to take an in-depth look at cat trees?
Why not pop on over to our other page exclusively devoted to this topic.
Cat tower with hammock
Does your cat really like to be high off the ground? If so, a cat tower with hammock may just be the right kind of cat hammock for your furry friend.
Ollieroo makes one that is 48 inches high and one that is 60 inches high*.
Both of these are great for climbing, exercising, sleeping, and scratching. Place it by the window so your kitty can look out and watch the world go by.
We've got a massive range of cat trees with hammocks for you here too.
Hanging cat hammock
Save floor space while giving your cat a place to hang out.
UsefulThingy* makes one out of soft fleece for warmth and comfort.
It easily attaches to a crate or cage.
REACHS also makes one that is small or large*, depending on what size you are looking for.
Cat wall hammock
Cat wall hammocks are mounted directly to the wall, saving you precious space.
CatastrophiCreations* makes one that is sturdy and fun for your kitty.
It has "steps" that lead up to a platform, and then to a taut hammock. Your cat will love it.
Outdoor cat hammock
Looking for a cat hammock that can withstand the elements?
Outdoor cat hammocks are made of materials that can do just that.
Kitty Cot makes one that attaches to windows using suction cups.*
You can attach this cat hammock on the outside of your window so your kitty can enjoy napping in the great outdoors.
WMSTUDIO makes one that has nylon tape in each corner*, which is suitable for an outdoor cage.
Cat condo with hammock
Getting a cat condo with hammock is a great investment for kitty's comfort.
Not only is there room to climb around and play, there's a great nesting spot in a hammock.
Armakat Cat tree condo has a hammock made of faux fur. How comfy is that?
MidWest Homes for Pets* also makes one that is highly rated and has multiple platforms and a cute hammock attached to it.
If you want to get more ideas on cat condos here.
Cat chair hammock
Are you looking to save space and keep a tidy-looking home, while keeping your cat happy?
Why not get a cat chair hammock? A cat chair hammock is a hammock that attaches beneath your chair.
It is a cozy option for your cat, while keeping your home visibly neat.
Cat Crib makes one that is designed to fit beneath your chair.*
It has straps that hold onto the chair legs that prevent slipping.
It works best for wooden chair legs that are 18-27 inches apart from each other.
Cusfull Cat Hammock attaches under chairs as well.*
Theirs has a soft side for cold weather and a waterproof side for hot weather.
Large cat hammock
Do you have a large cat like a Maine Coon? If so, you will want to get a large cat hammock for your kitty.
A large cat hammock will be able to provide proper support for your big cat, and also allow her to stretch out and enjoy the comforts of a hammock just like any other kitty.
Pecute makes a large dot, leopard, or striped pattern cat hammock for your kitty.*
This hammock comes with spring clips and attaches easily to any cage. It can support a cat that weighs up to 13 pounds.
Doglemi also makes one that is for large kitties*. Their hammock is made of a plush faux lamp wool material, which will keep your cat warm and comfy.
It has a solid metal buckle design, which makes it easy to install and remove. You can place this inside a cage or underneath a chair.
If you are looking for cat perches for large cats, head on over to our page that is fully dedicated to this topic.
PVC cat hammock
Looking for an exceptionally sturdy PVC cat hammock?
The Cat's Cradle makes one that is a weather-resistant cotton canvas.*
The cotton cat bed hammock is easy to remove and is machine washable. You can clean the PVC frame with some soap and water.
PETAMO is a Japanese made cat window perch*, which is constructed from a PVC frame.
It provides a sunny spot for your kitty to sunbathe.
Wooden cat hammock
Want a great looking hammock for your cat to snooze in?
This wooden cat hammock by Pet Magasin* is made of beautiful maple hardwood with a clear finish.
The wood frame looks like a banana shape with a hammock suspended above it.
Vea Pets also makes a luxury wooden cat hammock* with a large plush bed that holds any size cat.
What is the best cat hammock?
We have taken a look at many different types of cat hammocks and seen the benefits of each one.
Finding the best cat hammock has to do with what your budget is, the style of cat hammock you are looking for, and finding the one your cat will love snuggling into.
We hope we've been helpful in providing the information you need to get the best cat hammock for your furry one.
Which cat hammock did you choose?
Why not let us know in the comments section below?
Affiliate link disclosure: Links in this article marked with an * are affiliate links, and we may receive a small commission if you purchase these products. However, we selected them for inclusion independently, and all of the views expressed in this article are our own.