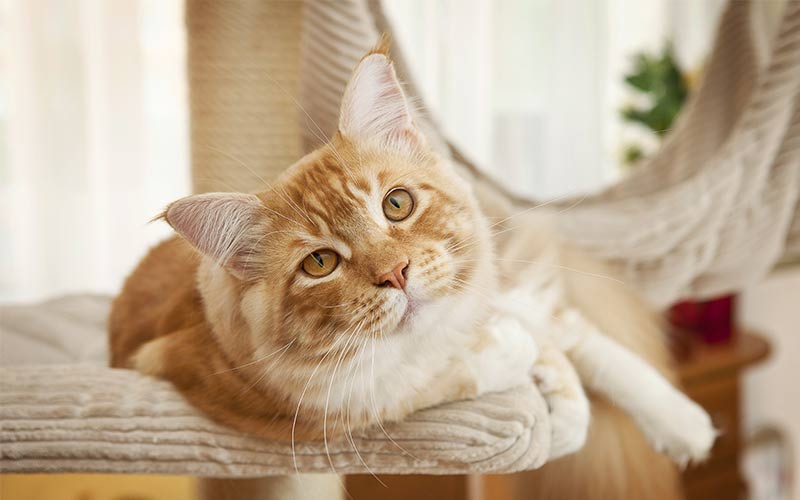 Welcome To Our Complete Guide To The Best Cat Perches. Looking At The Reasons Cats Benefit From Perches, And Helping You To Pick The Right One For Your Pet.
Even if you don't know a lot about cats, you have probably noticed that they seem to love to be up high.
But, a cat perching on the kitchen counter or on top of the refrigerator might not be your cup of tea.
In this post, we'll explore the reasons why cats love a high vantage point.
We'll take a closer look at some indoor and outdoor solutions for keeping you and your cat living together happily.
What is a cat perch?
Outdoor cats fulfill their natural instincts of climbing, hunting, pouncing, and swatting just by going about their day.
In the UK nearly all pet cats are allowed outdoors, whereas in the US that figure is closer to 50-60% according to one study.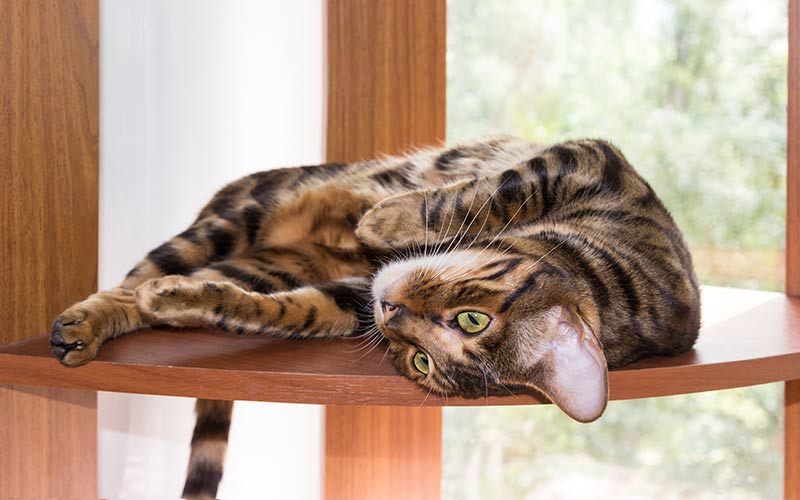 Outdoor cats can easily find a favorite high vantage point to quietly look over their kingdom. But, being outside could potentially come with a risk – both to the cat and to wildlife.
But, keeping a cat indoors can also lead to a sedentary lifestyle. An inactive and bored cat can quickly turn into an overweight cat with type 2 diabetes.
Simply put, a cat perch is a high resting place designed specifically for a cat to curl up or to view their surroundings.
They can be used indoors or outdoors, though most varieties are aimed at giving your indoor cat a good view.
Do cats like perches?
A cat perch could quickly become the favored spot in the household. Hopefully leading to fewer instances of shooing Fluffy from the countertops or fridge!
A perch is also a great option for busy households.
Have curious little fingers that are always going after the cat?
A perch gives felines an escape route, ultimately lessening their stress.
Have a nosy dog or two? Just watch your cat scurry up to the perch to have some alone time.
So now you know you want a cat perch, how do you go about picking the right one?
Best Cat Perches
All cat perches are not made equal.
Be sure to do your research and select the best one for your budget. The top concern with installing any sort of cat perch is safety for your cat – and for you.
Thoroughly read through all of the manufacturer's details and make note of any weight limits and installation guidelines.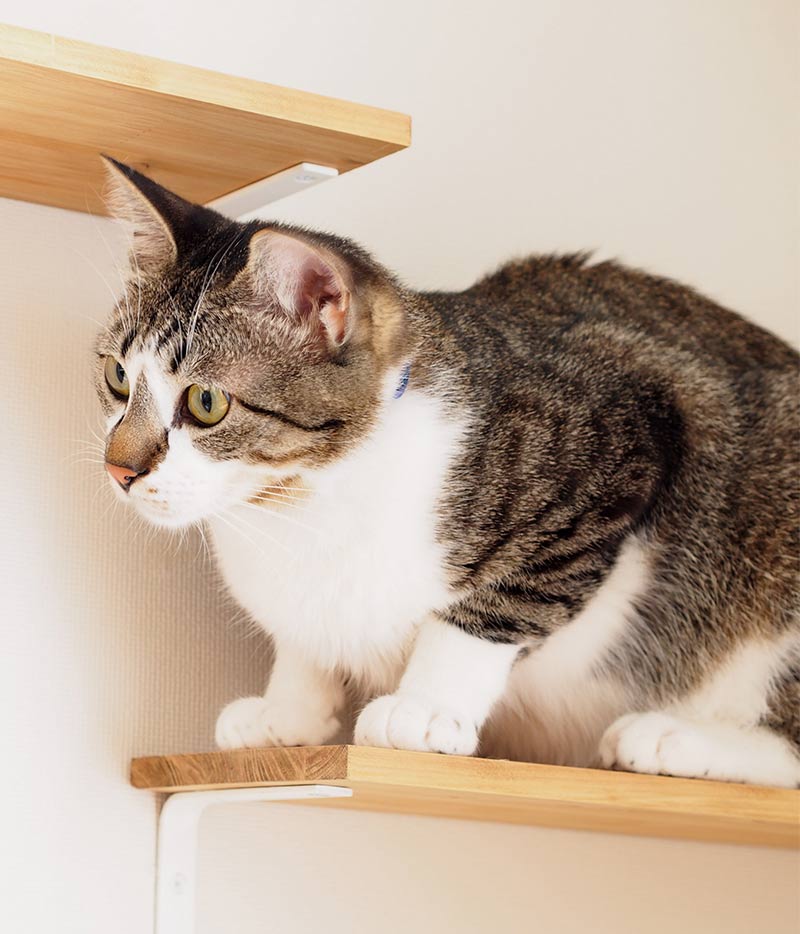 Most wall units should be installed into the wall studs for better stability.
Use caution when installing a unit above any piece of furniture that is regularly occupied by humans. Getting clobbered on the head by a falling cat perch would certainly be an unforgettable experience!
Consider, too, how your cat likes to perch and rest.
Does he tend to sprawl out? Be sure the surface is large enough to accommodate him.
It's also important to think about your cat's physical ability to reach any perch that you might install.
As he ages, you'll want to be sure he can jump safely and land securely.
Speaking of jumping safely – any padding on the perch should always be fastened securely to avoid slipping. Many perches come with Velcro or magnets to keep bedding in place.
And finally, even though it may be a cheaper option, never buy a used cat perch.
You won't want to bring any illness into your home with hidden germs on the carpet, sisal, or bedding, and you won't want to start unnecessary territory marking by your cat smelling another animal in his space.
Satisfy your animal's basic needs with one of these recommended cat perch options.
Cat Window Perches
A cat window perch is designed for a cat to enjoy the outside world while enjoying the comfort of the indoors.
Of course, you can also use a cat window perch outside if you wish.
Looking for the best cat window perch?
These two options are a perfect choice for felines with a bird obsession!
Foam Cushion Window Perch
This Foam Cushion Window Perch is a great choice.

A window sill cat perch is the perfect entry into the world of cat perches.
This affordable perch fits nearly every window.
With easy to install brackets, set up is a snap.
Once in place, the cat window sill perch still allows for normal operation of the window.
The included pad has a removable cover, allowing for easy laundering.
The weight limit on this window perch for cats is approximately 20 pounds.
K&H EZ Mount Window Cat Perch
The K&H EZ Mount Window Cat Perch comes in two options – a bucket-type and a fun, fully covered pod with a hole on one side for access in and out.

A convenient cat perch for window installation, it can be fitted in seconds with super strong suction cups.
Try it on a window that faces lots of wildlife, or even suctioned to the refrigerator if that's your cat's favorite area!
The cups will attach to any flat, smooth surface.
A suction cup cat perch is a great option for renters that are not permitted to drill into the wall or for those seeking a less permanent option.
Cat wall perches and shelves
Have a climber? A wall mounted cat perch is a purr-fect solution.
Installation on a wall allows for multiple units to be placed in near proximity. Giving a cat the feel of a fun climbing area as well as a lookout ledge.
The best part?
Cat wall perches keep floor space clear – a definite benefit over a standard cat tree.
Take a look at this great option.
Cat Cloud Cat Shelves
Made with a powder-coated steel, these cat perches for walls are perfect for those that like ensure a thorough cleaning on their cat's space.


The metal won't absorb odors, and the magnetized pad can be replaced, if needed.
One unit comes with two perches at different levels, making this a great option for a multi-cat household.
The cloud shelf holds up to 70 pounds. Set up a series of clouds in a room to give cats a variety of vantage points.
Outdoor cat perches
If your cat enjoys spending some time in the back yard, then there are a lot of natural ways for them to climb and perch.
But calling the fire department on a regular basis to fetch Fluffy from the tallest tree in your yard can get a bit old.
So here are a couple safer outdoor cat perch options for him to choose from instead!
Enclosed Outdoor Cat Home
Similar in feel to a screened-in porch, this small Enclosed Outdoor Cat Home made of wood construction is perfect for enjoying the outdoors and keeping both cats and wildlife safe.

A number of perches are installed throughout the home allowing for multiple cats to enjoy the space together and giving everyone ample opportunity for exercise.
Two Story Cat Clubhouse
There might not be anything cuter than the Two Story Cat Clubhouse.

While not fully enclosed, this cat clubhouse is so much fun. Ideal for multiple cats, the two story structure has many areas for perching, including the roof.
The roof also keeps cats dry in inclement weather. Escape doors allow cats an easy exit if they sense danger.
If you're concerned about your cats being outside, a handyman could easily construct a screened-in frame around the clubhouse.
Modern cat perches
Ok, we get it. Sometimes cat furniture can look like…well, cat furniture.
If you have a more modern aesthetic, you may have hesitated buying something for your cat to climb.
But, worry no more – there are options that will keep up with your sleek design, while providing instinctive stimulation for your animal. It's a win-win.
Solid Wood, Ultimate Modern Design Wall Shelf
With a super sleek design, you just might mistake this modern cat perch for a piece of fine art.


The slight curve to the beautiful wood shelf gives your cat a perfect area to snuggle into, while avoiding the stereotypical cat bed look.
Mount just one or a series of shelves to create stairs or multiple perches. The removable pad is attached with Velcro, giving your feline a safe landing area. Each shelf holds up to 20 pounds.
Cat perches are a perfect solution for so many types of cat owners.
Renters will enjoy window perches with strong suction cups, while those in cramped living quarters will delight in the floor space freed up by getting rid of the standard cat tree.
Multiple perches are great for multi-cat homes, giving everyone a high vantage point and stimulation.
Up your game one step further and hang some toys from a perch. Sit back and watch the fun as your cat swats away!
Best Cat Perches
What do you think? Is a cat perch in your feline's future?
Which one do you think is the best cat perch – a tall cat perch? Cat perch shelves?
Maybe a cat perch for the window?
No matter which way you choose, you're sure to be the star in your cat's eyes.
References and Further Reading