Does Your Cat Have Too Many Toys? Do You Find Yourself Tripping Over Them A Little Too Often? Then Why Not Check Out These Great Cat Toy Box Options!
In this article we bring your reviews of the best cat toy boxes and help you to decide which is the right one for you.
A good cat toy box can save you a mess to clean up, and maybe even your sanity too.
All of these products were carefully and independently selected by The Happy Cat Site team. If you decide to make a purchase from one of the links marked by an asterisk, we may earn a small commission on that sale. This is at no extra cost to you.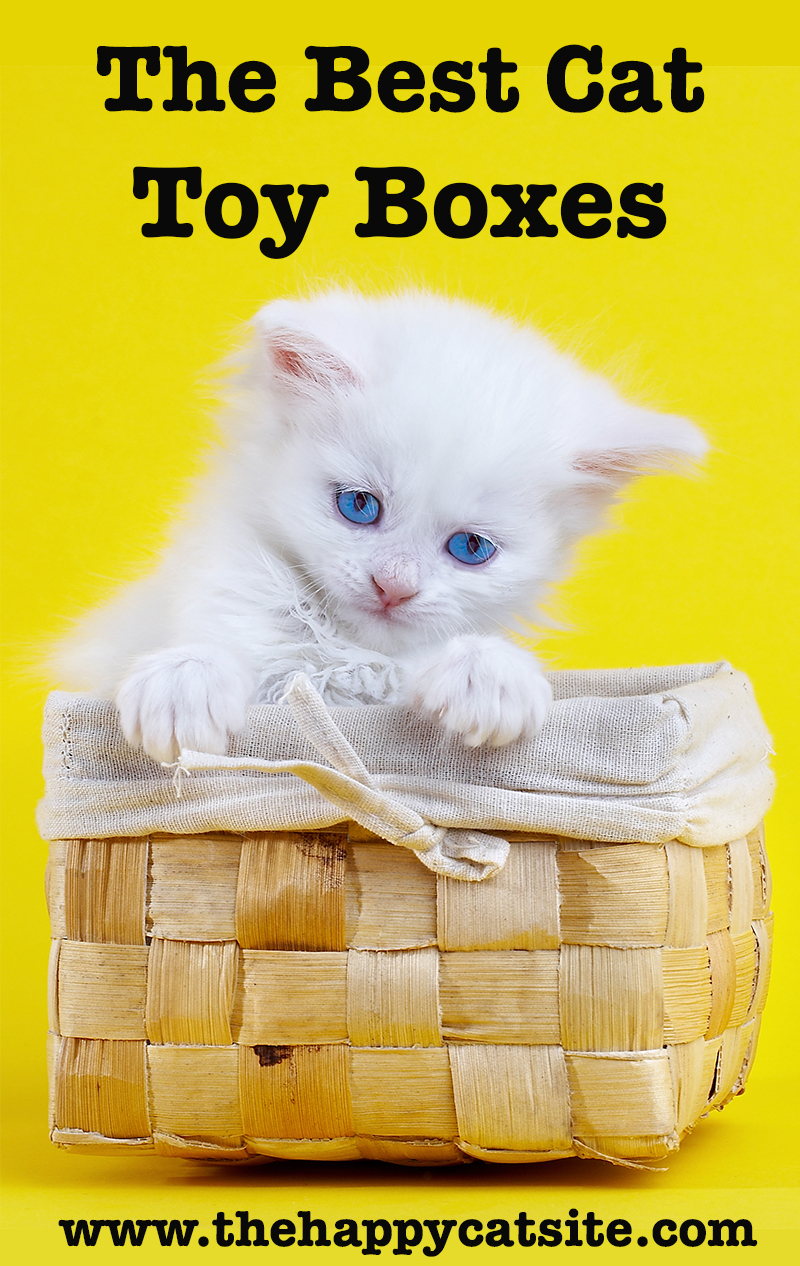 A really neat feature of some of the best cat toy boxes is that they don't merely hold toys. Many have fun designs that anyone would be lucky to have in their home.
Some even offer an interactive challenge for your cat, as they come with holes that your cat can play with to get a toy out.
Below are some of the top items for when you need a cat toy box.
Best cat toy storage
We think the Woodlore Cedar Products Cedar Pet Toy Box* could be the best cat toy storage option. It is incredibly durable.
If you're looking for a solid cat toy box, this item is made of sturdy cedar.
One of the advertised benefits is that it also freshens the air with its characteristic cedar scent. Meaning it also keeps pet toys smelling fresher, too!
Its dimensions are 11.1 x 11.9 x 6.5 inches.
It also has that cute paw print design on the outside of it.
Cat toy box
Looking for a cat toy box? The next couple of designs are great and would work well in any room of your home.
The ASAPS Collapsible Fabric Storage Bin* cat toy holder is perfect for setting up and putting away when needed.
It has that adorable cat print design on the outside of it, featuring London images along with the frisky felines.
Its dimensions are 10.6 x 8.3 x 6.7 inches.
It's made out of cotton and has convenient handles for toting.
The features such an adorable kitty popping its head up from the bottom of the box.*
The inside of the box features that sassy leopard print.
Its dimensions are 11 x 6.5 x 1 inches, making it good for holding a few key toys on the shelf.
It has comfortable handles and collapses.
Cat toy box with holes
Want something a bit different? Why not give your cat a fun workout by buying cat toy boxes with holes!
The Pioneer Pet SmartCat Peek-A-Prize Toy Box* comes perforated with holes. So it's half cat toy box and half pet toy itself. Your cat can have a great time playing with the holes, fishing around to get some small balls out.
Keeping your kitty physically active and mentally sharp, as well as giving your somewhere to keep her cat toys!
Just be careful when you pack it away that they don't fall out!
The dimensions are 13.5 x 13.5 x 3 inches.
It's made of heavy-duty wood.
And that's not the only one!
The Cat Amazing Cat Treat Maze & Puzzle Box Game* is actually a box that comes with different-sized holes and has various barriers inside to increase the puzzle difficulty for your cat.
It comes with four difficulty levels: beginner, intermediate, top cat and bonus level, depending on where you place the toy/treat in the box.
So rather than just storing toys away, you can watch your cat playfully work for them for hours.
Its dimensions are 14 x 9 x 3.5 inches.
You might also like the look of the Feline Be Mine Cardboard Cat Scratcher and Toy Box.*
This inovative cat toy box is a scratching and stretching pad.
It also has different-shaped holes in it to keep kitty active while he searches for his favorite toys/treats.
It's heavy duty to withstand the scratching for a long while, as well as provide balance and support.
It is 15 x 6.5 x 3 inches, and portable too.
Cat toy storage box
The adorable Busfro Brand Foldable Cube Storage Bin Box* features the super cute profile of the cartoon kitty in front of a colorful yellow backdrop.
The whole basket is reinforced with thick cardboard for stability. And it's collapsible.
The page states the dimensions are 10.5 x 10.5 x 10.75 inches.
It size allows it to work well with many storage cube shelves.
Cat toy basket
Not a fan of cat toy boxes, then how about a cat toy basket? Basket designs are good for any space and can hold plenty of kitty toys too.
The Junnom Storage Basket* is a sassy addition to any room, with its cute kitty in a sweater that reads, "how do I look?"
It's collapsible for easy portability and storage.
The basket is made of 100 percent polyester with an EVC lining.
Its dimensions are 15 inches in height and 14.9 inches in diameter.
The Mziart Small Fabric Storage Basket* has white outlines of playful kitty expressions on the front make this item a very stylish cat toy basket.
It's foldable and made of natural linen and cotton fabric. The basket also features sturdy handles.
Its dimensions are 7.8 × 6.3 × 5.5 inches.
It also has a waterproof PE inner layer.
Cat toy holder
Another great cat toy box alternative is the cat toy holder.
These are some more general designs that would go good in just about any room.
Looking for a simple and understated design that goes with anything? Then you'll love Fawn Hill Co Toy Storage Box*. A white bag that simply reads "toys" on the outside.
It's 100 percent cotton and has a wire lining for greater durability.
It also comes with large handles for portability.
Its dimensions are 14.5 x 11 x 9 inches.
The DII Bone Dry Pet Toy and Accessory Storage Bin* is a cat toy bin with a basic design that goes with anything. In a classy, understated tan.
It also features that cute brown paw print on the front.
The bin stands upright on its own and has sturdy rope handles.
Its dimensions are 12 x 14.5 x 14.5 inches.
Best cat toy boxes
Here are some more of the top cat toy boxes out there.
The Winifred & Lily Jute Storage Bin with Embroidered Paws* has these cute paw prints on it. And the "my stuff" makes it a funny little addition to any room.
Jute is a coarse but strong thread made from a shiny vegetable fiber.
Its dimensions are 5 x 16 x 12 inches.
The inside of the bin boasts a soft lining.
Or how about the DII Bone Dry Pet Toy and Accessory Storage Bin*. This gray stripe design would look great in any space, as well.
The cute paw print on the front of it adds character.
It also stands upright on its own and the rope handles make for easy portability.
Its dimensions are 18 x 15 x 12 inches.
But wait! You don't even have to buy a cat toy box to have somewhere to store your kitty toys.
There is always the option of a fun DIY cat toy box.
DIY cat toy box
Looking to get a little crafty? You can also make your own cat toy box.
The interactive boxes are some of the most fun to make.
Easy DIY Cat Toy Puzzle Box
A super easy option for a DIY cat toy box with holes is to cut some holes in the lid of a Tupperware container.
This clever crafter used one of the reusable lunch containers and cut the holes with an X-ACTO knife.
You can put treats, catnip mice or other toys in there.
You may even want to try different-sized holes, just make sure the smallest one is big enough for your cat's paw.
Peek-A-Boo DIY Cat Toy Box
Another blogger made a DIY cat toy box with holes out of a priority mail box, which they made by cutting holes in it with an X-ACTO knife, as well.
They also painted it black so it would look a little more classy.
The blogger used rubberized Plasti-Dip to stop the box from moving around on the floor.
They measured the holes to fit a ball that the cat can work on getting out.
Clever stuff!
What's your favorite cat toy box?
Have you seen a cute cat toy box? Chosen a special one or even made your own? Why not let us know all about it in the comments section below!
Affiliate link disclosure: Links in this article marked with an * are affiliate links, and we may receive a small commission if you purchase these products. However, we selected them for inclusion independently, and all of the views expressed in this article are our own.