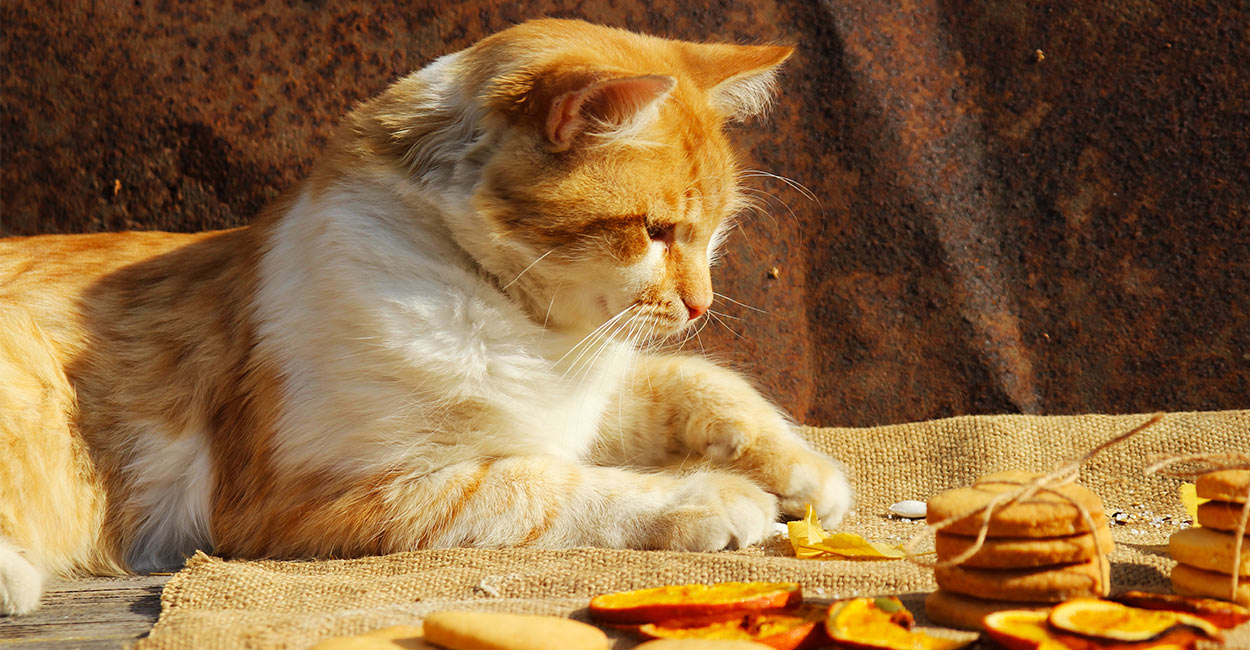 Today Tanya Clark has rounded up the very best cat treat recipes the web has to offer, so you can indulge your cat in safety and style!
I love to bake, especially when the weather turns crisp and the holidays lurk around the corner.
Baking for loved ones is a treasured, time-honored tradition, but how many of us think to make special treats for the furry, four-legged members of our family?
Most owners consider their pets to be a part of the family, so it definitely makes sense to treat them to some tasty homemade treats every now and then.
There's no time like the present for you to show your bestie just how much you love him or her.
You know what they say, a way to a cat's heart is through it's stomach!
Make your own cat treats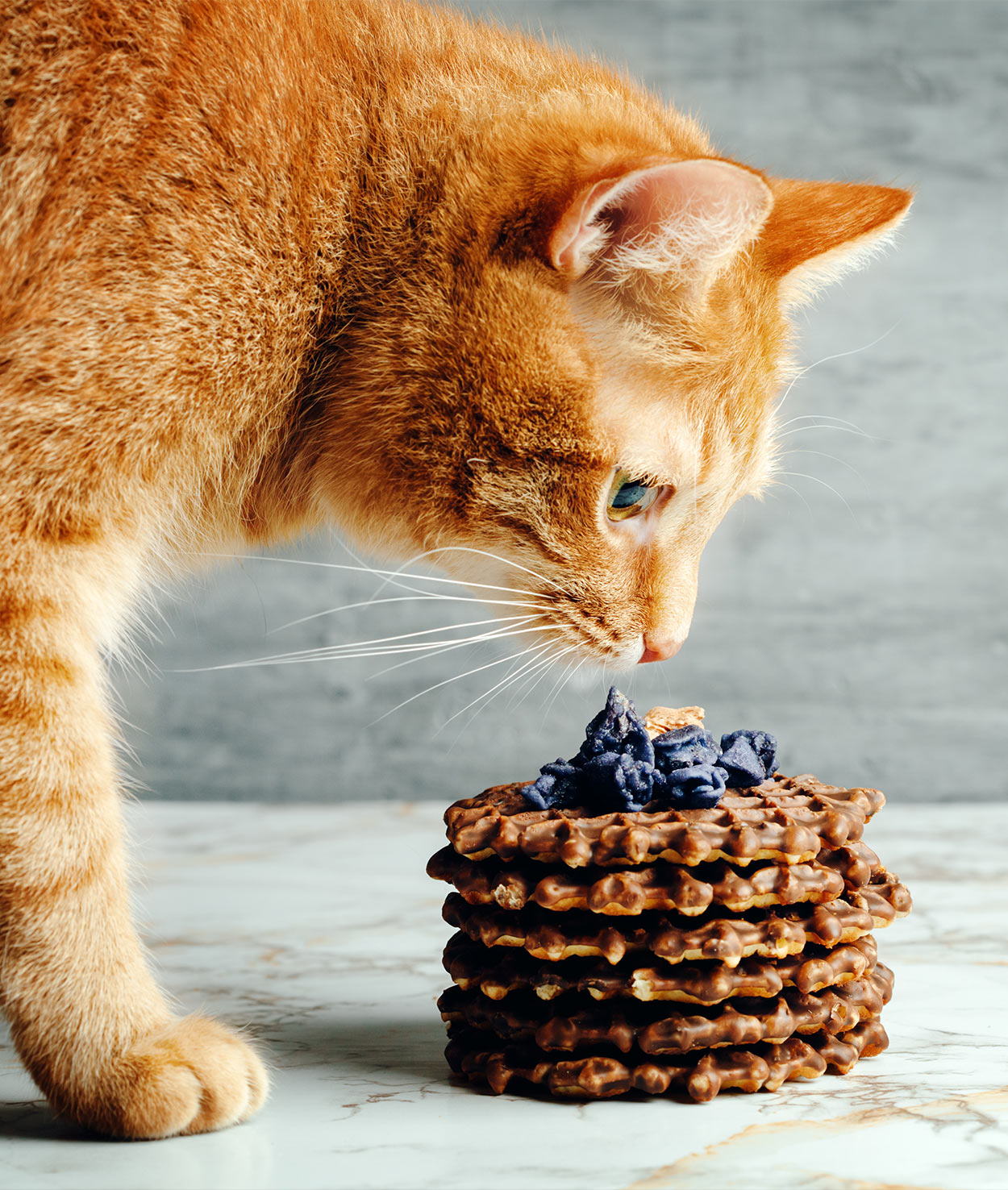 Whipping up a batch of cat treat recipes is easier than you think (and we're not going to recommend chocolate-topped waffles!)
If you're wondering how to make cat treats, we're going to give you some great ideas to get you started.
In fact, our range of inspired, easy cat treat recipes is sure to leave just about any kitty fe-line fine.
We think that homemade cat treat recipes should be easy as well as healthy so we've compiled a wide variety of sure-fire recipes that you (and your kitty taste tester!) will want to make again and again.
Homemade cat treats
Before we fire up the oven though, it's a good idea to understand a bit about what constitutes healthy homemade cat treats.
First off, cats are obligate carnivores which means they require a high protein diet because they do not extract nutrients efficiently from plant-based ingredients.
Secondly, cats are not able to taste sweet flavors; studies have shown that their taste buds are simply not responsive to sugar.
Which means that the best kitty treats are decidedly different from the best human treats.
If you or I were offered a tuna cookie or a chicken candy, we'd probably turn our noses up at the proposition.
But your cat would be in hog heaven with such a delicious delight!
Easy cat treat recipes
So, how can pet parents know which kind of kitty treats a cat prefers?
Science, the food industry, and the marketing profession, have spent countless dollars trying to determine the answer to that very lucrative question!
I understand that you want to be sure that the time and money you put into whipping up a batch of ingredients will result in something that suits your cat's fancy.
To that end, scientists point out that a cat's taste preferences can actually trend in more than one direction.
For example, some cat's favorite tastes are those that they experienced early on in life.
A cat's preference for the foods it was reared on is called, "the primacy effect."
Conversely, some adventurous kitties are much more receptive to new foods and tastes.
This openness to trying, and adapting to, different foods is described as, "the novelty effect."
Choosing cat treat recipes
Which kind of cat do you have: a taste-testing explorer or a tried-and-true flavor junkie?
My own moggie Fuzzy loves carbs, fresh from the oven brownies being his particular favorite.
More than once I have returned to the kitchen to find a set of sunken paw prints trailing across a pan of brownies meant for company!
Despite his silly cravings, I stick to treats that contain Fuzzy's favorite proteins.
Likewise, be sure to include your cat's favorite proteins in the treats that you create: fish, turkey, chicken, beef, etc.
In fact, several of the recipes we've reviewed allowed for substitution of ingredients, so if your hungry kitty prefers salmon to tuna, or turkey to chicken, he's in luck!
Finding healthy homemade cat treats
One of the upsides to making your own cat treats is the certainty of knowing exactly what goes into the treat: only what you choose to include!
Bu while we're on the subject, there are some definite no-no's when it comes to cat treat recipe ingredients.
Did you know that many of the people foods that we love most can be toxic to our cats?
The following items can make your cat seriously ill and should never be given to your moggie:
the sugar substitute Xylitol
raisins
mushrooms
coffee
yeast dough
apple seeds
garlic
grapes
avocado
alcohol
coffee
chocolate
walnuts
onion.
Furthermore, you should never give raw or undercooked meat and eggs being to cats.
Raw meat and eggs can both contain the harmful bacteria Salmonella and E. coli, while raw eggs also contain an enzyme that interferes with absorption of Vitamin B, resulting in skin and coat issues.
When it comes to the health of our beloved animals, it's always better to be safe than sorry!
Cat birthday treats
Who among us doesn't want to feel purr-fectly special on our birthday?
A birthday or Gotcha Day (the day your little guy came home) is the perfect excuse to try out a new treat recipe.
Your cat's birthday comes but once a year (nine lives notwithstanding) so I think this distinctive recipe for Salmon and Catnip Cat Treat Croutons would be a superior choice as a party appetizer.
If one birthday treat isn't enough for your pampered moggie, how about this fantastic variety of yummy treat recipes?
I think you'll agree that any one of those recipes would make a fantastic main dish: a liver dish for cats with discriminating palates, a recipe that uses strained ham baby food, and one that features that one-of-a-kind taste sensation: sardines.
Cat birthday cake
You can't have a birthday party without a cake, and I've found a recipe for a make-it-in-no-time, Instant Birthday Cake!
What cat wouldn't feel like a million dollar when feasting on tuna with mashed potato frosting?
The best part is that when you whip up this delicacy you can freeze some for later.
Which means your kitty really can have her cake and eat it, too!
Diabetic cat treats
My curious cat Fuzzy likes to be a part of whatever is going on in the house, particularly when he has the chance to supervise.
Fuzzy has diabetes, so his treats need to stay in line with his vet recommended diet.
If your cat has diabetes as well, or if you would simply like some super fantastic cat treat recipes that any cat would be pleased to try, here are some recipes for specialized diets.
Delicious diabetic cat treats
First off, this site has great resources for any owner of a diabetic kitty as well as mouthwatering diabetic cat treat recipes.
Next, here's a rather ingenious recipe for transforming a special needs food into a delectable treat.
(Scroll all the way to the bottom of the page and you will see the section entitled: Prescription Diet Cat Treats.)
The Hill's Science commercial cat food brand makes several specialized cat foods, including one for diabetic cats.
Their website has several treat recipes that transform their cat foods into unique and healthy treats.
Healthy cat treat recipes
Of course your cat doesn't have to be on a special diet or have special needs in order for you to want her to eat healthy foods.
We've found several recipes that are oh-so-delicious, yet packed with nutrition galore.
Do you like to get hands-on with the cooking process?
This healthy tuna and parsley combo requires that you mix and then roll the cat treat dough!
But if you'd rather stick to no-bake recipes, be sure to check out these rather novel yet healthy ideas (tuna ice pops, anyone?!)
And final who says that you can't eat hearty as well as healthy?
I don't know of any cat who could resist a nutritional, cat-friendly meatloaf!
The importance of healthy cat treat recipes
Overall, veterinarians recommend specialized feline diets for a variety of reasons.
If your moggie is overweight, a weight control food may be suggested.
Or your vet may recommend a diet that helps your senior cat stay lean and fit.
Sometimes a vet will suggest a limited ingredient cat or organic food if your feline has food allergies.
Keeping your cat on a healthy, appropriate diet is a far bigger kindness than letting them have lots of unsuitable treats.

Organic cat treat recipes
For some pet owners, part of being healthy is looking for organic cat treats.
In 2005 the Organic Trade Association reported that sales of organic foods in the United States alone exceeded $13.8 billion.
Today organic commercial cat food is big seller.
What exactly does the term, "organic," mean in relation to the food we eat?
Food labeled organic by the USDA must,
"have been produced using cultural, biological, and mechanical practices that support the cycling of on-farm resources, promote ecological balance, and conserve biodiversity … This means that organic operations must maintain or enhance soil and water quality, while also conserving wetlands, woodlands, and wildlife. Synthetic fertilizers, sewage sludge, irradiation, and genetic engineering may not be used."
Finding organic cat treat recipes
If you'd like to introduce organic food as a healthy alternative to your kitty, we have a few suggestions.
First off, here are some tremendous ideas for "going green," including an organic chicken treat recipe.
Next, we've found an intriguing organic recipe for spinach and chicken cat treats.
This cat treat recipe calls for a few more ingredients than some of the other cat treat recipes that we've listed, but the results sound simply scrumptious!
Easy to make cat treats
We hope you enjoyed our list of online cat treat recipes.
But before we send you forth into the kitchen, we have a couple more suggestions to leave you with!
When it comes to easy-peasy cooking for kitty, this easy 3 ingredient recipe is a definite wow.
Salmon, flour and egg are all you need to create adorable, bite-size crunchies, plus the entire process takes less than an hour from start to finish.
Protein fans are sure to find a favorite among these three easy recipes, each focused on a different protein: sausage, sardine, and tuna.
The best homemade cat treats
The best cat treats are ones which are high in protein, suit your cat's personal dietary needs, and made with love.
Making homemade cat treats isn't a compulsory part of owning a cat, but if you'd like to try I hope you've found a recipe to get started with here.
Finally, please remember that whenever you try offering your cat a new kind of food, if they show any signs of an upset stomach or illness, remove anything that's left and contact your vet immediately for advice.
Do you have a favorite homemade cat snack?
Are you a pro at turning out handmade cat treats?
Please share your best recipes in the comments section, we would love to try them!
Sources
Humane Society – Foods Poisonous to Pets
ASPCA – People Foods to Avoid Feeding Your Pets
USDA – About the National Organic Program
Bradshaw, J.W.S., et al, Food selection by the domestic cat, an obligate carnivore, Comparative Biochemistry and Physiology Part A: Physiology, 1996
Saba, A., Messina, F., Attitudes towards organic foods and risk/benefit perception associated with pesticides, Food Quality and Preference, 2003
Stasiak, M., The Development of Food Preferences in Cats: The New Direction, Nutritional Neuroscience, 2002