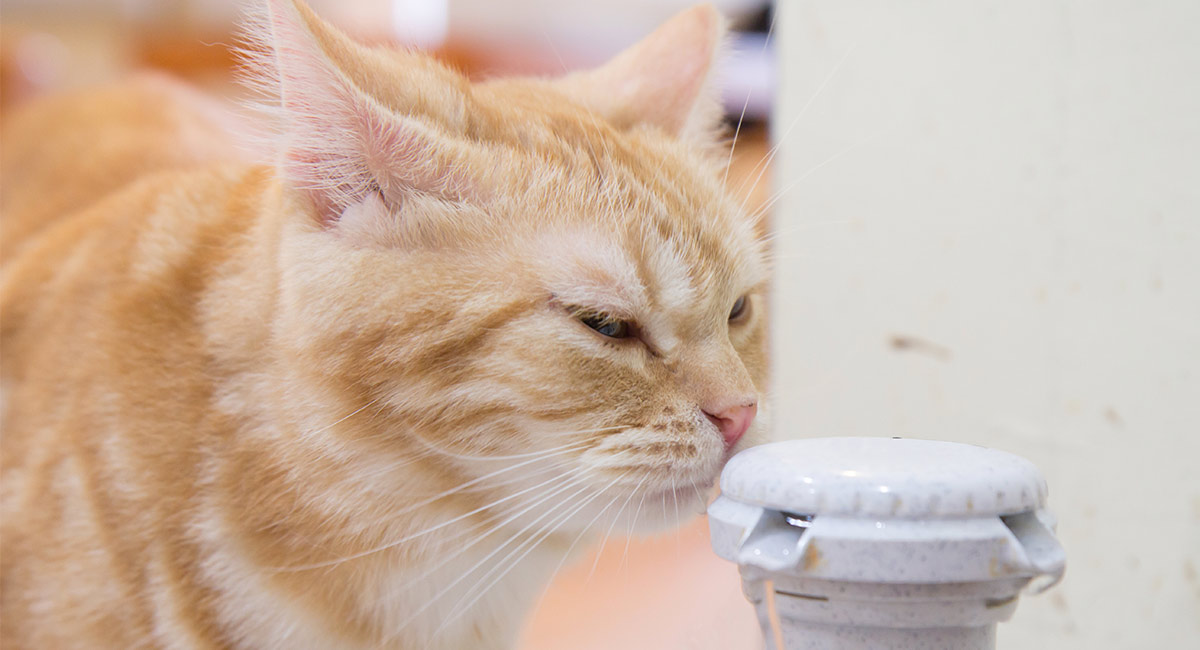 Is Your Cat Reluctant To Drink? Would He Rather Lap At The Faucet Than Into His Bowl? Then You Might Need A Cat Water Fountain!
Science has recently helped cat lovers better understand how a cat drinks water.
It all began when a researcher took a few moments out of his busy day to watch his 8-year-old cat drinking water.
The researcher marveled at how neatly his cat drank.
He got quite curious about exactly how cats could drink so neatly when most dogs seem to routinely dribble and slobber their way to and from their water bowls.
As it turns out, cats use just the tip of their tongues, along with a bit of help from a force called inertia (which is basically gravity's opposite), to get the water they need from source to mouth.
Just by touching the water with their tongue and then quickly drawing the tongue back up again, a cat can quickly capture a full mouthful of delicious water!
So amazing!
But how does this relate to cat water fountain usage?
The way cats drink
Cats in the wild evolved to take in moisture from fresh-killed prey.
But cats in captivity are more dependent on getting hydration from drinking water and canned cat food.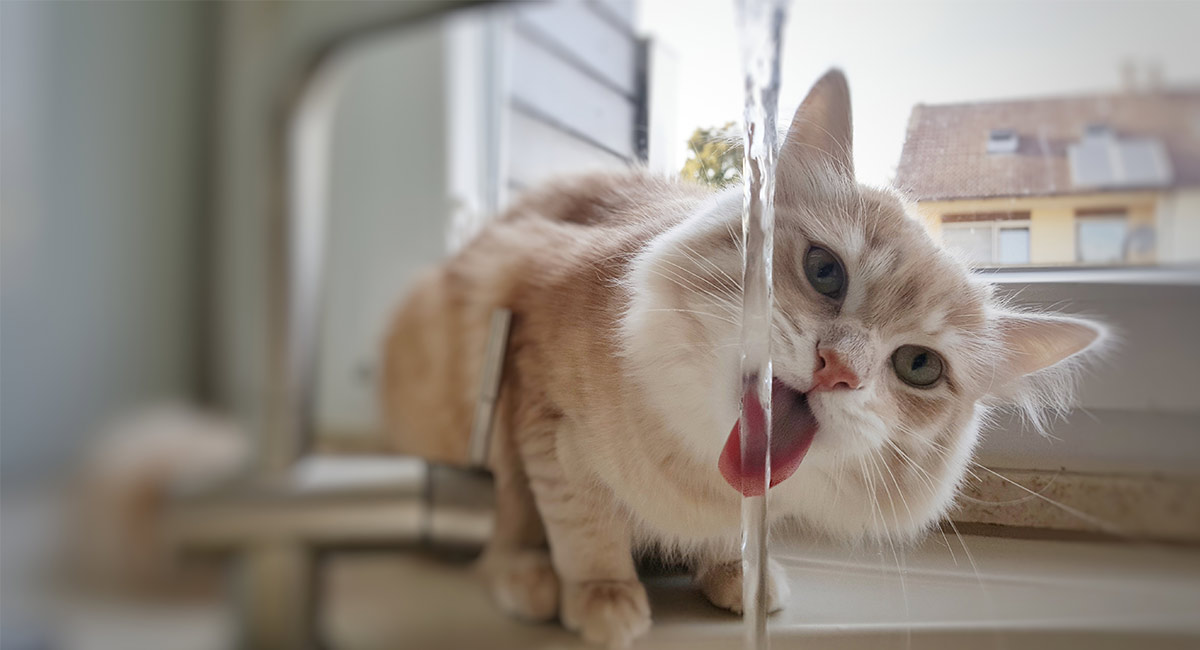 A healthy pet cat may consume between 5 and 10 fluid ounces of water per day, depending on diet (canned or dry or a mix) and activity level.
By taking note of your cat's daily drinking habits, you will be able to catch any emerging changes quickly and contact your veterinarian for help before they become serious.
Cat water fountains are a natural way for your kitty to get a drink.
They strive to include the features cats most prefer in a water source.
The water is very fresh, bubbling or flowing. It is located in a secure and serene location.
The cat water fountain offers a multi-sensory experience.
If your cat is a really reluctant drinker it is also possible to spike it with something tasty (like chicken broth)!
Benefits of cat water fountains
In decades past, giving your cat water was as simple as selecting a bowl and filling it with tap water.
Unfortunately, that method sometimes backfired as the water became stale and littered with debris, causing your cat to refuse to drink until you remembered to refill it.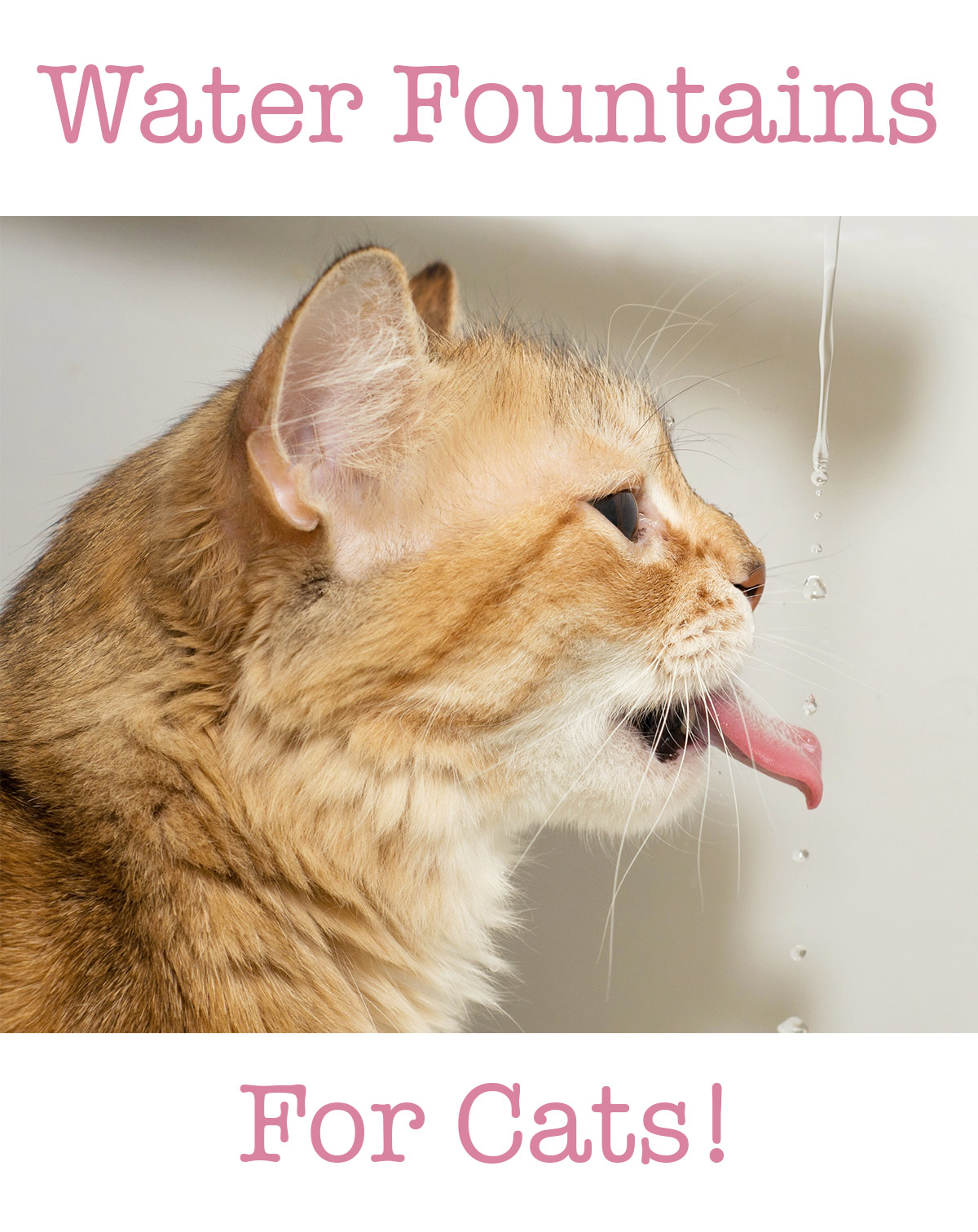 Today's cat water fountain is designed to take care of this problem and many others.
In fact, after you read through this list of the best cat fountain options for your precious feline, you may come to the conclusion that you'd rather drink her water than your own!
Most of the cat water fountains featured here will provide all of these features and more:
Use of a water filter for purity.
Circulation system for water freshness.
Eye-catching design to attract your cat's interest.
Extra features like LED lights or flowers to keep your cat drinking longer.
Multiple sizes for one or multi-cat households.
Several drinking stations to accommodate many cats at one time.
Low wattage requirements for energy efficiency (or no energy required with gravity-based systems).
Super quiet operation.
Travel-friendly design.
Easy cleaning and maintenance.
Every single feature you are about to read about has been added to accomplish one goal: to get your cat to drink more often and to drink more.
Quiet cat water fountain
Some cat owners don't mind living with a noisy water fountain so long as their cat likes it.
But if you are sensitive to noise, then finding a quiet cat water fountain will be a priority.
These three choices are considered three of the best cat fountain options for quiet operation.
PetSafe Healthy Pet Water Station
If a completely quiet cat water fountain is what you are looking for, a gravity-based system like this healthy PetSafe pet water station is always a good choice.
With a gravity-fed fountain, there is no splashing or gurgling or pump operation sounds to contend with.
As your cat drinks, the reservoir silently releases new water to fill up the bowl again.
This popular system comes with a replaceable cat fountain filter that fits into the interior of the reservoir.
isYoung Pet Fountain Automatic Water Dispenser
With an 11-cup (88-ounce) reservoir capacity, this isYoung automatic cat water fountain is suitable for multi-cat households.
The water dispenser is designed to be noise-cancelling for super-quiet operation.
The fountain uses a replaceable activated carbon filter to keep water fresh and pure.
The fountain is BPA-free and dishwasher safe.
Ani Mate Cat Mate water fountain
This popular and highly rated Cat Mate fountain features three drinking levels for cats of all ages.
The fountain uses an Isolated Pump System for maximum quiet. Water is filtered through a replaceable polymer carbon filter.
The manufacturer offers a 3-year guarantee.
Best of all, it is widely thought to be the quietest cat water fountain on the market today due to a graduated water flow ramp and a unique clamp design that keeps the motor from vibrating audibly.
Ceramic cat water fountains
Ceramic is a great material for cat water fountains. It is naturally dishwasher safe, sterile and hygienic.
Even better, ceramic can make for a very attractive cat water fountain, as these three ceramic cat water fountains will attest!
PetSafe Drinkwell Pagoda Cat Water Fountain
This PetSafe carbon filtered, dishwasher-safe, ceramic Drinkwell cat fountain comes in four lovely colors.
The pagoda style makes it a neat and conversation-worthy addition to any room.
Pioneer Pet Raindrop Ceramic Drinking Fountain
This artfully designed ceramic cat fountain holds 7.5 cups (60 ounces) of water that circulates continuously with the help of a small, quiet motor.
After passing through the carbon filter, the water flows up and over a wide ramp. Cat owners say it doesn't leak and truly is quiet, plus it is attractive to look at and their cats like it.
Pioneer Pet Big Max Ceramic Drinking Fountain
This Pioneer cat water drinking fountain comes in two colors: black, white and offers a 16-cup (128-ounce) capacity.
The ceramic bowl is specifically designed to be hygienic and prevent feline acne and bacteria growth.
The water circulates continuously through a charcoal filter.
Stainless steel cat water fountains
Like ceramic, stainless steel is a very safe and desirable material for a cat water fountain. Stainless steel repels bacteria and germs and is dishwasher safe for cleaning.
Stainless steel can also create an eye-catching and beautiful cat watering station, as these three highly rated stainless steel cat water fountains demonstrate!
PetSafe Drinkwell Stainless Steel Zen Water Fountain
This Drinkwell cat fountain features a stainless steel drinking bowl with a dispenser made from BPA free plastic.
It is dishwasher-safe (top shelf only). This fountain has a 128-ounce (16 cup) water capacity.
The stream is wide but quiet due to the inbuilt ramp. The water stays fresh because of the carbon filter and continuous recirculation.
Catit Fresh & Clear Stainless Steel Top Drinking Fountain
This simple, practical Catit stainless steel cat fountain features a plastic base with a stainless steel top.
If your cat likes to take her fountains apart, this one will be resistant to her creativity!
The fountain has almost a 9-cup (70-ounce) water capacity with a replaceable carbon filter for freshness.
Pioneer Pet Raindrop Stainless Steel Pet Drinking Fountain
This beautifully designed Pioneer raindrop stainless steel cat fountain is dishwasher safe and has a charcoal filter for purity.
This fountain provides a continuously circulating water stream.
Centering the fountain produces the quietest operation.
Cat water bowl fountain
If your cat prefers that his water bowl holds water and does nothing else, these are definitely three great options for you!
Flexzion Pet Water Dispenser Station
Back before there were ultra-fancy pet fountains for cats, this more basic type of fountain cat bowl was the gold standard in pet care.
You can choose between a 1-gallon and 3-gallon reservoir tank.
The base has recessed handles for gripping and it is dishwasher safe.
The bottle is wide-mouthed for easy cleaning.
Petmate Pet Café Pet Waterer
This Petmate flexible gravity-based water bowl system offers several reservoir sizes: 0.25-gallon, 0.75-gallon, 1.5-gallon, 3-gallon.
It comes in five colors: waterfall blue, blue, lady pink, white, tan. All parts are easy to grip, carry and clean.
PetSafe Drinkwell Original Pet Fountain
This original PetSafe fountain takes the basic gravity water dispenser system one better – this one is electricity-powered for continuous flow.
You can get this fountain with or without the extra 6.25-cup (50-ounce) backup reservoir, which can come in handy for multi-cat households.
Portable cat water bowl fountain
These innovative portable cat water bowl fountain options offer three different ways to keep your cat's water handy and easy to drink no matter where you are in your travels.
Heyrex Torus Self-Filling Pet Water Bowl
This uniquely travel-friendly portable self-filling cat water bowl comes in six colors with an optional supply of extra charcoal filters.
The reservoir is actually fitted around the outside of the bowl and you can choose from 1.05-quart (1L) or 2.11-quart (2L) capacity.
The bottom is heavy rubber so it won't slide or tip.
Golden Wolf Products Less-Mess Pet Bowl
This Golden Wolf travel-friendly bowl is designed to minimize or eliminate nearly every danger associated with cat water bowls and fountains.
Drips, slips, skids and even water gulping behaviors!
This bowl can be used for food or water and is BPA-free and dishwasher safe.
The manufacturer offers a 30-day guarantee and a 1-year replacement warranty.
Heininger Portable
This innovative Heininger travel-friendly cat water bowl fits right into the reservoir, which holds up to 3 quarts of fresh water.
There is a handle on the right to carry both bowl and reservoir.
Your cat can even drink in the car or RV, because the weighted water-filled reservoir will act as an anchor to keep the snap-in bowl in place.
The system stands up for storage, minimizing the space required.
Cat flower water fountain
When you first look at a cat flower water fountain, you may wonder what it is!
These fountains are cleverly disguised as flower pots, but when you look closer, you will see each holds plenty of fresh water for your cat to drink.
Each of these fountains can make lovely additions to your décor as well as functional water stations for your cat.
Catit Water Fountain
This highly popular Catit green and white cat flower fountain dispenses water from between the petals of a sweet white and yellow flower positioned right in its center.
Employing a system of recirculation with a small water softener and inbuilt pump to keep the water fresh 24/7.
The fountain has three settings so you can find your cat's flow preference.
NO.7Artisan Pet Flower Fountain
This precious Artisan cat flower fountain comes in blue/white and green/white.
Each features a matching silicone mat to place underneath. There is a long flow setting, a gentle setting and a bubbling setting.
A carbon filter keeps the water fresh and filters out impurities.
This filter can also run for up to 48 hours safely without any water in it.
YOUTHINK Cat Water Fountain
This charming Youthink lotus-shaped cat flower fountain features a white bowl with a blue raised center that dispenses gently flowing water in three directions.
The fountain itself is dishwasher safe with a 2.2-quart (2.1L) capacity.
It features quiet operation and three drinking flow options.
Electric cat water fountains
If you have a reluctant feline water drinker on your hands, sometimes the best strategy is to add a bit of pizzaz to her familiar water station.
These unusual cat drinking fountains might just do the trick to get your kitty drinking again!
Homdox Pets Ceramic Drinking Fountain
This Homdox cat fountain features LED lights to draw your cats to drink more frequently (a switch turns them on and off as you prefer).
The fountain is electric-powered for continuous flow and uses a charcoal filter for purification.
The reservoir holds 1.9 quarts (1.8L) of water.
PetSafe Drinkwell Multi-Tier Cat Water Fountain
This tasteful electric PetSafe cat drinking fountain serves water on two levels with a 12.5-cup (100-ounce) capacity.
The elevated drinking dish is designed to meet the needs of senior cats who may struggle to bend down.
The fountain is made of BPA-free plastic in an attractive speckled grey color. It uses a carbon filter for freshness.
It is also dishwasher-safe (top shelf).
Ownpets Pet Drinking Fountain Auto
This square Ownpets bi-level electric cat water fountain offers a small top basin for senior cats and a wider low basin for other cats.
It has a 1-quart (3.8-liter) capacity and uses an activated carbon filter to keep water tasting fresh.
The fountain is made of BPA-free, dishwasher-safe plastic.
Automatic cat water fountains
These three automatic cat water fountains make it easy to check "refill cat water fountain" plus cleaning and maintenance off your to-do list.
PetSafe Drinkwell 360 Cat Water Fountain
If you have a multi-cat family, your kitties will no doubt appreciate the roomy area for drinking around this PetSafe 360 dishwasher safe cat water dish fountain.
The fountain comes with five attachments to customize water flow.
The 128-ounce (16-cup) fountain reservoir can easily handle multiple pets.
Petmate Deluxe Fresh Flow Cat Water Fountain
This simple, sleek Petmate Deluxe water fountain features a single water output source that flows down a ramp to minimize noise.
The fountain comes in two colors: (black, bleached linen) and three sizes (50-ounce, 108-ounce, 216-ounce).
The pump is submerged for quiet operation.
PetSafe Drinkwell Platinum Pet Fountain
This incredibly popular and highly rated Drinkwell Platinum pet fountain has a 21-cup (168-ounce) capacity in a sleek and attractive design.
The fountain is made of dishwasher-safe, BPA-free plastic that is easy to clean.
The fountain uses a carbon filter for purification.
Best cat water fountain
Now you have a comprehensive overview of the many styles of cat water fountains on the market today and their most noteworthy extra features.
The best cat water fountain for your kitty will meet their requirements. It will be easy to use, fill, drink from and clean. The design will suit your tastes while still meeting your kitties needs.
So now all that is left is to select the best cat drinking fountain for your feline sidekick – happy shopping!
Resources
Brehm, D., "The surprising physics of cats' drinking," MIT News, 2010.
Hewson-Hughes, A.K., "Geometric analysis of macronutrient selection in the adult domestic cat, Felis catus," The Journal of Experimental Biology, 2011.
Blouin, S., DVM, "What do cats want?," Carvallis Cat Care, 2017.
Kuczynski, L., VMD, DACVIM, "Why is my cat so thirsty?," Metropolitan Veterinary Associates, 2017.
Peterson, M.E., DVM, "Daily Water Requirements and Needs for Cats," Animal Endocrine Clinic, 2011.
Free Updates For Cat Lovers!
Our cat care articles, tips and fun facts, delivered to your inbox