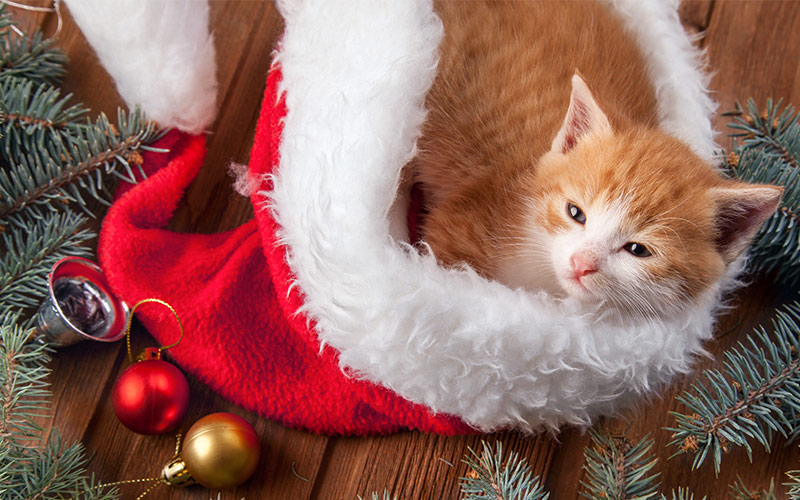 Looking For Christmas Gifts For Cats? Then Look No Further!
We Have Picked The Very Best Fun, Funny, Cute And Unique Kitty Presents. Perfect For Your Festive Feline Friend.
What do you get a cat for Christmas? Whatever he wants!
If you have a cat, you know exactly what I'm talking about.
Our fur babies have captured out hearts and nothing is too good, or too cute, for them, right?
When it comes to Christmas gifts for cats, there is no end in sight when it comes to good gifts for cats and kittens.
Gifts for your cat include an assortment of goofy costumes, ginormous kitty condos, scratchers, tunnels, pots of fresh cat grass, and that's just for starters.
When it comes to gifts for my cat Fuzzy, I know that he's never met a bed he didn't like, so I usually start there.
Needless to say my furry little friend has a bed (or three) in every room, but in his estimation there's always room for one more!
We've decided to help kick start your seasonal shopping by reviewing some of the very best cat beds, cat treats, and cat collars on the market today. Because it's never too early to outfit your moggie in bright red Santa hat, am I right?
But if you're looking to get kitty something a little exotic, a tad quirky, or even a bit luxurious this year, we have something on the shopping list to make even the most fickle felines happy.
Our reviews of the best cat Christmas gifts cover a broad range of products within a variety of price ranges. I think you'll like what you see!
Best Christmas gifts for cats
In fact we have such a wide assortment of intriguing, fun gifts for underneath the tree, I guarantee that your fuzzy feline won't even give the boxes they come in a second glance!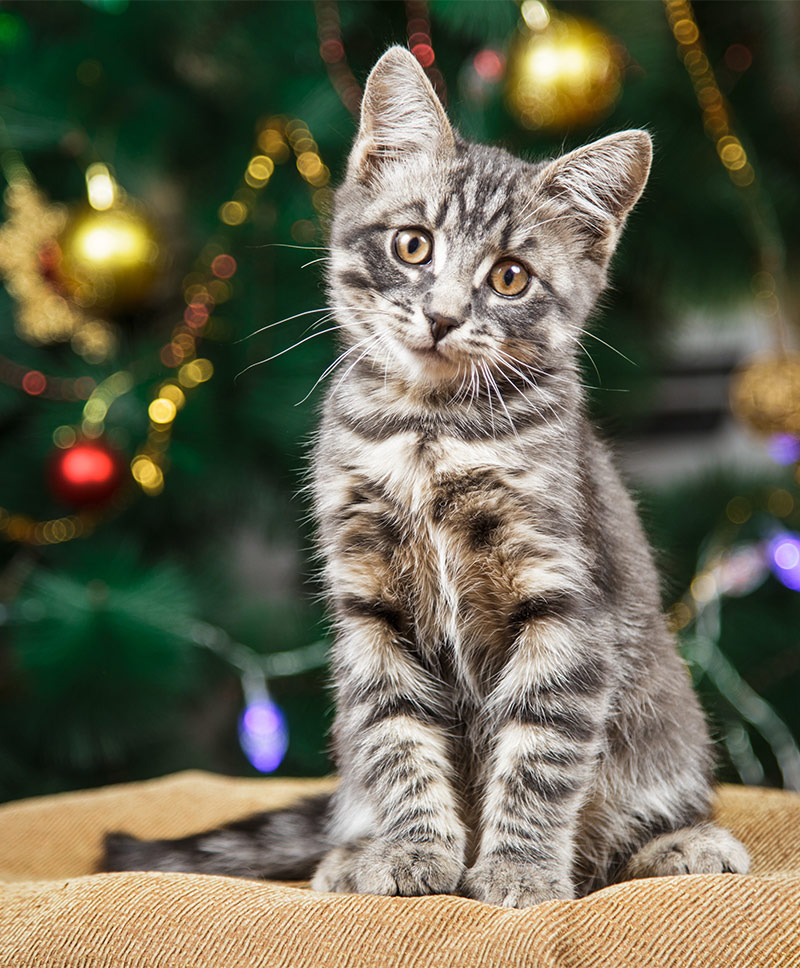 Go Pet Club Cat Tree
Every kitty cat needs a cat scratcher, and this deluxe Go Pet Club tree version will be a big hit on Christmas morning!
At 51 inches tall, it's the perfect size for kittens and small cats. The beige beauty is made of sisal rope, compressed wood, and faux fur.
Petcube Bites Pet Camera
If you're looking to impress kitty, look no further than the Petcube Bites. An amazing technological wonder.
It's a bit pricier than some of our other picks, but we think you'll be impressed.
This top-shelf gift is actually for both you and your favorite feline: It's a camera that automatically dispenses treats!
The two-way audio system works with Amazon's Alexa and also uses motion detection.
Catit Senses 2.0 Food Tree
This modern, fun Catit Sense food tree will keep your cat amused for hours as she tries to extricate her favorite cat treats.
The sturdy, clear plastic material is easy to clean and there are three activity levels to enthrall your little one.
Cats can sit, stand or lay down while playing, and the tree can be set to any one of three levels of difficulty.
Presents for kittens
Little ones are hard on their toys, so it's great to have plenty of good ones!
Moggiez & Doggiez No 1 Rated – Cat Toys & Playhouse
You will certainly get your money's worth with the Moggiez and Doggiez toy house.
This versatile cardboard playhouse that's shaped like a camper. Zoom-zoom!
Also included in this value-packed gift is a bonus e-book on cat training, as well as a toy mouse, feather, and flat scratcher.
Wiz BBQT Knitted Braid Plait Turtleneck Sweater
Keep your kitten warm this year in a toasty Wiz BBQT Knitted sweater that's picture-perfect for photo ops!
It comes in 5 colors, but the red one is a must-have for the holidays. Made of soft, washable acrylic, the sweater comes in 6 sizes including small and extra small for baby cats.
Bergan Turbo Scratcher Cat Toy
This economical Bergan Turbo Scratcher cat goodie is actually two cat Christmas presents in one: a scratcher and a toy!
The round plastic base has a tunnel with a ball for kitty to chase, and the middle section contains a scratch pad for sharpening his paws.
BestPet 4 Wheels Pet Stroller
When Fuzzy was a kitten, he loved cruising the neighborhood in his pet stroller. All the kids would come running to coo over him, just like a real baby—he absolutely ate it up!
This BestPet 4 option has large wheels for a smooth ride, and folds compactly for traveling.
Christmas cat collars
The best Christmas gifts for cats could be New collars. Why not pick a cute, comfy one in fun colors.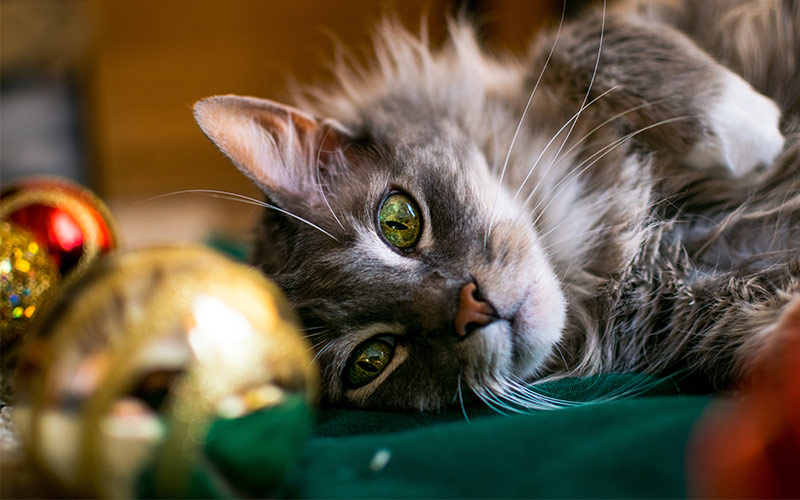 Blueberry Pet Pack of 2 Holiday Celebration Adjustable Breakaway Cat Collar
Ho, Ho, Ho, your cat has her choice of frosty Snowmen or festive Christmas trees in this Blueberry two-pack collar set.
Designed with high density polyester, each collar sports a spiffy jingle bell and bow tie; it's what all the best-dressed pets are wearing this season!
Pettsie Cat Collar Bow Tie
Both stylish and chic, your cat will be the belle of the ball sporting this spiffy Pettsie cat collar.
It comes in four colors and the bright red is purr-fect for Christmas!
It's made from 100% cotton and adjusts from 8-11 inches. Best of all you get a matching friendship bracelet!
BINGPET 6PCS Nylon Personalized Adjustable Cat Breakaway Collar
The perfect alternative for multi-cat households, each cheerful little Bingpet Nylon collar comes complete with its own jingle bell!
The nylon collar is breakaway for your cat's safety, and adjusts from 6.5 to 10 inches.
Christmas cat toys
Let's take the plunge and jump straight to the stuff that makes every cat's heart go pitter-patter: toys! A great option for the best Christmas gifts for cats.
Furry Friends & Pals 30 PIECE CAT TOY VARIETY PACK
This economical Furry Friends gift-pack is perfect for stuffing multiple stockings.
With over 20 pieces of cat-tastic toys including crinkle balls and furry mice, it would make a nice gift for your local animal shelter or rescue.
I love it, cat gifts for cats, what a great idea!
The Natural Pet Company Cat Toys Collection
This exceptional Natural Pet Company gift box is for that special kitty in your life!
Seven toys made of natural materials including sisal, wood, elastic and feathers, are sure to keep kitty busy Christmas morning and beyond.
Also included is a multi-purpose play wand.
SmartyKat Electronic Sound Cat Toys
A SmartyKat Electronic catnip stuffed bird plush toy that makes chirping sounds—this exceptional kitty toy checks all the boxes!
The life-sized toy is touch-activated and can be refilled (or not!) with catnip.
GoCat "Cat Dreams" DVD
Kitty won't be deprived of the thrill of the hunt when he watches this delightful GoGat Cat Dreams DVD.
Chock full of chirping birds and outdoor scenes and sounds.
Christmas cat treats
Every kitty needs a little treat now and then, and these goodies are purr-fect for gift-giving or for stuffing into your own kitty's stocking.
Treats are always Christmas gifts for cats to appreciate
Zanies Holiday Cat Stocking
You can hang this Zanies Holiday cat stocking with care and surprise kitty with a plethora of treats on Christmas morning!
The see-through stocking contains a variety of fun toys including a mouse and jingle balls.
FELINE GREENIES Dental Cat Treats
After all his Christmas goodies, your kitty's teeth could use some attention. These delicious Feline Greenies treats are made with natural ingredients and packed with minerals and vitamins.
Best of all, they help clean teeth and freshen breath!
Necoichi Raised Cat Food Bowl
If you have an older kitty who would rather not have to "capture" his snacks, this Necoichi raised bowl is the perfect present.
The white porcelain bowl is decorated with kitty cat designs and it's dishwasher and microwave safe, as well as lead free. The highly-rated bowl stands about 4 inches tall.
Christmas cat bed
Twas the night before Christmas and not a creature was stirring, not even a cat. Why is that? Because he's a lucky moggie slumbering away in one of these cat-tastic beds!
Beds can be wonderful Christmas gifts for cats.
Twin Critters – Handcrafted Cat Cave Bed
This luxurious, high-end, Twin Critters felted merino wool bed cave comes with the highest of ratings and expressed owner satisfaction.
The versatile bed comes in four colors and is made in Nepal. The soft, natural fibers will keep kitty warm in winter and cool in summer, and can even be used to ensconce newborn kittens.
little dove Pet Teepee Dog(Puppy) & Cat Bed
My cat Fuzzy has this teepee and he spends half his day in it! I think your cat will get a kick out of it, too.
It is a cute little dove teepee will make a great addition to any room.
And you can allow kitty to have a private nap simply by closing the washable, cotton canvas flaps.
It's two feet tall and comes complete with sturdy pine poles to keep it upright.
Yicat (Set of 3) Pet Bed
Do you have a little prince or princess who deserves the finest in slumber accommodations? Then look no further than this charming Ticat bed that features a crown emblem fitting of your feline royalty.
It's made of canvas and plush material, but best of all it comes complete with a tiny pillow and matching blanket. Sleep never looked so good!
MushroomCat Cat Face Ultimate Scratcher Lounge Bed
If you have more than one cat, how about a Mushroom Cat bed ? This quirky, fun bed is shaped like a kitty face, and has two sleeping levels.
Made from heavy duty corrugated cardboard that is 100% recyclable, the bed is strong enough to hold up to 50 KG.
Cute Christmas gifts for cats
Cats are naturally cute, so why shouldn't their toys and trappings be, too? We thought you'd agree, and rest assured, any one of these choices will fill your cuteness quotient.
Munchiecat Sushi Cat Toys | Nigiri Catnip Toys
The cuteness is over the top with this "sushi" pack of plush toys. Resembling little itty bitty sushi rolls, they're made with wool and stuffed with polyester fiber.
Each has a delectable catnip insert or hidden bell to keep kitty entertained for hours. When not in use store in the cute bamboo print box and display as a conversation piece!
Pearhead Pet Paw Prints Dog Or Cat Paw Print Holiday Keepsake
Aw, this cutie pie Pearhead gift will be the first ornament on the tree each year!
Simply press your cat's paw into the air dry material, and you'll have a forever impression of your little one's paw print.
It's 100% safe for pets and includes a green and red ribbon for hanging.
Amazing Cat Roller Toy By Easyology Pets
This cute, space-age looking Amazing Cat Roller toy has three levels for kitty to chase balls.
It's made with durable ABS plastic and comes in either black or white.
K&H Manufacturing Kitty Sill Deluxe with Bolster
Give your moggie the gift of the great outdoors with this sturdy, decorative K&H Manufacturing window perch.
Cats up to 40 pounds can luxuriate on the cat-print seat, and there's no assembly required!
The cover comes off for machine washing, and the seat has a 1 year warranty.
Funny Christmas gifts for cats
Do you think the best Christmas gifts for cats are funny ones?
Is there anything funnier than cats in costumes? Nope, and here are three of the best ensembles for you to choose from!
Namsan Puppy and Cat Cosplay Santa
Want to dress your feline up as Santa Paws this year? This adorable Namsan red, hooded Santa suit is made of soft cotton and attaches with Velcro strips.
Any kitty would look cute as a button in this full-body suit.
Prymal Comfort Santa Dog Cat Costume
If you think that your cat wouldn't enjoy wearing a full-body outfit, how about treating him to a cheery Prymal Comfort Santa hat?
This bright red cap has a puffy pom-pom and adorable white scruffy beard. It fits average size cats and uses a Velcro attachment.
Pet Krewe Lion Mane Costume for Cats & Dogs
Your cat will have a rooooaring good time playing king of the jungle in this fluffy Pet Krewe lion's mane hat. It will fit comfortably on cats up to 15 pounds and has a Velcro strap to fit snuggly on your little Simba's head.
Best of all, a portion of each purchase price is sent to one of several New Orleans animal shelters!
Cat Christmas presents
Are you still not sure what to put under the tree for your favorite feline? This exceptional, one-of-a-kind gift is sure to do the trick!
Catit Flower Fountain
Thousands of cat parents have given top marks to this cute Catit Flower kitty water fountain.
The re-circulated oxygenated water ensures that your cat always has fresh and clean water.
It comes with its own filter and pump, and a cute flowery design allows for three different water flow settings.
Best Christmas Gifts For Cats
We hope you enjoyed our reviews of the best Christmas presents for cats.
Do you have a gift you'd like to recommend? Let us know all about it in the comments section below!
Free Updates For Cat Lovers!
Our cat care articles, tips and fun facts, delivered to your inbox