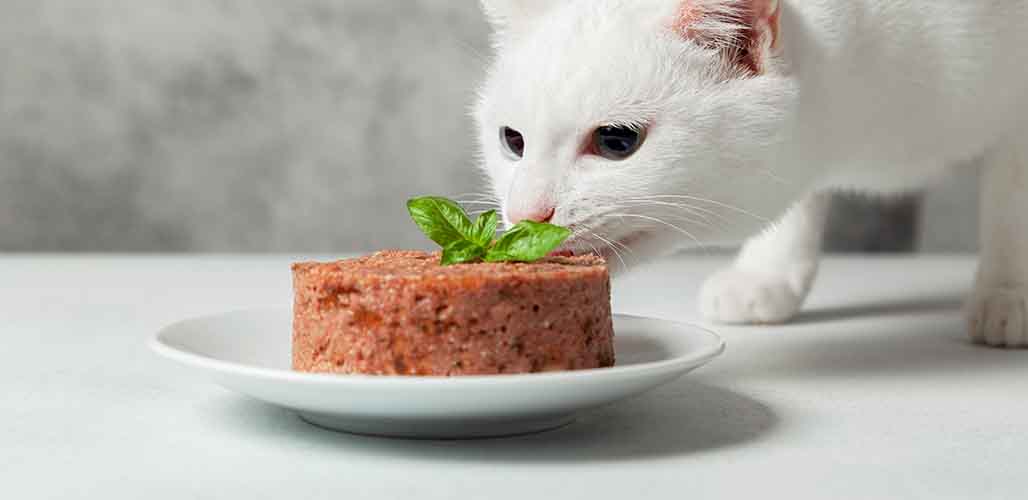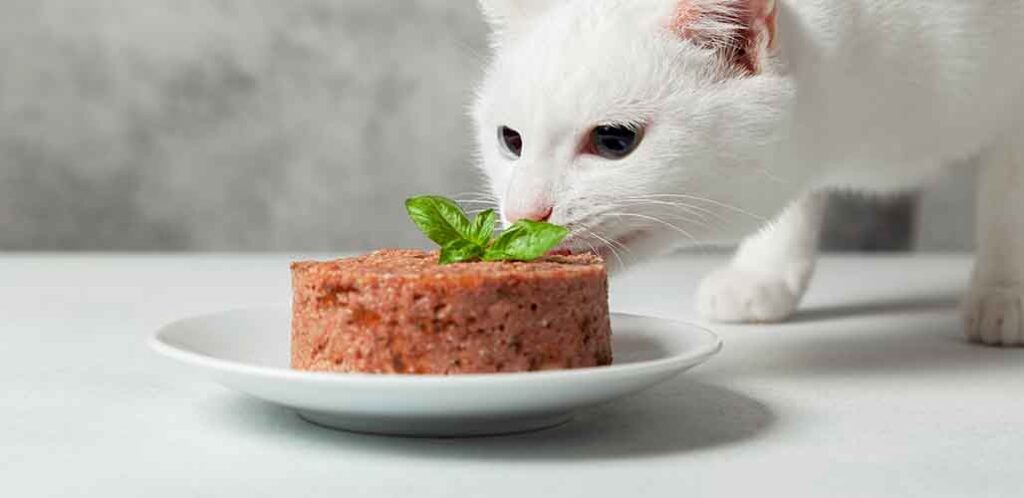 Do cats like warm food? My cat won't eat just anything I dish up for them – and most owners complain of similar experiences. Cats rely on their sense of smell to decide whether the food is worth digging into or not. If they don't like the aromas wafting out of the food, they'll reject it and ask for something more appealing. But before you throw out the rejected cat food, you can try a few things to increase its appeal, such as warming it up! In this guide, I'll explain why some cats prefer warm food and how to warm up refrigerated cat food safely.
Contents
Do Cats Like Warm Food?
Cold food doesn't release a lot of odors. When you pull out a plate of cold pasta from the fridge and give it the smell test, you'll hardly detect any of the hidden flavors. But when you warm the refrigerated pasta, that's when the delicious flavors are released and make your mouth water.
Cats share this same quality with us. Their nose is the gatekeeper of their stomach. When you warm the refrigerated wet food, the cat will be able to tell whether it's tasty enough to eat it or not without having to sample it first.
Is There an Ideal Temperature for Cat Food?
Cats in general prefer food that is the same temperature as their body between 101 to 102.5 degrees Fahrenheit. Overly cold food can be unpleasant against your cat's teeth and when settled in their stomach.
At the same time, hot food is not to the cat's liking either. While some cats could stomach cold food, the majority would turn away from food that is too hot. And, if too hot, you can put your cat at risk of burns. So if you're trying to warm up refrigerated cat food, bring it up to room temperature and serve it to the cat. If you have heated it too high, you will need to let it cool again before serving.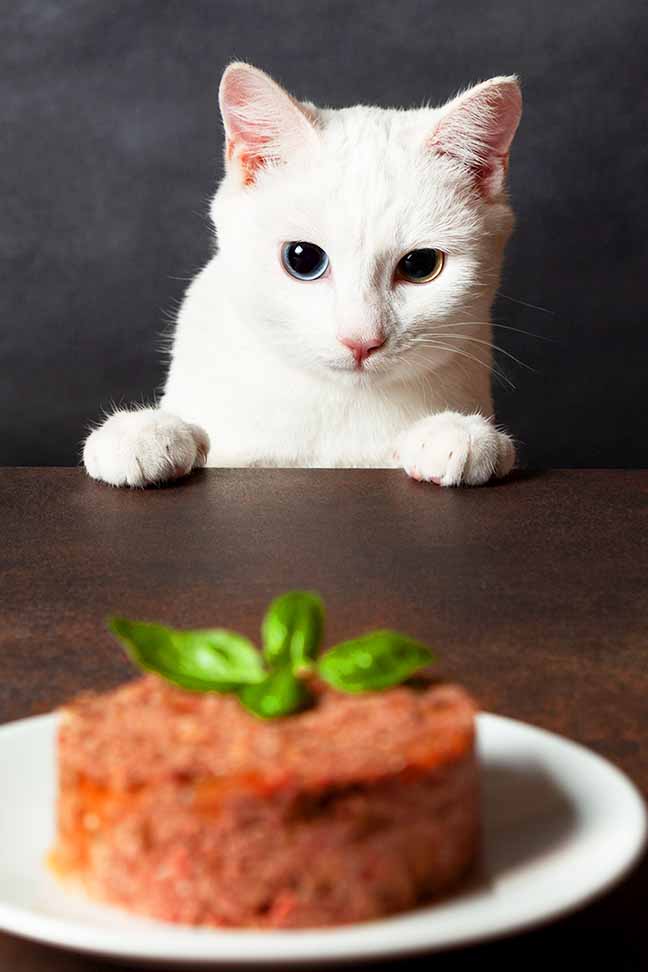 Can I Warm Cat Wet Food?
Yes! You can warm up your kitty's dinner for them, making it smell delicious and much more appealing than it is at room temperature or chilly. This is especially true of wet food. When you warm wet food, you make it easier to eat and a lot tastier than the food you take out of the fridge.
But don't get the wet food too hot, otherwise you'll risk burning your cat's mouth and paws. A good rule of thumb is to bring the cold wet food to room temperature. This will release the flavors and keep it as close to the cat's body temperature as possible. Test it with your knuckle to check it isn't too warm.
Meanwhile, some cats will happily eat cold wet food without making a fuss about it. In that case, you won't have to worry about heating up the wet food or bringing it to room temperature.
Can Cat Food Go Bad If You Heat It?
When you are heating food up or keeping it warm you do need to think about food safety and hygiene. Remember that not only do cats like food at body temperature, germs thrive best at this temperature too. Especially in moist food.
So yes, canned cat food or wet cat food from pouches, can go bad if kept warm for more than an hour or two. It's important not to leave luke warm food around for long periods of time and safest if you heat your cat's food immediately before they eat it. And then discard the leftovers afterwards. Reheating food multiple times is not a good idea.
How to Warm Up Cold Cat Food
As every cat parent knows, it's not easy to heat up refrigerated cat food. If the food is too hot, your cat will turn away and never go back to it even after it has cooled down. So how do you warm up the wet food just right? Here are three ways to bring refrigerated wet food to the temperature your cat prefers.
1. Microwave
This is the easiest way to bring a cat's food to the right temperature. Remember that you need to heat the food to room temperature. To do that, place the wet cat food on a plate and add a few drops of water to help soften it a little. Set the microwave to the lowest temperature setting and turn it on for 3 to 5 seconds. Stir the food to even out the temperature across the plate.
Before you serve the food, dip your finger or knuckle in it to test how hot it is. If the food is too warm, leave it on the counter for a while to cool down then offer it to your cat. Stir it again to make sure it isn't too hot in the middle.
2. Add Hot Water
Since cat food is already wet, adding some hot water to it won't dilute the taste or texture of the food. Experiment with how much water to add to keep the original flavors of the food and avoid making it too syrupy. In most cases, you'll just need to add about one tablespoon of hot water to the food in the bowl. Stir the food to mix the hot water thoroughly. Don't use boiling water since that would make the food too hot. Just use warm water and mix the food well.
3. Heat the Food in Water
This method is more time consuming than using the microwave but it maintains the food's consistency and flavors. Keep cat food in its packet and place the whole packet in a bowl full of hot water. It will take between 2 to 3 minutes for the wet food inside to become warm. Empty the packet in the bowl and stir it a little to mix the food and even out the temperature. Test it with your finger before serving it up.
Will a Sick Cat Prefer Warm Food?
If your cat isn't feeling well, they might not be as eager to chow down on their usual food. But, this isn't something to ignore. Not eating can lead to some serious health problems in cats, so you need to try and find something appetizing for your unwell kitty. Heating up their food is one of the best ways to try and make their wet food more appealing.
Of course, whenever your cat is sick, it's always best to speak to your veterinarian before trying anything. But, don't wait too long to speak to your vet if your cat has stopped eating. Even letting your cat go a day without food can lead to some serious issues.
Do I Need to Refrigerate Cat Food?
If you use wet cat food, you'll need to refrigerate the can after opening it. Wet cat food contains perishable ingredients that would go bad when left at room temperature. This can lead to food poisoning if you serve it to your cat later. To preserve the food's integrity and taste, you'll need to refrigerate it.
Unopened wet cat food doesn't always need refrigeration, because bacteria cannot penetrate the sealed cans and packets. You can keep it at room temperature until you open the package. As for dry cat food, it doesn't contain moisture and won't go bad as quickly at room temperature. Just keep it out of the cat's reach and serve it out of the package at meal time. Store it in an airtight container for the longest lifespan of the food.
Cat Food Options that Don't Need Heating
Heating wet cat food can be a hassle. Especially if your kitty is hungry and you have to serve the food right now. Some cats will be happy to eat their wet food at a cold temperature. But, you can also consider some other options. Here are other food options for your cat that are easier to keep and serve.
Dry Food: Introduce your cat to dry food slowly until they accept it. Then you can phase out wet food and serve your cat only dry food.
Small Portions: Buy wet cat food in small meal-size portions so you don't have to refrigerate the leftovers for the next meal. To feed your cat, open the small package, empty it in the bowl, and throw the package in the trash. No need to heat up the food, since it's already at room temperature!
Do Cats Like Warm Food? A Summary
Cats prefer wet food that is close to their body temperature between 101 and 102.5 degrees Fahrenheit. Heat the refrigerated cat food in the microwave for 4 to 5 seconds or add a few drops of hot water to the food and stir it. Dry cat food doesn't need refrigeration until it's opened, so smaller portions often won't need heating!
More Feeding Tips and Advice
Transitioning from kitten to adult food
References