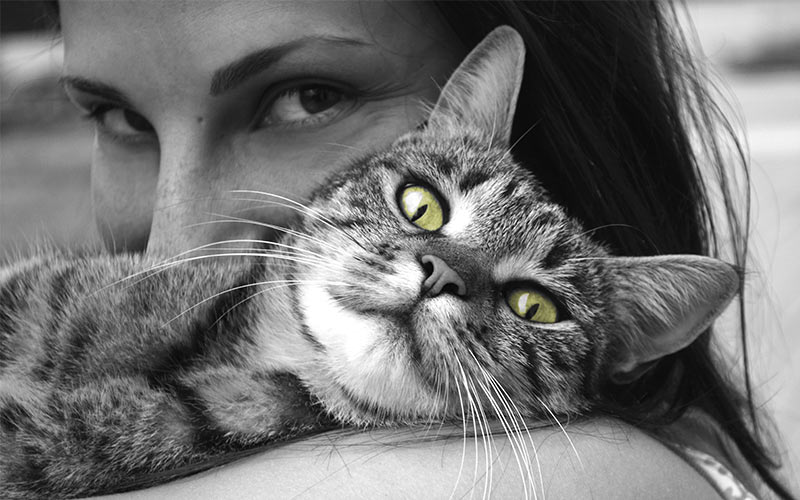 I know I love my cat. But does my cat love me? Well, in this article we are going to find out the answer to that burning question!
Living with cats has its rewards, and its challenges.
Some days, your cat can make you feel like the most beloved human on the face of the planet.
On other days, they can make you feel like the lowest form of can opener
Good only for serving food and little else!
Not all cats are this hot and cold, but they certainly get a bad reputation as a species.
And are often depicted as being aloof or disinterested in their owners.
But is this true?
Do cats love us, and if so, how do we know?
Luckily, scientists and veterinary behaviorists have the answers!
Do cats feel love?
The first step along the road to finding out the answer to does my cat love me, is to look at whether cats can love at all!
We can't really know what animals feel.
For that matter, it is hard enough to know what another human feels, let alone what your cat might be thinking or feeling at any given moment.
This is where scientists have long struggled.
It is hard to measure love, and far too easy to anthropomorphize animals based on our own emotions.
Carl Safina, in his New York Times bestselling book, Beyond Words: What Animals Think and Feel, argues that human brains are animal brains, and therefore it is only reasonable to assume that animals share many of the emotions we do – including love.
Dr. Allen Schoen, author of the book Kindred Spirits and a veterinarian and behaviorist, has more to say on the subject.
"I've been studying animal behavior since 1974 and can say without a doubt that cats can and do bond with their favorite people."
But assuming cats do feel love, how do they show it?
How do cats show love?
Part of the reason so many people wonder if their cats love them, is because cats show love differently than dogs.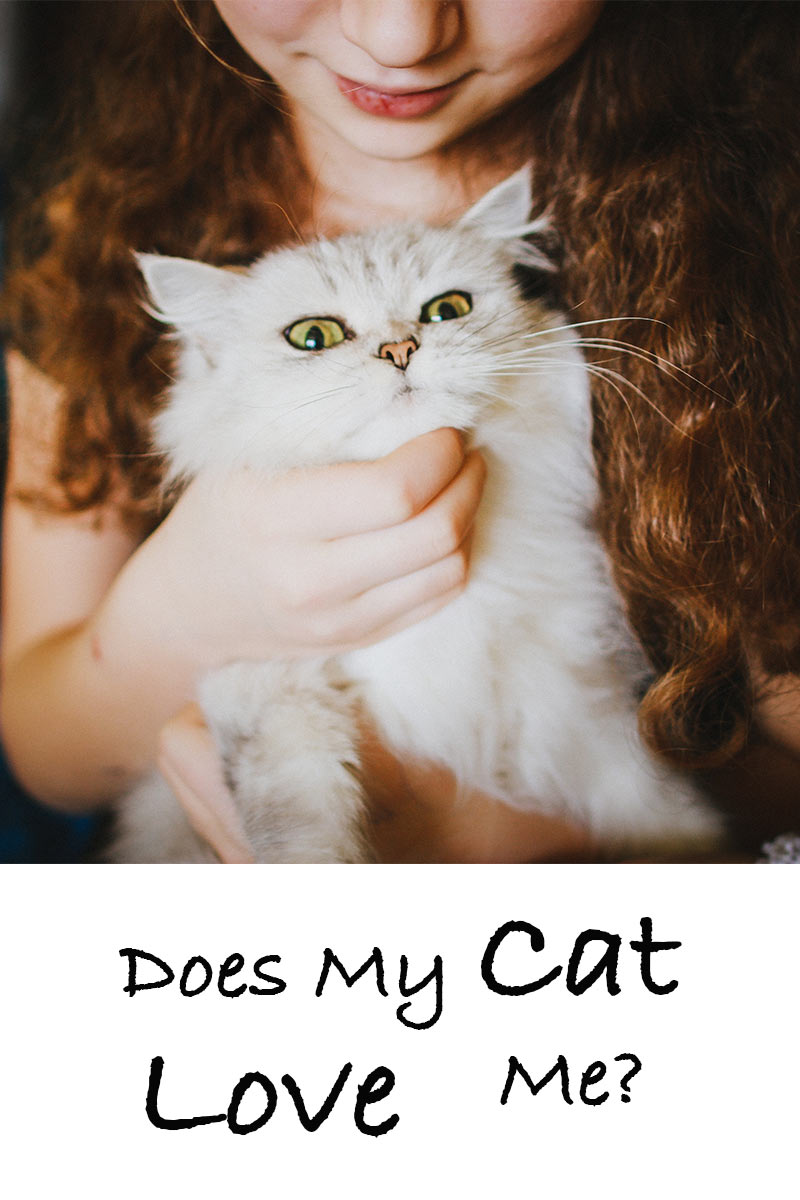 It is easy to know when a dog loves you. They wag their tails, follow you around, and in general go to a great deal of trouble to please you.
Cats are a little different.
Cats show affection in a variety of ways that you might not know to look for.
Each cat is unique.
Some cats might be affectionate towards anyone who walks into the door, while others are more reserved and may take longer to show love to their owners and friends.
It may even take you a little while to learn to recognize the signs a cat loves you, especially if you are new to cat ownership.
Signs your cat loves you
Does my cat love me? Let's look at the signs!
Here is how to know if your cat loves you based on their body language.
One of these gestures is the head butt. When your cat gently presses her forehead against you, she is showing you a very special form of affection that releases endorphins in both you and your cat.
Another way cats show love is by rubbing their cheeks against their turf. Whether that is a couch, your hands, or your legs. Sure, this may mean she considers you her territory, but there are plenty of humans who feel the same way about their loved ones.
You might associate a twitching tail with irritation, and you would be mostly correct. However, if your cat saunters up to you with a lazily hoisted tail that twitches at the very tip, he is actually communicating affection.
Where some dogs may shy away, cats are all about eye contact. Don't be intimidated if your cat has a habit of staring at you and blinking slowly. She is not sizing you up for a snack, but is instead telling you she loves you. You can respond by blinking softly back.
More Signs Of Cat Love!
Cats purr for a variety of reasons, among them contentment and love. As a cat owner, you will learn to tell the difference between your cat's purrs and that special, deep rumble that really does mean "I love you, human," in cat.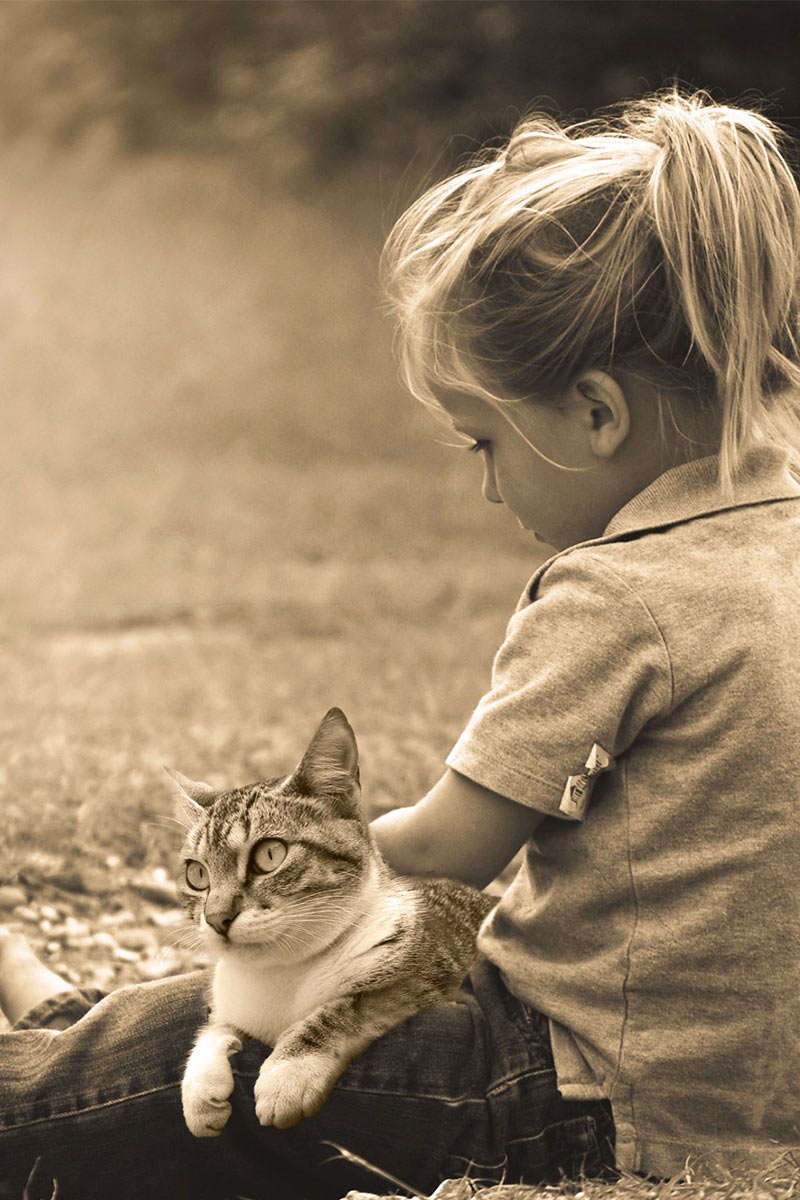 Unless you live in an apartment the size of a closet, there are lots of places your cat can nap that are not your lap. The fact that he chooses to sit by you is a gesture of affection. After all, if he didn't like you, he would probably stick with the sunny windowsill or that expensive cat tree you bought him.
Cats really do need us – pun intended – which they show by kneading us with their paws. Kneading, making biscuits, whatever you call it, it is a sign of kitty love.
If you need further proof that your cat sees you as one of her family, there is no better example than grooming. If your cat licks your hair, ears, eyelids, or any other part of you, feel honored. Cats only groom other cats they like and trust, and you are no exception to these strict rules.
Meowing is not the only sound cats use to communicate. Cats also use a trilling sound to express friendly overtures, and you can even trill back to show her that you care.
Last but not least, those dead mice, birds, and lizard bits your cat leaves you really are a gesture of affection, so you may as well get used to it.
Does my cat love me?
But how do you know if your cat loves you more than other people, or tuna fish, or catnip, or the many other things she appears to enjoy? Do cats love you at all?
The best way to find out how your kitty friend feels about you is to watch out for the signs that your cat loves you listed above.
If your cat is exhibiting one or more of these behaviors, chances are he is more than fond of you.
If he is not exhibiting these behaviors, you may need to be patient. It could take you a little while to learn to accurately identify these signs, and it could also take your cat a little while to warm up to you.
Some cats have behavioral issues like biting and clawing that can make you feel unloved.
These issues do not necessarily mean that your cat doesn't love you. In fact, in some cases biting can mean the opposite, but this undesirable behavior may require some training for both you and your cat so that you can learn to show affection in other ways.
If your cat has behavior issues, consult your veterinarian or a behaviorist to see what you can do to improve your relationship.
How to make your cat love you?
Have you read the above signs and are now worried that the answer to the question does my cat love me, is no?!
Well, don't panic.
Here is how to make a cat love you to put these fears to rest once and for all.
Cats, like most animals, do not enjoy being forced to do things they are not comfortable with.
Forcibly placing a cat on your lap, or picking him up against his will, is not a great way to show a cat that you are a person worthy of love.
Instead, take some of veterinarian Dr. Mary Becker's advice on how to turn your cat into a lap cat.
The first thing he suggests is keeping calm. Sudden movements, loud noises, and aggressive actions are off putting to cats, so act calm around your cat. This will help her feel more comfortable around you.
Cats seem to think that staring is rude. Gently blinking at your cat, on the other hand, communicates affection and love. Think of it as a kitty kiss without the raspy tongue.
Cats can be particular about the way they like to be pet. Don't pet your cat the way you think she wants to be petted. Instead, observe her carefully to see what she likes, and mold your interactions to suit her tastes.
Gentle grooming is a great way to bond with a cat, as long as you have enough of a relationship to get close to him. Cats show trust and affection through grooming, which you can use to your advantage.
If all else fails, bribery is an option! Keep delicious kitty treats on hand, unless the cat in question is overweight, and offer tasty morsels to your cat until he decides that you are the bearer of all good things.
Does my cat know I love her?
So, we've looked at whether my cat loves me. But does my cat know I love her?
If you've ever asked yourself this question, you are not alone.
People have a hard time understanding animals, but animals seem to understand people very well, according to Carl Safina. He argues that animals read our body language and intuit our emotions, sometimes before we even realize what we are feeling.
Of course, this also means we can send mixed signals.
The good news is that if you love your cat, your cat probably knows this. Humans are pretty transparent, despite what we might like to think.
But what about those mixed signals?
Don't worry. There are ways you can tell your cat you love them to strengthen your relationship.
How to tell your cat you love them
You can use what you now know about feline body language to tell your cat that you love them, beginning with these tips.
Move calmly around your cat to avoid startling them. This is polite cat etiquette.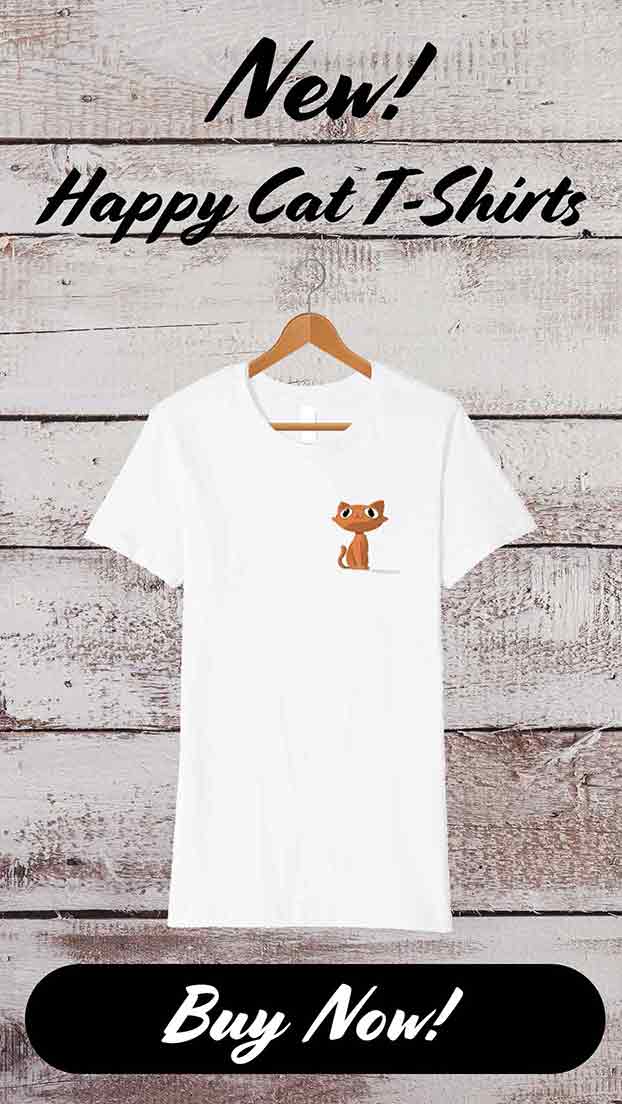 Blink slowly and softly when you make eye contact to show them that you care.
Provide them with tasty treats now and then.
Groom them with a brush they really like, and take the time to find a brush they love and learn their favorite spots to be brushed.
Wait to pet your cat until your cat comes to you for pets. Consider this kitty consent, and as with brushing, learn the places she likes to be pet and do not force pets on her.
If you do all of these things, your cat will know without a doubt that you love her, and will begin to show you affection in her own way.
If your cat still doesn't seem to want to be near you, it might be time to consult a feline behaviorist or veterinarian to get to the root of your relationship problems.
Do cats love their owners?
Scientists have at last provided us with some answers about the ultimate question: do cats love humans?
The answer, according to their research, is a definitive yes.
A study performed by researchers at Oregon State University measured cat love. The researchers gave 38 cats the option to choose between a toy, food, an interesting smell, and human attention.
Thirty-seven percent of the cats chose food, eleven percent preferred toys, and one cat was preoccupied with what we can assume was a particularly fascinating smell.
The other half of the cats chose humans over all other choices.
Yes, you heard that right. Half of the cats preferred humans!
This may come as a surprise to readers who have spent years wondering if cats actually loved humans, but it might not surprise those of us who have close bonds with our feline friends.
Either way, the empirical evidence is in, and it looks like cats do enjoy spending time with people after all.
Free Updates For Cat Lovers!
Our cat care articles, tips and fun facts, delivered to your inbox
Further Reading and Resources
Bakalar, N. "Empirical Evidence: Cats Love People." New York Times. May 2017.
Becker, M. DVM. "5 Ways to Turn Your Kitty Into a Lap Cat." VetStreet.com. April 2015.
Moore, A. "10 Ways Your Cat Shows You Love." VetStreet.com. Nov 2012.
Safina, C. Beyond Words: What Animals Think and Feel. Picador. 2015.
Vitale Shreve, K. R. et al. "Social interaction, food, scent, or toys? A formal assessment of domestic pet and shelter cat (Felis silvestris catus) preferences." Behavioural Processes. March 2017.
Free Updates For Cat Lovers!
Our cat care articles, tips and fun facts, delivered to your inbox