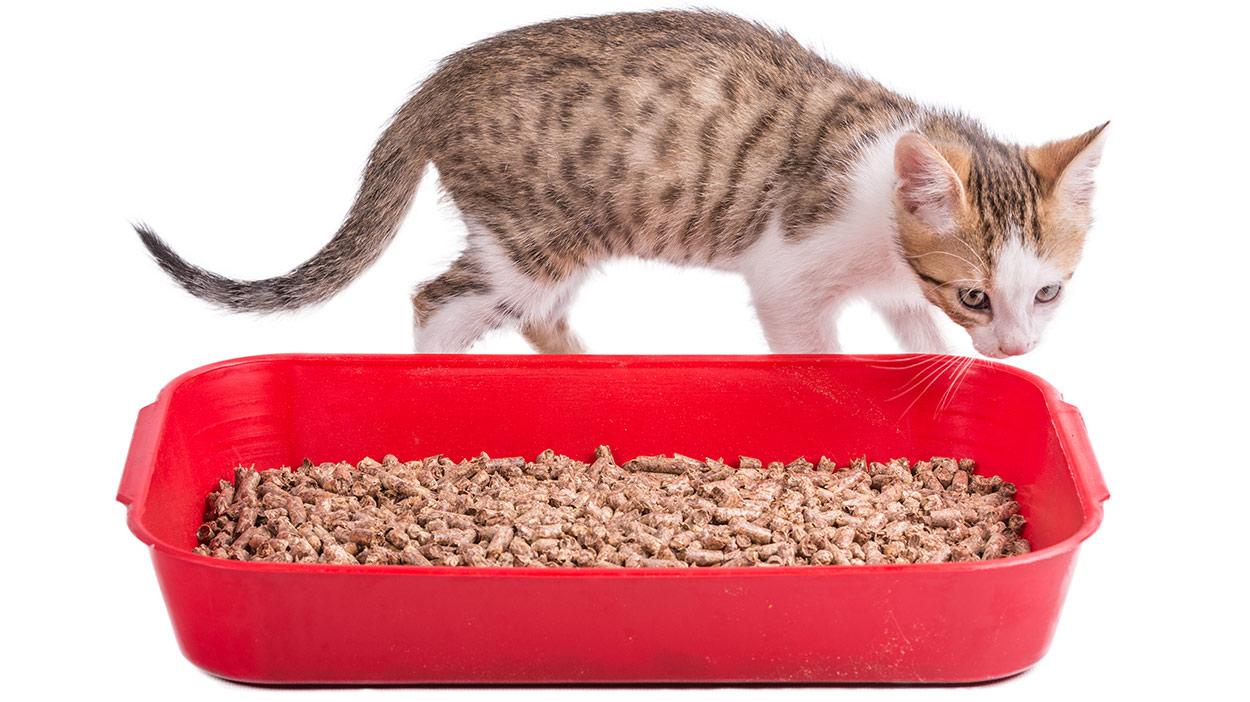 If you're new to owning a cat, you may be surprised to find that choosing the right dust free cat litter can actually be a tough choice to make!
You obviously want something that's easy to clean out, and that doesn't make your house smell horrible
And you might also want to opt for something that is dust free.
Dust free or low dust cat litter might not be the first thing you think of when choosing your cat litter, but it has a number of advantages.
This article discusses why you might choose a dustless cat litter, the pros and cons of dust free litters, and which brands make the least dusty cat litter!
Why choose dust free cat litter?
There are so many types of cat litter, choosing the right one can seem like a daunting task.
Dust free cat litter can be much better for both our health and our cat's health, which is just one of its benefits.
So before you decide whether dust free cat litter is really right for you, let's look at some of the pros and cons of choosing a cat litter without dust.
Benefits of dust free cat litter
If your cat uses cat litter, you'll know that it can be quite a messy business.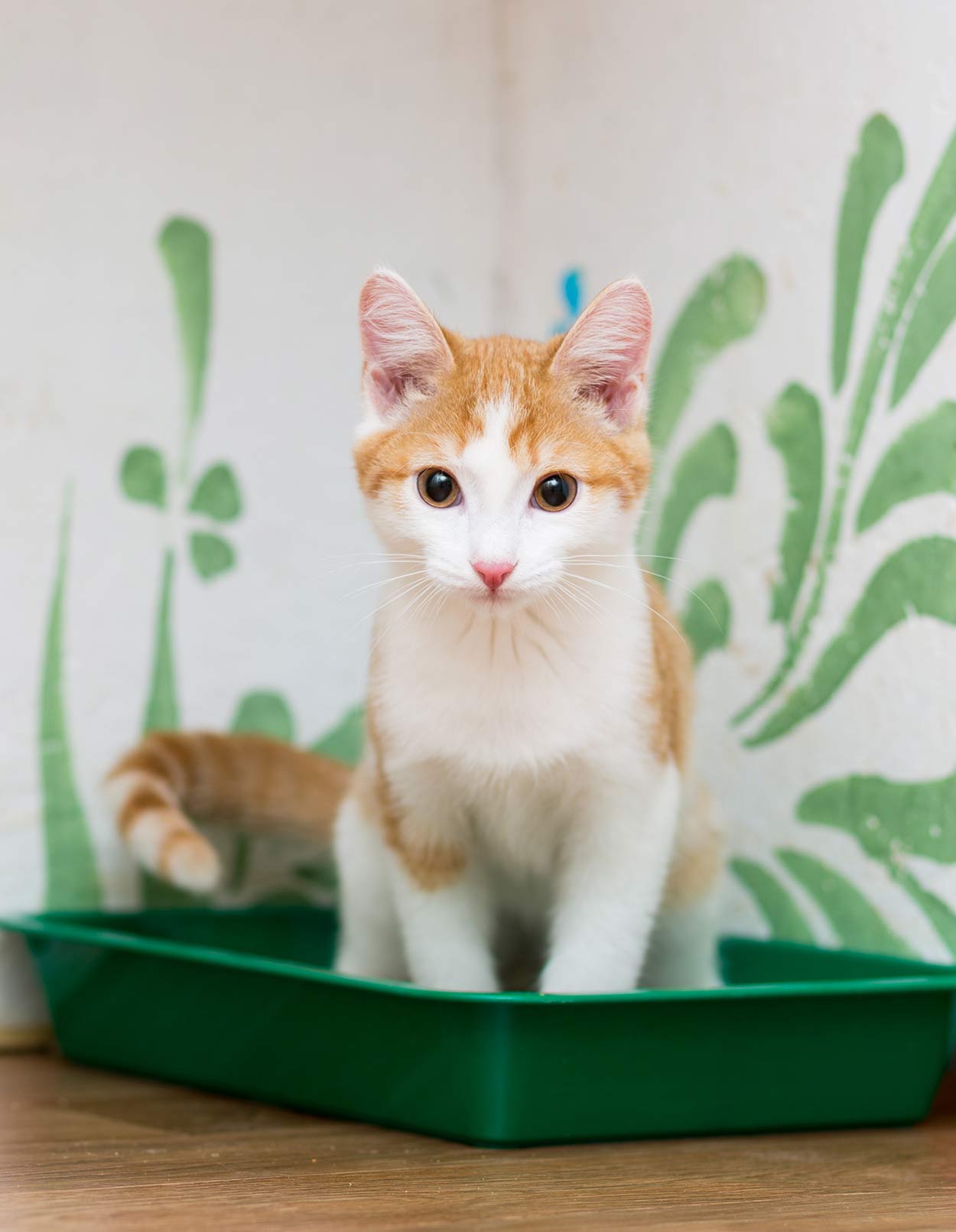 Cats tend to dig around and shuffle about quite a lot when using their litter trays
They also usually like to cover up what they leave in their trays.
This can lead to litter being thrown about all over the floor around your litter tray, especially if you have an open-top tray.
And the mess can be even worse when your cat litter has lots of tiny dust particles!
These dust particles easily stick to cats' feet and then get walked all over the house. Which makes cleaning up even more of a hassle!
Health benefits of low dust cat litter
Cat litter with high levels of dust can also be quite dangerous for cats. Especially young kittens, who will inhale the dust every time they use the litter tray.
Some cats even develop health problems like asthma or allergies.
This means they can be sensitive to the dust in some cat litters, which can provoke or worsen any respiratory issues they have.
If your cat suffers from health issues like this, high dust cat litters could be aggravating their condition. The particles can cause them to cough, wheeze, or just have general difficulty breathing
Asthma in cats works in a similar way to asthma in humans.
So a dusty cat litter might exacerbate your own breathing problems too!
Dust free cat litters are a good solution to this problem.
Dust free clumping cat litter
Clumping cat litter is a hugely popular choice amongst cat owners nowadays, as it can make cleaning after your kitty a lot easier.
Low dust clumping cat litter will clump when your cat uses it, making it easy to scoop out waste.
This can help with odor control, which can be an issue when choosing a no dust cat litter.
However, you might struggle to use odor controlling sprays if you have a clumping cat litter. That's because the liquid in these sprays will cause the litter to clump!
Clumping cat litters also trap liquids in your cat's tray before they seep to the bottom.
This means you don't have to scrub the entire tray every time you clean it to keep your home smelling fresh.
Arm & Hammer Clump and Seal Platinum looks great.
This formula is 100% dust free, and with hundreds of positive reviews it seems like a safe bet.
Dr Elsey's Clumping cat litter is 99.9% dust free.
This Cat litter contains no perfumes or deodorants. This means there's nothing to irritate a sensitive cat. Th reviews are outstanding as well. Almost 10,000 people rated this product 5 stars.
Boxiecat Premium Clumping Clay Litter is another one to consider.
This ones also 99.9% dust free, so you and your cat can breath easy. It's a clay-based formula but it keeps control of the dust with a clumping agent. Hundreds of satisfied customers love this litter!
Natural Dust Free Cat Litter
Some of us want to keep our cats away from clumping cat litter. Whatever the reason, you still have options. A lot of natural litters are dust free with no clumping agents.
Like this great option from Catspot, Coconut cat litter.
Just 5 pounds of this wonder material has the absorbency of 20 pounds of clay litter. It's dust free, and contains no clumping agents.
Smartcat All Natural Litter has a surprising main ingredient.
This litter is made entirely from grass. It claims to out clump clay any day! The reviews are great for this all-natural alternative.
Choosing the best dustless cat litter
Checking reviews is a good place to start before you buy any litter.
For instance, one of the most common issues people have with pine litter is that their cats don't like the smell, and therefore won't use it.
Rather than trying this one first, you might prefer to try a different dust free cat litter that your cat is more likely to use!
And always buy the smallest bag size available at first – just in case it doesn't work out!
Cons of dust free cat litter
If your cat does experience health problems associated with dust in cat litters, the pros really do outweigh the cons.
However, there are some cats that simply won't take to dust free litters, and this may cause you to use one with a higher dust content.
Dust free cat litters can be more expensive than normal cat litters.
They can also be less effective at odor control.
However, if odor is something you're worried about, we've got some good odor controlling products to suggest which you can buy in addition to a dust free litter.
Cat litter odor control
Even the best low dust cat litters can be bad at controlling odor.
If your cat does suffer from asthma or other breathing problems aggravated by the dust found in cat litter, you might feel like you're trapped with a smelly litter box!
However, there are so many solutions to a smelly litter tray.
Below, we've chosen some of the best available products that you might want to choose from.
First up is the NonScents odor control powder.
To use this odor controller, simply sprinkle it over your litter
You should top this powder up whenever litter is changed, and scoop out solids to ensure a minimal odor.
The smell of this powder is not strong, especially after it has been on the litter for over an hour.
This powder is extremely highly reviewed, and few customers have reported problems with the litter when using it correctly!
If you want something that requires a little less work, perhaps an air freshener is a better option.
Air fresheners are great, as you can simply place one in the target area, and it will replace the bad odor with a fresher one!
The Citrus Magic Pet Odor air freshener has received hundreds of good reviews.
This air freshener comes in two scents: Fresh Citrus or Pure Linen, to replace the bad odors from your cat litter tray.
These fresher scents are said to last up to 6 weeks, meaning you could save money on an odor controller like this.
A third popular option is the NonScents Pet Odor Remover Spray.
If you're looking for an odor eliminator rather than an odor-masker, this is a great option!
This is great for kittens who are still learning how to use a litter tray, as it can be used on any surface.
However, it isn't the best choice if you've chosen a clumping dust free cat litter.
Because this spray is water based, spraying it on low dust clumping cat litter will simply cause the litter to clump up straight away.
This will prevent your cat from using it as easily, and will prevent any new liquids in the litter tray from clumping.
The final product we're recommending for odor control is the Angry Orange Pet Odor Eliminator.
This product is hugely popular and highly rated, although it is slightly more expensive than the other products suggested.
This displaces the bad odors from the cat litter tray with a citrus scent that has become highly popular with cat owners!
This can be purchased in a spray bottle that is easy to use.
Although you may have similar issues using it on clumping litter, you will be able to spray it around the litter tray to eliminate the odors.
Despite the rather large price tag, a little of this product goes a very long way, and so you do get your money's worth!
Choosing the best dust free cat litter for you
Overall, if you're struggling to find the best cat litter, a dust free cat litter can be the right way to turn!
If you know your cat has asthma or another respiratory problem, it is best to choose a dustless cat litter.
Not only can this improve your cat's health, but it can also have other benefits, like being easier to clean!
These litters can have a worse odor control than other litters, but you can find a multitude of different odor control products for a reasonable price to overcome this.
If you're looking for the best dust free litter, you should stay away from clay-based litters, but may need to experiment with alternatives before you find one that your cat loves!
Have you used dust free cat litters ?
How did your cat take to them?
Did you notice an improvement in your cat's health or happiness using its litter tray?
Tell us in the comments, and reccommend your favorite brands!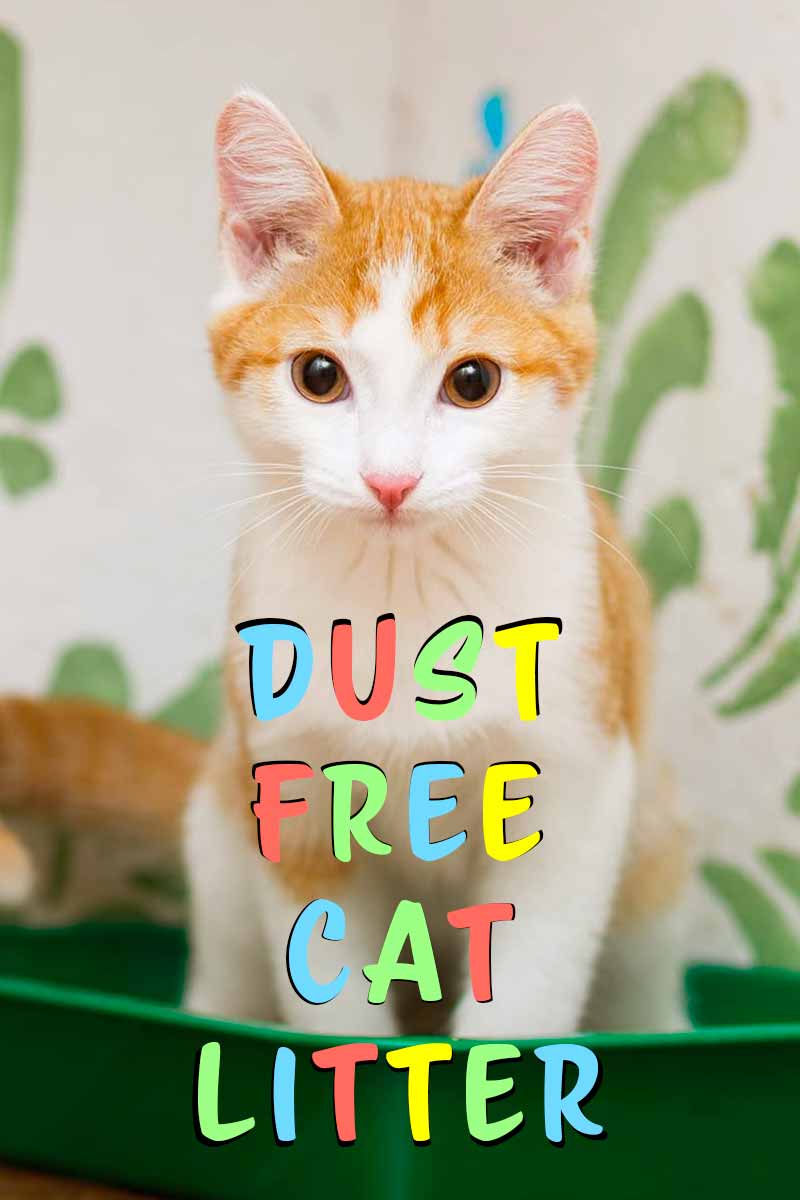 Sources
Philip Padrid, 'Chronic Bronchitis and Asthma in Cats', Current Veterinary Therapy (2009)
A. W. Musk, H. W. Greville and A. E. Tribe, 'Pulmonary Disease from Occupational Exposure to an Artificial Aluminium Silicate used for Cat Litter', Occupational and Environmental Medicine (2018)
Norris Reinero (et. al.), 'A Experimental Model of Allergic Asthma in Cats Sensitized to House Dust Mite or Bermuda Grass Allergen', International Archives of Allergy and Immunology (2004)
Amanda Yarnell, 'Kitty Litter: Clay, Silica, and Plant-Derived Alternatives Compete to Keep your Cat's Box Clean', Science and Technology (2004)