Is there any such thing as "fussy cat food" made specifically for picky cats?
It can be frustrating and downright worrisome when you've got a cat on your hands who is a picky or fussy eater.
Why do our cats insist on being so difficult when we are bending over backward to feed them the best?
Contrary to popular belief, not all cats are "divas", just turning their noses up at their dishes for no reason.
Usually, cats have a good reason for why they are being such fussy eaters.
So, if you're at the end of your rope with your fussy cat and his picky taste, don't worry. We've got you covered.
Today, we'll help you navigate your cat's taste buds in hopes to help you better understand why he eats one thing but refuses another.
All of these products were carefully and independently selected by the Happy Cat Site team. If you decide to make a purchase from one of the links marked by an asterisk, we may earn a small commission on that sale. This is at no extra cost to you.
What Are the Dietary Needs of Cats?
First, let's learn about the dietary needs of cats.
Wouldn't it be great if someone invented fussy cat food for the fussy cat?
Unfortunately, each cat may be fussy about what they eat for different reasons, so what works for one may not work for another.
But when your cat refuses to eat what is on his dish, it can become more than just an annoyance—it can become dangerous.
What are the nutrients your cat NEEDS to get from his diet?
The nutritional needs of cats can vary depending on age, size, and weight. However, most cats need a balanced diet rich with the following:
Animal Proteins
Cats are carnivores and need animal proteins in their diet such as fish, eggs, beef, chicken, and so on.
Protein provides an essential source of amino acids that help to regulate your cat's antibodies, enzymes, tissues, hormones, and pH balance.
While it is possible to get some proteins from plant-based foods, they lack taurine, which is an essential chemical found in animal proteins that your cat needs to thrive.
What's more, your cat's gut just isn't adapted to digest carbohydrates anymore – they'll never get more than a tiny fraction of the available nutrition from them.
Fat
While we often think of fat as being "bad" or "unhealthy" for us, the truth is very different for your cat.
In fact they need to get around 30% of their daily calories from animal fats.
As well as being a source of energy, these fats are rich in essential fatty acids, helping to improve vision, reproductive health, and even enhancing your cat's immune system.
Most of these healthy fats and essential fatty acids can be found in protein-rich foods like fish and other meats.
Minerals
Minerals play a vital role in the health of your cat's skeletal system, helping enzyme formation, pH balance, and oxygen transportation.
They also help with muscle tissue. Often times, mineral intake can come from the water your cat is drinking.
Vitamins
Vitamins help to regulate metabolism and help induce healthy growth in your cat.
Most essential vitamins will be found in your cat's food and come from animal proteins.
Fresh Water
Did you know that cats are naturally just not very thirsty?
This is because they tend to get most of their water intake through food.
Unfortunately, have a fussy eating cat, they may not be getting an adequate amount of hydration.
Furthermore, dry cat food can cause your cat to dehydrate quicker than wet cat foods, and your cat may not realize that they should drink more water.
If you believe your cat is becoming dehydrated, offer him wet cat food, as well as fresh clean water every day.
My Cat Is A Fussy Eater! Why?
Why are cats picky eaters? Are they just not hungry?
Do they simply not enjoy the food we are offering them?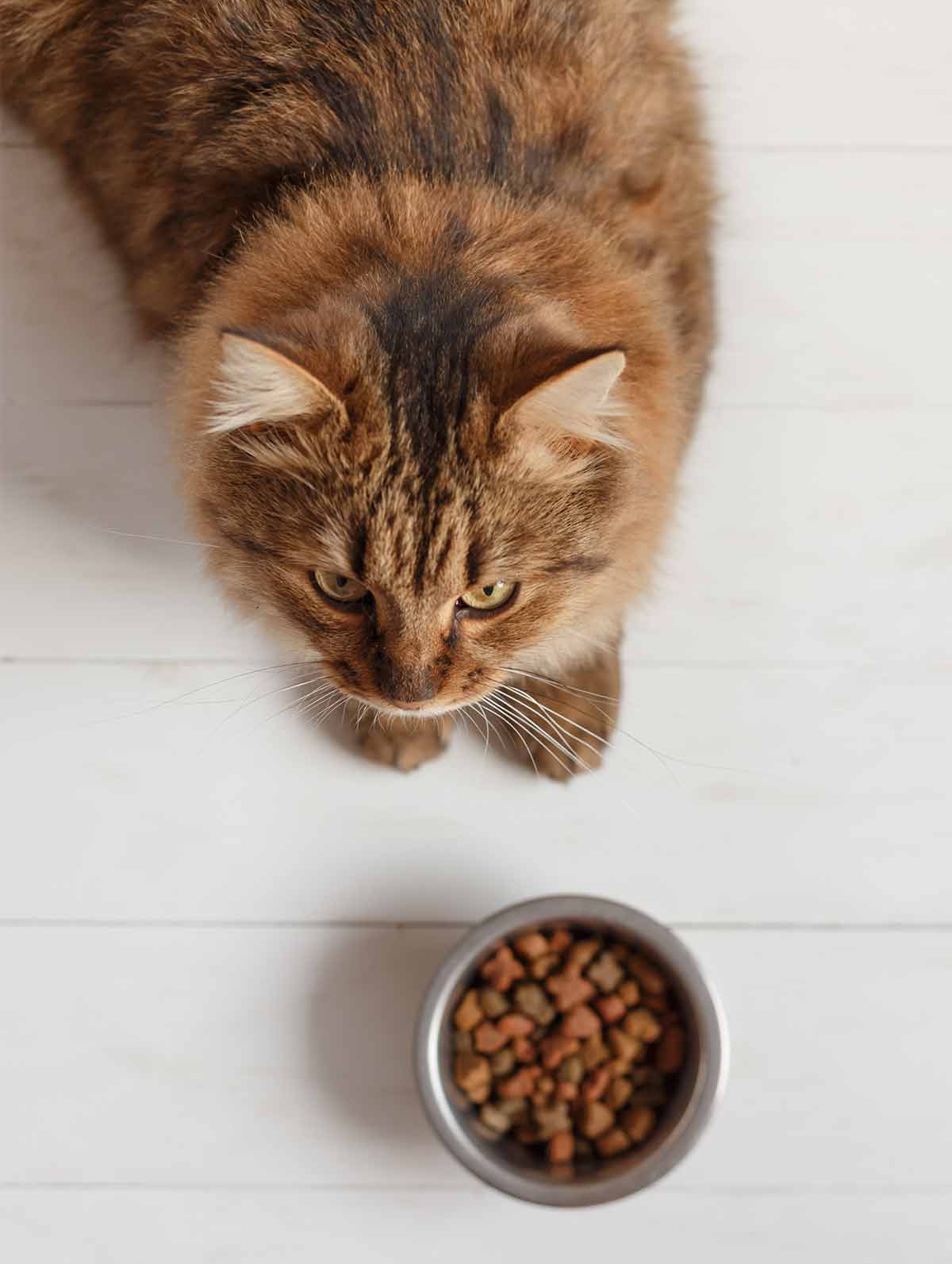 Many cat owners will pick foods based on aroma, texture, and the likelihood of a flavorful taste thinking that their cat will go wild over it and won't be able to help but scarf down their meals.
Contrary to that assumption, your cat has evolved to regard "tasty, aroma-rich" foods as secondary when it comes to nutritional value.
You see, recent studies have found that our cats prefer foods with a precise ratio of protein to fat.
Basically, this means that if your cat can't get an optimum amount of energy from proteins and fats in his food, he sees no purpose in eating it.
What To Feed A Fussy Cat – Taking Account Of The Primacy Effect
Young cats' appetites are also subject to the "primacy effect".
That is, the food preferences of kittens during weaning are strongly influenced by those of their mother.
If your fussy cat is still young, it could be that they're still hankering for the flavors of their kittenhood.
Why Are Cats Fussy Eaters? Neophobia
In other cases, sometimes cats come down with neophobia.
Neophobia, translates roughly to the fear of trying new foods.
It can cause your cat to seem like a picky eater when really, they were just so used to their old food they have no interest in trying anything new, no matter what the health benefits are!
This can be traced back to an instinct that comes from evolution. In the wild, trying a new food could lead to illness or death.
Neophobia in cats can be frustrating if you want to improve their diet, but it can also prevent them from eating potentially harmful things while they are away from your watchful eye.
What To Feed A Fussy Cat – The Monotony Effect
At the other end of the spectrum, some cats lose interest in food when their diet begins to feel monotonous.
These cats like to have their interest – and their appetite – piqued by variety of flavors or even textures.
Cat Food For Picky Eaters – Timing Is Everything
On the other hand, your cat may not be as picky as you think.
In fact, your cat could have other issues that just make it seem as though he is a fussy eater.
For example, your cat may be a social eater, meaning he'll want to eat when everyone else is.
Or perhaps your cat needs total isolation when he eats.
What To Do When You Have A Cat Who Is A Fussy Eater?
How do you ensure they are not missing out on any of their nutritional need?
And how do you get a cat who has neophobia to transition to a healthier cat food?
Perhaps your picky cat needs to gain weight, or maybe he needs to lose a few pounds.
Regardless of the reason, if you're trying to enhance your cat's diet but nothing you do seems to get your fussy cat to eat, you'll have to have some patience and consistency.
What Are the Best Options for Feeding My Cat Who Is A Fussy Eater?
If your cat is refusing to eat his dry food, switching to wet food may be your best bet in this situation.
You can try gently warming wet food a little too, to give it a stronger aroma and make it more palatable.
If your kitten isn't gaining weight as he should because he's a picky eater, ask your breeder what he was weaned onto and try to match the flavors.
When your fussy cat does eat something, make a note of the conditions.
Did he finally come to the food bowl after everyone had left for work? Or did his appetite get the better of him when he saw you having a sandwich?
Look for patterns which tell you that your cat values privacy or company to eat, and work these preferences into his schedule.
If your cat has been struck down by neophobia, stay patient and keep offering a little new food alongside their regular food until it becomes familiar.
And for the cat hooked on novelty, look for cat food multi packs containing several flavors, and keep things exciting by using feeder toys to involve all their senses at mealtimes.
Specialty Foods for Cats—Good or Bad?
What about the foods specially marketed towards fussy cats?
Cat food for fussy cats and cat food for picky eaters may come in a variety of types, with experts offering a surplus of choices to pick from, including canned foods, home cooked remedies, wet foods, and veterinarian advised foods.
How can you tell when you're paying more for high quality ingredients, and when you're simply paying over the odds for marketing bluster?
The answer is on the ingredients label – look for high proportions of animal protein and a protein to fat ratio of 2- 2.5 times as much protein as fat.
And remember, if you're worried that your picky cat needs to gain weight, or has a specific nutritional deficiency, always ask your vet for help!
Our Favorite Cat Foods for Fussy Eating Cats!
Here are some of our favorite cat foods for fussy cats.
These high quality meals have won over legions of feline fans.
Maybe there's something you haven't tried yet?
Wet Food For Picky Cats
Purina Friskies Gravy Sensations Variety Pack* – six different flavors in one box, nearly one for every day of the week!
Nature's Variety Instinct Original Grain Free Recipe Natural Wet Canned Cat Food* – high quality ingredients and high in animal protein so that every mouthful counts.
Purina Fancy Feasts Grilled Seafood Collection Variety Pack* – Purina are big hitters in the pet food industry, and they seem to be on to a popular winner with this wet food combo.
Hill's Science Diet Adult Wet Cat Food* – supplemented with extra vital amino acids so that picky cats with small appetites still get the best chance of good nutrition.
Dry Food For Picky Cats
BLUE Wilderness High Protein Grain Free Adult Dry Cat Food* – much-loved by cats and owners alike, this dry food has it all.
Taste of the Wild Grain-Free High Protein Natural Dry Cat Food* – balanced and delicious, this cat food has no shortage of fans among picky eaters.
Natural Balance Limited Ingredient Dry Cat Food* – this dry food comes in six flavors for matching to your cat's tastes, or shaking things up!
Finding The Best Fussy Cat Food
Our cats do a pretty good job of communicating with us in regard to they want and need, and their dietary preferences are no exception.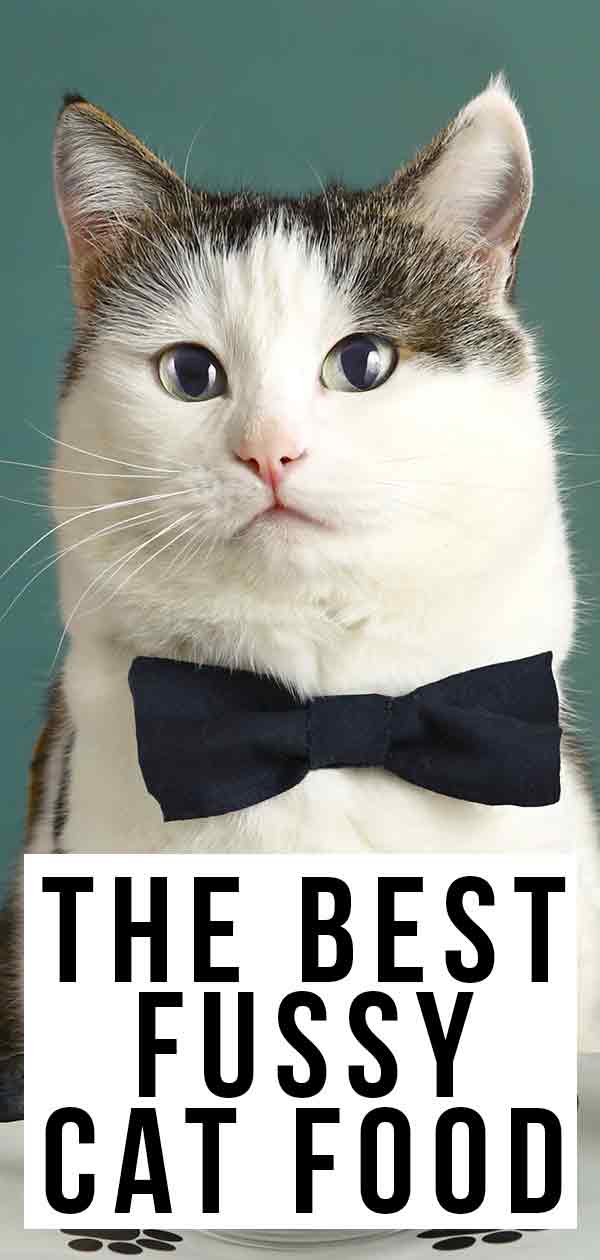 Some cats are fussier than others when it comes to foods, but the most important thing is to be patient with your cat, pay attention to what he is trying to tell you, and offer him the highest quality cat food possible.
Because remember, a healthy diet is synonymous with a healthy cat!
Is Your Cat A Picky Eater?
Feeding a fussy cat can be frustrating and worrying in equal measure.
Share your experience with others in the same boat using the comments box.
Affiliate link disclosure: Links in this article marked with an * are affiliate links, and we may receive a small commission if you purchase these products. However, we selected them for inclusion independently, and all of the views expressed in this article are our own.
References
Lisa Freeman et al, WSAVA Nutritional Assessment Guidelines, Journal of Small Animal Practice, 2011.
Kimberly Baldwin et al, AAHA Nutritional Assessment Guidelines for Dogs and Cats, Journal of the American Animal Hosptial Association, 2010.
J. Elliott et al, Survival of Cats with Naturally Occurring Chronic Renal Failure: Effect of Dietary Management, Journal of Small Animal Practice, 2008.
S.A. Mille &, J.B. Allison, The Dietary Nitrogen Requirements of the Cat, The Journal of Nutrition, 1958.
Debra L. Zoran, DVM, PhD, DACVIM, The Carnivore Connection to Nutrition in Cats, Department of Small Animal Medicine and Surgery, College of Veterinary Medicine, 2002.
Daniel L. Chan et al, Retrospective Evaluation of Partial Parenteral Nutrition in Dogs and Cats, Journal of Veterinary Internal Medicine, 2008.
Dorothy P. Laflamme, DVM, PhD, Nutrition for Aging Cats and Dogs and the Importance of Body Condition, Nestle Purina PetCare Research, Veterinary Clinics Small Animal Practice, 2005.
Bradshaw, D., The Evolutionary Basis for the Feeding Behavior of Domestic Dogs (Canis familiaris) and Cats (Felis catus), Journal of Nutrition, 2006.