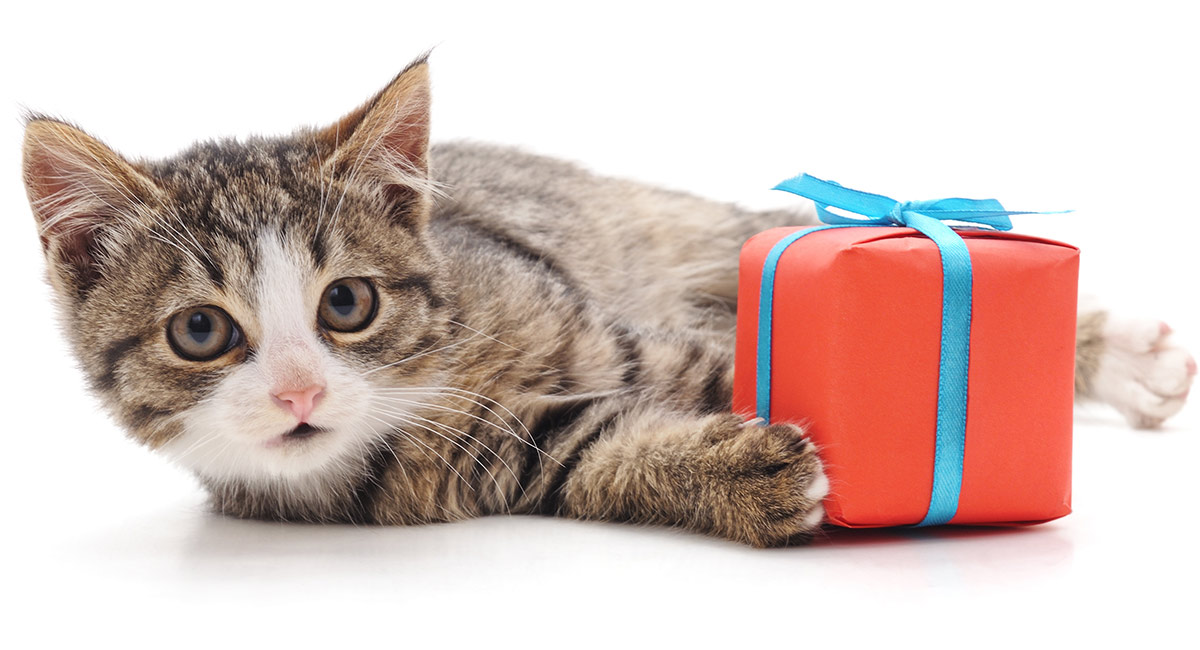 With So Many Gifts For Cat Lovers Out There, How Are You Going To Choose? With Our Help, Of Course!
Welcome To Our Complete Guide To The Best Presents For Cat Lovers.
Oh boy. It is that time again….time to go shopping for the cat lover in your life.
You feel nervous, and understandably so.
For starters, you vaguely recollect that you got (him/her) a cat-themed gift last year.
Now if only you could remember what it was.
Not to mention that this particular person has every single thing with a cat on it that has ever been made.
Christmas presents for cat lovers? They have it.
Birthday gifts for cat lovers? Those are in the cat room, which, come to think of it, is every room in their house.
But you will not be defeated.
For as many cat items for cat lovers as there are out there, there has to be a new gift you can find that will make you the toast of the party!
Best gifts for cat lovers
So now that you've given yourself a pep talk, it's time to get to it and start sorting through the mountains of great cat stuff for cat lovers that your loved one might actually not own yet.
Of course, this is not a job for the easily discouraged.
After all, there are so many different cat gifts for cat lovers.
From clothes to mugs, jewelry to home décor, rugs to appliances, office supplies to carry bags, games and puzzles to….
Well, you get the idea.
And that is also likely why you are here now, reading this post right now, looking for the perfect idea for what to get a cat lover!
To increase the challenge even more, there are so many different breeds of cats!
So unless the person you are shopping for is the original feral cat lady (or gentleman) with 50 or 300 cats to look after, it won't be enough to just get something with "a cat" on it.
Oh no. It has to be the right cat.
The right cat gifts for cat lovers
It must be the right cat breed, with the right eye color, the right coat color, the right attitude (or cat-titude, come to think of it)…. Otherwise your person will think you don't really care enough.
Caring says, "Not only do I notice your cat, but I notice everything about your cat, because I just love you that much!"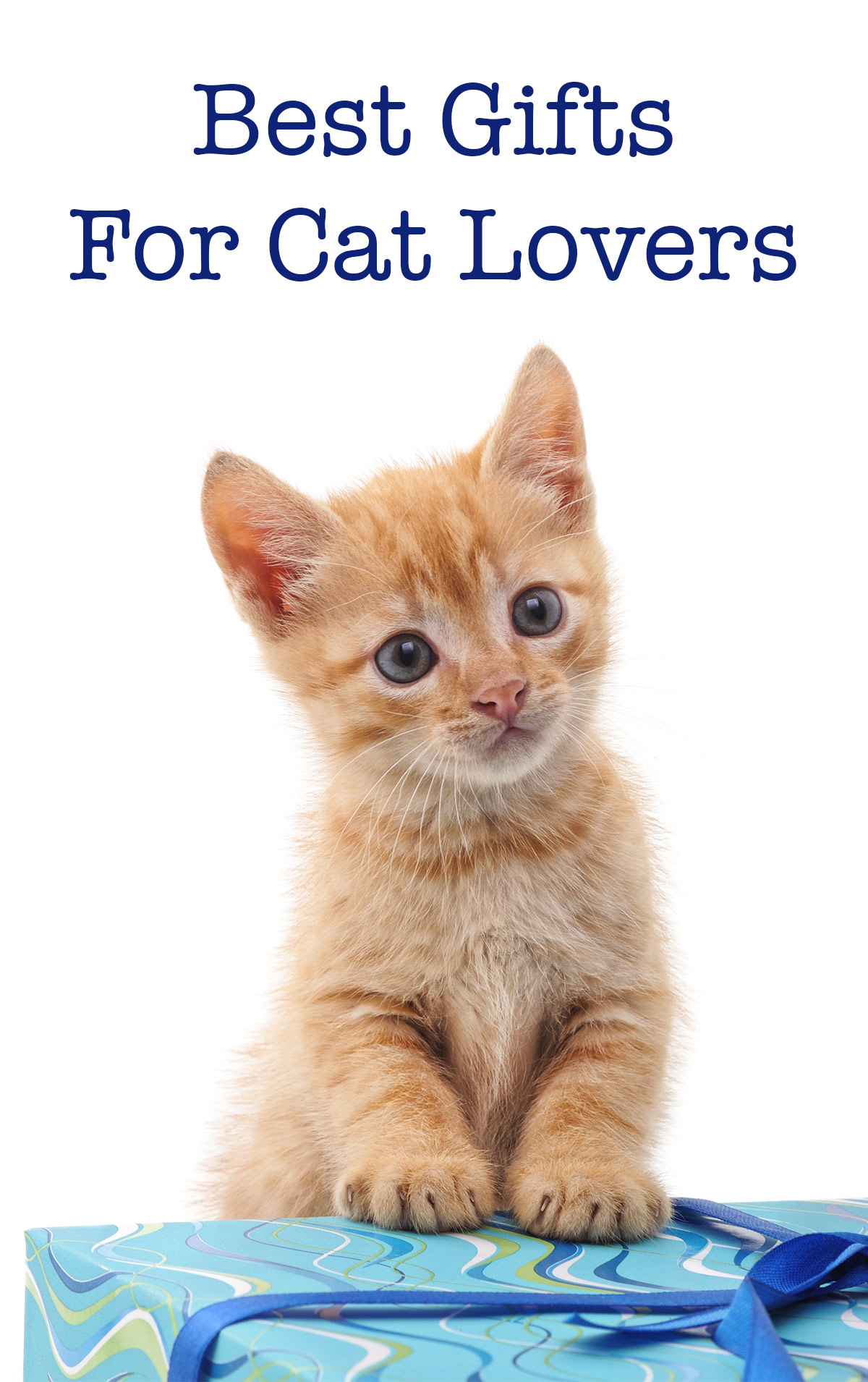 It nearly goes without saying that this can be a world-class feat to pull off, even if you actually are mad about cats too.
Here, luckily there is social media, so you can browse over to the gift recipient's social feed, find one of the zillions of cute photos of the adored pet cat in question, note down every identifying cat detail, and then go shopping.
And when you finally get to that stage, we think you are going to love this carefully curated gift list of wonderful presents for cat lovers!
Unique gifts for cat lovers
Here's hoping this short list of diverse and unique cat gifts for cat lovers will deliver up something special for the cat lover in your life!
Fun Express Resting Cat Stone Whimsical Garden Accent
This preciously cute resting feline is the perfect accent for any garden space.
Made of durable, weather safe resin, the 9-inch long feline will fit well even if the "garden" is on an apartment balcony or a windowsill!
Modern Minute's Fashionable Feline Chiffon Cat Scarf
This beautiful chiffon wrap scarf comes in black, beige or pink.
The black scarf features white cats and the other two colors feature black cats.
The scarf is 22 inches wide by 64 inches long.
The Cat Ladies Organic Cat Grass Growing Kit with Cat Grass Planter
What could be a better gift for a cat lover than a gift that is really for their cat?
This cat grass is certified non-GMO and organic and is made up of rye, barley, flax, wheat and oats.
It is a great hairball remedy and delivers a full complement of healthy vitamins and minerals. And the "planter" is an adorable mug with a cat face!
Funny gifts for cat lovers
These funny cat gifts for cat lovers may not be the right choice for every cat lover, but we are betting they will be a perfect fit for the right cat lover!
Kikkerland Cat Butt Magnets, Set of 6
What is better than one cat butt staring at you?
Six magnetic cat butts staring at you, of course!
Late for the Sky Cat-Opoly Game
Why play boring old Monopoly when you can play Cat-Opoly instead?
While you wheel and deal, you will also be learning fun cat facts to treasure.
Accoutrements Crazy Cat Lady Action Figure Set
This popular action figure set is a hit with cat lovers and can be one of those gifts that keeps on giving, since there are plenty of accessories that are sold separately!
Clothes for cat lovers
Rather than dressing up the adored feline (who will reliably hate it), these clothes for cat lovers dress up the owner instead!
Snoozies Womens Classic Splitz Applique Slipper Socks
These soft and comfy slippers come with a non-skid bottom in several different colors and styles.
Sizes range from small to X-large.
Aza Boutique Women's Cute Button Down Tweed Cat Ears Hooded Cape
This one-of-a-kind tweed cape hoodie without sleeves has tiny cat ears on the hoodie and a button-down front.
It comes in several colors and is one size.
Cat lovers t shirts
Gone are the days (decades) when a cat t-shirt was literally that….a picture of a cat on a boring solid background color. Today's cat t's tell it like it is!
Tiny Tiger Tees "I Was Normal 3 Cats Ago" T-shirt
This super cute loosely fitted t-shirt is made for women, men and youth in 5 colors.
Sizes go all the way up to 3XL.
Buzz Shirts "Sorry I Can't – I Have Plans With My Cat" T-shirt
This fun unisex t-shirt fits both women and men, with sizes ranging from small to XXXL.
The shirt comes in basic grey. And the manufacturer offers a money back guarantee.
Cat lover mug
Whether the morning beverage of choice is tea, coffee, diet soda or something else, it will taste better when sipped out of a cute cat lover mug!
The Original Cat Beard Mug Cute and Funny Glass Coffee Mug
This creative clear glass coffee mug makes the impression that the drinker has a cat beard!
Each mug is handmade and holds 15 ounces. Only really suitable gifts for cat lovers who are right handed, though!
Surprise Cat Coffee Mug with Baby Cat Inside
This spacious ceramic coffee mug says "Meow" on the outside. On the inside is a surprise the user will only see as the liquid level goes down….a tiny ceramic cat!
The roomy mug holds 17 ounces of liquid. The mug is dishwasher-safe so cleaning around the tiny cat is a breeze.
Decole Cat Mug and Spoon
This adorable and popular matching mug and spoon set comes in a black and white pattern.
It holds approximately 8 ounces of liquid and the spoon is a very small teaspoon size.
Both pieces are dishwasher safe.
Jewelry for cat lovers
These one-of-a-kind jewelry pieces are so delicate and lovely, we are betting they could even tempt non-cat lovers!
Wicary Cat Earrings Stud Earrings and Necklace
This lovely and delicate cat face necklace is very pretty
There is also a matching earring set that is sold separately.
Cat Ear Ring by Silver Phantom Jewelry
This cute cat ears ring is a subtle gift that any cat lover will cherish.
You can choose from several sizes and three different metals.
It comes packaged in a soft black bag for safety.
Cat Necklace Matte Silver Cat Pendant
This precious collarbone-length necklace features a clinging cat right in the center of a delicate chain.
You can choose from a mirror bright or matte silver finish.
The metal is sterling silver (nickel free).
Cat home décor cat lovers
As luck and artistry would have it, even if the cat lover in your life has every cat-themed mug, t-shirt, game and magnet set ever made, chances are good they still won't have any of these neat cat things for cat lovers!
DII Bone Dry Round Pet Toy and Accessory Storage Bin
This ultra-cute paw print cat toy bag comes in navy, brown and grey colors.
The bin has handles for easy transportation from room to room or on your travels.
The bin comes in three sizes (small, medium, large).
GLIME Children Kids Night Light LED Cat Silicone Toy Nightlightv
While the manufacturer claims this adorable night light is for kids and babies, it is hard to imagine any adult cat lover turning it down either!
The nightlight rotates through eight glowing colors and changes modes with a gentle tap on its surface. It comes with a USB recharging cable.
Primitives by Kathy Wood Box
This 5-inch by 5-inch freestanding wood sign has paw prints on all four sides with the saying on the front face.
It has a natural shabby chic distressed look with a black background.
Cat gifts for the office
Every once in awhile, you meet a cat person who actually likes to tone down their love for felines while at work.
For example, instead of taking every "casual Friday" at the office as an open invitation to wear their cat t-shirt, cat ankle socks and cat ears headband yet again, this cat lover prefers to keep their work and home life interests separated.
If that describes the individual you are attempting to buy for right now, then these office cat presents for cat lovers are as subtle yet functional as it gets!
Buytra 6 Pack Cute Cat Gel Roller Ball Pens
These slim-line gel pens are great to liven up a cat lover's office and bring a smile to clients and visitors as well.
The ink is black and each pen has a precious little cat face on the pen top.
Post-it Cat Figure Pop-up Note Dispenser
No office is complete without Post-It notes, but these post-it notes will be special, because they are dispensed by a cute white playful cat!
The dispenser comes with one pack of Post-it notes. Complete the set with this matching tape dispenser (sold separately)
Art Kingdom Exquisite Artwork Folding Collection Pen Organizer Desk Sorter
This eye-catching wooden desktop organizer is in the form of a crouching cat about to pounce.
It comes in seven colors and has two levels with one large and two smaller compartments.
Books for cat lovers
There is very little in life cozier than curling up with a great book about cats….and a cute purring cat to read it with you!
You Need More Sleep: Advice from Cats
Packed with feline humor and wisdom, this popular and highly rated book is an easy, fun read.
With advice about every part of life, from romance to attire to navigating the corporate ladder.
Sorry I Barfed on Your Bed
For any cat lover who occasionally wishes their cat was less, well, cat-like.
This is a book guaranteed to put a smile back on their face, no matter what their feline has done this time!
A Street Cat Named Bob
The heartwarming true tale of how a street musician and an injured stray cat met, bonded and become best friends.
It is an international best-seller and a must-read for any cat lover.
Cool gifts for cat lovers
These cool gifts for cat lovers are true originals. Here's hoping one of them makes your cat lover's day extra special!
Catification
The book is written by Animal Planet star Jackson Galaxy.
He offers his expert insights on home décor for cats and their owners.
Willow Tree With Affection Angel by Susan Lordi
This hand-carved 5-inch resin figurine is softly cuddling a cat in her arms.
The box comes with an enclosed card with the words: "I love our friendship."
Cara's Casa Cat Trivet Black Cast Iron
This cooking trivet will be a conversation starter at any housewarming or party.
It is 6.6-inches by 6.3 inches and is easy to clean with just a damp cloth.
Gifts for black cat lovers
Did you know that in the United States, August 17th annually is Black Cat Appreciation Day?
The next time this special day rolls around, these gifts for black cat lovers will be perfect for celebrating!
Douglas Cuddle Toys Plush Tug Black Cat
Cute plush stuffed animals are not just for kids anymore.
Any black cat lover will be delighted to receive such a soft, cuddly gift! The black cat is 14 inches long and owners say it is adorable.
QZUnique Women's Summer Fashion Bag
You won't find anything else quite like this understated black cat cross body bag!
Those who are not in the know will have to look closely to see the little cat nose and mouth and the cat-like design.
Decole Black Cat Smartphone Stand
This small but adorable looking hand painted stretching black cat is the perfect place to stash a smartphone for charging or protection.
There are two versions (cat standing up and stretching, cat laying down and stretching).
Great gifts for cat lovers
Well, there you have it – the scoop on some of the most unique, lovely, cool and funny cat gifts for cat lovers just in time for your cat-centric shopping needs!
If you pick a gift from this list that turns out to be a huge hit with the recipient, we sure would love to hear about it!
And if you love cats and have received an awesome gift you treasure, please let us know what it is – cat shoppers always appreciate new gift ideas for cat lovers!