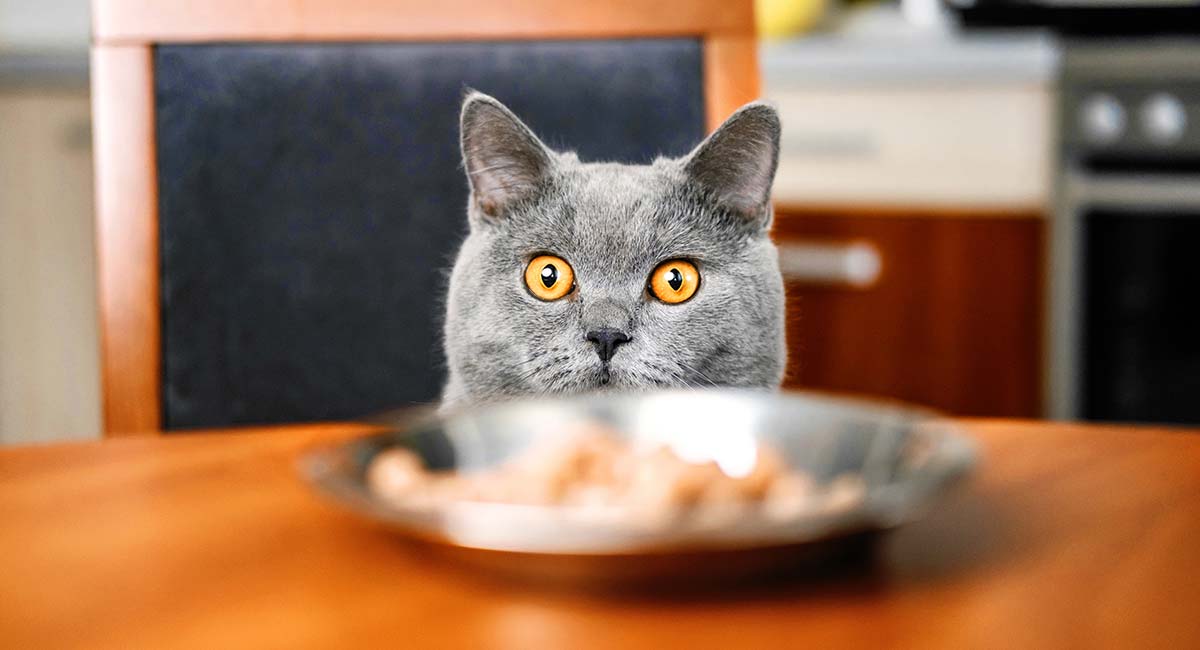 Are you looking for the best high calorie cat food for your underweight cat?
Cats of all ages can be susceptible to weight loss for one reason or another. Whether you have an aging cat that needs to increase his calorie intake, an adult cat who's just too skinny, or a kitty who doesn't want to eat, we are here to help.
Let's begin!
What Are The Basic Nutritional Needs For Cats?
Cats are obligate carnivores, which is a fancy way of saying they require meat to survive.
Wild felines like lions, bobcats, and leopards, live and thrive on animal proteins, and it's important to remember that your cat is a not-so-distant relative of these stealthy hunters.
For this reason, a domestic cat will need foods rich in animal protein and fats. The dietary needs of an average cat include some of the following aspects.
Animal Protein
Cats need diets rich in protein, although this can't be protein that comes from just any source. Cats are carnivores and need a diet rich in animal protein for their optimal life.
These complete proteins are filled with amino acids that help brain development and muscle growth. They also provide energy and a healthy Ph balance for your cat.
Healthy Fat
Essential fatty acids like omega-3 and omega-6 help to regulate your cat's metabolism. In addition, they promote healthy cell regeneration and keep your cat energized and active.
Other fatty acids like DHA help to promote your cat's healthy vision, boost his immune system, and more.
Your cat's diet should also include healthy:
It is important to note that cats take in most of their water through food and have a low thirst drive.
Even if they become dehydrated, they may not feel thirsty and take a drink. Of course, you should leave fresh water out for your cat, but you should also take care to feed him moisture-rich foods.
Now, let's talk about high calorie cat food and what kind of cat may need it.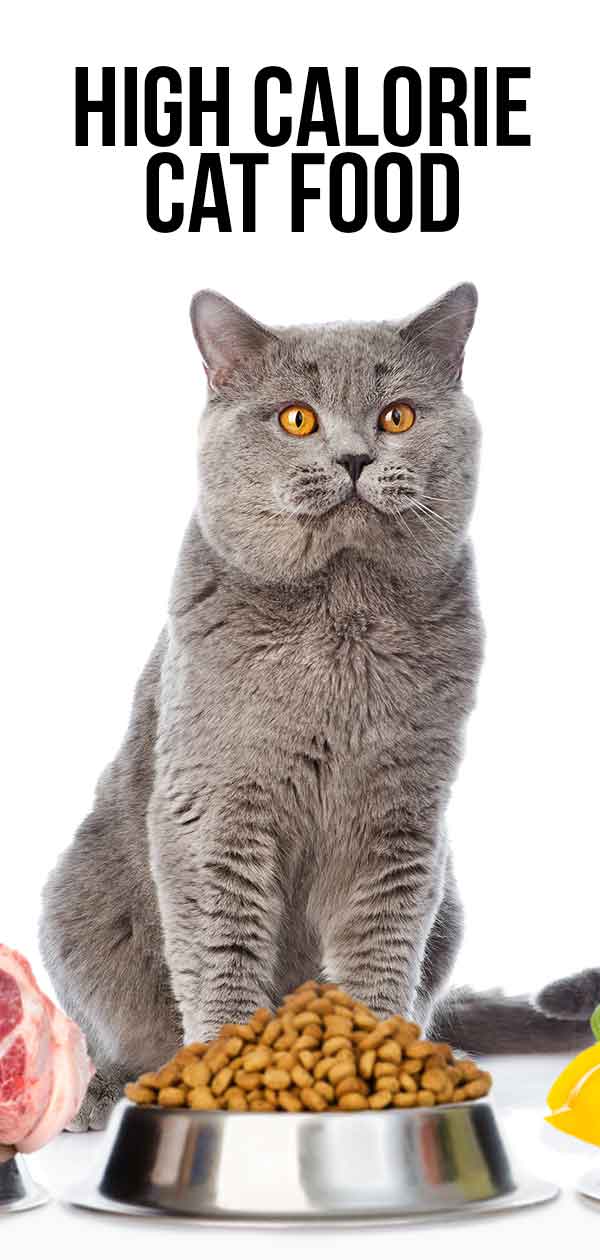 What Is High Calorie Cat Food?
High calorie cat food is cat food rich in protein and fats, which includes little to no carbohydrates.
Cat foods that are high in calories will typically be wet cat foods, canned cat foods, or liquid cat food supplements.
But you can also find high calorie cat foods in dry cat kibble or treats.
As you may have guessed, a high calorie cat food is typically used for cats that need to put on weight.
While high calorie cat food is not recommended for overweight cats, it can be a wonderful tool to build healthy weight in senior cats, sickly cats, picky eaters, and underweight kittens.
What other kinds of cats will do well with high calorie cat food?
Keep reading to find out!
Which Cats Need High Calorie Cat Food?
Any cat that is underweight may benefit from a high quality, high calorie cat food.
This includes underweight senior cats, underweight kittens, underweight adult cats, and cats who are sick or are not showing much of an appetite.
Is your cat underweight or not getting enough calories?
On average, indoor cats need to eat 20 calories per pound, while outdoor cats need to eat 35 calories per pound.
If your cat is not eating enough, then you may want to consider a high calorie cat food for weight gain.
High calorie cat food for sick cat problems can also be helpful. Of course, you should always consult your veterinarian first before changing your sick cat's diet.
Now, let's talk about dry cat food versus wet cat food and which is better for your underweight cat.
High Calorie Dry Cat Food Or High Calorie Wet Cat Food – Which Is Best For My Cat?
If your cat is underweight and needs high calorie cat food, your best bet will be adding wet cat food to his diet.
Wet cat food is higher in protein and fat and is also a great source of hydration for the underweight cat.
However, if you prefer to feed your cat kibble, you can still find good quality dry cat food that is also high in calories.
You may want to opt for a high calorie cat food supplement or meal topper to add to your cat's dry food as well.
Still, regardless of which food option you choose, you should try and look for a grain-free, high calorie cat food that is rich in protein with high amounts of fat.
With that being said, let's move on to some of our favorite high calorie cat food options, starting with high calorie wet food for cats.
High Calorie Wet Cat Food
As we mentioned above, cats get most of their water intake from food. This is one of the reasons why wet cat food is so popular among cat owners.
Wet cat food is also a wonderful option for cats who need to put on weight.
One of our favorite high calorie wet cat food options for cats is the Crave Grain Free High Protein Wet Cat Food Trays.
This high calorie canned cat food is an excellent source of protein and comes with your choice of duck, turkey, salmon, trout, chicken, or beef.
Best of all, it is a high quality, grain-free option your cat will love.
Another high calorie canned cat food we like is the Blue Wilderness High Protein Grain Free Wet Cat Food for Adult Cats.
We love that this food is rich in animal protein and promises to be 100% grain free. It is also free of meat by-products and contains fatty meats like duck.
AvoDerm Natural Grain Free Cat Food is another wet cat food option we love for cats in need of high calorie wet cat food.
Made with chicken and duck, this wet cat food is a great high calorie option for both indoor and outdoor cats.
It is also made with natural ingredients that promote your cat's coat health, skin health, and immune system.
High Calorie Dry Cat Food
For high calorie dry cat food options, we recommend Blue Buffalo Wilderness High Protein Grain Free, Natural Adult Dry Cat Food.
As you will see, this is a grain-free dry cat food option that is rich in animal protein and in vitamins, minerals, and essential fatty oils like omega-3 and omega-6.
Crave Grain Free High Protein Dry Cat Food is another great high calorie, grain-free option for your underweight cat who prefers kibble to wet food.
With this dry cat food, you have the choice of chicken, chicken and salmon, salmon and ocean fish, turkey, chicken, and duck.
We are also fans of Purina Beyond Grain Free, Natural, Adult Dry Cat Food.
Again, this is another grain-free option made with natural ingredients. It is rich in proteins and fatty acids, making it a wonderful choice for that underweight cat in need of a high calorie cat food.
Your cat may also like Instinct Ultimate Protein Grain Free Recipe Natural Cat Food and Toppers by Nature's Variety.
Instinct uses raw ingredients and is made with 95% meat proteins that come from real meat like chicken and duck.
It also promotes healthy digestion and provides those essential fatty acids for skin, coat, and immune health.
High Calorie Nutritional Supplement Cat Food Options
A high calorie nutritional supplement for cats is a wonderful option to consider if your cat is already a fan of his cat food but needs a calorie boost.
High calorie cat supplement options include meal toppers, droppers, and other supplements you can use to help your cat gain weight.
One of our favorite high calorie nutritional supplement cat options is Miracle Vet High Calorie Weight Gainer for Dogs and Cats.
This product comes in the form of a dropper that you can drop into your cat's food or water and requires little to no mixing.
It is protein-rich and high in fatty acids, with fish oil as the first ingredient.
This is for the cat that really needs to gain weight. It's a wonderful high calorie nutritional supplement cat option that sick or underweight cat in your life will benefit from.
For more high calorie cat food supplements, we suggest Tomlyn Nutri-Cal Cats.
This is a great option for cats who have lost weight due to being sick or who are simply picky eaters and need to gain weight.
These supplements are like high calorie cat treats. In fact, they are so tasty that your cat won't even realize it is good for him and his weight!
Similar to Tomlyn Nutri-Cal for cats is Vetoquinol NutriCal Paste.
This is a tasty calorie supplement and is an excellent additive to your underweight or sickly cat's high calorie cat food to help boost his weight.
But what if you have an aging cat who needs more than just a high calorie cat food to keep him feeling like a kitten?
Don't worry. We've got a little something just for you and your senior cat.
High Calorie Senior Cat Food
Senior cats have nutritional needs that differ from kittens and adult cats.
For example, senior cats can have more sensitive stomachs and slower metabolisms. Their immune systems may need extra support and their bones, muscles, and organs will need more help staying in shape.
So, if you have a senior cat who is not as round in the middle as he used to be, these are some of the options we suggest.
For starters, take a look at the NUTRO Wild Frontier Grain-Free Dry Cat Food for Senior Cats.
Rich in protein, this high calorie cat food promotes healthy joints and is full of antioxidants for a strong immune system, as well as nutrients such as taurine to keep your senior cat's heart healthy.
Another high calorie cat food for old cat option is Royal Canin Feline Health Nutrition for Aging Cats 12 Years and Older.
This high calorie cat food for older cats is a wet cat food option for the senior cat in your life who needs extra joint, kidney, teeth, and gum support.
Rich in essential fatty acids and protein, this high calorie cat food for senior cats is specifically for older cats, making it an ideal choice for senior cats who need to put on the pounds.
How Else Can I Help My Underweight Cat Stay Healthy?
Keeping your cat on a healthy, balanced diet can ensure he stays in shape and feels his best.
Are you are worried about your cat's weight and think he is becoming too thin? We recommend that you reach out to your local veterinarian. Set up an appointment before opting to change his diet.
Another you can keep your cat's weight healthy is to indulge your cat in healthy, high-calorie treats.
This may take some trial and error to find the treats your cat loves, especially if he is a picky eater. But cat treats are a great way to help your cat boost his calorie intake.
You can also try free-feeding your cat. Leave his food bowl filled with food throughout the day instead of only feeding him at scheduled meal times.
Some cats are not so much picky as they are social or anxious eaters. They would prefer to eat when you are either there or when you are away.
Other cats may just be grazers and pick at their food throughout the day. This makes free feeding a great option.
So, do you have a question about your underweight cat? Ask us in the comments!
References
Gartner, MC, et al., "Personality Structure in the Domestic Cat (Felis Silvestris Catus), Scottish Wildcat, (Felis Silvestris Grampia), Clouded Leopard (Neofelis Nebulosa), Snow Leopard (Panthera Uncia), and African Lion (Panthera Leo)," Edinburgh Research Explorer, The University of Edinburgh
Bennett, D, "Nutrition and Bone Disease in the Dog and Cat," The Veterinary Record
Chan, D, "The Inappetent Hospitalised Cat: Clinical Approach to Maximising Nutritional Support," Journal of Feline Medicine and Surgery
Morris, J; Rogers, Q, "Metabolic Basis for Some of the Nutritional Peculiarities of the Cat," Journal of Small Animal Practice
Bradshaw, J; et al., "Food Selection by the Domestic Cat, an Obligate Carnivore," Comparative Biochemistry and Physiology Part A: Physiology
Randi, E; et al., "Genetic Variability and Biochemical Systematics of Domestic and Wild Cat Populations (Felis Silvestris: Felidae)," Journal of Mammalogy
Delmar R. Finco, DVM, PhD, Scott A. Brown, VMD, PhD, Cathy A. Brown, VMD, PhD, Wayne A. Crowell, DVM, PhD, Gregory Sunvold, PhD, Tanya L. Cooper, "Protein and Calorie Effects on Progression of Induced Chronic Renal Failure in Cats"
Free Updates For Cat Lovers!
Our cat care articles, tips and fun facts, delivered to your inbox