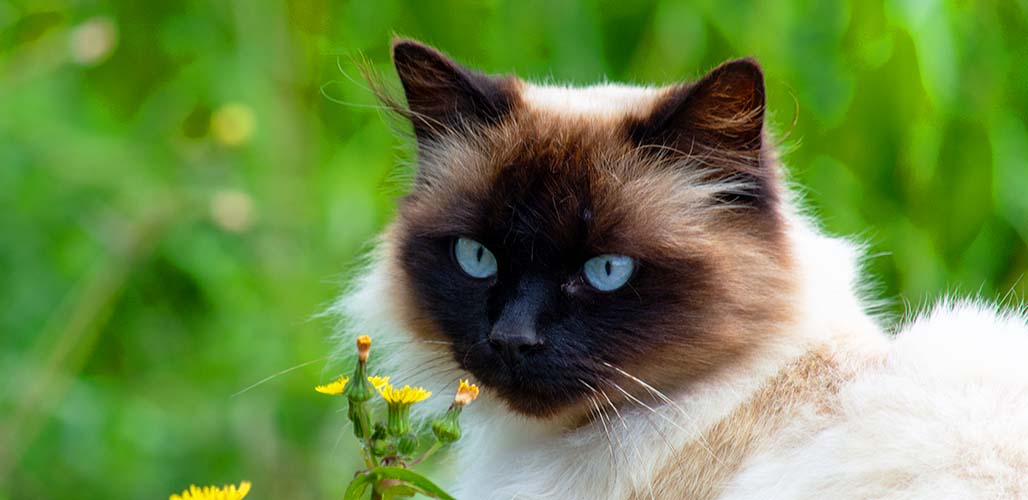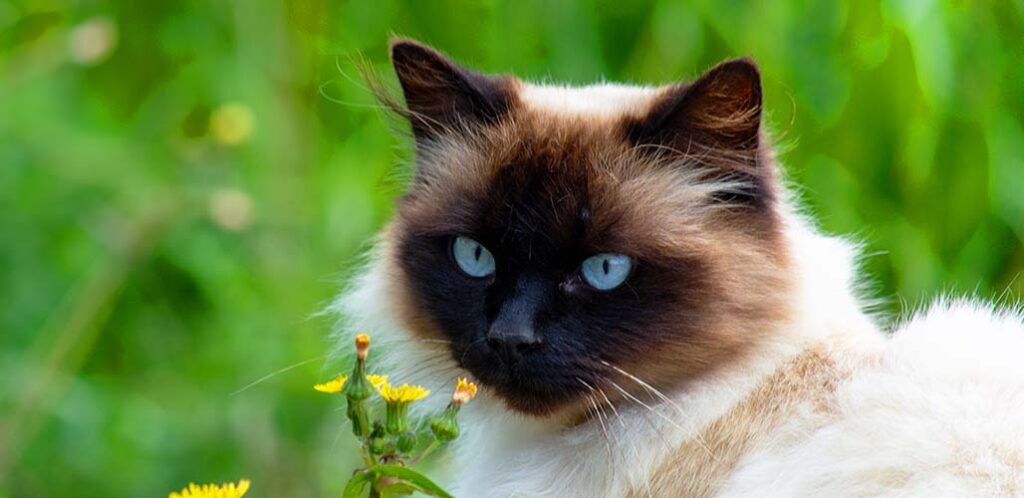 The Himalayan Siamese is a hybrid designer cat breed. A cross between two colorpoint coats, one long haired and one shorthaired, this affectionate, loyal and loving cat can vary a bit. Weighing 8 -18 lbs this is a medium sized cat, and they can live into their late teens if well bred and cared for. Today we'll look at their breed traits, characteristics and appearance to help you identify and choose a Himalayan Siamese mix kitten. And to raise them to be a happy, healthy, long lived companion pet!
Contents
Both Himalayan and Siamese breeds are notable for their friendly nature, but there's more to owning one than just admiring their coat and basking in their affection! It's likely this mix will need lots of physical and mental stimulation, to prevent them resorting to destructive behaviors.
Max here is living up to the Siamese breed's reputation for being a chatty cat! Let's find out whether this trait is likely to continue in a Siamese Himalayan hybrid kitten too.
Himalayan Siamese cat history
Siamese cats have been depicted in Southeast Asian art and writing for hundreds of years. They were introduced to America in the late 19th century, and quickly gained popularity. They are one of the world's most distinctive and instantly recognizable cat breeds. Himalayan cats meanwhile have a less clear cut identity and origin story. They are a colorpoint longhair cat, probably created by crossing Persians with Siamese cats during the mid-20th century. Some breed registries recognize them as a breed in their own right, whilst others classify them as a colorpoint subcategory of Persians, or even a longhair variant of the Colorpoint Shorthair breed.
The existence of the Himalayan cat is already proof that cross breeding cats is nothing new or unusual. And the Himalayan Siamese mix is just another extension of that. But there's no documented origin story for this cross, or special name for it.
Himalayan Siamese cat temperament
Himalayan and Siamese cats are both famous for being friendly, responsive and extroverted in human company. They're also regarded as exceptionally intelligent breeds who don't miss a thing, and they learn commands and tricks very quickly. Siamese cats in particular are often described as being more like dogs than cats. And Himalayans' ability to perform behaviors on cue has made them a popular acting cat – Sassy the cat in the Homeward Bound films is a Himalayan, for example.
Both breeds are energetic, and need lots of opportunities for physical games, problem solving, and interaction with their human family. If their lifestyle is not sufficiently stimulating, they are more likely to engage in unwanted or destructive behaviors, such as vocalizing or scratching. This mix is also more disposed to be vocal because the Siamese is already famously chatty. Since Himalayans are a mix of the chatty Siamese and the quieter Persian, after many generations of breeding they are best described as 'somewhere in between and a bit variable!' The same can be said for the Siamese-Himalayan mix.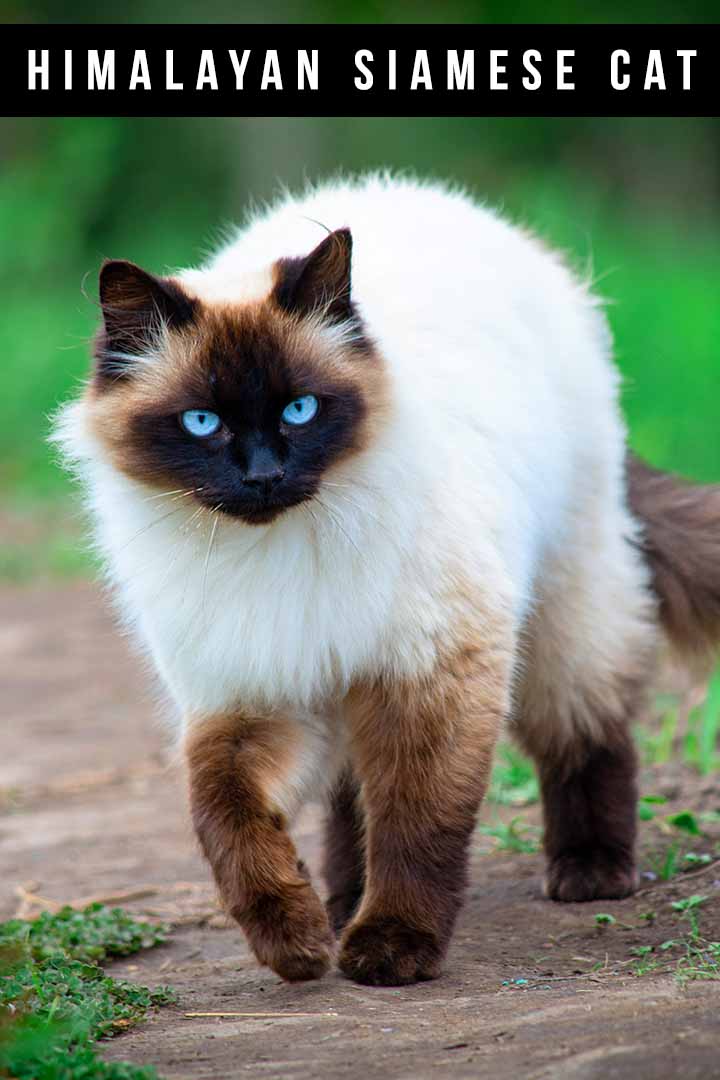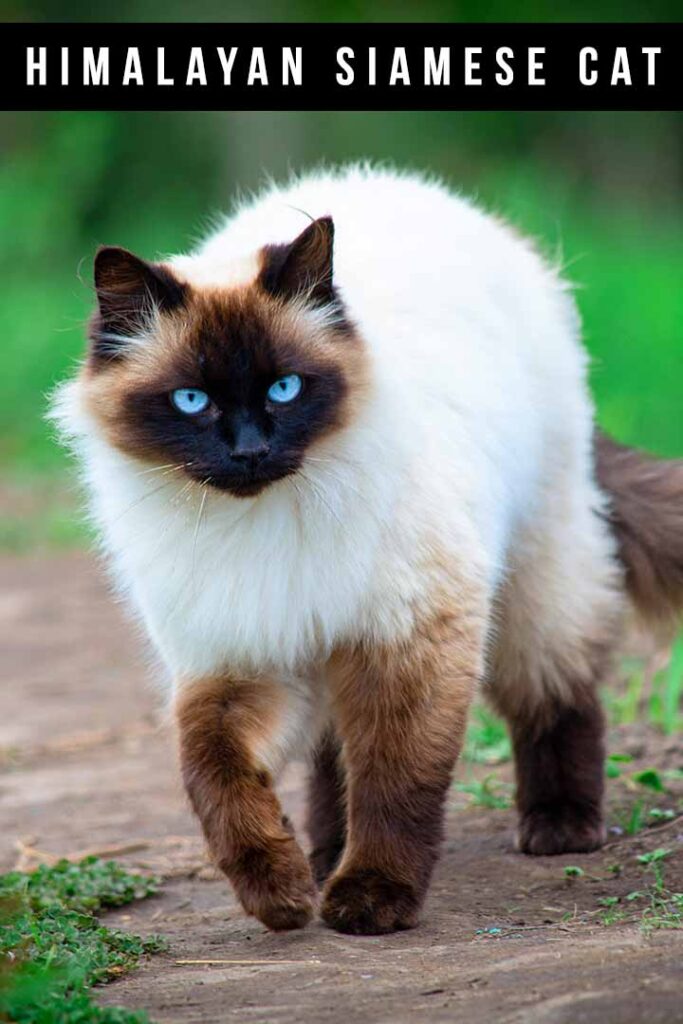 Since Himalayans and Siamese have so much in common personality-wise, it's likely that their kittens will be the same again. There aren't many surprises here! A Himalayan Siamese cat might be more quiet than a Siamese if their Himalayan parent was quiet, but it's just as likely that the addition of fresh Siamese ancestry will reawaken the chatterbox inside them! They will go to great lengths to seek out physically and mentallly stimulating experiences, and reward you with lavish affection if you can provide them.
Can Himalayan Siamese cats go outside?
Whether or not to let your cat outdoors is a very personal choice. Research into indoor cat welfare is patchy and inconclusive. On the one hand, cats which stay indoors experience a lower frequency of parasitic infections, and they're less likely to be injured in a fight over territory, or get hit by a car. On the other hand, since this mix needs a lot of mental stimulation, access to the outdoors can be enriching and engaging in ways that indoor activities just can't compare to. You can read more about the pros and cons of letting your cat roam in this article.
Himalayan Siamese cat weight
Siamese and Himalayan cats are both lean and compact (although in the case of the Himalayan it's not always obvious under all their fur). They both weigh between 8 and 14 pounds. Females usually cluster at the bottom of this range, whilst males occupy the top. Himalayan Siamese mix cats will weigh the same again. Factors which affect their adult weight include sex, and whether their parents were particularly large or small.
Himalayan Siamese cat colors and coats
Himalayans and Siamese are both colorpoint breeds. The pigment distribution in their coats is temperature sensitive, which means their color is darkest where the surface temperature of their skin is coolest. Those bits of their body – their muzzle, ears, feet and tail – are their points. The four standard colors accepted for Siamese cats' points are:
Seal (black with a slight brown cast in the right light)
Blue (dilute seal)
Chocolate (dark brown)
Lilac (dilute chocolate)
However, Himalayan cats are accepted for show with points in any color. This reflects their Persian ancestry – Persian cats are also accepted for show in any color. So, the Himalayan Siamese mix can potentially inherit all kinds of colors and patterns in their points, depending what coat color genes each of their parents carried. Like their parents, Himalayan Siamese mix kittens will be born white, and the pigment in their points will start appearing when they are about a month old, and potentially continue developing for three years!
Grooming your Himalayan Siamese cat
Let's turn to coat length next! Long hair is a recessive genetic trait in cats. Which means kittens need to inherit the gene for long hair from both of their parents in order to have a long coat. A Himalayan cat will definitely pass on the long hair gene to their kittens, but you won't be surprised to hear that the long hair gene isn't present in the Siamese cat breed. So, first generation Siamese Himalayan mix can only have short hair. Multigeneration litters of Siamese Himalayan mix kittens can have a mix of long and short coated siblings though.
Cats with a short Siamese-type coat need very little grooming, whilst long hair cats need brushing everyday to remove mats and traps debris.
Are Himalayan Siamese cats hypoallergenic?
Cat allergies are triggered by proteins in their saliva, which get transferred onto their coat when they groom themselves. All cat produce these proteins, regardless of their coat type. So no cat breed can be said to be hypoallergenic. If you suffer from cat allergies, unfortunately the Himalayan Siamese is probably not a suitable pet for you.
Himalayan Siamese cat health problems
The Siamese Himalayan cat mix is vulnerable to some hereditary health problems which affect their parent breeds, namely:
Brachycephalic airway problems
Polycystic kidney disease
These conditions are both common in Persian cats, and therefore a possibility for Himalayan cats and their offspring too. To mitigate against them, have a candid chat with your breeder about the health of both parents, but especially the Himalayan parent.
Like all cats this mix is also going to be susceptible to some acquired health problems over their lifetime, including
Himalayan Siamese cat lifespan
Most Siamese cats live for 11 to 19 years. So far, research into feline longevity hasn't included Himalayans as a distinct breed in its own right. Where the lifespan of Himalayan cats has been reported by owners, presumably it is added to the 'crossbreed' category in relevant studies. But, we know that most Persian cats live between 12 and 17 years. In fact, the average lifespan of both Siamese and Persian cats is 14 years, so the average lifespan of a Himalayan is likely to be the same again. And the likely life expectancy of a Siamese Himalayan cat mix is also 14 years. But with good care, pet cats of all types are increasingly reaching their late teens and early twenties. So this is no short term commitment!
Are Himalayan Siamese cats good pets?
A Himalayan Siamese cat is an engaging and friendly mix. They're best suited to households which have time to interact and play with them every day, and where they won't be routinely left alone for long periods. In households where everyone goes out to work during the day, they may get bored, frustrated and distressed, and resort to scratching furniture, vocalizing, and trying to escape as outlets for those feelings.
Himalayan Siamese cat breeders
The Himalayan Siamese is still a fairly unusual mix. Breeders might combine these breeds deliberately because they already own one of the parents, and they know a cat of the other breed with a truly great personality. Or, they might be interested in producing a litter of short haired colorpoint kittens with point colors not usually found in the Siamese. The number of cats being surrendered to animal shelters every year is proof that accidental pregnancies are still a big problem too.
Since the Himalayan Siamese mix isn't represented by a breed club, you'll need to rely on word of mouth or an online search to find this hybrid for sale or adoption. Our Kitten Search Guide can help you navigate this process, and tell responsible breeders part from kitten farmers.
Himalayan Siamese cat summary
In terms of looks, this mix is guaranteed to be a stunner. They will also have a friendly and engaging personality which is likely to be far apart from the stereotype of an aloof and disinterested cat. This means that if you choose to keep them indoors for safety, you'll need to provide lots of daily interaction. If you have the time and motivation to do this, you're likely to be rewarded with a special bond which goes beyond 'regular' cat ownership, and lasts up to two decades!
If you already have a Siamese and Himalayan mix cat, we'd love to hear about them in the comments box down below!
Readers Also Liked
References And Resources
Chalowski et al. Who let the cats out? A global meta-analysis on risk of parasitic infection in indoor versus outdoor domestic cats. Biology Letters. 2019.
Gough et al. Breed Predispositions to Disease In Dogs and Cats. Wiley Blackwell. 2018.
Foreman-Worsley & Farnworth. A systematic review of social and environmental factors and their implications for indoor cat welfare. Applied Animal Behaviour Science. 2019.
O'Neill et al. Longevity and mortality of cats attending primary care veterinary practices in England. Journal of Feline Medicine & Surgery. 2014.
Persian Breed Group Standard. The International Cat Association. 2004.
Siamese Show Standard. Cat Fanciers Association. 2015.