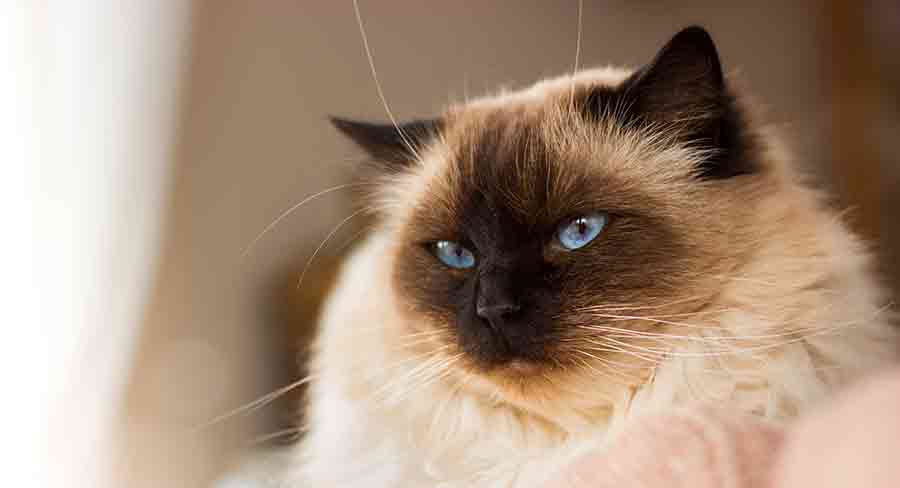 The Siamese Ragdoll cat is a curious, often vocal, and affectionate mix. This blue-eyed cross breed combines the chatty Siamese with the popular, long coated Ragdoll.
Also known as the Ragamese, exact appearance and temperament of these kittens can vary, as with any mix. But, generally these cats make great additions to a family home where they have lots of company and affection. They often tolerate children and other pets well, and quickly become much loved members of any household.
Contents
What is a Siamese Ragdoll Cat?
The Siamese Ragdoll mix is usually a first cross between a purebred Siamese cat and a purebred Ragdoll cat.
Siamese cats are an ancient breed. Their exact origins have been lost, but we do know that they became popular in Europe and America during the 19th Century. They have been bred for generations to create that elegant oriental look.
Whereas Ragdolls are a modern breed, created in the 1960s from cats primarily selected to create a very relaxed and friendly temperament.
Some Siamese Ragdoll mix cats may result from accidental breeding. But more are intentional crosses, given the catchy nickname Ragamese, and bred for the growing interest in unusual mix breed pets.
Siamese Ragdoll Cat Appearance
One of the benefits of a purebred cat is that we know what our cat will look like when they are grown up. With many cross breeds the outcome is really hard to predict.
With the Siamese Ragdoll Cat mix there is less uncertainty, and there are some key features that these cats have in common. They included pointed coloring and blue eyes.
Pointed Coloring
Pointed coloring describes cats with distinctive darker coloring on their extremities – that is paws, tail, ears and muzzle.
Pointing is caused by a gene that is temperature sensitive so that color of the points only develops on the coldest parts of the body.
Ragamese cats inherit pointed coloring from both parents and so will normally be pointed themselves
Blue Eyes
Both Siamese and Ragdolls tend to have those striking blue eyes and Ragamese kittens inherit them. It's caused by a gene that inhibits the development of eye pigment.
You've probably noticed that all kittens have blue eyes to begin with. That's because they don't start to create eye pigment until they are around six weeks old. With the Ragamese cat, that pigment may fail to develop and that will give your cat their striking blue eye color
Ragamese Size
When it comes to size, predictions are really just a guess. Ragdolls are big sturdy cats, one of the largest cat breeds. Whereas Siamese cats are very slender, elegant and often quite a bit smaller than Ragdoll.
Your kitten might grow up to be as big as a Ragdoll or quite a bit smaller. And may be as sturdy as a Ragdoll or as elegant as a Siamese. You won't know for sure until they are around 6-9 months old, which of their parents they will resemble
Fur Color And Length
Both parent breeds can be found with different colored points from pale blues and lilac, to rich dark chocolate and even tabby. The background shade of body fur can vary too.
Pointed cats are not born with points, these develop during the first few weeks so if you visit a litter when they are very tiny, don't be surprised if all the kittens look white.
Siamese cats have a short, fine, and glossy coat. In contrast, Ragdolls have fluffier, medium length fur. No matter which type your kitten favors, their fur will be soft to the touch.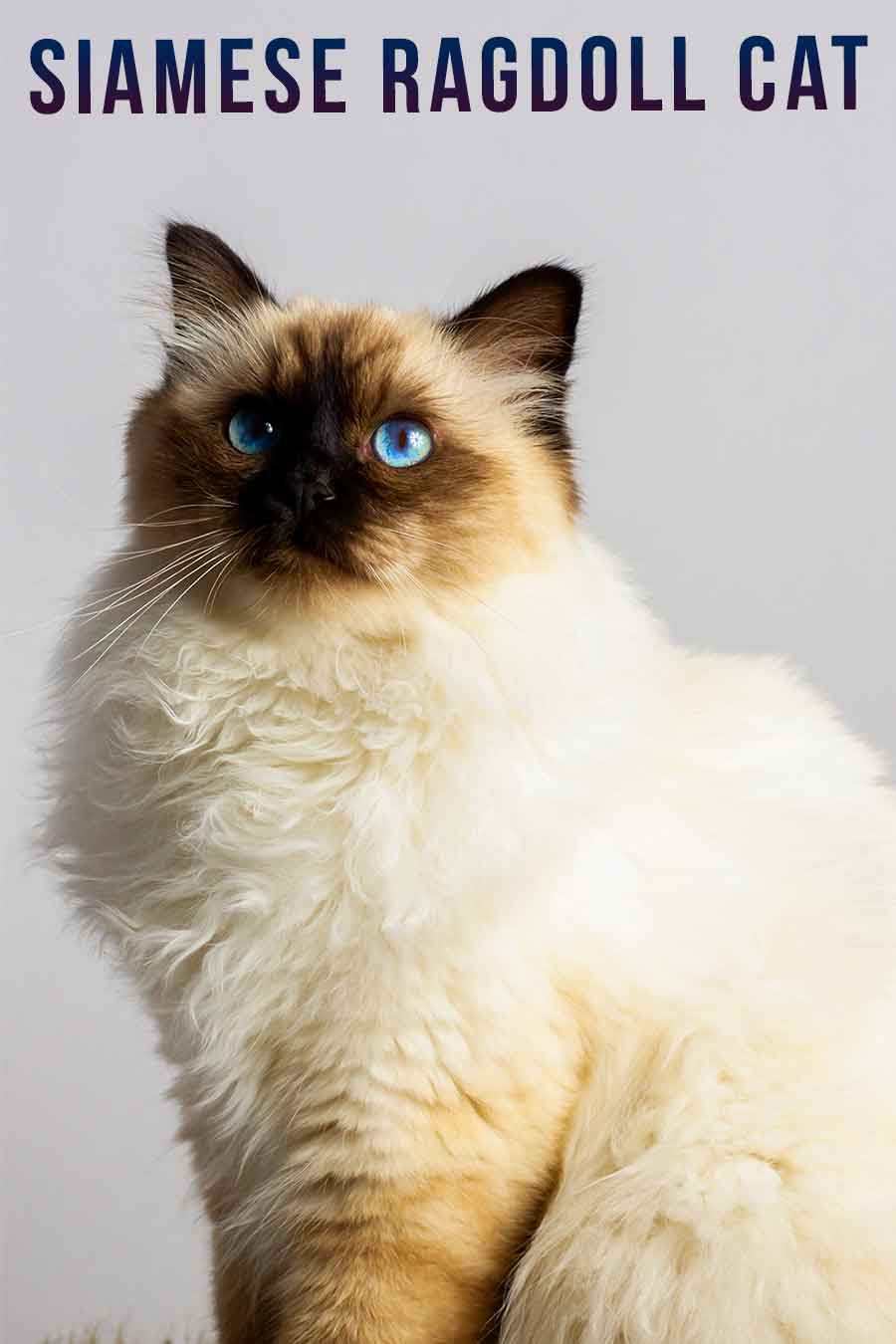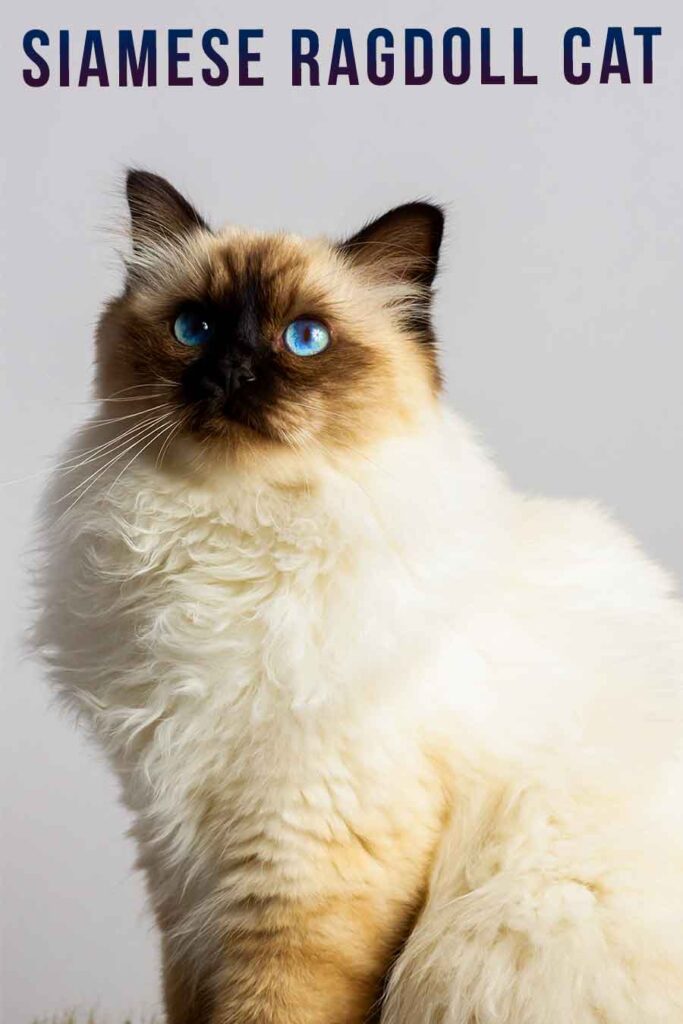 Siamese Ragdoll Cat Temperament
Like appearance, temperament can vary and will often fall somewhere between that of the two parents. Siamese cats are generally chatty, affectionate cats that want to spend all of their time with their humans. They are playful and intelligent cats who will love nothing more than accompanying you around the house and curling up on your lap. If your Ragamese kitten favors this parent, they will need plenty of company – they won't suit homes where they are left alone for long periods.
Ragdolls are similarly loving, but are known to be more relaxed than the Siamese. Although they are less talkative, they are similarly intelligent and playful. But, a Ragdoll is less likely to need constant attention and affection than a Siamese. They are known for being especially tolerant of young children and other pets.
Your Siamese Ragdoll cat could inherit either of these general personality types, or fall somewhere in between. But, generally, this mix is known to be friendly, intelligent, and playful. As long as they are socialized well, they will get along with everyone in the family, and will often be tolerant of other pets and strangers. Some will seek out affection as often as possible, but others may be slightly more aloof.
Siamese Ragdoll Cat Health
Mixed breed cats can still be vulnerable to the same health issues as their parent breeds. So, you will need to choose a reputable breeder that only reproduces from healthy cats. Here are some of the most common health conditions that a Ragamese mix will be vulnerable to:
Dental issues
Sensitivity to anesthesia
Amyloidosis
Learning the signs of common health problems can help you to identify them early, and get your kitten all the help possible. So, it's a good idea to learn about the above issues if you're committing to a Ragamese mix. With proper care and a good breeder, these kittens will live well into their teens.
Caring for a Ragamese
Like any other cat, the Siamese Ragdoll cat will need a balanced, carnivorous diet. They are often low shedding cats, but may need regular grooming if they inherit the Ragdoll's longer fur. Their grooming needs will vary depending on the fur type they inherit, so it's not necessarily something you can predict before bringing your kitten home. But, whilst grooming, you should always check their ears for excess wax, and their teeth for signs of plaque buildup.
Is a Siamese Ragdoll Cat Right for You?
The Siamese Ragdoll mix won't suit every home. This breed requires a lot of attention, and a lot of mental stimulation to prevent boredom and stress. It's also quite hard to predict exactly what a Ragamese cat will be like. Some might be more like their Siamese parent, but others may favor the Ragdoll parent. So, it's important to ensure you're going to be happy with any outcome.
If you're looking for a cat that is very people-oriented and that might even learn little tricks, this could be the right choice for you. But, they are prone to a number of hereditary health issues, and will often require regular grooming.
Finding Siamese Ragdoll Kittens
When searching for new kittens, it's important to choose a reputable breeder. You may stumble across Ragamese cats in rescue centers, but there's no guarantee that staff will always know exactly what mixes they have at hand. They may even mistake this mix for one of its purebred parents.
The best breeders will only produce kittens from the healthiest cats. So, when you visit, make sure to see evidence of health testing. It's a good idea to meet the parent cats where possible, to see what their personalities are like. Looking at the parent cats will also give you a better idea of what to expect from your kitten.
Prices for this mix will vary depending on demand, kitten colors, and markings. But, it's likely you will only have to spend a few hundred dollars to secure your Ragamese kitten.
Is a Ragamese Mix Right for You?
Do you have a Siamese Ragdoll cat at home already? Or are you still searching for your perfect kitten? Let us know your thoughts on this combination in the comments!
Readers Also Liked