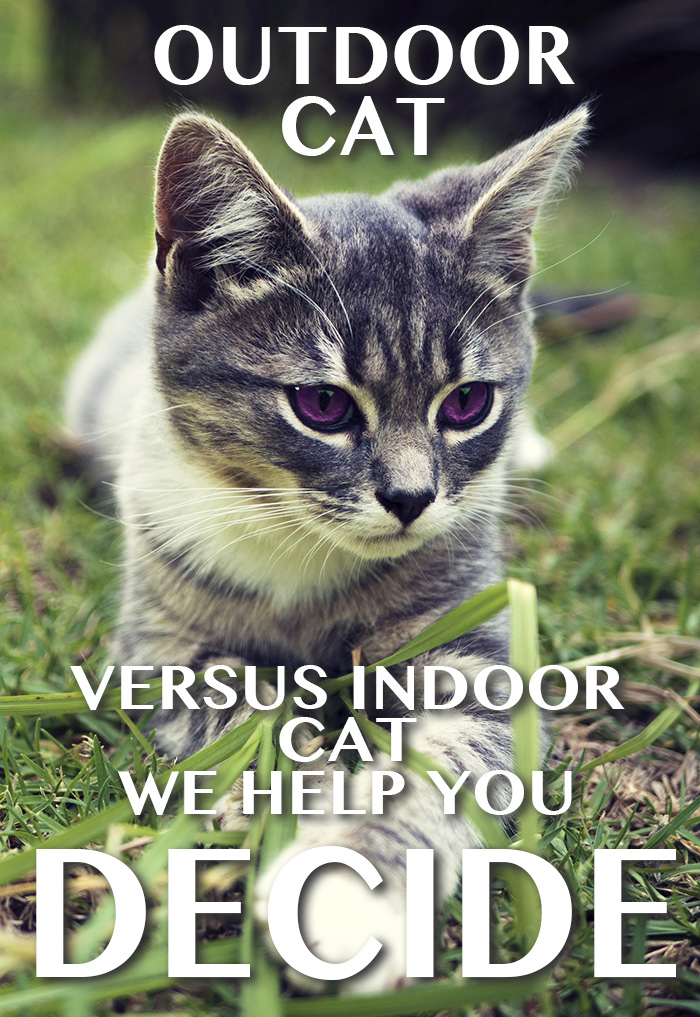 Outdoor Cat Versus Indoor Cats looks at the question "should I let my cat outside?"
We'll consider the arguments for and against keeping cats indoors
And help you decide the best course of action for your cat.
Before we get going I should probably say that when I talk about 'outdoor cats'
I am not talking about cats that are shut outside all the time, as some farm cats are.
I am simply referring to cats that are allowed access to roam free outside the home.
The changing world of cats
When I was small not only cats, but many dogs too were allowed to roam freely around the towns and villages where they lived.
An indoor cat was almost unheard of.
Over the intervening years, as traffic volumes have expanded, and as dogs have increasingly become regarded as family members, the freedom of dogs to roam and the hazards that accompany that freedom have been removed from them.
This is generally seen as a good thing for dogs and for the rest of us. The general view being that you should take your dog for a walk and supervise him outdoor, not push him out the door after breakfast and leave him to his own devices.
The same is not true of cats.
Outdoor cats are free to roam
In the UK where I live, and in many other parts of the world, the majority of domestic cats are outdoor cats.  They still have the freedom to come and go as they please.
Often with the assistance of a cat door or flap installed for their convenience
There is however, a movement towards keeping 'indoor cats' that while still in the minority, is growing steadily.
Why are more people keeping indoor cats?
This movement towards keeping cats indoors has probably been driven by a number of factors.
Including the growing volume of traffic on our roads, and the growth of interest in purebred, pedigree cats.
More pedigree cats
The last ten years or so has seen an increasing interest in purebred cats.
There is now a growing population of some extremely beautiful, exotic looking and valuable pedigree cats around the world.
And many of these cats lead their entire lives indoors. Sometimes with access to an enclosed outdoor play area similar to an aviary
A few cat lovers have even gone to the lengths of catproofing their yard or garden. Not the easiest of task – we'll look at that in a moment.
It is not surprising that cat owners are reluctant to expose a creature that has cost them hundreds, if not thousands, of dollars, to the risks of theft and traffic accidents.
But what about our ordinary moggies or domestic tabbies. Are some of them living as indoor pets too?
Are non-pedigree cats living indoors?
It seems that in some cases, they are.
Not in huge numbers yet, but the tendency to keep cats indoors is spreading to include a wider range of cat owners.
And there is no reason to think that this is a passing phase
I suppose the next question to ask is, does keeping cats indoors benefit the cat and his owner. Is this new trend a good or a bad thing for cats and those who share their world?
Indoor cats versus outdoor cats
If you have a kitten or young cat, you may well be faced with deciding whether or not to allow him the freedom to go outside on his own.
Talking to others about this topic you may find views are quite polarised, with both sides feeling strongly that their view is right.
But it's a complex topic and deciding can be tough.
You'll may also come across the view that outdoor cats are bad for the environment, so we'll look at that topic too.
Let's starts with the pros and cons to the cat himself of these two very different lifestyles
The benefits to cats of living indoors
There are risks outdoors that simply don't apply inside your home
Safety
In some parts of the world cats are at risk from predators such as large carnivores and hawks or eagles.
Where I live in the UK there are no wild predators that pose a risk to an adult cat.  But what about dogs?
While most domestic dogs have neither the inclination nor the skill to catch a healthy cat, there are some sight hounds, such as greyhounds, that can be a threat to cats.
However, most dogs here are supervised outdoors. For a cat to be killed by a dog is very rare and most cats and dogs, in the UK at least, get along together very well
It's pretty clear that an indoor cat is unlikely to get run over at any point. But what are the other advantages of living indoors?
And do these outweigh the benefits of freedom?
Control over what your cat eats
While many outdoor cats keep lean from plenty of exercise, some do not. Some cat owners really struggle to prevent their cat getting fat.
Putting a cat on a diet is pretty futile if he has access to the wider world, because he'll simply help himself to another cat's supper through the network of cat doors that are widely available in most modern homes.
Either that or he'll persuade your neighbours to feed him, and ultimately move in with one of them
The benefits to cats of being allowed outside
One interesting study on cats in a village in the UK where all the cats were fitted with trackers, was fascinating.
It showed that many cats not only walked quite some distance each day, but that they also visited one another's homes.
I think that there is little doubt that cats enjoy this freedom.
They take pleasure, not only in hunting, climbing, running but also in simply exploring their neighbourhood.
There is also no doubt that the exercise is beneficial to them. It is very difficult to generate this level of activity within the home unless you can accommodate a large cat exercise wheel.
These, by the way, are fascinating things if you have the space and the money to invest in one.
Some people claim it is actually harmful to cats to keep them shut indoors.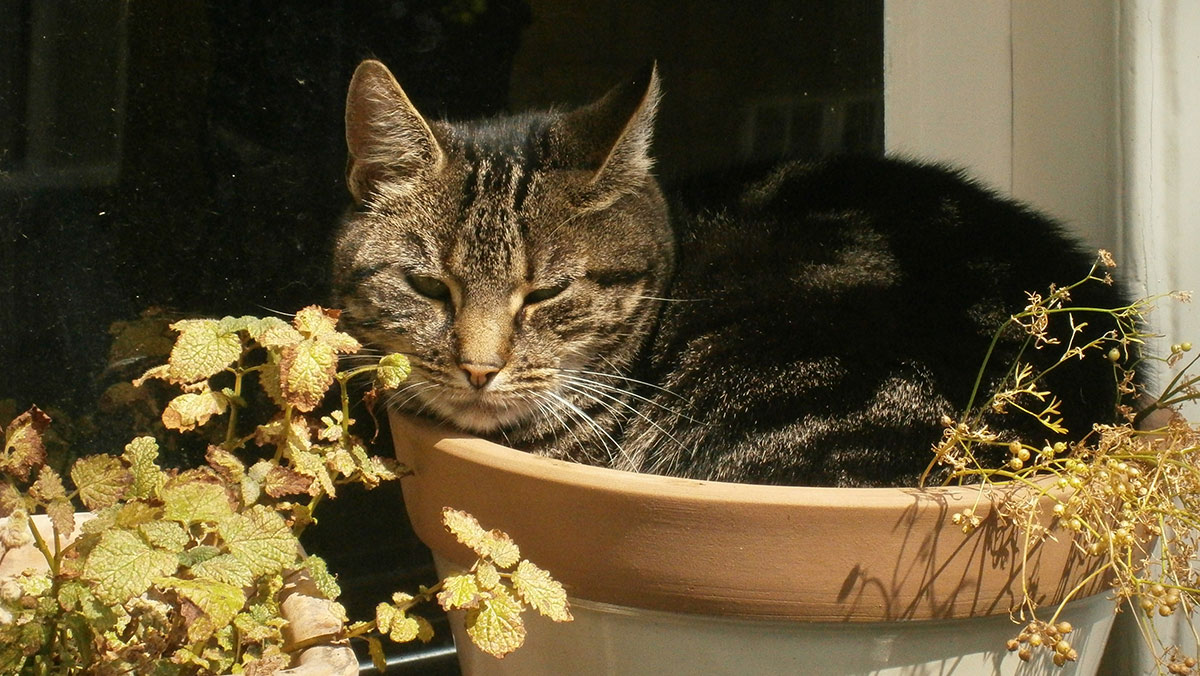 One vet treating a friend's indoor cat told us that he believes living indoors is stressful to many cats, and that this stress contributes to increasing allergies and nervous behaviors.
Dr. Arnold Plotnick writing in 'Catster' says
"Indoor cats frequently find themselves without acceptable outlets for their natural instinctive behaviors, like hunting for food, hiding from predators, and scratching. The stress of this lifestyle can manifest in several ways, such as development of Feline Insterstitial Cystitis (FIC)"
FIC is a painful bladder condition.
Cats allowed to go outside may be at lower risk of this and other problems that may be exacerbated by stress.
Of course, as a cat owner, only you can decide whether you think the benefits to a cat of freedom and exercise, are worth the risks of being a small animal in world where vehicles proliferate.
But there are also pros and cons to you, the cat owner, of both these lifestyles.
The benefits to cat owners of keeping indoor cats
Freedom from worry is one benefit reported by indoor cat owners.
Many of us with outdoor cats have experienced that heart stopping moment when a neighbour reports that 'a cat has been killed on the road today'
"What color was it?" You demand, inappropriately grabbing the messenger's arm, and heave a sigh of relief when you realise it can't be your cat.
If the details are not known, you then rush around the house shaking a bag of cat treats, calling "Kitty, Kitty!"
And sob with relief when you find Kitty fast a sleep on your bed.
Your unsuspecting cat must wonder about your mental state when you disrupt her afternoon nap, get your meal times all confused, and start smothering her with horrible human kisses.
The indoor cat owner never goes through this torment.
Training opportunities
Cats can be clicker trained.  This is a lot of fun, but it is much harder to do if you don't control every morsel of food that goes into your pet
Clicker training is easier with an indoor cat.  But there are also benefits to keeping a free cat.
The benefits to cat owners of keeping an outdoor cat
There are a number of aspects to keeping an outdoor cat that some cat owners will see as a benefit.
Others might disagree!
No poop indoors
Dare I say 'litter trays'? I have friends who think my aversion to litter trays a bit pathetic, but I really, really don't like them in my house.
And I know that plenty of other people feel the same way.
A litter tray is a necessity with new cat or a kitten too young to be out alone, but it is easier to accept when you know that this is a temporary arrangement
Less behavior problems
Generally, experts agree that animals do best when they can express natural behavior. In cats these include scratching, and spraying.
In outdoor cats, these behaviors don't normally become a problem.
Indoor cats can sometimes express such behavior indoors and owner may need help in redirecting this behavior more appropriately.
Keeping indoor cats amused with puzzles, activities and climbing towers, may help to reduce problems caused by lack of mental stimulation
Keeping windows closed
Another disadvantage to indoor cats is the lack of fresh air. Most people with indoor cats need to keep windows permanently closed, or fitted with screens that look unsightly and/or prevent movement of air
In the UK, where summer is all too short, we like to throw all our windows open when it arrives, including big double doors leading onto patios and into gardens.
This is tricky to do with an indoor cat on the team
Of course these are essentially selfish reasons, but they are still a part of the whole discussion and the impact of indoor versus outdoor cats on your family, needs to be taken into account.
The final topic is one that arouses very strong feelings indeed. And that is the impact that outdoor cats have on their environment. Particular when it comes to the local wildlife.
The impact of cats on the environment
Cats are predators. They are not just any old predator. They are not social predators like dogs, who rely on teamwork to kill consistently and prefer to scavenge when possible.
Cats are the most efficient predators we have ever domesticated and very few cats will live an outdoor life without catching and killing other animals.
Your cat's hunting ability
The ability to hunt down and kill small prey is instinctive in cats, and they don't need another cat or you, to teach them how to do it.
It is natural to assume that this killer instinct is going to have a detrimental effect. And if the thought of an animal being hunted to death appalls you, then keeping your cat indoors is probably a good idea.
Of course, predation is natural, and many people are comfortable with their cat being a predator, but that isn't the only consideration.
That detrimental effect we mentioned, may not be quite what we assume.
The positive side to predation
One thing to consider is how predation works. From a biological point of view.
Because predation is not always a bad thing.
That's because predators have the most success on the least able prey. All predators tend to kill the slowest, the weakest, and the sickest.
Provided that there are not too many predators this results in the fastest, the strongest, and the healthiest individuals of the prey species surviving.
In many cases the overall effect of an appropriate number of predators in the environment is a positive one.
Are cats bad for the environment?
Just recently many newspapers have been reporting on a new book: Cat Wars
It's a book that doesn't pull its punches.
The authors talk of removing " all free-ranging cats from the landscape by any means necessary"
The aim being to protect wildlife from predation by cats, and to reduce the spread of infections carried in cat faeces.
The book has received some scathing reviews   and been accused of lacking scientific rigour, but it has certainly got people talking.
In the UK, the views expressed in this American book are not widely supported.
The Royal Society for the protection of Birds for example, states that there is "no scientific evidence that predation by cats in gardens is having any impact on bird populations UK-wide."
There is however, evidence that cats tend to take weak or sickly birds. So it is possible they may even help to maintain vigour in wild populations.
Cats have lived alongside humans in the UK for thousands of years, but the same is not true in all regions.
There is perhaps a stronger argument for controlling cats in countries where they are more recent arrivals, such as Australia, or New Zealand.
It's certainly a contentious discussion and one that is likely to run and run.
Cats and toxoplasmosis
Another environmental factor to consider is a disease called toxoplasmosis that can be spread by cats via contact with their faeces
Toxoplasmosis is particularly dangerous to pregnant women and their unborn babies.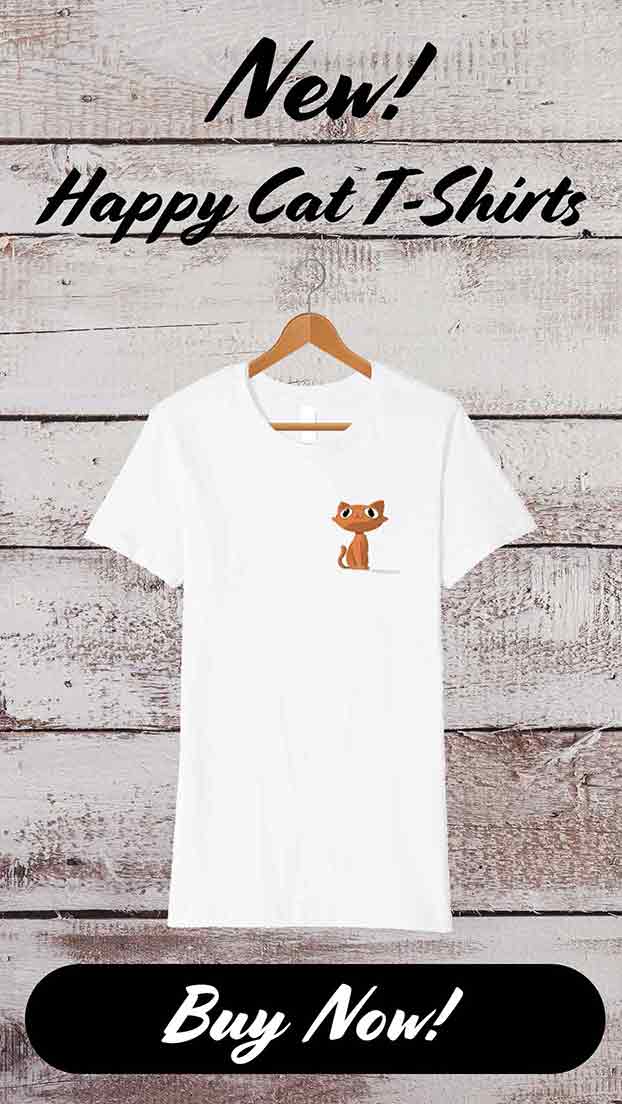 Cats become infected by toxoplasmosis by eating infected small animals. The infection can then be passed to humans that come into contact with the cat's faeces.
Protecting people from cat transmitted toxoplasmosis isn't complicated.  It's all about keeping away from cat poop.
Using this disease as a reason for removing cats from the environment is a bit like the arguments for never feeding raw chicken to a dog in case he passes salmonella in his faeces. Here's the thing
Poop is grubby!
The thing is, faeces generally, are grubby. They are full of pathogens. Not just toxoplasmosis, but also salmonella, and other nasty bugs that can make us sick and even kill us.
Never handle cat faeces or cat litter trays, or stray cats, if you are pregnant or trying to get pregnant.
There are some more precautions listed on the Center for Disease Control website.  It's mostly common sense and good food hygiene.
Should I let my cat outside?
As you can see, this is not a discussion with a definitive answer.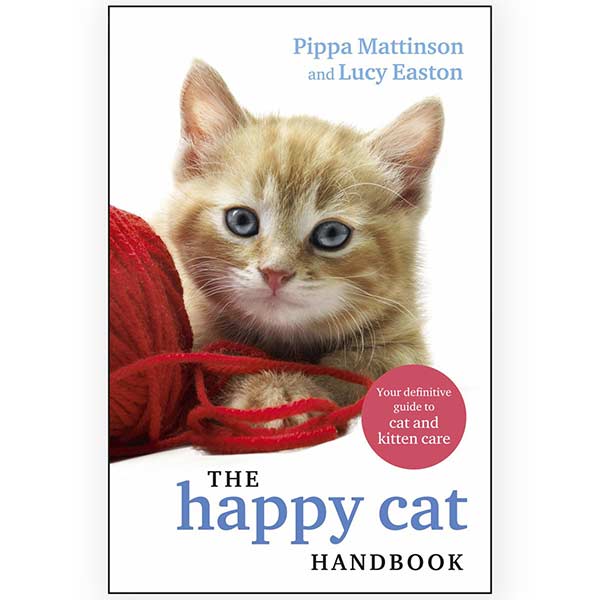 There are a range of different opinions, and pros and cons to both keeping indoor cats, and allowing cats access to the wider world
If your cat needs to go on a diet, or if you want to train him using food, you'll need to keep him indoors, at least for a while.
Living near a very busy road may also encourage you to make your cat an indoor cat.  Though cats can easily be run over on country lanes too, and many town cats do seem to develop a 'street-wise' ability to stay away from traffic.
If your cat is very attractively marked or valuable, you may want to consider the risk of theft, and keep him indoors. Especially if he is the type of cat to approach strangers.
On the other hand, if your cat is finding indoor life stressful and suffering from skin problems or other potentially stress related behaviors, letting him outdoors might be the making of him.
No-one but you can make this decision, and it's certainly a tough one.
Cat-proofing your garden
If you decide you don't want to risk allowing your cat to roam freely, you might want to consider cat-proofing your yard or garden
Cat proof fencing isn't cheap but if properly designed it is very effective.
Usually made of metal with an overhang, a cat proof fence is too slippery for cats to gain a purchase and climb.
You'll need to keep trees and shrubs away from the fence so that your cat doesn't use them as a springboard.  But it's an option you might like to consider
Will your cat be allowed outside?
So what conclusion have you come to? Do you think that the mental and physical benefits of being a free roaming cat outweigh the risks?
Have you read Cat Wars? Are you worried about the impact of cats on the environment?
Will you let your cat go outside when the time comes?
Share your thoughts in the comments below
Free Updates For Cat Lovers!
Our cat care articles, tips and fun facts, delivered to your inbox
Your Amazing Cat!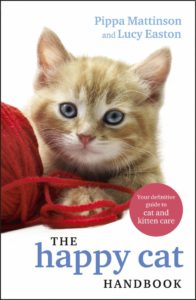 We are so excited to share our new book with you!
If you have enjoyed your visit to The Happy Cat Site we think you'll love The Happy Cat Handbook.
Written by the founders of this website including the author of the hugely successful Happy Puppy Handbook, it's packed with cat care information and fascinating cat facts.
Grab your copy today!
Free Updates For Cat Lovers!
Our cat care articles, tips and fun facts, delivered to your inbox