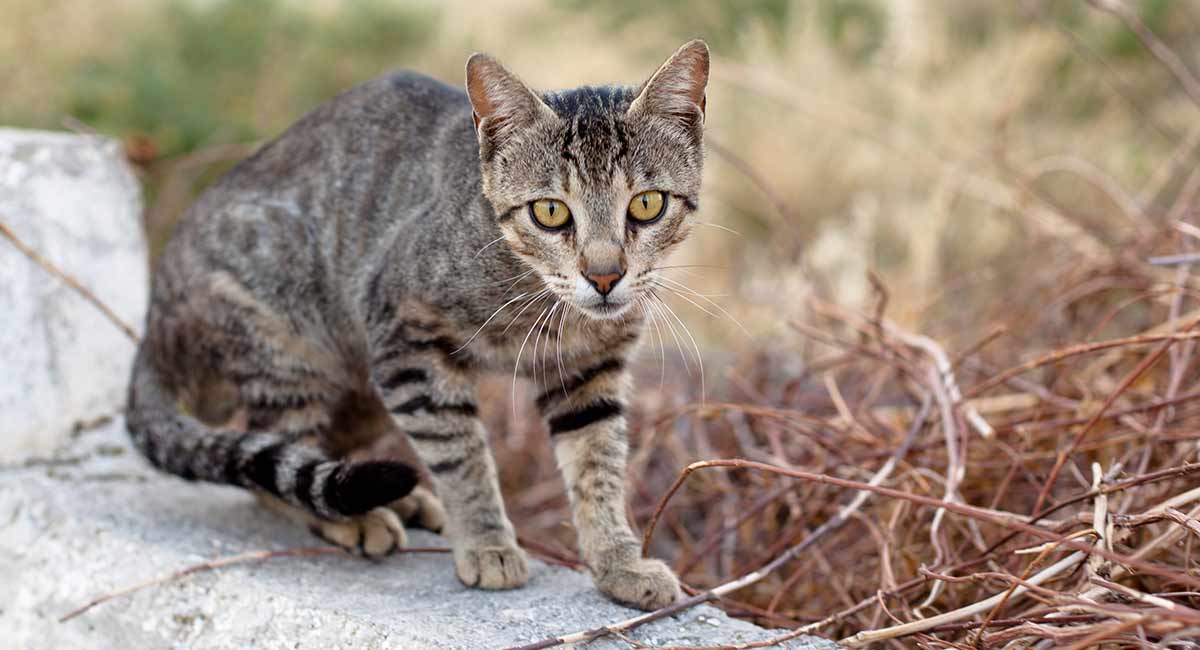 There are tons of stories in the media about overweight pets but rarely are we asked how to fatten up a cat.
Have you ever asked yourself "is my cat too skinny?"
In this article, we will look at the possible causes of weight loss in our feline friends. We will also explore options for of how to get a cat to gain weight.
How To Fatten Up a Cat
If your cat is too skinny then speak to your vet. Depending upon the cause they may recommend a high fat or high protein food, an increase in their normal food or some other medical treatment to assist with an underlying condition.
Now we'll look at some of the reasons you cat might lose weight, and some of the products your vet might recommend to help a cat gain ounces back again.
Healthy adult cats tend to stay pretty much the same weight for years and years. Therefore, if your cat is losing pounds, it is potentially a cause for concern.
Weight loss in cats can be caused by loss of appetite resulting in decreased food intake.
Equally, those displaying normal or even increased eating habits may too be shedding pounds.
Either way, there may be an underlying medical problem.
Undernourished cats can deteriorate quickly and so it is vital that you seek veterinary advice early on.
Why Is My Cat Getting Skinny?
There are a number of reasons but here are some ideas why a young and seemingly fit and well feline may have lost weight:
Stress and Anorexia
Anorexia in cats, unlike Anorexia Nervosa in humans, is a general medical term for loss of appetite.
Stress is often a contributing factor and can be caused by a change in circumstances such as moving home, the loss of a companion or family member and placement in kennels, to name but a few.
Gastrointestinal Disorders
Disorders of this nature are common in cats and many can be cured easily over a few days.
Others though may require long-term management.
Gastrointestinal Disorders might include gastroenteritis, diarrhea, constipation, and pancreatitis.
Internal Parasites
Yet another common occurrence in otherwise healthy cats.
Internal parasites can be wormlike or single-cell microscopic organisms.
Wormlike parasites include roundworms, hookworms, tapeworms and examples of microscopic organisms are Isospora and Giardia.
Competition
In some multi-cat households, pets may be competing for food.
One cat simply may not have had the chance to consume as many calories as is needed.
Medication
It is possible that medication may affect a cat's appetite. Talk to your vet though before changing the dose or withdrawing any prescription medicines though.
Is Your Senior Cat Losing Weight?
As with humans, as a cat ages, she is likely to become weaker and less able to fight infection and illness.
It is important to monitor your senior cat and to be aware of issues which may affect her including:
Dental disease
Just like us, aging cats are prone to dental disease. Sore teeth and gums are likely to put your puss off of her food.
Hyperthyroidism
This disorder is very common in older cats and is caused by an overactive thyroid gland.
Symptoms usually include increased appetite but weight loss and sometimes vomiting.
We can't say this enough in this article – if you have a specific health concern about your cat, such as how to make a hyperthyroid cat gain weight, consult your vet for the best treatment.
Feline Diabetes
Also often seen in aging cats, diabetes can have similar symptoms to hyperthyroidism such as increased appetite and weight loss.
Increased thirst and urination are also commonly seen.
Kidney Disease
Kidney disease is another cause of weight loss in aging cats and symptoms are usually increased thirst and urination once again.
She may show signs of bloody urine, vomiting, and diarrhea.
Cancer
Sadly cancer and tumors are the number one cause of fatality in cats.
If your cat is losing weight, it could be a sign of a gastrointestinal tumor.
Arthritis and visual impairment
A senior cat may experience difficulty in actually getting to the food bowl, especially if she is suffering from arthritis or failing sight.
Easily accessible bowls, perhaps raised, are the best ways to help your pet eat happily.
Failing sense of smell
It could be that your pet's sense of smell is not as good as it used to be.
Her dinner may just not have such an appealing aroma these days.
How to Make a Skinny Cat Gain Weight. Can Diet Change Help?
A change in diet could certainly help your cat to put on weight.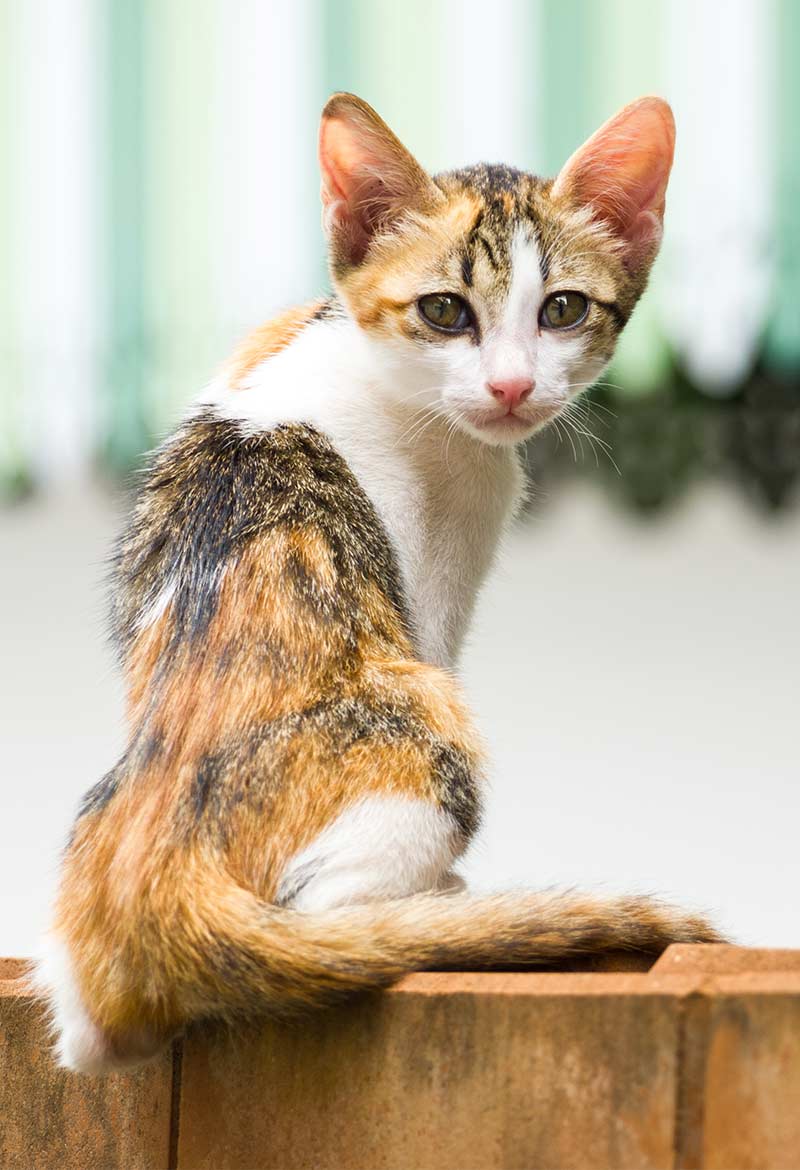 You could move to something tastier or even a different texture may encourage her to eat again.
Before you consider changing your pet's diet, it is essential that she has been thoroughly checked by a vet.
It is also important that any changes are made slowly to avoid gastrointestinal distress.
So let's look at foods which should help with weight gain in cats.
The Best Cat Food for Weight Gain
Let's face it, cats can be fussy eaters.
It is quite often difficult to find something palatable enough for kitty to crave.
It's demoralizing to have her turn up her nose at everything.
Furthermore, the pet food market can be a minefield.
With so many choices out there, how are we supposed to know which ones are best?
What is a sure-fire way to fatten up a cat?
Should I Choose High-Calorie Cat Food for Weight Gain?
Food high in calories should definitely help your cat to put on weight.
There is much debate over whether dry or wet food is better for a cat's health.
Dry food tends to be packed with more calories than wet and so you may decide that it is fine to use short-term.
Do be careful though as the food must be high in quality with proteins and fats from animal sources, rather bulked out with large amounts of plant material.
Here are some popular choices:
Nature's Variety Instinct Raw Boost Grain Free Recipe Natural Dry Cat Food
Nature's Variety Instinct is high in animal protein, grain-free and low in carbohydrate.
It also contains freeze-dried raw meat to boost nutrition.
Other beneficial components are probiotics, omegas, and antioxidants.
Iams Proactive Health Kitten Dry
Kitten food contains higher levels of protein and fat than adult alternatives.
It is deliberately highly calorific to support kittens' rapid growth.
This means it can play an important part in how to fatten up a cat.
This kitten food from IAMS contains a decent 41% animal protein for great taste and aroma.
It is easy to digest with prebiotics and has omegas for brain and eye function.
Antioxidants boost defenses and taurine help with vision and eye health.
BLUE Wilderness High Protein Grain Free Wet Cat
Although dry food generally contains more calories than wet, wet food is sometimes a better option.
Elderly cats in particular sometimes become more vulnerable to urinary tract infections, and keeping them well hydrated is an important line of defence.
Wet foods help keep water intake as high as possible.
A good wet high-calorie cat food for senior cats is Blue Wilderness grain free wet cat food.
This has a high concentration of tasty chicken and is 100% grain-free.
It is also fortified with vitamins and minerals including taurine.
What About High Carb Food?
For omnivores like us humans, carbohydrates are a rich source of calories and energy. Is it the same for our cats?
Cats are obligate carnivores and consume a minimal amount of carbohydrates in the wild.
Many commercial foods are high in starches and carbs which cats just wouldn't eat naturally.
Studies actually show that cats cannot digest carbohydrates very well.
Cats have adapted to extract nutrients and build muscle from protein and fats.
Whilst they can digest carbohydrates a little, they do so very inefficiently, and calories from carbohydrates will not help your underweight cat gain weight.
Will High Fat Food Help My Skinny Cat Gain Weight?
It can but, as with high-calorie foods, fat content should be of good quality and derived from animal sources.
Here is a high-fat food to try:
Tiki Cat Canned Cat Food for Adult Cats
Made with real sardines, this food is high in protein and fat rich.
It also boasts zero carbohydrates for a truly feline-appropriate meal.
What Else Can I Do to Help?
A cat weight gain supplement is another idea when wondering how to fatten up a cat.
These products might help your cat gain weight – but get your vet's approval before you try any of them.
Tomlyn High-Calorie Nutritional Gel For Cats
This gel-like substance is very palatable and high in calories.
It provides appetite stimulation to help with your cat's desire to eat.
Also contained are concentrated sources of vitamins, minerals, and omegas.
HARTZ Delectables Bisque Lickable Treat
Treats are another highly palatable way to get those hunger juices flowing.
This is a moisture filled blend of chicken and tuna flakes together with sauce so your cat can simply lick-away to her heart's content.
It contains vitamins such as E and B's to support senior health too.
Alternative Snacks for Underweight Cats
Some other short term sources of cat food for weight gain come from our own pantries.
Eggs are a good choice and are high in protein and calories.
Canned fish is usually accepted and is a valuable source of nourishment.
All of these human foods should be offered without seasonings and flavorings which can make your cat ill.
And they shouldn't be used as a long term replacement for a complete pre-prepared cat food without your vet's blessing.
Other Ways to Tempt an Underweight Cat to Eat
Here are a few more tips to tempt an unhungry cat back to the food bowl:
You can try splitting your pet's food into several smaller meals throughout the day. Some cats prefer to eat little and often, but notice immediately when a previous meal has been allowed to stale.
Warming food can also help stimulate a cat's appetite. Warm food is more aromatic which might be more appealing to your cat, especially if their sense of smell is fading. Take care though to check to temperature before feeding.
Make sure the food bowls are clean. Your pet, quite justifiably, is unlikely to want to eat from a dirty bowl.
Finally, dental disease is widespread in domestic cats and so it makes sense to take care of their teeth. A good dental care program is the perfect preventative measure to avoid tooth decay which could sap them of their appetite in future.
How to Fatten up a Cat – Summary
We hope that we have helped you with how to fatten up a cat.
We have learned that foods high in calories and fat are useful when considering how to make a cat gain weight.
Kitten foods are typically the most fattening cat food, so your vet might recommend them to help an elderly cat losing weight too.
It is important to remember that the best food for an underweight cat is one with as many animal ingredients in it as possible.
Plant-based products should be avoided or at least kept to a minimum.
We have discovered that we should look for high-quality, low carb, and grain-free options.
Above all, if your cat is losing weight, take her to your vet for a comprehensive check-up before you do anything else.
Even the best cat food for weight gain can't help if there's an underlying medical problem which still needs to be treated.
Make sure that you discuss any dietary changes with your vet as some conditions require a special diet.
If you work closely with your vet you are bound to find a way to help your cat gain weight.
Have you had trouble getting your cat to eat?
Does kitty keep on losing weight whatever you do?
We would love to hear your stories in the comments below.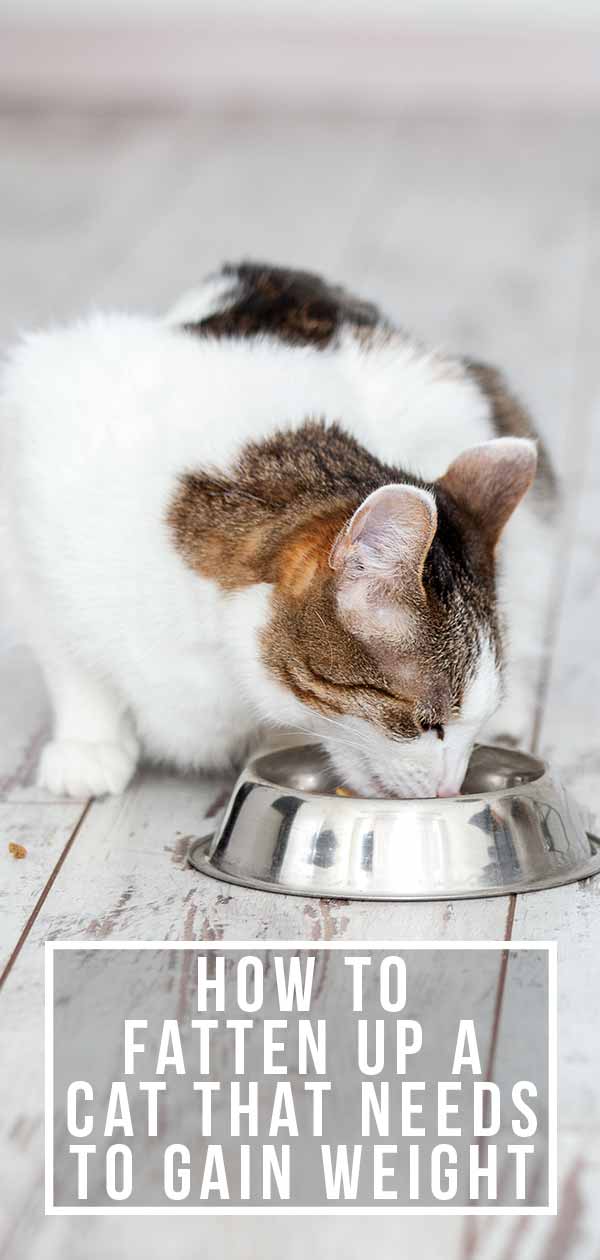 References and Further Reading
Tanaka et al. 2012. Associations among weight loss, stress, and upper respiratory tract infection in shelter cats. Journal of the American Veterinary Medical Association.
B. Kornreich. Anorexia. Cornell Feline Health Centre.
S. Marsilio. 2016. Gastrointestinal Disorders in Cats. Veterinary Medicine & Biomedical Sciences.
T. McGlade et al. 2003. Gastrointestinal parasites of domestic cats in Perth, Western Australia. Veterinary Parasitology.
B. Kornreich. Feline Dental Disease. Cornell Feline Health Centre.
M. Peterson. 2014. Hyperthyroidism in Cats. Clinical Endocrinology of Companion Animals.
J. Rand et al. 2004. Canine and Feline Diabetes Mellitus: Nature or Nurture? The Journal of Nutrition.
L. Boyd et al. 2008. Survival in Cats with Naturally Occurring Chronic Kidney Disease (2000–2002) Journal of Veterinary Internal Medicine.
Cribb. 1988. Feline Gastrointestinal Adenocarcinoma: A Review and Retrospective Study. The Canadian Veterinary Journal.
M. Chandler et al. 2004. Nutritional Status of Canine and Feline Patients Admitted to a Referral Veterinary Internal Medicine Service. The Journal of Nutrition.
E. Kienzle. 1994. Blood Sugar Levels and Renal Sugar Excretion After the Intake of High Carbohydrate Diets in Cats. The Journal of Nutrition.
Free Updates For Cat Lovers!
Our cat care articles, tips and fun facts, delivered to your inbox