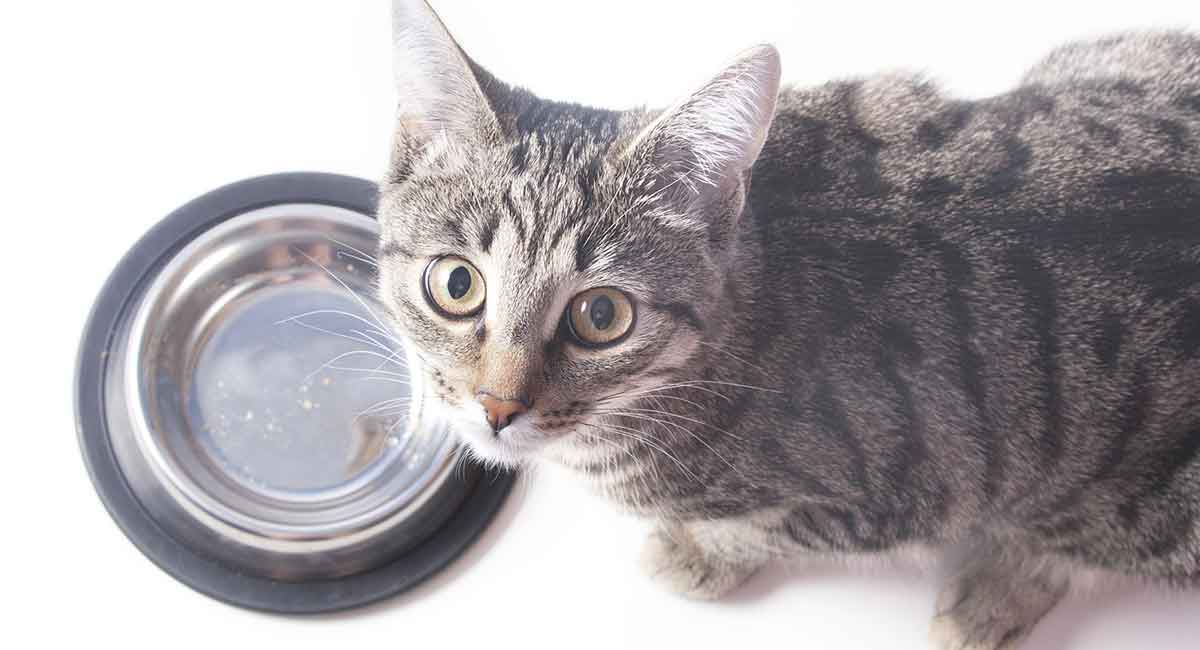 There are tons of stories in the media about overweight pets, but rarely are we told how to fatten up a cat that needs to gain weight. Yet it's actually a pretty common issue, especially with elderly cats. Today I'll share the possible reasons your feline friend might be losing weight, and explore the options for how to make a skinny cat gain weight.
How To Fatten Up a Cat
Is Your Cat Underweight?
How much your cat should weigh depends on her age, breed, activity level and overall health. The average housecat weighs about 10 pounds. But some breeds may weigh half that much even fully grown. And some breeds may be healthy at more than twice that weight.
For most cats, you should be able to feel their ribs and backbone, but you shouldn't be able to see them. I run my hands down my cat's sides and across his back regularly just through petting, and this is a great opportunity to have a little check to make sure his weight is the right kind of level.
Make Sure Your Skinny Cat Is Healthy
Healthy adult cats tend to stay pretty much the same weight over the years. Therefore, if your cat is losing pounds, they may have an underlying medical problem. Issues that can cause weight to go down suddenly include:
Gastrointestinal Disorders
Gastrointestinal disorders such as gastroenteritis, diarrhea, constipation, and pancreatitis are common in cats. Many can be cured easily over a few days. Others, though, may require long-term management.
Internal Parasites
Internal parasites are also common in otherwise health cats. Parasites can be wormlike or single-cell microscopic organisms. Wormlike parasites include roundworms, hookworms and tapeworms. Isospora and giardia are examples of microscopic organisms.
Dental Disease
Just like us, aging cats are prone to dental disease. Sore teeth and gums are likely to put your puss off of her food.
Hyperthyroidism
This disorder is very common in older cats and is caused by an overactive thyroid gland. Symptoms usually include increased appetite, sometimes with vomiting, along with weight loss.
Feline Diabetes
Also often seen in aging cats, diabetes can have symptoms similar to hyperthyroidism, such as increased appetite and weight loss. Increased thirst and urination are also commonly seen.
Kidney Disease
Kidney disease is another cause of weight loss in aging cats. Symptoms for this condition also include increased thirst and urination. Your cat may show show signs of bloody urine, vomiting and diarrhea.
Cancer
Sadly, cancer and tumors are the number one cause of fatality in cats. If your cat is losing weight, it could be a sign of a gastrointestinal tumor.
Arthritis and Visual Impairment
A senior cat may experience difficulty in actually getting to the food bowl, especially if she is suffering from arthritis or failing sight.
Failing Sense of Smell
It could be that your pet's sense of smell is not as good as it used to be. Her dinner may just not have such an appealing aroma these days.
Medication
It is possible that medication may affect a cat's appetite. Talk to your vet, though, before changing the dose or stopping any prescription medications.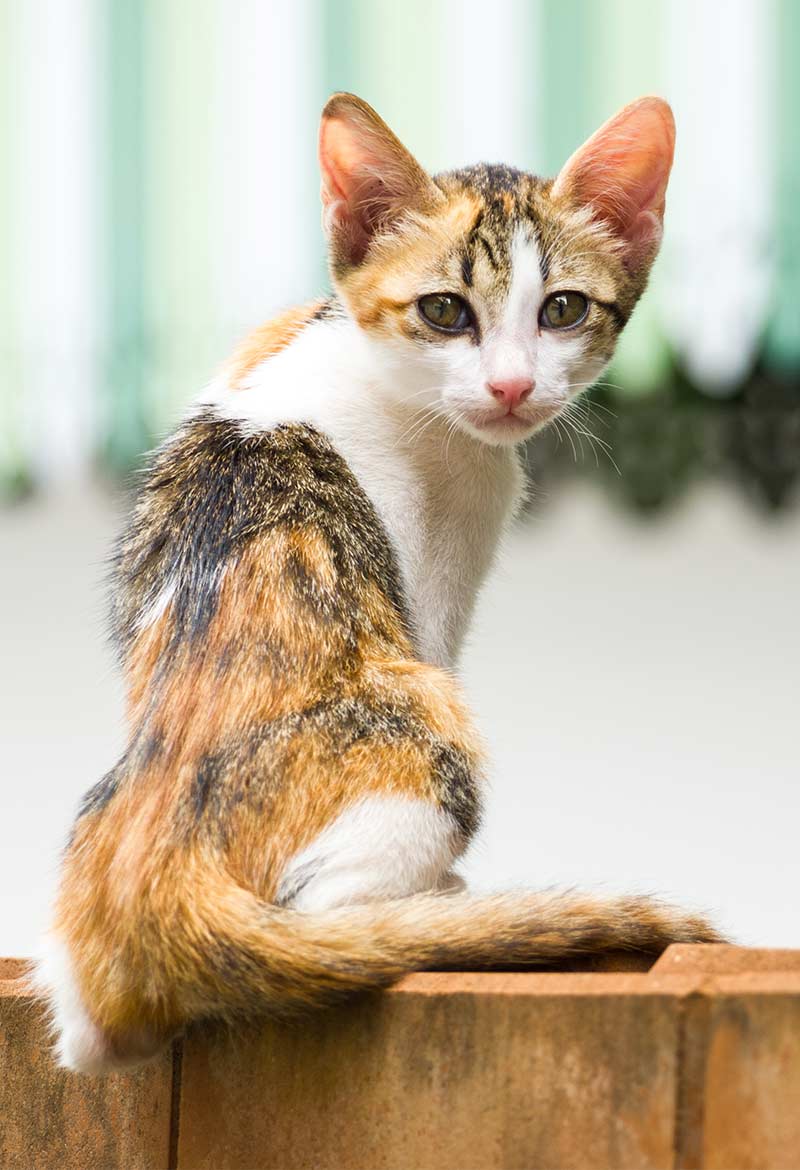 Help a Cat Gain Weight With a Different Food
A change in diet could be the answer to how to make a skinny cat gain weight. A new food that is tastier or even has a different texture may encourage her to eat more. The nutritional content of the food is important, too.
The best foods to help with weight gain in cats tend to be
high in fat and calories
formulated for kittens
made with as many animal ingredients as possible
made with limited amounts of plant-based products
Check with your vet before making a big change in your skinny cat's diet. It is also important that any changes are made slowly to avoid gastrointestinal distress.
Top Meals For Skinny Kitties
So let's look at foods that should help with weight gain in cats. Here are some popular choices:
Nature's Variety Instinct Raw Boost Grain Free Recipe Natural Dry Cat Food
Nature's Variety Instinct* is high in animal protein, grain-free and low in carbohydrate. It also contains freeze-dried raw meat to boost nutrition. Other beneficial components are probiotics, omegas, and antioxidants.
Iams Proactive Health Kitten Dry
Kitten food contains higher levels of protein and fat than adult alternatives. It is deliberately highly calorific to support kittens' rapid growth. This means it can play an important part in how to fatten up a cat.
This kitten food from IAMS* contains a decent 41% animal protein for great taste and aroma. It is easy to digest with prebiotics and has omegas for brain and eye function. Antioxidants boost defenses and taurine help with vision and eye health.
BLUE Wilderness High Protein Grain Free Wet Cat
Although dry food generally contains more calories than wet, wet food is sometimes a better option. Elderly cats in particular sometimes become more vulnerable to urinary tract infections. Hydration is not only part of how to help a cat gain weight, it helps protect the urinary tract. Wet foods help keep water intake as high as possible.
A good wet high-calorie cat food for senior cats is Blue Wilderness grain free wet cat food*. This has a high concentration of tasty chicken and is 100% grain-free. It is also fortified with vitamins and minerals including taurine.
Tiki Cat Canned Cat Food for Adult Cats
Made with real sardines, this food is high in protein and fat rich*. It also boasts zero carbohydrates for a truly feline-appropriate meal.
Snacks and Supplements for the Underweight Cat
A cat weight gain supplement is another idea when wondering how to fatten up a cat. These products might help your cat gain weight. But get your vet's approval before you try any of them.
Tomlyn High-Calorie Nutritional Gel For Cats
This gel-like substance* is very palatable and high in calories. It provides appetite stimulation to help with your cat's desire to eat. Also contained are concentrated sources of vitamins, minerals, and omegas.
HARTZ Delectables Bisque Lickable Treat
Treats are another highly palatable way to get those hunger juices flowing. This is a moisture filled blend of chicken and tuna flakes* together with sauce so your cat can simply lick-away to her heart's content. It contains vitamins such as E and B to support senior health, too.
Alternative Snacks for Underweight Cats
Some other short term sources of cat food for weight gain come from our own pantries. Eggs are a good choice and are high in protein and calories. Canned fish is usually accepted and is a valuable source of nourishment.
These human foods should be offered without seasonings and flavorings that can make your cat ill. And they shouldn't be used as a long term replacement for a complete prepared cat food without your vet's blessing.
Make Your Cat's Food More Appetizing
Here are a few more tips to tempt a skinny cat to the food bowl:
Try splitting your pet's food into several smaller meals throughout the day. Some cats prefer to eat little and often, but notice immediately when a previous meal has been allowed to stale.
Warming food can also help stimulate a cat's appetite. Warm food is more aromatic, which makes it more appealing if your cat's sense of smell is fading. Take care, though, to check to temperature before feeding.
Make sure the food bowls are clean. Your pet, quite justifiably, is unlikely to want to eat from a dirty bowl.
How to Fatten up a Cat
Foods high in calories and fat are useful when considering how to make a cat gain weight. Kitten foods are typically the most fattening cat food.
It is important to remember that the best food for an underweight cat is one with as many animal ingredients in it as possible. Plant-based products should be avoided or at least kept to a minimum.
Above all, if your cat is losing weight, take her to your vet for a comprehensive check-up before you do anything else.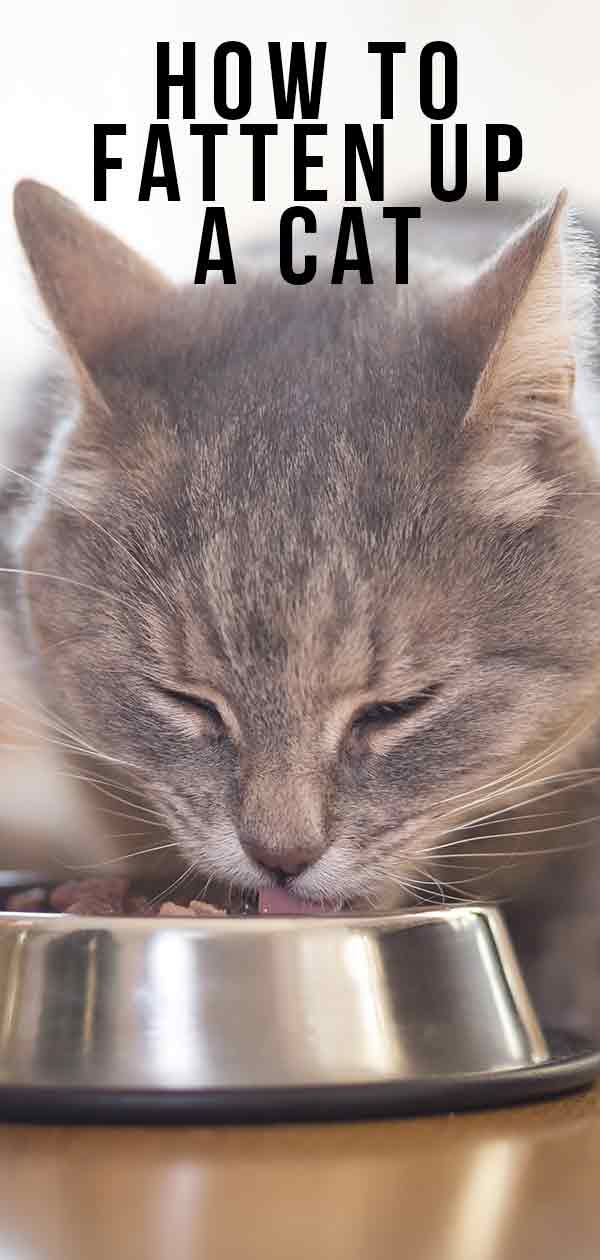 Even the best when a cat needs to gain weight can't help if there's an underlying medical problem that still needs to be treated. Make sure that you discuss any dietary changes with your vet as some conditions require a special diet. If you work closely with your vet you are bound to find a way to help your cat gain weight.
Have you had trouble getting your cat to eat?
Does kitty keep on losing weight whatever you do? We would love to hear your stories in the comments below.
Affiliate link disclosure: Links in this article marked with an * are affiliate links, and we may receive a small commission if you purchase these products. However, we selected them for inclusion independently, and all of the views expressed in this article are our own.