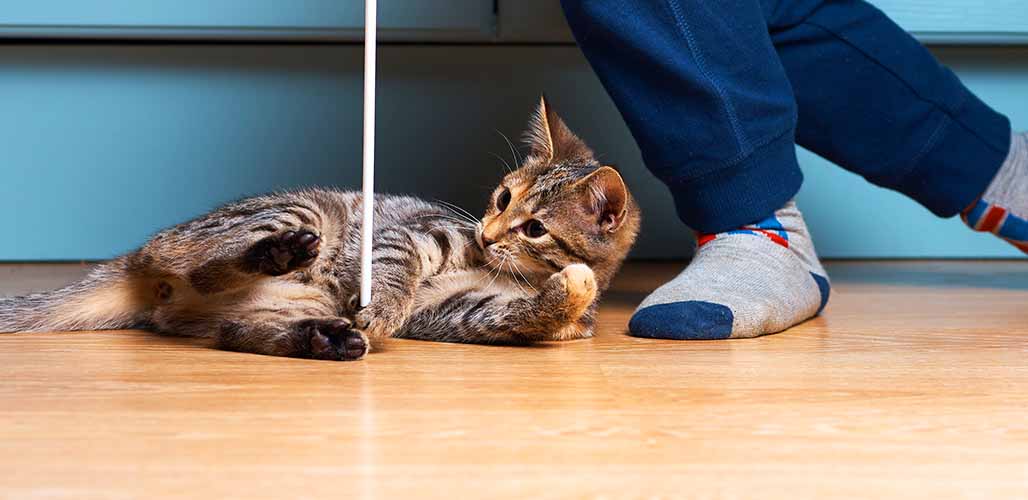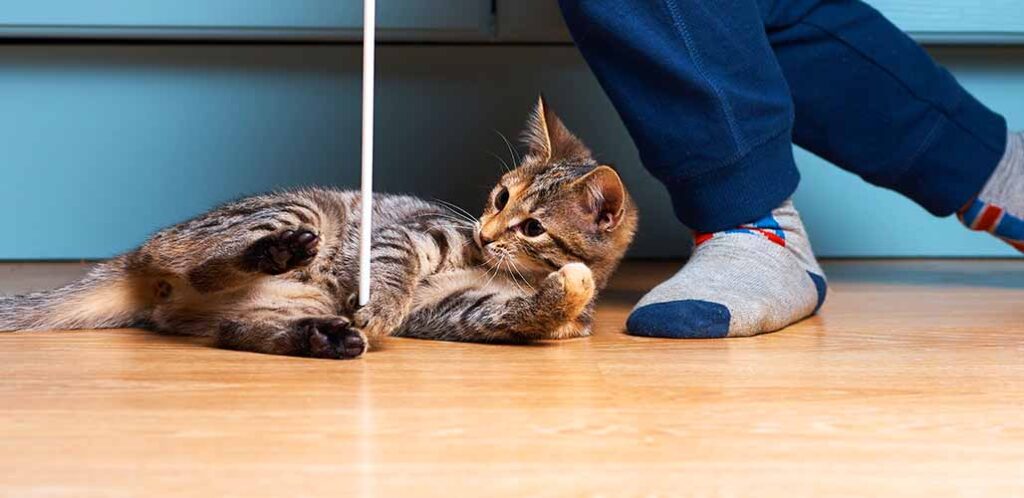 It hadn't originally been my intention to keep my pet cat indoors, since I don't have air conditioning, and I rely on opening my windows for ventilation in summer. But nonetheless there have been a couple of occasions when keeping her housebound for a while has been unavoidable. And they made me realize that knowing how to keep an indoor cat entertained is a requirement for any cat owner. Providing indoor entertainment – or 'enrichments' – for cats improves their emotional and physical welfare, and decreases the likelihood of unwanted behaviors.
Luckily there are lots of ways to amuse an indoor cat using social interaction, toys, feeding strategies, and by changing their environment. In this article I've rounded up some perennial favorites, and some ideas you might not have considered before, in one easy to refer to list. So bookmark it now, and keep coming back to it for more inspiration at every stage of your cat's life!
Contents
Do indoor cats get bored?
How cats feel about indoor confinement is a hot topic among owners, but there's very little in the way of actual research to help us understand or measure how it affects their behavior or welfare. In fact lots of people are surprised to discover that patterns of indoor/outdoor cat ownership differ markedly across the world. In the United States for example, somewhere in the region of 50-70% of cats are kept indoors at all times. Whereas in the United Kingdom, that figure is only 10%.
In one behavioral study which attempted to measure cats' preferences for an indoor or outdoor lifestyle, only 1 in 12 felines 'chose' to remain entirely indoors when access to the outside was available. Which suggests that the inside of our homes does lack something, in their view.
The importance of stimulation
Here's a fact that might surprise you: in behavioral studies, indoor cats have a higher prey drive than outdoor cats. It's not clear whether that's because they lack outdoor stimulation, or due to other factors (such as reduced fear as a result of being protected from bad experiences, perhaps). But whatever the reason, there is a clear need for mental and physical activity there, which it becomes our duty to meet.
Further evidence of this is that in owner surveys, people who keep their cats exclusively indoors are more likely to report unwanted or problematic behaviors. Researchers believe this could be evidence that they are living in sub-optimal environments, without enough stimulation. In other words, the problem behaviors are a result of boredom and frustration.
How to keep an indoor cat entertained: 17 tried and tested ways
Now we've looked at why entertaining your indoor cat is important, here are 17 ways to get your cat doing more, and using more of their environment, so that they are less likely to become frustrated by their indoor status!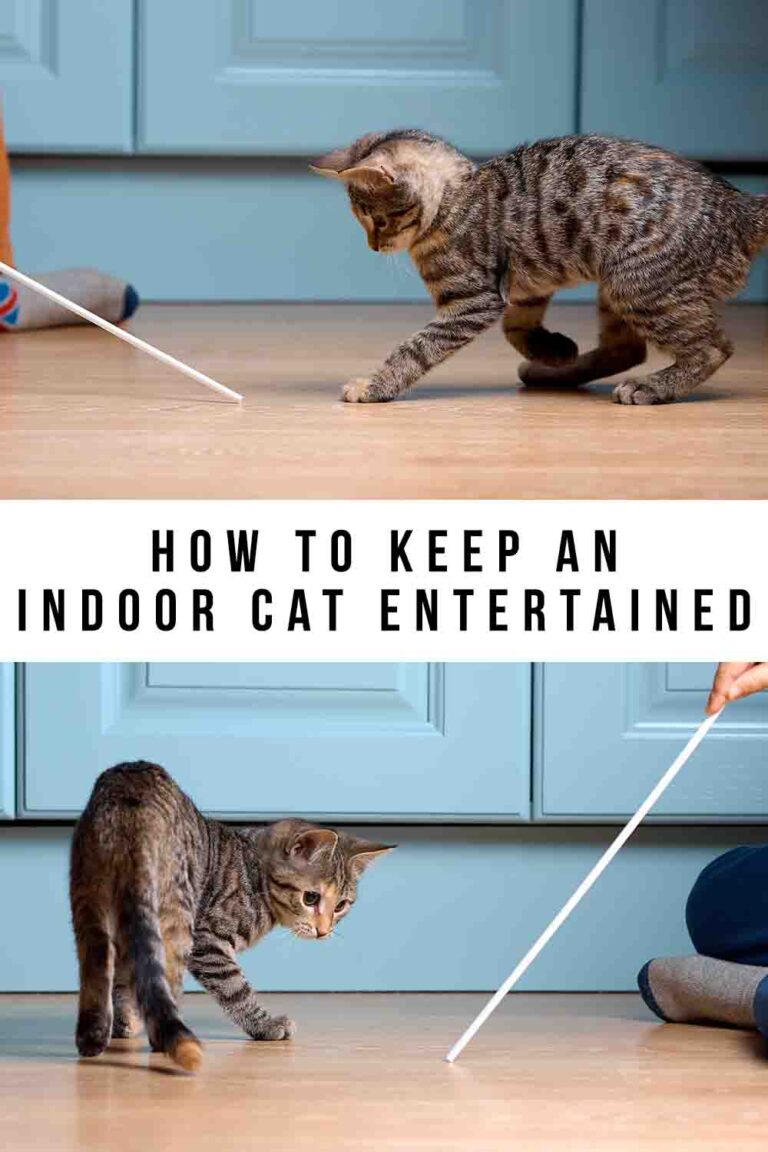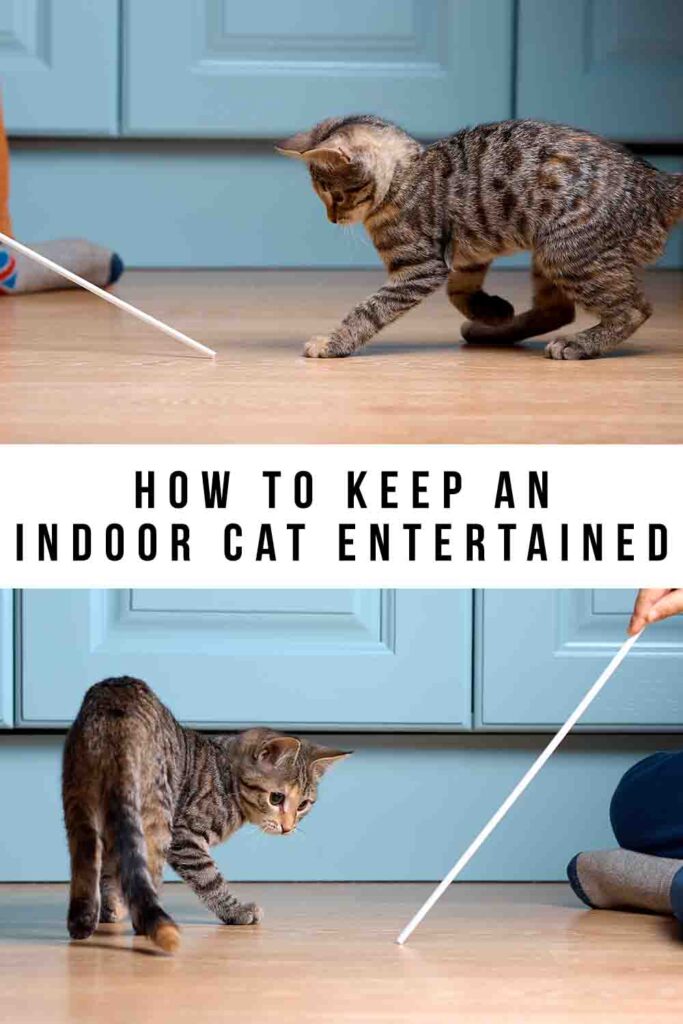 1. Toy mice
Toy mice are a classic cat toy. Every kitten should receive at least one. I sent one to my sister's new kitten for Christmas, and was rewarded with a video of her vigorously attacking it on Christmas morning. Toy mice are prey-sized, grabbable, carriable, throwable… they're just right.
2. Toys that move
Like all predatory species, cats are highly stimulated by the sight of small things moving. And there are lots of toys which tap into that these days. From wind-up-and-go little critters, to balls trapped inside mazes or enclosed tracks. At the simplest end of the spectrum, they move when your pet pushes them, and at opposite end, they can be pre-programmed or triggered remotely via a smartphone to move electronically.
3. Toys that make noise
It's cold but true – prey animals squeak when caught, so cats like toys that squeak when caught too. If you're less clean on the noise, look for options with a 'silent squeak' – that is, a squeak outside the pitch of human hearing.
4. Catnip
Ahhh catnip… a relative of mint, this fragrant herb produces a response akin to a herbal high in some cats. The typical response is a brief spell of hyperactivity, followed by a longer period of being very, very chilled out. Not all cats react in the same way though, and around one third of cats don't experience any reaction at all. You can find catnip in treats and toys, or even grow some in a pot on your windowsill.
5. Wands
Wands with a small toy suspended on a bit of elastic are one of the easiest ways to trigger your indoor cat's natural hunting instincts. Since you'll be operating the other end, they also provide a fun way for you to interact with your pet, cement your bond, and get to know them a little better.
6. Balls
Balls aren't just for dogs! Cats also love pushing them around, and a small collection of different types and sizes of ball will offer a range of entertainment. Try a light weight plastic ball which is too big to pick up in their jaws (such as the kind you'd find in a ball pit) on a hard floor – your cat may love the way it skitters away loudly when they try to pounce on it. Alternatively, try bouncing a small rubber ball for them to chase. Some cats will even learn to fetch and return the ball to keep the game going as long as possible!
7. Crumpled paper
Sick of circulars? Put them to good use by screwing up a page around a couple of Dreamies, and giving it to your cat. This challenges their problem solving skills and dexterity, and it's a good way to keep them entertained if you need five minutes to unpack the groceries or make a call.
8. Treat dispensers
Treat dispensing toys can be loaded with edible goodies that your cat must work to release, by various means. Since indoor cats are more predisposed to obesity, and need fewer daily calories than their outdoor brethren, try loading your dispenser with a regular kibble designed for indoor cats instead. Making them work a little for their food turns mealtimes into a bit more of an occasion.
9. Rings and caps off milk bottles and juice cartons
I don't think I've ever met a cat who didn't like the plastic lids and tamper-proof rings from milk bottles. I guess they're light, springy, and skid across smooth floors a bit like hockey pucks. Whatever the reason, you'll be hard pressed to find a more economical way to entertain an indoor cat than this! Except maybe…
10. Center rolls from toilet paper
Rollable, pick up-able, and stuffable, toilet roll centers are surprisingly versatile. Try catching your cat's attention by rolling one down the stairs, or fold in the ends with a few tasty treats trapped inside.
11. Things they can pick up and throw
I'm going to throw in a bit of a catch-all category here. If the tamper-proof rings from milk bottles have taught us anything, it's that cats can find amusement in the most unlikely of places. So before you throw away something like a small empty plastic bottle, or a pair of worn out kid's socks, see if it grabs your cat's imagination first.
12. Tunnels
Moving away from toys now, and onto environmental structures to enrich your housebound friend's days. Cats are hardly associated with burrowing in the wild, but yet many pet cats seem to love a tunnel! Look for examples which concertina up for storing, and have windows they can peek out of and you can poke toys into.
13. Hides
Cats are predators, but in the wild they are small enough to be preyed upon too. So they tend to enjoy enclosed hides with only one way in and out. You can buy fancy hides from the pet store, or just put an open cardboard box down for them. In fact cats are so famous for their love of boxes, I almost made them an item of their own on this list!
13a. Carboard boxes
I couldn't resist it. Nothing, bar nothing, entertains a cat like a cardboard box. Funny little guys.
14. Perches
Cats are naturally accomplished and athletic climbers. Lots enjoy watching their space from a high vantage point, where they can observe all comings and goings. You can harness these natural instincts and keep your cat entertained by installing accessible perches and shelves on your walls, or adding a free standing cat tree if your have floor space.
15. Window seats
Window seats mounted on window sills, or attached to the glass itself by suction cups are a popular spot for lots of felines. Ever changing scenery to watch? Check. Satisfying sense of elevation? Check. Warm sunshine to bask in? Check!
16. Videos
Can a cat really watch TV? Lots of cat owners say yes, their pets love watching television – especially programs which trigger their natural interest in small moving things, such as nature documentaries and tennis! In fact, there are hours of videos on YouTube aimed specifically at entertaining indoor cats while you're out.
17. A catio
For the truly invested, the most enriching way of bringing a bit of the outside in for your indoor cat is to build an enclosed cat patio (or catio) in your yard or on your balcony. These give your cat the opportunity to immerse themselves in the sights, sounds and smells of the outdoors, without the risks of roaming freely.
Variety is vital!
Cats are clever, and generally quick to recognize when something has become predictable. Since novelty is entertaining in itself, keeping a stash of items or activities at hand, and switching them around in rotation, is the perfect strategy for getting maximum value out of them. At any given time, think about whether your cat has
Enjoyed social interaction with you that day (a game or a cuddle).
A toy (like a mouse or a ball).
Something that releases food (like a treat dispensing toy or some Dreamies in a box of scrunched up newspaper).
An interesting addition to their environment (such as a tunnel, a box, or a window perch).
Visual enrichment (like access to a window, or something to watch on TV).
You can restrict their provision to one or two from each category, and swap them for different options every few days.
Why weren't scratch posts on the list?
When I set out to compile a list of ways to amuse my housebound cat, I was convinced scratch posts would be near the top. After all, she lurrrrrves to scratch. But I've since realized from reading the advice of veterinarians and behaviorists that scratching goes far deeper than just providing amusement. It's vital for:
Keeping claws healthy.
Maintaining muscle tone.
Marking territory, and thus creating an environment they feel safe in.
So yes, your cat (whether indoor or outdoor) needs scratching posts and pads. But their need for them is so fundamental that they hardly count as entertainment. They are simply necessary, like food and water. And entertainment should be offered on top.
Is it better to just let them outside?
There are lots of valid reasons to keep your cat indoors on a permanent or temporary basis, such as:
For safety if they are declawed.
If there are busy roads nearby.
For protection if they belong to a valuable pedigree.
To recover from surgery
To get familiar with a new home after moving.
If bad weather is forecast, which could result in them getting lost or trapped somewhere.
And to prevent them having a negative effect on local ecology (such as by hunting wildlife).
On the other hand, access to the outdoors provides:
Opportunities for physical exercise.
Sensory stimulation.
More ways to practice natural behaviors like climbing and prey stalking.
In general keeping cats indoors is more common in America and other countries with air conditioning as standard. Whilst letting them roam outdoors is seen as practically inevitable in countries like the UK. And cat lovers in both countries tend to assume that what they are familiar with must be best! But you can read more about this debate and make up your own mind here.
How to keep an indoor cat entertained – summary
Providing entertainment for your indoor cat enriches their environment and daily routine. Games, toys, hiding spots, climbable structures and visual stimuli all give them a chance to practice 'natural' behaviors that they would rely on in the wild. Providing these kind of opportunities for your indoor cat reduces the likelihood of them getting bored or frustrated, and releasing those stresses through unwanted behaviors.
Don't put yourself under pressure to provide everything on this list all the time though. Focus on giving them:
Something to climb.
Something to explore.
And something to hunt.
Plus, lots of your time, engagement, and affection. If cardboard boxes and tamper proof rings have taught us anything, it's that a bit of imagination and resourcefulness is worth $100 in store bought toys!
Please use the comments box down below to tell us what entertainment you lay on for your indoor cats.
More on feline enrichment
Do cats like opportunities to meet other cats?
Would your pet benefit from a cat sitter?
References