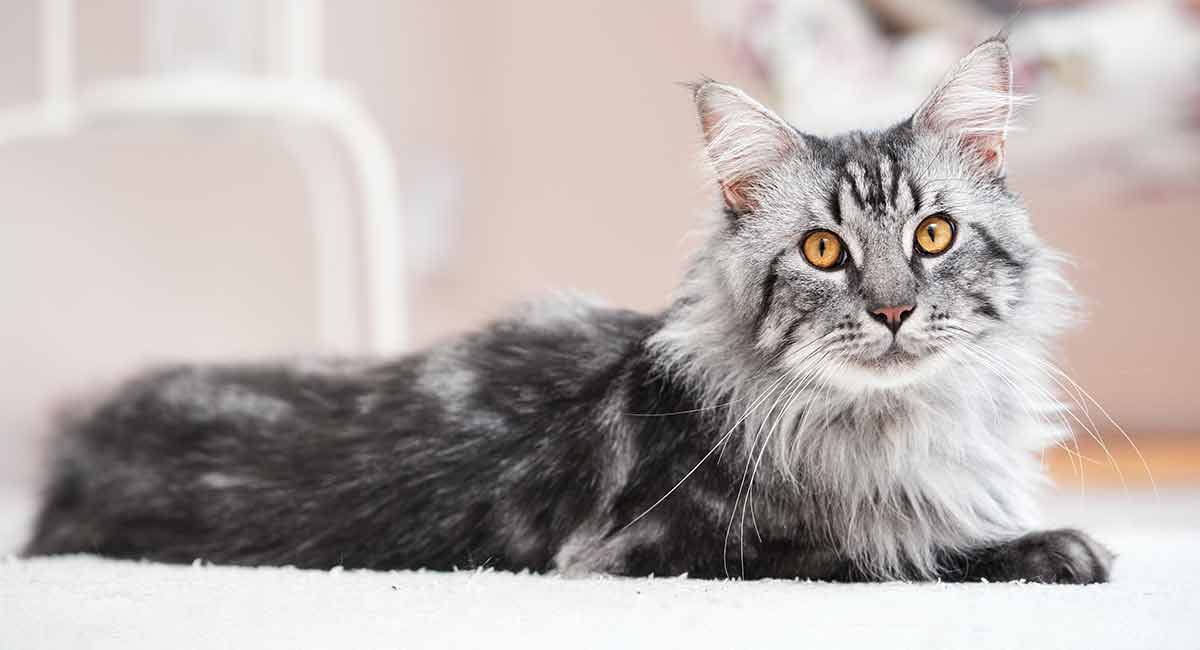 Shopping for a Maine Coon cat tree is a little different to shopping for a cat tree for other cat breeds.
Reason being – the Maine Coon cat is arguably the biggest domestic cat breed in the world!
Currently, the two largest, longest cats on record with the Guinness Book of World Records are both Maine Coon cats.
Here, it nearly goes without saying that any Maine Coon cat tree you bring home had better be a cat tree suitable for Maine Coon cats' length and weight!
In this article, we will take a look at sturdy, durable Maine Coon cat tree products you can trust to support your truly king-sized cat as she plays, leaps, climbs and hangs out to watch the world go by!
All of these products were carefully and independently selected by the Happy Cat Site team. If you decide to make a purchase from one of the links marked by an asterisk, we may earn a small commission on that sale. This is at no extra cost to you.
Maine Coon size cat tree
The first step when selecting a Maine Coon cat tree is evaluating just how large and long Maine Coon cats can grow.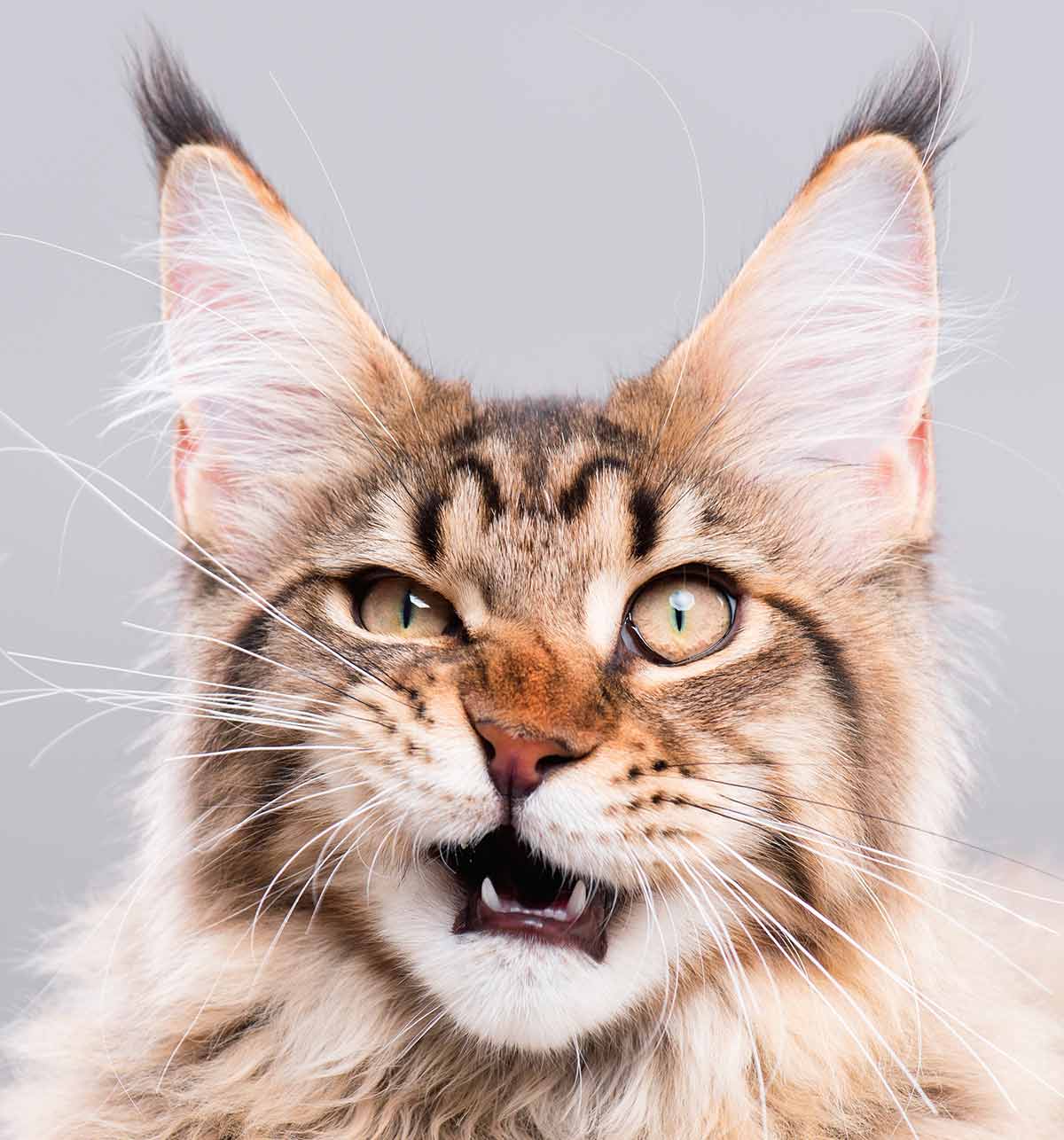 There have been more than a few Maine Coon cat owners who have been quite surprised as their kitten started to grow….and grow….and then grow some more!
Maine Coon cats start out as petite fur balls just like all kitten breeds do.
But once a Maine Coon cat starts growing in earnest, he can grow to be as long as 40+ inches (longer than three feet) and can weigh 35+ pounds.
Finding a cat tree up to the job
However, it is also worth saying that these examples represent size extremes even for a Maine Coon cat.
If your Maine Coon cat is still a kitten and comes from average-size parents, breeders say adult female Maine Coon cats typically weigh 12 to 17 pounds fully grown.
Adult male Maine Coon cats generally weigh anywhere from 18 to 21 pounds.
But it is also important to be aware that the Maine Coon cat breed typically matures slowly, which means your already robust kitten may keep growing for up to five years before stabilizing.
Breeders say these are the most vital criteria for choosing a Maine Coon cat tree:
Extremely sturdy base.
Durable scratching areas (sisal material is ideal).
Roomy perching platforms, hammocks and/or hiding areas.
Maine Coon cat tower
Finding a sufficiently sturdy Maine Coon tower can take quite a hunt!
These Maine Coon towers are also endorsed by large cat owners.
New Cat Condos Large Cat Tree Tower
This sturdy, safe cat tower* is made from a solid wood base and durable sisal rope covers the scratching poles.
The cover carpeting is human-grade.
After the base level there are four additional levels (perches) that can accommodate more than one large cat according to cat owners.
Midwest Homes for Pets Curious Cat Cube
This solid, steady cat cube* receives solid endorsements from Maine Coon owners.
They say the two hiding cubes are more than roomy enough for their Maine Coons to enter and exit easily.
The top level is a cushioned semi-hammock where your cat can survey the lay of the land.
Armarkat Classic Cat Tree
Maine Coon owners say this simple and robust cat tower* is just as good quality as some cat trees that are double the price.
While you won't find some of the bells and whistles on other cat trees, this is a cat tower that will definitely stay safely stable while your giant fur ball plays, rests and explores.
More cat trees to consider
Those are some of the best cat trees we've found for Maine Coon cats.
But if you'd like to expand your research into the best cat trees we recommend across all breeds of cats, we've already written about them here.
Maine Coon cat tree with hammock
Each of these Maine Coon cat tree with hammock options offers your Maine Coon kitten or cat a safe, sturdy and fun place to climb, play, rest, observe, hide and explore the world from up high.
Songmics 55″ Multi-Level Cat Tree Condo
This highly rated and popular sturdy cat tree* is endorsed by cat owners as sufficiently stable and durable for a Maine Coon cat.
The condo hiding spots are sufficiently roomy to house a mature Maine Coon cat and the base is made of a heavy-duty material that will not topple.
The sisal-covered scratching posts will stand up to serious scratching.
Best of all, this cat tree comes with a 30-month warranty.
OxGord Paws & Pals Cat Tree House with Hammock
Maine Coon cat owners say this simple, well-built cat tower* holds these sizeable cats safely.
Furthermore, their cats really enjoy sitting in the comfy hammock and scratching at the sisal covered scratching posts.
If your Maine Coon suffers from hip or joint issues like so many large breed cats do, this lower cat tree also makes a safer and more comfortable choice for your kitty.
Aeromark International Cat Tree
This multi-level cat tree* comes highly recommended by owners of large cats (20+ pounds).
They say that all the platforms, the hammock and the hideout are sufficiently stable and roomy for big cats to enjoy.
There are plenty of sisal-covered scratching posts for your cat to use as well.
More cat towers with hammocks
This isn't the first time we've looked at the best cat towers with hammocks.
So if your Maine Coon is petite for her breed, a cross with another smaller breed, or you only need a tower for Maine Coon kittens at the moment, have a look at the other cat trees with hammocks we've recommended before.
Maine Coon cat tree
We hope you have found the Maine Coon cat tree you have been seeking in this carefully curated list!
The pet accessory market is huge and ever expanding, so we think that whatever size space you're sharing with your mammoth Maine Coon, there's sure to be a perfect Maine Coon cat tower for you.
If you didn't find one here, why not also check our favorite perches for large cats.
Some of these are especially good if floor space is tight!
We've also written about the best cat perches across all breeds here.
Which Maine Coon cat tree did you choose?
Have you already found a Maine Coon size cat tower you love to sing the praises of?
Please share a link in the comments box, and tell us why you love it!
Affiliate link disclosure: Links in this article marked with an * are affiliate links, and we may receive a small commission if you purchase these products. However, we selected them for inclusion independently, and all of the views expressed in this article are our own.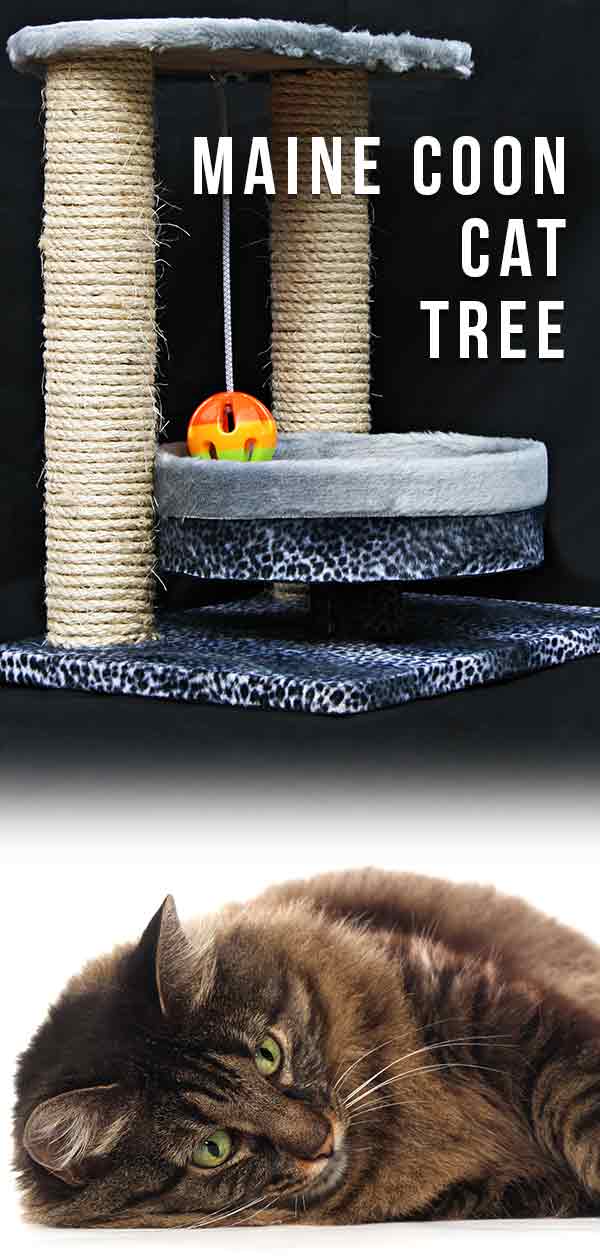 Sources
Swatman, R., "Meet Ludo, the longest cat in the world," Guinness World Records, 2016.
Arguelles, E., DVM, "Beyond 9 Lives: Understanding Maine Coon Cats," Reston Now/Just Cats Vet Clinic, 2015.
Jensen, G., DVM, et al, "Your Maine Coon," Atascazoo Animal Hospital, 2018.
Bizzell, C., "About the Maine Coon Cat," The International Cat Fanciers Association, 2018.