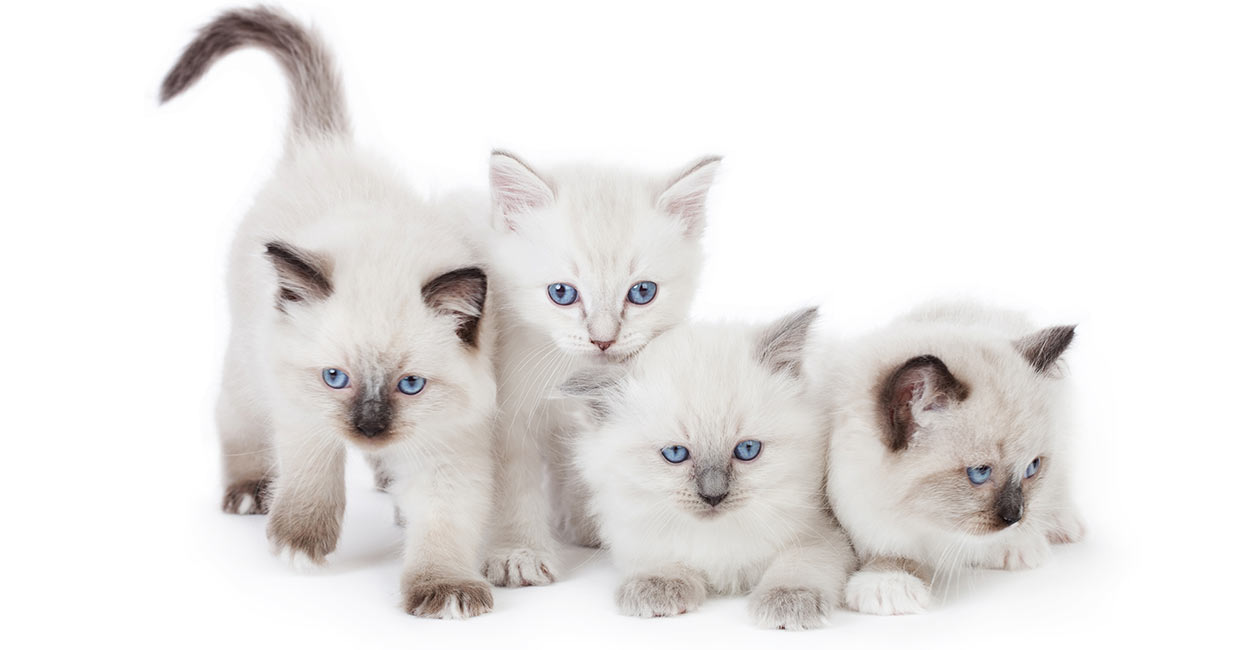 Check out 230 amazing, fun and adorable Ragdoll Cat Names! In our complete guide to naming your Ragdoll kitten we'll give you lists of awesome ideas based around some popular themes. Helping you to pick the right Ragdoll name for your new friend!
Here are some of our suggestions to get you started and prepared for life with your adorable new buddy!
Naming your Ragdoll Cat
Naming any new pet is a fun, creative process, and sometimes inspiration strikes the moment you meet your new pal. Frequently, prospective owners draw inspiration from their new pet's appearance or personality to help settle on a name that "fits." However, you may feel a lot of pressure in choosing a name. And, to be fair, this is a serious decision.
Once you decide on a name, you need to stick with it for your pet's sake, to minimize confusion! Whether you plan on full-out training your pet, or simply using the name to call your friend to your side. It is important that you are comfortable with the name you pick, and that your pet grows accustomed to it as well.
This is not meant to intimidate you, however—far from it! In fact, when it comes to Ragdoll cats specifically, you may find little need to rely on a pet name to get your kitty out of hiding and to your side.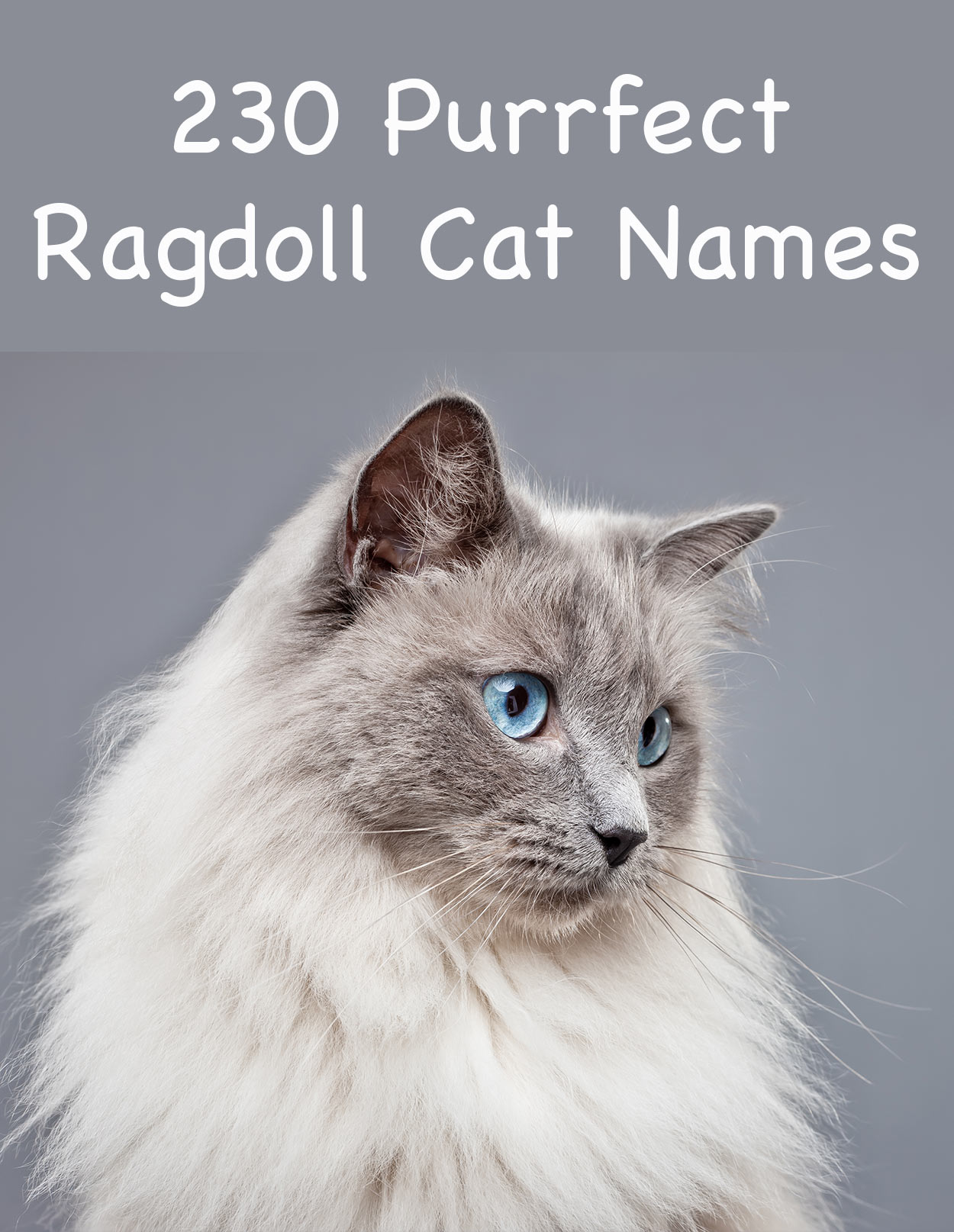 Ragdoll cats are known for being affectionate, doting, and for following closely at your heels without needing any encouragement. Still, the naming process is important, and we are here to help you.
We will discuss briefly the common features of Ragdoll cats, and then dive into some ideas for male Ragdoll cat names, female names, color-based Ragdoll cat names, personality-based names, and cute names too. If one of these names jumps out to you, perfect! Alternatively, you may be inspired by one or several suggestions to come up with your own variation. That's great too! The bottom line is, we're here to guide you through the process of naming your new Ragdoll cat.
Ragdoll Cat Features
Why not use this distinctive cat's features to come up with a unique name?
Ragdoll cats are very affectionate. They absolutely love their owner's attention—but they are not domineering at all. They are quiet cats, more likely to squeak more than full-on meow at you. Additionally, they are very laid-back, with a propensity to curl up by your side, if not sprawl out in your arms—this is where their name "ragdoll" comes from.
People frequently describe them as "flopping" in your arms.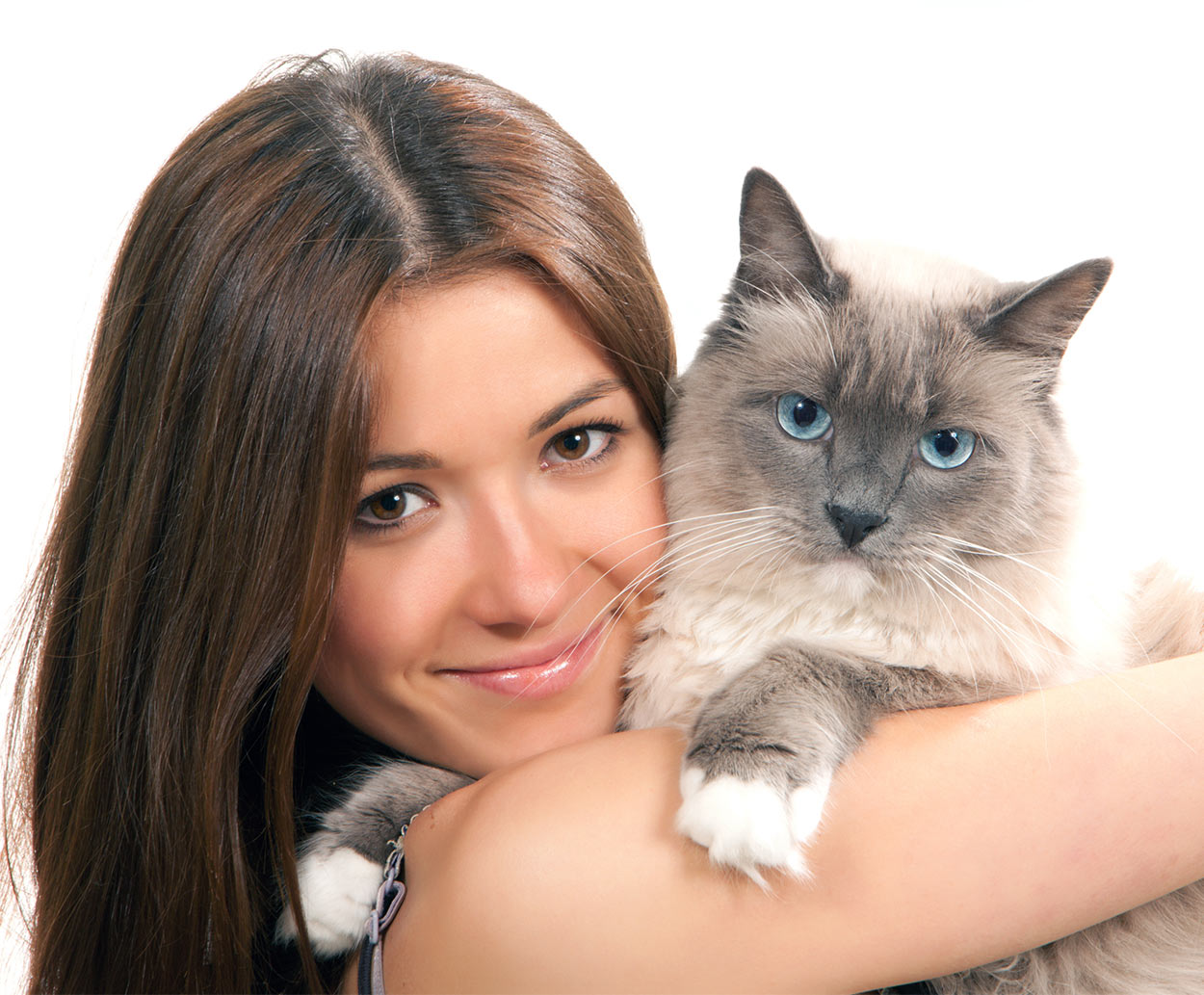 Ragdoll cats share three main physical features. They are big (and we mean big—ranging 10-20 pounds), fluffy, and have striking, bright blue eyes. And while Ragdolls come in a variety of coat colors, they usually have a "pointed" patterning, meaning their ears, feet, legs, and tail, are frequently darker colored than the rest of their body. This coloring tendency and those big blue eyes allude to their likely descent from the better-known Siamese cat (more on this later).
Put everything together, and you have quite the distinctive cat! Equal parts cute and beautiful, attention-seeking but soft-spoken, these big fluffy sweethearts provide numerous pathways for naming inspiration. Now it's Ragdoll cat names time! First, let's look at some suggestions for male and female Ragdoll cats.
Ragdoll Cat Names Male
For this and the female naming section, we will be drawing upon the "beautiful," more mature side of Ragdoll cats for names. Here we're thinking about their intense blue eyes, beautiful coats, and large size when full-grown. With all of this in mind, we've included some names for Ragdoll cats that are a bit more formal, mostly longer names than some of the "cute," more kitten-like names we've included later on.
1. Sullivan
2. Pierce
3. Quentin
4. Sterling
5. Darius
6. Kieran
7. Frederick
8. Cullen
9. Jakob
10. Raphael
11. Dorian
12. Nikolas
13. Mitchell
14. Cannon
15. Quincy
16. William
17. Jackson
18. Wilson
19. Lucian
20. Jefferson
21. Valentino
22. Langston
23. Payton
24. Thaddeus
25. Rodney
26. Harper
27. Joshua
28. Anders
29. Darian
30. Fisher
31. Clyde
32. Castiel
33. Miller
34. Jerome
35. Hugh
36. Marley
37. Zavier
38. Rudy
39. Cristopher
40. Joseph
41. Zackary
42. Camden
43. Alistair
44. Pierre
45. Andreas
Ragdoll Cat Names Female
As in the previous section, we've included below names that are mostly longer, formal in nature. We will later take a look at some different, shorter "nickname" forms for suggestions, but feel free to use the shorter form of any of our below suggestions.
1. Gwendolyn
2. Annalise
3. Dhalia
4. Madelynn
5. Arielle
6. Sabrina
7. Veronica
8. Camilla
9. Carmen
10. Adrianna
11. Anabelle
12. Eve
13. Elsa
14. Tiffany
15. Lilian
16. Priscilla
17. Cassandra
18. Virginia
19. Colette
20. Matilda
21. Cynthia
22. Johanna
23. Cecelia
24. Beatrice
25. Caroline
26. Mae
27. Margot
28. Maisie
29. Magnolia
30. Tatiana
31. Zelda
32. Teresa
33. Esme
34. Dorothy
35. Lilianna
36. Lea
37. Kristina
38. Alannah
39. Julianne
40. Judith
41. Esperanza
42. Faye
43. Cordelia
44. Lila
45. Ophelia

Coat Color Ragdoll Cat Names
Ragdoll cats come in a variety of colors: seal, chocolate blue, lilac, red, and cream. Often coloring is "pointed," meaning the main body is paler than tips, so ears, face, legs, tail and feet. Thus, you will not see a Ragdoll cat that is all-over one color, unless it is still a kitten.
Often the body is white or a slightly darker variation, and areas such as the ears, face, and feet will run from just a smidge darker than white or "creamy" to a dark brown "seal" coloring. We'll explore these two sides of the spectrum below, keeping in mind that the other color possibilities generally fall somewhere in between.
Cream Color Ragdoll Cat Names
Ragdoll cats that are cream colored may be the easiest to name. They still will likely have the pointed feature, but the pointed areas will be cream, with not much dramatic differentiation between the whiter rest of the body. Thus, this coat is one of the closest one-color Ragdoll cat coats you'll find.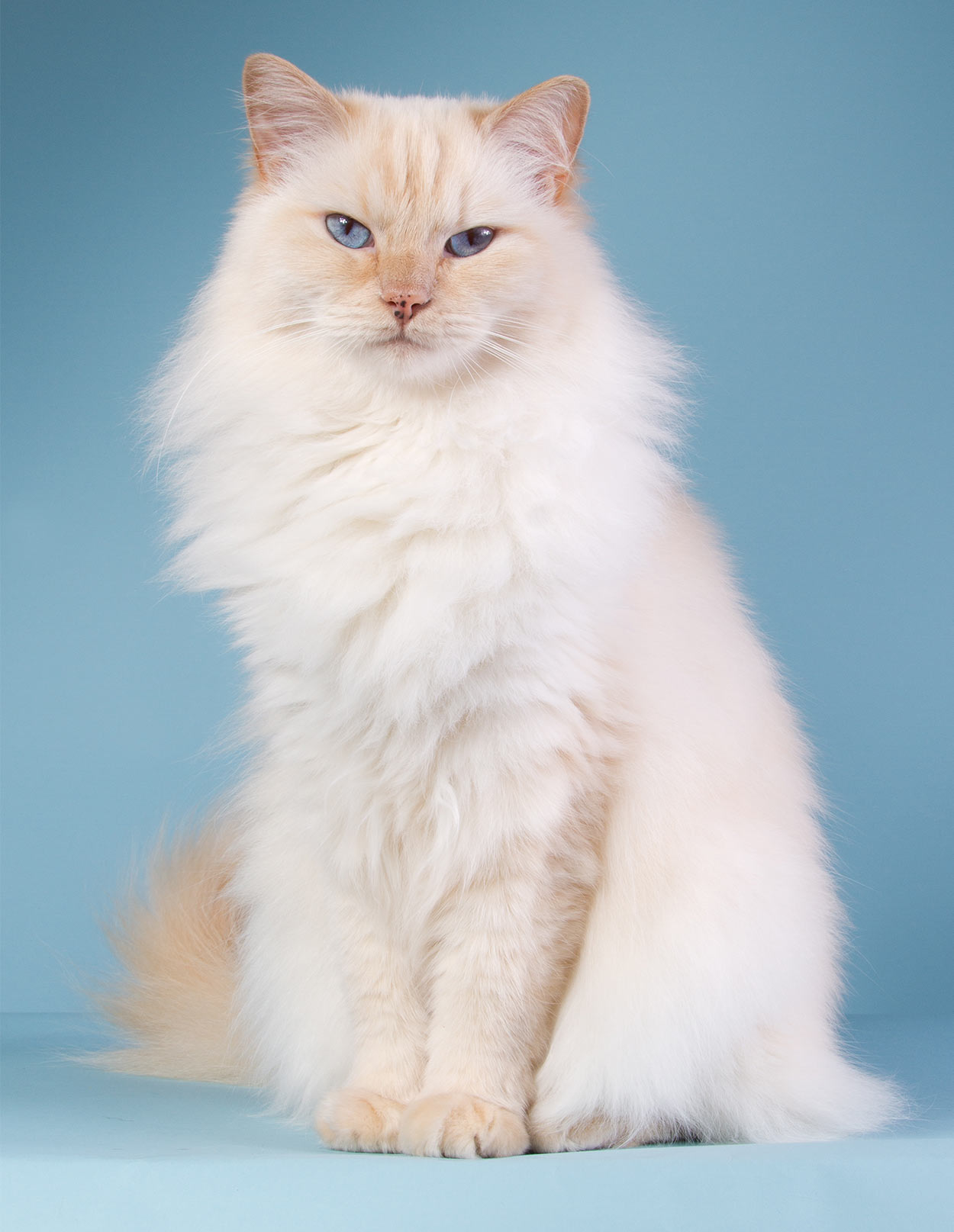 The "cream" versus white coloring is more noticeable with some Ragdoll cats than others, so those possible differences will both be reflected with the names here. Here are some name ideas for cream color Ragdoll cats:
1. Lacey
2. Pearl
3. Ivory
4. Cotton Ball
5. Snowy
6. Snow White
7. Crème
8. Ivory
9. Snowfall
10. Frosting
11. Icing
12. Sugar
13. Cream Cheese
14. Blondie
15. Custard
16. Cheese Cake
17. Pudding
18. Moon Cake
19. Seashell
20. Vanilla
21. Daisy
22. Jasmine
23. Wintry
24. Milky
25. Starlight
26. Alabaster
27. Velvety
28. Cloudy
29. Ashy
30. Powder
31. Scilla
32. Sandy
Seal Point Ragdoll Cat Names
In contrast to cream colored Ragdoll cats, seal point coloring is very noticeable, with a dark brown color marking the ears, legs, feet, and face. This particular coloring, along with those distinctive bright blue eyes, is reminiscent of Siamese cats. In fact, Ragdolls are largely believed to be at least in part of Siamese descent.
Interestingly, while seal point Ragdolls may look similar to Siamese cats, they in fact have significant personality differences. For example, Siamese cats are loud and vocal, while Ragdolls rarely give you more than a tiny squeak for a greeting. Additionally, Siamese cats are known for being quite active, even to the point of being mischievous, while Ragdoll cats are much more laid-back, spending most of their time cuddling and just overall chilling out.
And while Siamese cats originate from Thailand, and have a long history as a "Royal Cat", Ragdolls are a more recent breed discovered in the U.S. just in the past few decades.  If you're searching for some name suggestions to play on the uncanny appearance similarities, look below for some ideas of our own.
These names in particular take their influence from the Siamese cat's foreign origin and royal, dignified past and present.
1. Pho and Mia (Two of first imported Siamese cats to the west, in the 19th century)
2. Queenie
3. Kingship
4. Royal
5. Lady
6. Kingly
7. Treasure
8. Precious
9. Fancy
10. Spike
11. Frontier
12. Prickler
13. Lance
14. Duke
15. Genteel
16. Classy
17. Ritzy
18. Dashing
19. Dazzler
20. Elegance
21. Majesty
22. Gallant
23. Glory
24. Celebrity
25. Divinity
26. Prosperity
27. Priceless
28. Cherished
29. Worthy
30. Stardom

Ragdoll Cat Names Based on Personality
As we've already established, Ragdoll cats are known for their affectionate, soft-spoken, and laid-back personalities. Taken individually, each of these traits can inspire names—put it all together, and you have quite the stock to choose from. These cuddly, sleepy, tender, and devoted felines have inspired us with the following name suggestions.
1. Dreamy
2. Dreamer
3. Harmony
4. Drowsy
5. Cuddly
6. Softie
7. Sweetie
8. Squeaky
9. Mellow
10. Cheery
11. Joy
12. Pacific
13. Sleepy
14. Moony
15. Musing
16. Tranquil
17. Darling
18. Solace
19. Blissful
20. Ally
21. Devotee
22. Guardian
23. Felicity
24. Benevolent
25. Blessing
26. Breezy
27. Sleepyhead
28. Snuggly
29. Cuddles
30. Guiding Star
31. Placid
32. Remedy
Cute Ragdoll Cat Names
Ragdoll cats, whether kitten or full grown, are undeniably cute—even mind-blowingly adorable! You can read the above heading as Ragdoll kitten names, but many of their "cute" traits persist from kitten size to much larger adult form.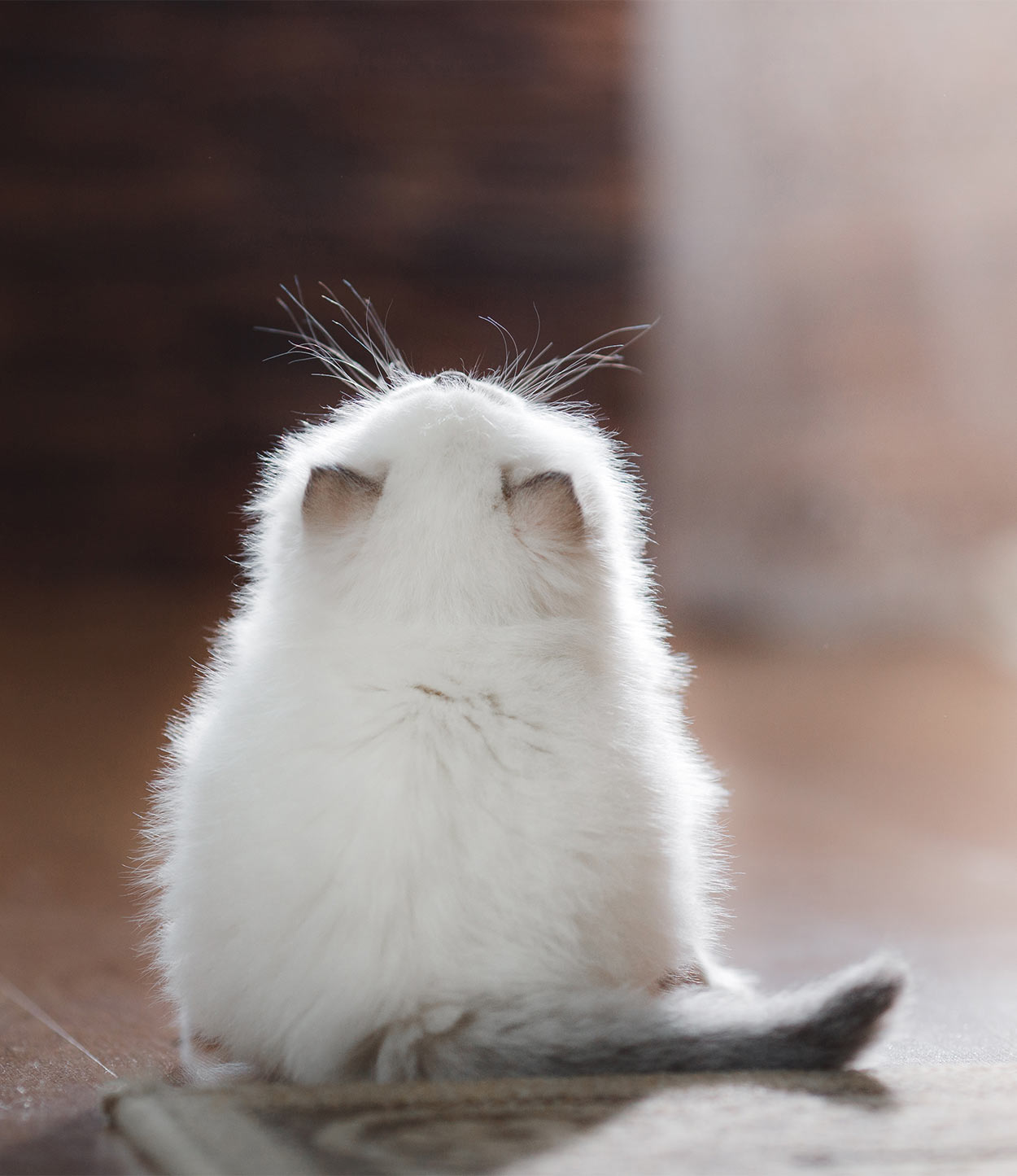 In the last section, we took inspiration from names and terms that best reflect the personalities standard to the Ragdoll cat breed. Here, we've taken a slightly different route. We still consider their kind and gentle personalities, but more so take into account their general physical appearance, coming up with a combination of descriptive as well as "human" names in nickname form. Here are some names that draw on one or several of these "cuteness" features seen in Ragdoll cats:
1. Gracie
2. Rosie
3. Mina
4. Angie
5. Lena
6. Nina
7. Penny
8. Marty
9. Kori
10. Millie
11. Sophie
12. Laney
13. Josie
14. Cassie
15. Rory
16. Dulce
17. Jamie
18. Fluff Ball
19. Goofy
20. Silky
21. Plushie
22. Fuzzy
23. Angel
24. Cherub
25. Feather
26. Pillow
27. Cushy
28. Nap-time
29. Snazzy
30. Spiffy
31. Sweet Pea
32. Charmer
Ragdoll Cat Blue Eyes Names
To wrap things up, here's a naming section dedicated specifically to those stunning blue eyes Ragdoll cats have. Some may be more obvious than others, but seeing as how these blue eyes are a universal trait for the breed, we'd be remiss not to tackle that trait here!
1. River
2. Skye
3. Skylar
4. Crystal
5. Sapphire
6. Jewel
7. Mercury
8. Azure
9. Cerulean
10. Cobalt
11. Turquoise
12. Beryl
13. Rainy
14. Downpour
15. Waterfall
16. Skylight
17. Riverbed
18. Topaz
19. Aqua
20. Celeste
21. Misty
22. Cornflower
23. Blue Bell
24. Radiance
25. Twinkle
26. Shimmer
27. Sparkle
28. Illumine
29. Shiny
30. Sea Glass
31. Gemstone
32. Bright-eye

Best names for Ragdoll Cats
When it comes to good names for Ragdoll cats, we've seen there are many avenues to explore for ideas, taking clues from physical appearance, personality, and breed history. Along with more standard female Ragdoll names and male Ragdoll names, this list just scratches the surface of ideas for naming your new Ragdoll cat.
We hope this article has provided you with some helpful resources for naming your new Ragdoll cat or kitten. It would be an honor to have one of our names become your new Ragdoll cat's namesake! Do let us know in the comments section below which Ragdoll cat names you pick.
More Information on Ragdoll Cats