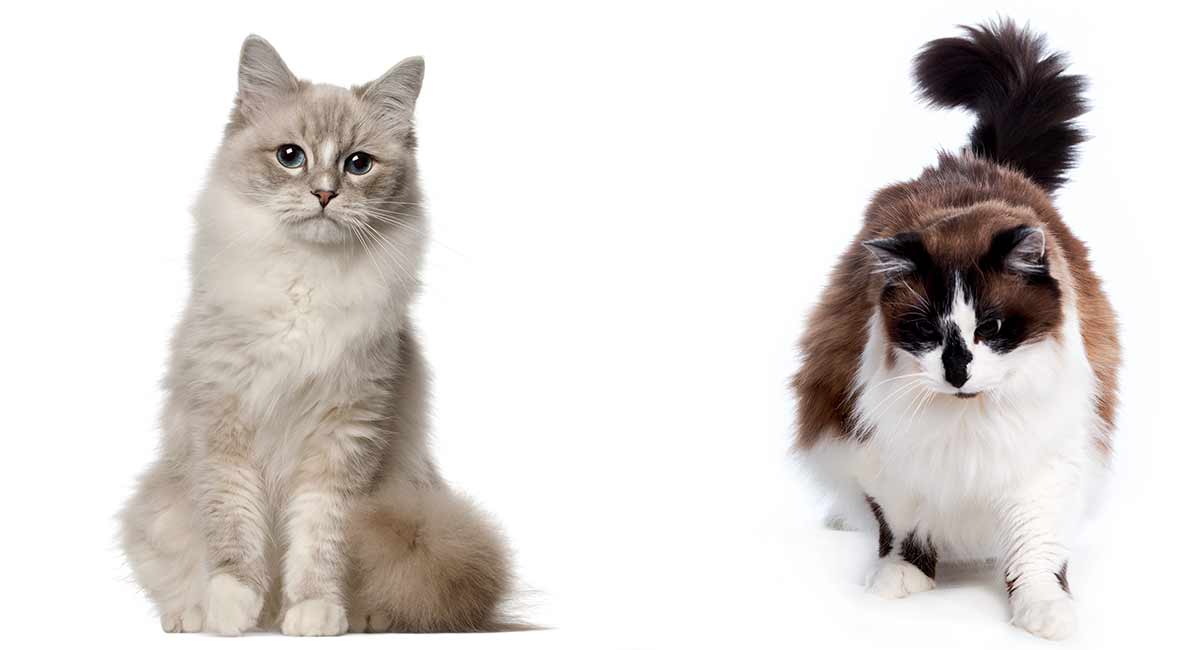 Ragdolls and Ragamuffin cats share many common traits because they are related, but there are subtle differences too. Ragdolls all have marked points, whereas Ragamuffins have a variety of colors. Ragdoll coats are higher maintenance, but they are also more playful, with Ragamuffins making calmer companions. They're both gorgeous cats with super temperaments, and make wonderful family pets if you pick the right one.
Contents
What is the difference between Ragdoll and Ragamuffin cats?
The Ragamuffin was created in the 1960s by cross-breeding Ragdolls with other long-haired domestic breeds. In 2011, the Cat Fanciers' Association awarded the Ragamuffin full breed status. Both breeds have long, silky coats. However, the Ragamuffin's coat is less likely to mat or tangle.
Ragamuffin coats come in a wide variety of both solid and patterned colors, from orange and chocolate, through to black and lilac. Ragdolls are all born white. As they grow older, their coats change in color to be chocolate, blue, lilac, or seal. They also have markings called "points", similar to Siamese cats.
Both breeds have gorgeous big eyes, the Ragamuffin's eyes are round, whereas the Ragdoll are oval-shaped. Also, Ragdolls only have blue eyes, but a Ragamuffin can have eyes of any color.
One major difference to note is that many Ragdolls actually go completely limp when picked up, whereas Ragamuffins generally do not. It is thanks to this odd quirk that the Ragdoll was given its funny name!
Ragamuffin vs Ragdoll size
If you take on a Ragamuffin or a Ragdoll kitten, be prepared for a big kitty cat when he's fully grown. These cats take a while to reach their full size – around four years old – but that's because they've got a lot of growing to do!
These breeds are powerfully built cats, typically weighing between 10 and 20 pounds. Female cats are generally smaller than males.
Grooming
Ragdolls and Ragamuffins have similar grooming requirements, although the Ragdoll is slightly more demanding. You will need to groom a Ragdoll at least twice every week.
Use a steel comb to remove any bits of debris that have become tangled in their coat. This is especially important if your cat spends some of his time outside, wandering through the shrubbery in your garden!
A friend of mine had a Ragdoll who enjoyed hunting in the hedge at the bottom of her garden. One day he appeared crying plaintively at the back door, clearly in some distress. The cause of his consternation was a length of bramble that had become tangled in his tail! Every time the poor cat tried to sit down, he sat on a whole bunch of prickles – no wonder he was crying!
The Ragamuffin's coat is similar to the Ragdoll's but is usually not as long and is less prone to tangles. A weekly grooming with a steel comb should be sufficient to keep your pet's coat in pristine condition.
Shedding
Both Ragamuffins and Ragdolls are rather prolific shedders. You'll quickly find your furniture and bedding upholstered in soft, silky fur! Groom your pet at least once a week with a steel rake to get rid of the loose hair, and go over your kitty afterwards with a rubber mitt to remove any stray hairs you've loosened during the first pass.
Getting rid of your cat's loose hair is extremely important, as both these breeds are fanatical groomers and can be prone to hairballs and their associated health problems. In addition to a good set of cat grooming tools, you'll also need to purchase an efficient vacuum cleaner that copes well with animal hair!
Ragamuffin vs Ragdoll cat temperament
When choosing any family pet, temperament is a major influencing factor in your decision. Ragdoll or Ragamuffin, both have very kind and affectionate natures. However, the Ragamuffin may be a better choice if you have young children in your family.
Ragamuffins tend to be very placid and calm, with patient personalities. This makes them ideal to have around young kids and other family pets. Also, Ragamuffins don't mind having their routines changed, so they adapt happily to the arrival of a new baby or other pet.
Ragdolls are also pretty laid back, but are not quite as chilled-out as Ragamuffins are around children. For either breed, their attitudes to children will be influenced heavily by their experiences in kittenhood. Early socialization with children and other animals will go a long way to shaping confident, sociable adults cats.
Both these breeds are very intelligent and can be taught to come when called and even learn a few simple tricks. They both have a reputation as being the "cat that thinks it's a dog", thanks to their desire to be in the company of people.
Ragdoll vs Ragamuffin cat health
Both Ragdolls and Ragamuffins are generally healthy, robust breeds. However, when buying a kitten from a breeder, always ask for health certificates for your purchase. Ensure that the kitten is fully vaccinated and wormed.
Ragdolls and Ragamuffins are very laid-back breeds. Lack of exercise can lead to obesity, which is extremely bad for your pet! Be sure not to overfeed or over-treat your cat, and invest in a good selection of interactive cat toys to keep him active and fit.
Is the Ragdoll or Ragamuffin cat a better pet?
When it comes to Ragamuffin cat vs Ragdoll, both these breeds have lovely temperaments and make wonderful family pets. They both look beautiful too!
In terms of care, they're both pretty healthy. Both require regular grooming to keep their coats in good condition and to prevent hairballs. Both can quickly become overweight if overfed and not kept active! If you have young kids who might be tempted to play with your cat, a Ragamuffin might be the best choice.
Perhaps you have one of these cuties already – why did you choose the breed you now own? Tell us your story in the comments section below!