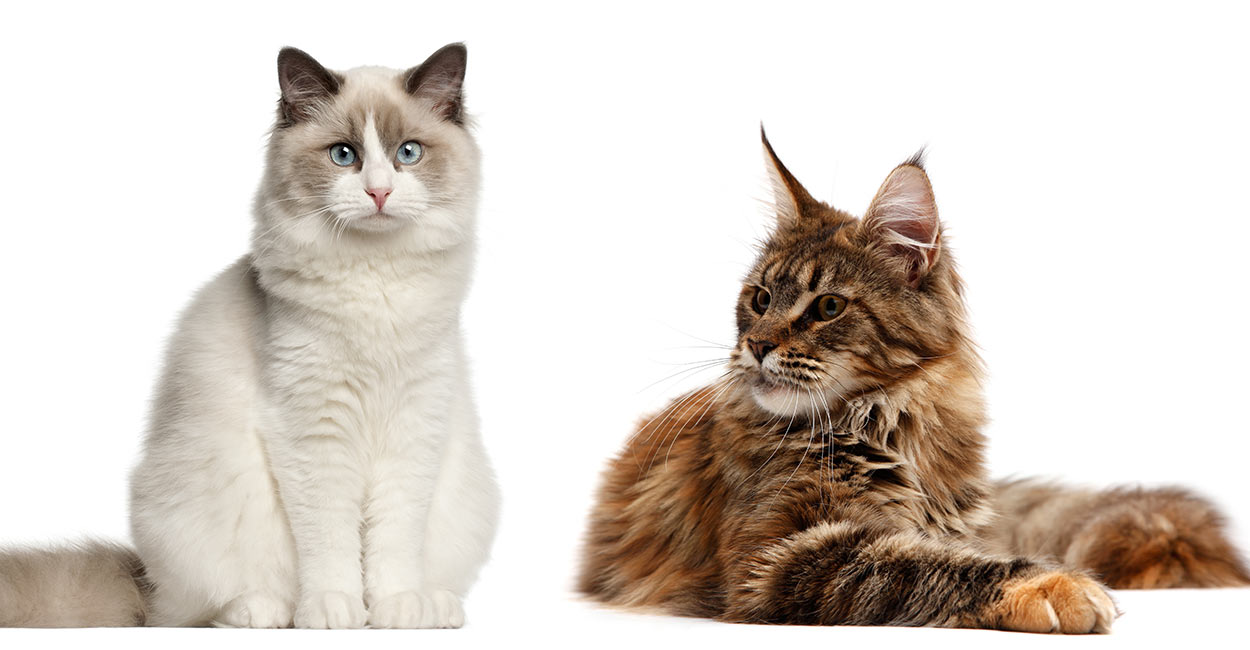 In this article Tanya Clark comes to the aid of prospective cat owners caught in a Maine Coon vs Ragdoll cat dilemma, with a definitive comparison of both breeds.
The magnificent Maine Coon and Ragdoll cat breeds share enough similarities that it's not uncommon to be torn between the two when the time comes to adopt or buy.
Both of these giant, made-in-America kitties are sociable and affectionate, with a lush, plush coat, and plenty of star qualities to boot.
The truth is that the either the Maine Coon or Ragdoll would make a marvellous addition to the right home, provided that their pet parents understand their unique needs, temperaments and health backgrounds.
So let's find out which is right for you!
What is the difference between Ragdoll and Maine Coon cats?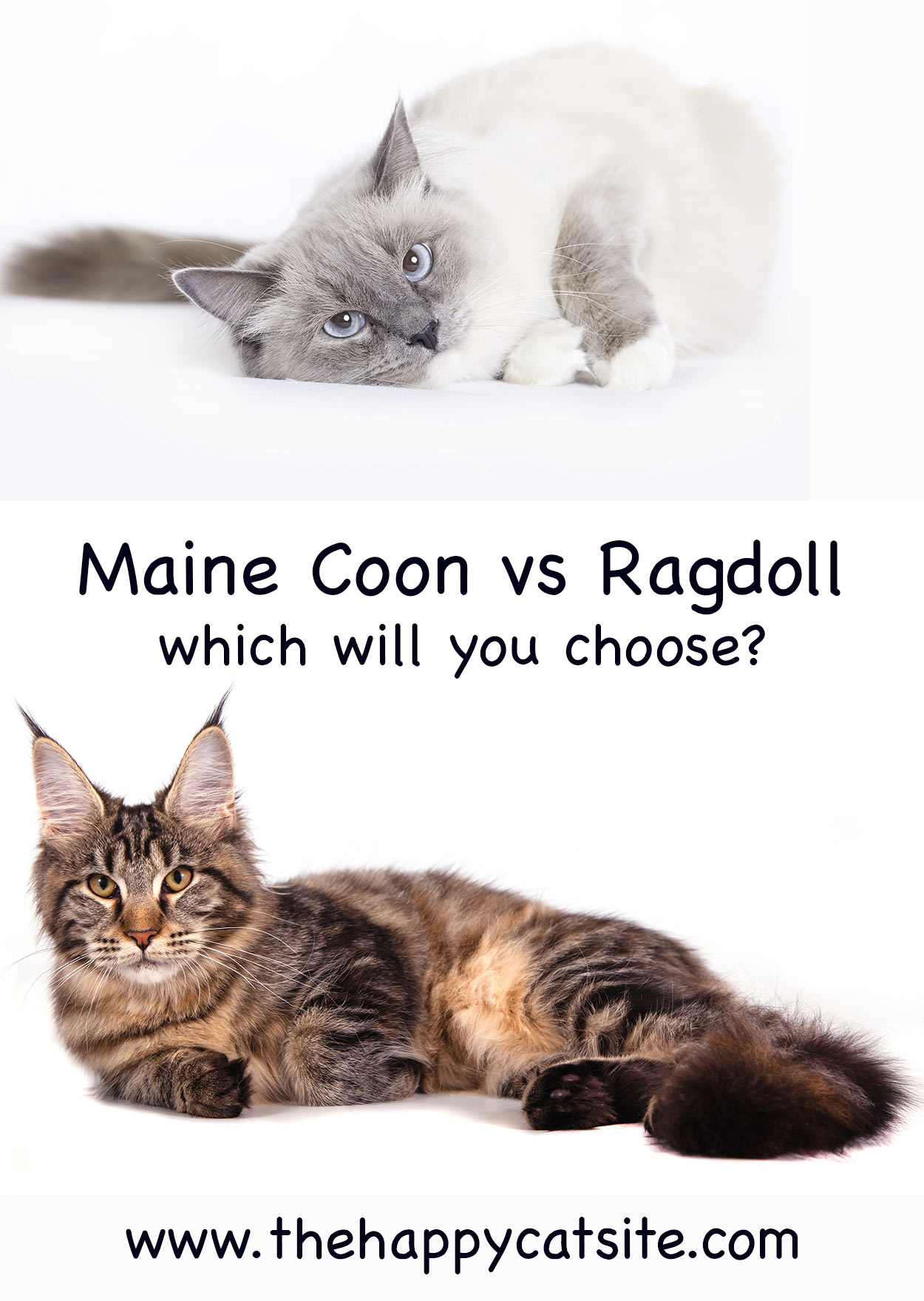 One of the main differences lies in their origins.
While the lapdog-like Ragdoll is a fairly recent addition to the purebred cat scene, the Maine Coon has been around much longer, and has quite the reputation as a mouser.
In order to help you make an informed choice we're going to take a look at each breed in turn, at both the possible advantages and potential drawbacks that the Ragdoll and Maine Coon bring to the party.
But before we get into the specifics of each awesome feline, let's take a brief look at their background and history.
This is a tale of two bi-coastal kitties, one from snowy Maine, the other from sunny California.
Each of these fantastic felines has a colorful past that is as distinctive as is their dazzling moggie fur!
Maine Coon vs Ragdoll: Background and history
According to the American Cat Fanciers' Association, the Maine Coon can lay claim to being, "the native American long-haired cat," as well as bearing the honorary title of Maine's official state cat.
Some people believe that the Maine Coon is a cross between a cat and a raccoon, but we (and Charles Darwin, too) assure you that's not the case!
The first references to the Maine Coon were documented in the mid-1800's, where they were a common sight along the Eastern Atlantic states.
It's believed that they were developed from short-haired American cats and overseas long-haired cats brought to the States by sailors.
One thing is certain: the Maine Coon was a ferocious mouser and held in high esteem by farmers.
Today, the pedigreed Maine Coon enjoys a different kind of reputation as a fierce competitor on the cat show circuit, and it is the third most registered cat on the Cat Fanciers' Association roll book.
Ragdoll cat origins
In contrast, the acquiescent and loving Ragdoll was developed fairly recently.
The first Ragdolls were bred in the 1960's by West Coast breeder Ann Baker.
Their origins are a bit obscure, but by most accounts the Ragdoll is a Persian-based feline, with parentage that likely includes feral stock.
All of the mystique surrounding the Ragdoll's origins simply adds to its appeal, if you ask me!
What is not in doubt is that the Ragdoll was bred to be a sweet-tempered, accommodating cat; and his stunning blue eyes can only be considered the icing on the cake.
The Cat Fanciers' Association recognized the breed in 1993, and today it is the organization's fifth most popular breed.
Maine Coon vs Ragdoll size
Maine Coons are big boys and girls, weighing anywhere between 10 to 20 pounds of solid cat muscle.
Whilst they're meant to be friendly giants, anything more than 20 pounds may mean that your cat is pushing the boundaries of being obese.
Ragdolls are built on the same scale as Maine Coons, with males reaching up to 20 pounds, and females ranging from 10-15 pounds.
Ragdoll and Maine Coon appearance
The long haired Maine Coon is a beautiful sight to behold: she has a spectacular neck ruff, feathery, fluffy legs, and paws adorned with adorable tufts of fur.
Their coat is thick enough to outlast the worst of winters, but remains silky smooth at the same time.
Coat colors and patterns include white, black, blue, cream, and tabby, tortoiseshell, and bi-colors.
And did I mention that this moggie also has arresting eyes that come in shades of copper, gold and green?
The semi-longhaired Ragdoll has a silky-smooth coat which comes in blue, seal, lilac, chocolate, red and cream, as well as color point, van, and bicolor.
The Ragdoll's fur colors are complemented to perfection by the her beautiful blue eyes!
Ragdoll vs Maine Coon cat grooming
With such impressive coats, it's not surprising that grooming is aa big commitment for both Maine Coon and Ragdoll cats.
You'll need to brush a Maine Coon's coat on a regular basis (two to three times a week), although their fur is much more manageable than that of other long haired breeds.
The semi-longhaired Ragdoll needs regular brushing, maybe every other day, to keep them tangle and mat-free.
Both breeds will also benefit from regular checks of the eyes and ears, and you can use a damp cloth to whisk away any debris or gunk.
Maine Coon vs Ragdoll shedding
Both the Ragdoll and the Maine Coon are copious shedders, so you can expect to see much of their glorious, luxurious fur clinging to the furniture, baseboards, etc.
A hand-held vac works wonders for quick pick-ups, but a vacuum made for picking up pet fur is an investment worth making.
I have a lone, short-hair tabby cat in the house who is not particularly active, yet I am constantly amazed at the amount of fur he manages to leave in the canister after a good vacuuming!
Maine Coon vs Ragdoll temperament
Maine Coon cats exhibit a classic cat-like curiosity, and have a reputation for being friendly and social as well; you might go so far as to call them a regular party animal!
These amiable felines like to be with their family, and don't mind the company of other animals or children.
In fact they seem to enjoy the companionship, and will happily sit in laps as well.
Maine Coons are intelligent and gentle natured, traits that make them amenable to training.
Ragdoll personality
If you dream of owning a cat who loves to be held and cuddled like a baby, look no further than the amiable Ragdoll.
He is similar in personality to the Maine Coon, being a friendly, outgoing cat who tolerates attention and petting well.
This makes him a solid choice for households with other animals and children.
Like the Maine Coon, the Ragdoll is known for being a trainable kitty, including walking on a leash.
In fact, both breeds have been described as having dog-like personalities in that they don't display the sort of aloof independence that many felines can.
The Ragdoll is promoted as having a calm demeanor, the kind of cat that will tolerate children playing with it.
As befits such an accommodating cat, the Ragdoll has a sweet little whisper of a meow, and displays a patient mien.
Ragdoll and Maine Coon health
It is very common for purebred cats to be more at risk of particular medical conditions, which owners need to be aware of before taking possession of their new bestie.
This is because purebred cats share an artificially-small gene pool, and hereditary conditions easily become fixed into breeding lines.
In this section we'll look at the health conditions most commonly seen in Ragdoll and Maine Coon cats, and how to avoid them if possible.
Maine Coon health
Maine Coons are at risk for the following hereditary conditions: hip dysplasia, hypertrophic cardiomyopathy (HCM), and spinal muscular atrophy.
Hip dysplasia
Hip dysplasia occurs when there is a malformation of the joint/socket.
It varies from a mild effect with no discernible discomfort to severe pain and potential lameness.
Obesity aggravates the problem, and pain relief may be granted either through medication or surgery.
Cats with severe hip dysplasia shouldn't be used for breeding, and a good breeder will know how many cases of hip dysplasia have been diagnosed in their kitten's family tree.
Hypertrophic cardiomyopathy
HCM is the most prevalent type of feline heart disease, causing the heart muscle to thicken.
It can be detected via an echocardiogram and breeders of Maine Coons should not breed cats who have this condition.
Spinal muscular atrophy
Spinal muscular atrophy occurs when the nerves in the spinal cord die off, and results in weak and/or wasting muscles.
Fortunately the disease is pain-free, and affected cats can usually live a comfortable indoor life, but there is also a DNA test to identify carriers.
Ragdoll health
Like the Maine Coon, Ragdolls can be prone to hypertrophic cardiomyopathy and other heart diseases.
They are also more likely than average to develop Polycystic Kidney Disease (PKD) due to their Persian cat heritage.
In addition, owners report that bladder stones are not uncommon.
Polycystic Kidney Disease
PKD is the result of inheriting a defective gene which causes cysts to grow in the kidneys and liver, eventually destroying the organs.
The faulty gene which causes PKD can be screened for, and Ragdoll cats should be tested before they are used for breeding, so that this horrible illness doesn't spread any further through the population.
Bladder stones
Bladder stones are grains of minerals which form in the bladder.
They can be treated either with medication or surgery, and further stones can usually be prevented with the right diet.
Ragdoll and Maine Coon health: obesity
Maine Coons and Ragdolls are big cats with even bigger coats, making it difficult sometimes to recognize the line between having a "big-boned" or "husky" cat and one that is flat-out overweight!
Although pictures on the Internet depict fat cats as cute creatures, the fact is that obesity takes a heavy (no pun intended) toll on your cat's health.
Increased weight can lead to a number of issues such as diabetes, heart disease, joint issues, etc.
Remember, a healthy-sized cat is a happy cat!
Maine Coon and Ragdoll breeders
It is crucial to work with a responsible breeder when you consider a purebred cat.
Ask to see health certificates for your prospective kitten's parents.
In particular, they should have screening certificates for all the hereditary diseases relevant to their breed, for example hypertrophic cardiomyopathy and polycystic kidney disease.
In addition, breeding Maine Coon's should have their hips "scored" by a vet, to tell you whether they have hip dysplasia and if so, how severely.
In addition you should be able to meet your kitten's mum at your breeders home: she should clearly be a well-cared for pet and a loved member of the family.
Ask your breeder if they can arrange for you to meet the father cat as well: in this way you can get an idea of the temperament, playfulness, etc., that their offspring may inherit.
Maine Coon vs Ragdoll price
So all being well, how much can you expect to pay for a Maine Coon kitten or Ragdoll cat?
Well, the average price range stretches from $400-1500, while Ragdolls average $400-1,000 and up.
A lot will depend upon how many breeders there are in your area, and whether your kitten's ancestors included show quality animals.
Maine Coon vs Ragdoll cat – which pet is right me?
We hope you enjoyed our comparison of the Ragdoll cat vs Maine Coon cat.
Each is a large, long haired pedigree cat, with many attractive attributes.
The intelligent Maine Coon is one of the biggest cat breeds you can own, and a prolific hunter to boot.
Nonetheless, this is a gentle giant of a moggie, a real sweetheart who loves to lounge with his family.
The Ragdoll is a playful kitty, one who also enjoys spending time with her family.
In addition the affectionate Ragdoll loves to be cuddled and carried about.
On the downside, each cat has certain medical conditions to consider.
Be sure to work with a responsible breeder who can prove the health and welfare of their cats, and think in advance about how you will pay for veterinary treatment if your kitten needs it further down the line.
If you'd like to find out more about either breed, you can read more about Maine Coons here, and immerse yourself in everything Ragdoll here.
Ragdoll cat vs Maine Coon: which do you prefer?
Do you have a Ragdoll kitty or a Maine Coon moggie?
If so we would love to hear about your experiences, especially with any medical issues, in the comment section below!
Sources
Fries, R., et al, Prevalence of the Myosin-Binding Protein C Mutation in Maine Coon Cats, Journal of Veterinary Internal Medicine, 2008
He, Q., et al, Inherited Motor Neuron Disease in Domestic Cats: A Model of Spinal Muscular Atrophy, Pediatric Research, 2005
Patsikas, M.N., et al, Hip dysplasia in the cat: a report of three cases, Journal of Small Animal Practice, 1998
Zoran, D.L., The Role of Diet in the Prevention and Management of Feline Diabetes, Veterinary Clinics of North American Small Animal Practice, 2013