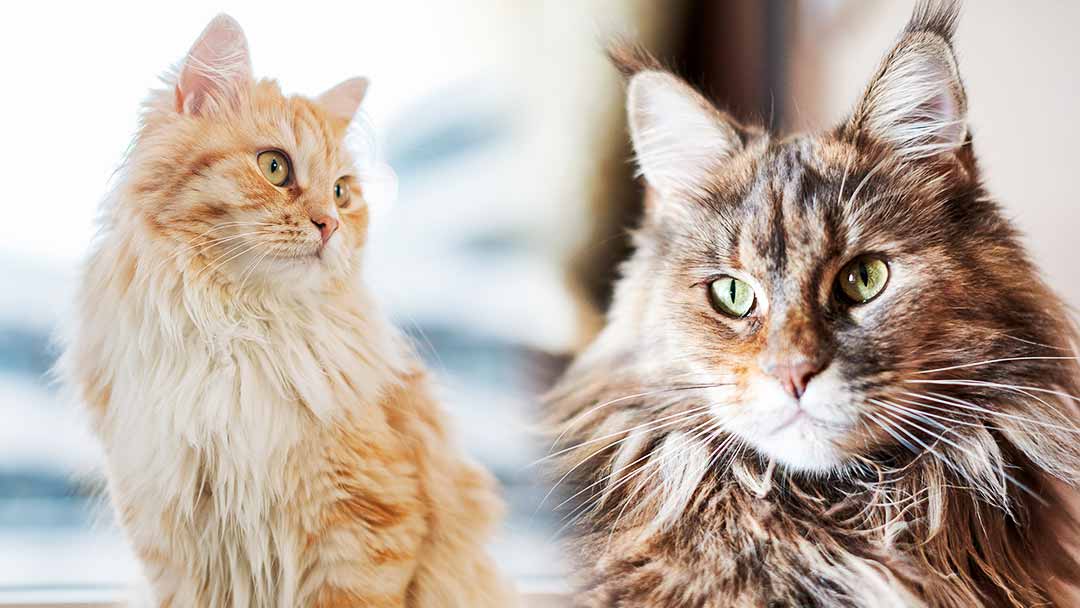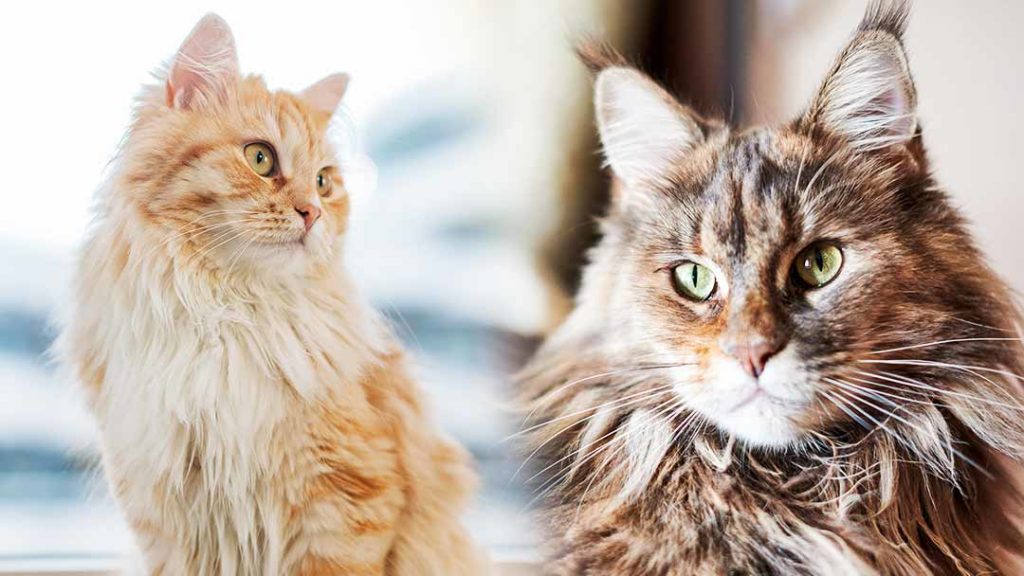 Domestic Longhair vs Maine Coon – it's the battle of the fluffy cats!
The main difference between the Domestic Long Hair (DLH) cat and the Maine Coon is that a Maine coon is a recognised pure breed, but the DLH has a mixed ancestry.
The Domestic Long Hair cat is not recognised as a standardised breed anywhere.
Because of this, the traits of Maine Coon cats are much more predictable than those of Domestic Longhairs.
Let's take a closer look at these breeds to help you decide which is right for you.
Contents
Here's a quick look at what we will cover today.
Click on the links above to jump straight to these sections! Or, keep reading for a complete comparison.
Which Cat Breed is the Best?
So, you're comparing the Domestic Longhair vs Maine Coon cats? These two kitties can seem quite similar from the outside, with their long, fluffy fur.
But, there are some key differences.
It's important to remember that neither cat breed is better than the other. But, one might be better for you and your situation.
You need to consider general care needs, personality type, and potential health problems, as well as less important traits like appearance when choosing a cat.
We will cover all of that for you here. Let's get started by taking a look at where each of these breeds came from.
Domestic Longhair vs Maine Coon History
The history of a breed might not matter very much to you when choosing your new cat. But, it can be interesting to learn!
Let's find out how the histories of the Domestic Long Hair and Maine Coon compare.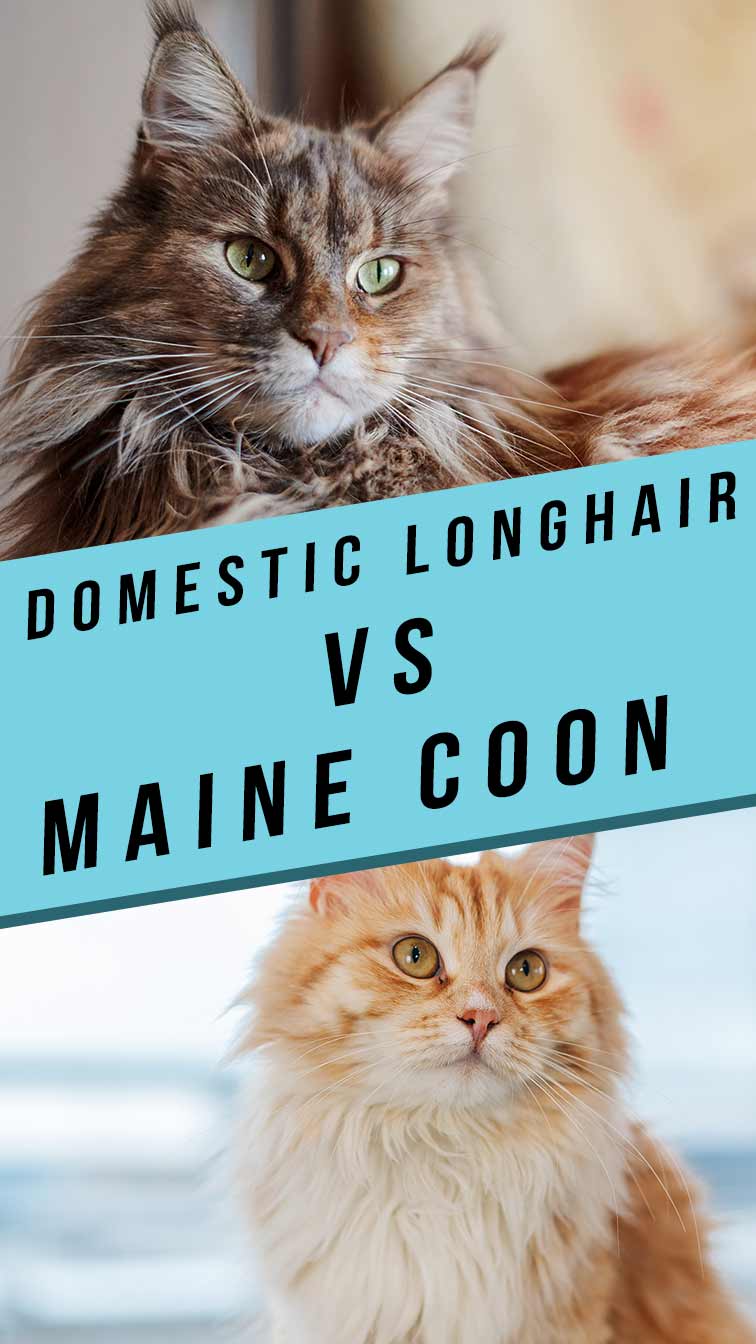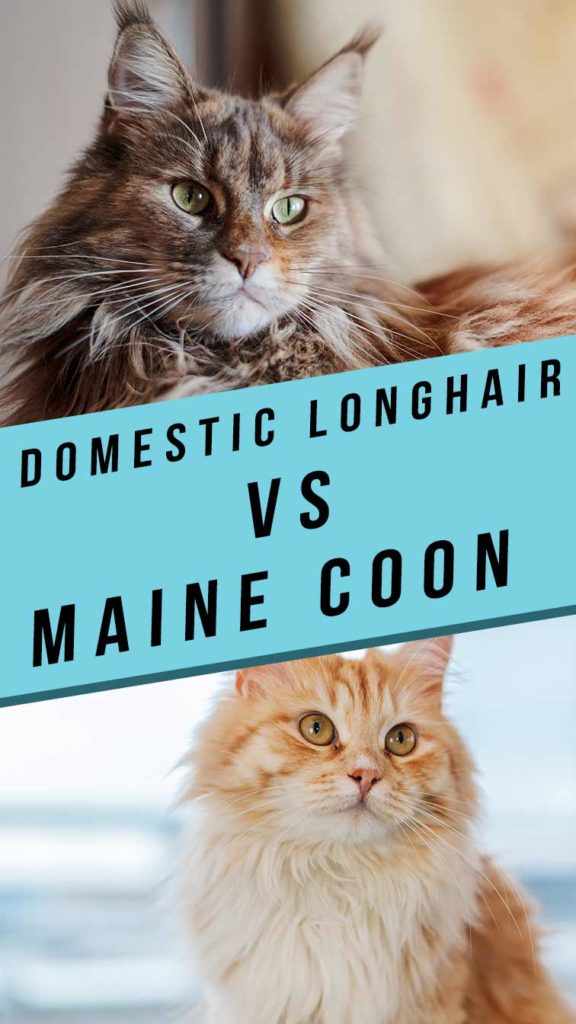 Maine Coon History
Maine Coon cat history is a little more well-known than DLH cats. The Maine Coon breed dates back to the 1800s in Maine, New England.
There is some confusion about who first brought this cat breed to New England. There are no official records explaining their arrival.
But, there are certainly lots of theories! This breed was popular in the late 1800s and early 1900s.
They experienced a small dip in popularity after this, but they have once again surged in recent years.
Domestic Long Hair History
The history of the Domestic Longhair cat is a little harder to pin down.
There are a lot of theories about where these cats came from.
Like the Maine Coon, there is no written record of the Domestic Long Hair's origin. However, many people say it came to Europe and America on ships somewhere between the 16th and 17th Centuries.
The Domestic Longhair is not a recognised breed. It has a very mixed ancestry, so each individual cat varies a lot. Let's take a look at this in a bit more detail.
Domestic Longhair vs Maine Coon Appearance
Appearance is one of the first things people consider when buying a new kitten. They want a cat that looks cute!
But some people have more specific needs – like a cat that doesn't shed much.
Let's find out how the Domestic Longhair and Maine Coon differ in terms of appearance.
Maine Coon
The Maine Coon is a recognised cat breed, so its appearance is predictable. They are large cats that can weigh up to 20 pounds as an adult.
Their huge size can seem even bigger thanks to their fur coat.
Maine Coons will have a long, soft coat, that is longest at the tail and front of the body. This longer fur extends into the tufts on top of their ears!
These cats have round eyes that can vary in color. Their fur color also varies. Their most common pattern is tabby, but they can be solid colored, bi-colored, or shaded.
The first recorded Maine Coon cat was black and white! These cats come in a huge range of colors, so there's something for everyone in a Maine Coon coat!
Domestic Longhair
If you thought the Maine Coon had a lot of variety, wait till you see the Domestic Long Hair breed!
As a cat with very mixed ancestry, the Domestic Longhair cat has no standard appearance. They can look quite different from one another – it all depends on their parents. In fact, some of them look exactly like a Maine Coon!
They are generally medium sized cats, and will always have long fluffy coats. Although fur length can vary between individual cats in the breed.
Their face shapes will vary depending on their parents, as will the color of their fur.
So, you can't really tell what you're going to get until your kitten comes along. If you don't care about appearance, you could still love a Domestic Longhair cat!
Domestic Longhair vs Maine Coon Personality
Appearance is important when getting a cat, but personality and temperament is even more important!
You want to get a cat that fits in with your lifestyle and suits your family well.
So, how do the Domestic Longhair and Maine Coon cats compare in terms of personality?
Maine Coon
As a recognised breed, Maine Coon cats have quite predictable personalities. They are affectionate towards their owners, but can be aloof with strangers.
These cats aren't known for being hugely vocal, or hyperactive. Maine Coons will be quiet and calm around your home.
But, they love hunting if they are let outside. Personality in cats can vary slightly even within standardised breeds. You can even experience differences in genders.
But generally, the Maine Coon cat is friendly, affectionate, and relaxed.
Domestic Longhair
The Domestic Long Hair cat is a mixed breed, so it is much harder to pin down a common temperament. Mixed breeds have much more variation in their personalities.
So, you might not know how your Domestic Long Hair will act until you live with it, and watch it grow up.
Generally, you can expect the Domestic Long Hair to be very affectionate towards their owner, with very little owner aggression.
They are relatively active cats, and rank somewhere in the middle when it comes to vocal cat breeds.
However, it is impossible to predict how this cat will turn out unless you take a look at its parent breeds.
Domestic Longhair vs Maine Coon Health
Domestic Long Hair cats and Maine Coon cats can look quite similar. But, how do they compare in terms of health?
There are some issues that are common in long haired cat breeds. But, there are some other potential health problems that new owners should be aware of.
Maine Coon Health
Every cat breed has some health issues that are more common than others. Even the Maine Coon cat breed is prone to some hereditary health issues.
Some of these can be screened for before cats are bred. But, you need to be prepared for the potential costs of treatment and care if your Maine Coon does suffer from one of these issues.
Here are some of the problems you will need to learn about if you want to own a Maine Coon.
Hip Dysplasia
Feline Hypertrophic Cardiomyopathy
Spinal Muscular Atrophy
Patellar Luxation
Domestic Longhair Health
Many people are in favor of mixed breed cats, because of the scale of genetic diversity, as opposed to a small gene pool.
However, mixed breed cats can still be prone to the health problems of their parents.
We've already seen how much variation there is within Domestic Longhair cats, and the same is true of their health. Your kitten will be at risk of the same health problems as its parent breeds.
One study found a connection between long haired cat breeds and an increased risk of hyperthyroidism (overactive thyroid gland).
Other potential health problems include cardiomyopathy, kidney problems, and obesity.
So, you need to be prepared for the possibility of any of these, and more, health problems in Domestic Longhairs.
Getting a Healthy Cat
Every cat breed is prone to some health problems. The best way to get a healthy cat is to use a reputable breeder.
Health tests are available for a lot of the biggest problems. So, go to a cat breeder with a long list of questions, and make sure to see any health certificates available.
If you can meet the parent cats, also take a close look at their overall health and personality!
Domestic Longhair vs Maine Coon General Care
So, we've looked at potential health problems. But these aren't something you're likely to have to deal with every day.
This is why you also need to think about the level of general care that each cat needs. Let's find out how similar Domestic Long Hair cats and Maine Coon cats are in terms of general care.
Maine Coon
Because Maine Coon fur is so long, you will need to comb it at least twice a week to keep it free of dirt, knots, and tangles.
This cat breed will shed a lot. So, it isn't the best choice if you want a low-maintenance cat. Be prepared to clean up a lot of fur around your home if you have a Maine Coon!
Long fur also means you may need to clean up hairballs that your cat leaves lying around!
If you want to use a litter tray, you will need to clean this very regularly to stop any faecal matter getting stuck in your cat's fur.
Make sure to also check your cat's ears and eyes for any abnormalities and dirt.
Domestic Longhair
The Domestic Long Hair cat will have some similar care needs to the Maine Coon, but it will be dependent on the traits they inherit.
As a mixed breed, qualities will vary. So, the levels of care for these cats also varies.
The amount they shed will be different for each cat. But, you are also likely to have to comb their fur regularly.
Like any long-haired cat breed, you will need to wipe any dirt away that gets caught in their fur, and gently comb out knots and tangles.
You should also clean litter trays as often as possible, to help keep your kitty clean.
Domestic Longhair vs Maine Coon Price
Kitten prices vary a lot depending on demand, popularity, and trends! They will also vary based on the breeder you use.
Rescue center kittens will nearly always cost less than kittens from a breeder, so this is a route to consider if you want to save money.
But, avoid pet stores. As these often use breeders that are only in it for profit, and won't promote healthy kittens.
Generally, Maine Coon cat price is anything from $400 to well over $1000.
Domestic Longhair cats will also vary in price. Although, as one of the most common cat breeds in America, they are likely to cost less than a purebred Maine Coon.
Price Isn't Just Initial Cost
You need to remember that the price of a kitten doesn't stop at the initial purchase.
Maine Coon cats and Domestic Longhairs both have quite high general care needs. You will need to pay for their food and toys throughout their life.
But you will also need to contribute time and money into caring for their long fur. And, vet bills can add up if your cat is unlucky enough to experience any of the health problems we looked at earlier.
So, make sure you are prepared for these potential costs before choosing either of these cats.
Which Cat is the Best Family Pet?
Both of these cat breeds can make great family pets in the right home. Whichever you choose, you will need to be prepared for an affectionate cat that has quite high grooming needs.
Neither of these cats are a good choice if you want a cat that doesn't shed.
The main difference between the Maine Coon and the Domestic Longhair is that DLH cats vary much more in their characteristics.
You know pretty much what you are going to get with a Maine Coon cat. But, the traits and health of a DLH will depend on what it inherits from its parent breeds.
If you choose a Domestic Long Hair cat, you need to be prepared for an unpredictable appearance, personality, and general health.
Which Cat is Your Favorite?
So, now that we've taken a look at these two furry kittens, we would love to hear from you!
Domestic Longhair vs Maine Coon – which is your favorite?
If you have either of these cat breeds, make sure to tell us what they're like in the comments!
More Comparison Guides
There are lots of other amazing cat breeds in the world. Take a look at some more of our comparison guides to find out which one is perfect for you!
References and Resources
Gough, A. (et al), 'Breed Predispositions to Disease in Dogs and Cats' Wiley Blackwell (2018)
O'Neill, D. (et al), 'Longevity and Mortality of Cats Attending Primary Care Veterinary Practices in England', Journal of Feline Medicine and Surgery (2015)
Crossley, V. (et al), 'Breed, Coat Color, and Hair Length as Risk Factors for Hyperthyroidism in Cats', Journal of Veterinary Internal Medicine (2017)
Paige, C. (et al), 'Prevalence of Cardiomyopathy in Apparently Healthy Cats', Journal of the American Veterinary Medicine Association (2009)
Keller, G. (et al), 'Hip Dysplasia: A Feline Population Study', Veterinary Radiology & Ultrasound (2005)
Lyons, L. 'Feline Genetics: Clinical Applications and Genetic Testing', Topics in Companion Animal Medicine (2010)