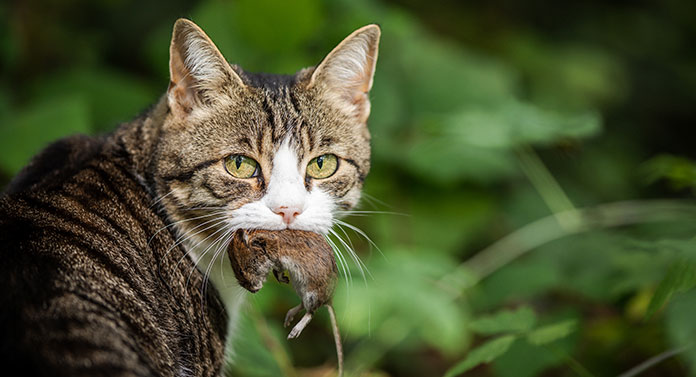 What do cats eat in the wild? Wild cats, like domestic and feral cats, eat exclusively other animals. They are obligate carnivores, so can get all the nutrients they need from meat and its by-products. Where wild rabbits are available, they make up the majority of a wild cat's diet. But you may be surprised what else they eat when rabbits aren't around. Or simply because they get the chance!
Contents
What do cats eat in the wild?
Did you know that all of our pet cat breeds belong to a subspecies of Felis sylvestris, the European wildcat? European wildcats are the original wild ancestors from which all domestic cats are descended. And at a genetic level, they haven't changed very much either.
In fact, feral cat colonies can, and often do, even interbreed with European wildcats. And studies of feral cats and wild cats living in the same area show that they eat the same things.
Which means that if we ever put down the can opener and left our cats to fend for themselves, they would return to the same diet of their wild ancestors from thousands of years ago. And in turn, wild cats eat a diet of pretty much the same things our pet cats need.
What do wild cats eat and drink?
So what do they like to see on the menu? All cat species are obligate carnivores. Which means they eat and digest meat. And moreover, animal tissue is the only food source they can get enough energy and nutrition from.
Several studies have confirmed that wild cats' favorite meat source is wild rabbit. And that where rabbits are available, they make up a significant part of a wild cat's diet. Probably because they're big enough to provide a hearty meal. But small enough to catch and catch with relative ease.
Also, they're not all that fast, and crucially, they can't take flight or climb a tree to get away! What wild cats eat besides rabbits, or when rabbits aren't available, depends upon where they live.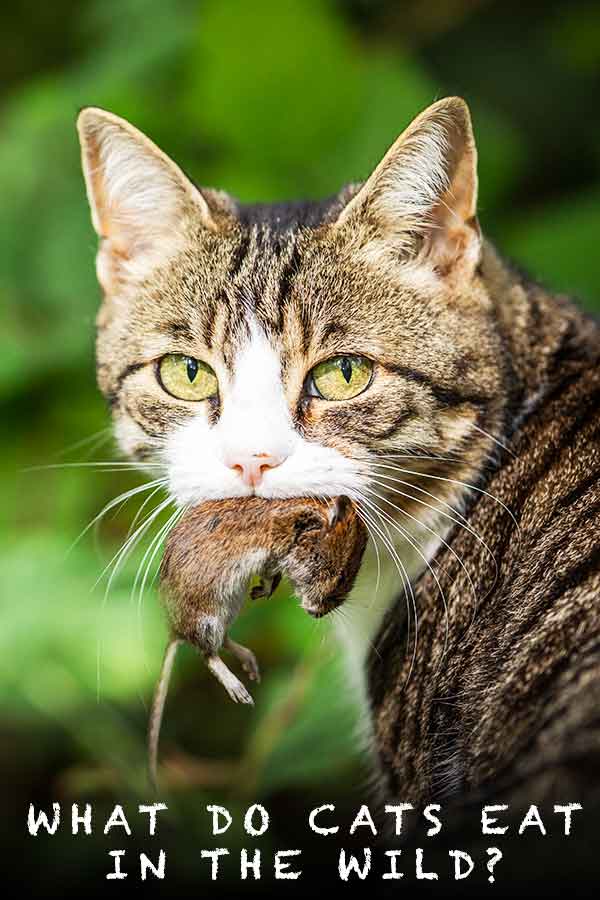 Diet vs Location
Wild cats in southern Europe rely on rodents as a secondary food source. Whilst wild cats in more northern Europe are more likely to hunt bats when they can't find rabbits.
In the high mountains of the Mediterranean, where wild cats live but rabbits do not, wild cats eat rodents such as mice and voles, ground nesting birds such as partridges, and even reptiles and carrion.
On the Canary Islands, analysis of native wild cats' diets has even revealed that they also eat at least 127 different kinds of insect, including:
Grasshoppers
Locusts
Crickets
Butterflies
Moths
Beetles
But due to their size, insects still represent an insignificant proportion of their diet overall. In general, the more species available, the more varied a wild cat's diet is. But if in doubt, eat a rabbit! And to wash it down? Well, just water please!
Do wild cats eat vegetables?
It's clear that cats are remarkably adaptable in terms of how many animal species they can eat. From birds and small mammals, to reptiles and insects. But the one thing they can't digest at all is vegetable matter.
Cats' digestive systems are adapted to break down animal tissues, and get all the nourishment they need from it. But they are completely useless at digesting plant matter. Their bodies simply can't extract any energy or nutrition from it.
In fact, analysis of wild cat diet shows that non-animal tissue makes up barely 2% of their diet. This is most likely to have been consumed as the stomach contents of prey animals.
Natural feline diets
This revelation has important implications for pet food. Quite a lot of commercial cat foods include grains or vegetables. Either as fillers, or because us humans can't shake the connotation that it makes them healthier.
But we know that pet cats and wild cats are extremely closely related. And domestic cats living as strays eat a substantially similar diet to wild cats. So pet cats have no use for vegetables and grains. A cat's natural diet is about half protein, and half fat.
But cats are adaptable
Within those parameters, they're quite adaptable though. This includes modifying their hunting habits seasonally (for example because the prey they usually eat have gone into hibernation) and over years or decades, because the population size of their favorite food has changed.
So, pet cat parents can have fun experimenting with all sorts of foods to tickle their pets' taste buds, as long as they're meat based.
What do stray cats eat in the wild?
Let's take a closer look at the specific eating habits of feral cats, to find out what previously-domesticated cats eat in the wild. Feral cats are generalist and opportunistic carnivores. Which means they eat whatever they can find, whenever they find it, as long as it's another animal!
A study of feral cats across Australia revealed that they ate over 400 different species! They concluded that the main prey species of stray cats in Australia is the wild rabbit. But, if there weren't enough rabbits available, they would switch to catching rodents and small marsupials.
What can you feed a wild cat?
There's no need to feed wild cats that visit your yard. They are perfectly capable of hunting for themselves. And you won't be able to domesticate a wild cat or feral cat by feeding them.
There's also a risk of inadvertently feeding someone else's pet cat. Either because they get to the food first, because you mistaken them for being wild or feral.
If you'd like to encourage wild cats to visit your yard so you can observe them, try leaving water out for them instead. Like all cats they tend to prefer drinking from water which moves or appears 'natural'. So you're more likely to get visitors to a pond, than a water bowl.
And they're most likely to visit under cover of darkness. So setting up a camera trap is a fun way to record their visits!
What do cats eat in the wild?
Wild cats and feral cats are carnivores, and they mostly eat small mammals and birds. If they are available, wild rabbits make up the majority of their diet.
Where rabbits aren't available, or only live in small numbers, wild cats can adapt to eat hundreds of different prey animals instead. Which they wash down with water.
There's no need to feed wild cats which visit their garden, but you can use their natural diet to inspire some healthy changes to your pet cat's menu!